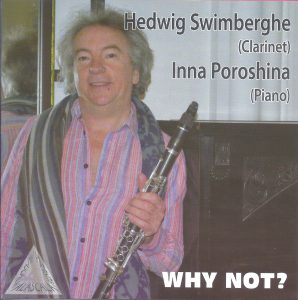 Why Not? Hedwig Swimberghe, clarinet; Inna Poroshina, piano. A. Lonque: Introduction et danse rustique; J. Bauer: Rondo kwartowe; J. Absil: Sicilienne; J. Feld: Scherzino; B. de Crepy: Repliques; J.M. Ruera: Meditacio; L. Cahuzac: Cantilene; W. Hildemann: Ritmi Dispari; M. Reger: Romanze in G major; I. Bazel: Elegie and Scherzo; G. Bacewicz: Easy Pieces; M. Deroo: Impromptu, Op. 72; V. Nossow: Walz "Junior"; N. Marchenkova-Frei: Augurio; G. Lyashenko: Con Amore; H. Swimberghe: My Tune 1, Le Printempos s'annonce and My Tune Too! Artist Produced. Total time: 61:36. [email protected]
Hedwig Swimberghe, Belgian clarinetist and a Selmer Paris artist, served as principal clarinetist in the Brussels Philharmonic (Radio Philharmonic) until 2011. He teaches at the Brussels Royal Conservatory at Erasmus University where he is professor of clarinet and director of the Brussels Clarinet Choir.  Recorded in 2005 and remixed in 2012, his self-produced recording Why Not? includes 18 works. Most are relatively short pieces, but there are several lengthier works for clarinet and piano and several brief solo interludes by Swimberghe. The styles of the works vary from lyrical, expressive pieces and fun, upbeat character pieces to more serious, substantial works. I was quite surprised to hear Swimberghe's actual speaking voice say "My Tune One" and "My Tune Too," at the beginning and end of the recording. Both tunes sound like improvisatory warmups based on a simple tune and are about 30 seconds each. This whimsical touch combined with pieces mostly from contemporary European composers just adds to the fun of listening to some excellent performances of works not in the mainstream repertoire. The booklet did not have any composer information, but I found that most of the music performed is available online. Many of the works included would serve as good teaching pieces appropriate for the young college student or as recital filler pieces.
As a program, Why Not? is akin to listening to a well-programmed recital. The recording quality shows off clarinetist Hedwig Swimberghe's beautiful round tone with lovely connection between the registers and a thinner, brighter upper register as well as pianist Inna Poroshina's excellent pianistic skills. The mixing and recording quality is complimentary and draws the listener into their excellent performances. Aside from a few tuning and voicing issues, the clarinet playing of Swimberghe engaged me, and I enjoyed the verve and musical sparkle he brought to the works.
All but three of the recorded pieces are under five minutes in length. The more familiar works include Cahuzac's Cantilene, played with lovely color and nuance, Reger's Romance, flawlessly performed, and Absil's Sicilienne. Lyashenko's Con Amore is the longest, most serious work featuring beautiful whisper soft effects from the pianist. Wolfgang Hildemannn's Ritmi Dispari (Sonatine) is also a substantial work in three distinct movements, which is well-played with the exception of the last few notes.
Lonque's charming Introduction et Dance Rustique is beautifully performed and Bacewicz's upbeat Easy Pieces are worthwhile, but Swimberghe sometimes loses tonal focus in technical passages. Swimberghe performs his own unaccompanied Le Printemps d'Annonce with joyous energy, birdlike trills and calls. The short, simple pieces of Maurits and Nossow include the melancholy Impromptu, Op. 72 and the humorous Waltz "Junior." Marchenkova-Frei's Aurgurio is a lovely, rich work, but like the Maurits has a few upper register intonation flaws.
Other works on the disc include Bauer's Rondo Kwartowe (Rondo of Fourths), reminiscent of Penderecki's Three Miniatures and the more substantial Republiques by de Crepy. Along with the haunting Meditacio by Joseph, both feature wonderful expression and technical precision from the performers. Reger's Romanza and Lonque's Introduction et Dance Rustiques are easily the highlights of the CD in my opinion. Swimberghe's articulation and tone quality throughout are notable, and I recommend this recording of European composers as a fine example of their music and the excellent playing of clarinetist Hedwig Swimberghe and pianist Inna Poroshina.
Karen Dannessa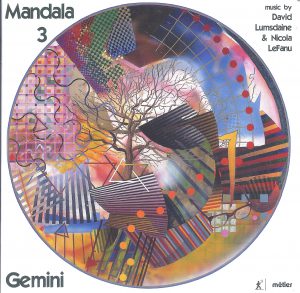 Mandala 3. Gemini: Ian Mitchell, clarinet/bass clarinet/gong/conductor; Ileana Ruhemann, flute; Catriona Scott, clarinet; Sarah Leonard, soprano; Aleksander Szram, piano; Caroline Balding, violin; David Angel, violin; Yuko Inoue, viola; Jo Cole, cello; Sophie Harris, cello. N. LeFanu: Invisible Places and Trio No. 2: Song for Peter; D. Lumsdaine: fire in leaf and grass and Mandala 3. Métier MSV 28565. Total time: 76:34. Divine Art Records
Gemini is one of Britain's most important and most durable contemporary music ensembles. Founded in 1973 and led by several directors (presently Ian Mitchell), this group has been a regular fixture on British radio and television, at music festivals and at community and school concerts that feature music from the 11th to the 21st century in innovative school residencies. They have been ensemble-in-residence at several British universities and have produced a number of recordings of contemporary music.
Gemini has a long and impressive list of commissions, and indeed three of the four pieces on this disc are the result of its commissions. David Lumsdaine (b. 1931) and Nicola Lefanu (b. 1947), the composers represented on this disc, have had a long association with Gemini. While probably not so well-known to American audiences, this pair of composers (who happen to be married to each other in private life) have had long and distinguished careers as composers and as teachers of composition to several generations of younger composers at the several universities where each has taught. Both are significant enough to be included in all the major music encyclopedias, and Lumsdaine has had several books written about his compositions; I found the essay on him written by his wife and posted on his website www.davidlumsdaine.org.uk to be most thoughtful, informative and appreciative.
The compositional style and harmonic language of both composers is highly complex and adventurous, and I have seen this referred to as "post-serial." But in truth, it is very individual, drawing upon many influences and diverse techniques: music of various periods from the medieval on, the classical music of northern India, the landscapes (musical and otherwise) of the Australian outback and music of various native peoples throughout the world to name only but a few. Their musical outlooks have naturally influenced each other, but there are subtle and not so subtle distinctions. Lefanu has been drawn to a more vocal and theatrical style than her husband, while he has been interested in electro-acoustic compositions as well as traditional settings. Lumsdaine, born in Australia where the couple still spends much time, gave up composing around 1997 due to health issues. Lefanu is still active as a composer, but also works as gifted ornithologist, making high quality recordings of birdsong.
The four compositions on this disc – two by each composer – come from various periods of compositional activity and are set for various combinations of instruments and voice. Invisible Places by Lefanu is the first piece on the disc, written in 1986 for clarinet and string quartet. There are 16 short movements, played without break, altogether lasting about 16 minutes. The composer writes that the string quartet forms one group with the clarinet as an outsider, "sometimes caught up with them, but more often it is like a person pursuing an independent train of thought." I was struck by the wide contrasts of energy and mood; sometimes frantically energetic while at other times quiet and reflective. The other piece of Lefanu's on this disc, Trio 2: Song for Peter, was written in 1983 and is scored for soprano, clarinet and cello. The "Peter" in the title refers to Peter Wiegold, a composer and original founder of Gemini, and draws for the text lines by Emily Dickinson, Ted Hughes, Sara Teasdale and Anton Chekhov, woven together to provide varying perspectives on life and mortality. This rather dark and moody work of approximately 18 minutes requires concentration to listen to and presumably to perform.
Lumsdaine's fire and leaf and grass is a brief short two-minute work for soprano and clarinet, written in 1991. It has a lyrical, almost modal character, capturing images of nature and summer. The centerpiece of the disc is Mandala 3, a major work in three movements for a chamber ensemble of piano, flute, clarinet, viola and cello. Written in 1978 and lasting almost 40 minutes, it is one of a series of five "mandala" works, each based on the idea of a single musical idea expanding outwards. The composer terms this an act of meditation. The opening movement, "Chorale," is essentially a transcription of the final chorus of Bach's St. Matthew Passion. The second part, "Sonata," is a classically shaped binary form, with many passing allusions or references to the earlier music. The concluding "Fantasia," has an improvisatory and open-ended quality in contrast to the tightly constructed "Chorale" and "Sonata." It includes echoes and short quotes from the Bach chorale appearing as if out of nowhere, floating above the ensemble. Lumsdaine writes "as soon as one resonance opens up, it merely opens up another," clearly referencing the mandala geometric pattern. This original and striking work leaves the listener with an inner sense of satisfaction.
As frequent collaborators with long associations with these composers, Gemini can certainly be regarded as ideal interpreters of this music. These are indeed excellent and fully committed performances. Ian Mitchell is a top-flight clarinetist, and special kudos go to the soprano Sarah Leonard. All involved in this recording have a special affinity and dedication to contemporary music, which is clearly communicated in the performances on this disc.
David Ross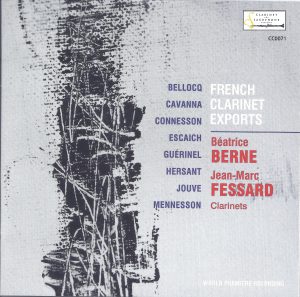 French Clarinet Exports. Béatrice Berne, clarinet; Jean-Marc Fessard, clarinet. G. Connesson: Scènes de la vie contemporaine; B. Cavanna: Parking Schubert; I. Bellocq: Impasse; J. Jouve: Musica Elfica, Erratica, Fuggitiva; C. Mennesson: Infinite breathing 5; L. Guérinel: Humeurs; P. Hersant: 10 Duos; T. Escaich: Ground VI. Clarinet Classics CC071. Total time: 71:17. Clarinet Classics
It was with great anticipation that I opened this jewel case the first time, as these works are previously unknown to me. The recording is an impressive undertaking: producing premiere recordings of eight contemporary French works for two clarinets. Seven of the eight duos were composed within the past five years. The two clarinetists, Béatrice Berne and Jean-Marc Fessard, are self-described as "key representatives" of the French school in this recording. The Kaïros Association, which Berne directs, commissioned three works on this recording and has commissioned many chamber works that include clarinet. In addition to directing the Kaïros Association, Berne has performed on 20 recordings. Her focus is the performing and commissioning of contemporary chamber works. She is a tenured professor of clarinet at the National Conservatory of the region of Clermont-Ferrand. Jean-Marc Fessard has a degree from the Paris Conservatory with highest distinction for clarinet, bass clarinet and chamber music. Contemporary music is likewise his specialty, being the dedicatee of many new works. He is an artist on over 30 recordings. More information about these performers can be found on their websites: www.jeanmarcfessard.com and www.beatrice-berne.com.
The challenges to produce an effective recording of French contemporary clarinet duos are many. This recording is effective because of the great variety of sonic experiences throughout. The instrumentation varies from two clarinets, clarinet and bass clarinet, E-flat soprano clarinet with clarinet or bass clarinet, and two bass clarinets. These works are extremely demanding, and so the clarinetists' ability to play with great virtuosity on multiple clarinets of the family is quite commendable. Great contrast is produced as both Berne and Fessard exhibit considerable tonal flexibility throughout the recording, producing admirably soft dynamics even in registers when it is not advantageous to do so. Additionally, contemporary techniques are employed such as slap tonguing, pitch bending, smears and circular breathing in a particularly Moto perpetuo-esque passage. Most notable is the tonal control on Jouve's Musica Elfica, Erratia, Fuggitiva. Here, Berne and Fessard's tones are pure, glassy and hollow at times, creating a superb effect.
Duo playing is rather exposed. Berne and Fessard produce superb synchronicity in these rhythmically intricate works. The blend and balance is likewise admirable. I envision rehearsal at great lengths to accomplish the depth of refined ensemble and like-minded understanding of these eight pieces, many multi-movement compositions. The least effective work on this recording was Hersant's 10 Duos. Totaling roughly 10 minutes, these short works lack continuity and connection perhaps since several are transcriptions of other works by the composer borrowed from here and there.
Gratefully, the liner notes include commentaries from the composers for each of their works. Included is mention of other works for clarinet by these composers and each composer's website address. It was interesting to learn, for example, that one of the composers, Evan Bellocq composed in 2011 Ouf!, reportedly the sole existing piece written for the octocontralto clarinet in E-flat. The descriptions of the works by the composers provide great understanding for the listener. Mennesson's description of her piece, for instance, "A swell mixing with kelp and sea-spray again and again before losing itself in the blue coastline," provides a great picture.
This music places the duo repertoire squarely on the concert stage rather than in the teacher's studio, where clarinet duo repertoire is often thought of as a highly effective teaching tool. These quality works of French art would be demanding additions to any advanced clarinet recital. Berne and Fessard produced a fine recording that provides exposure to these newest additions to the duo literature.
Gail Lehto Zugger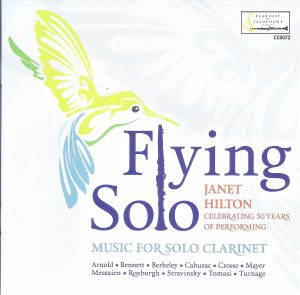 Flying Solo. Janet Hilton, clarinet. M. Arnold: Fantasy; E. Roxburgh: Wordsworth Miniatures; O. Messaien: "Abîme des Oiseaux" from Quatuor pour la fin du temps; M. Turnage: 2 Memorials; G. Crosse: A Year and A Day for Clarinet Alone, Op. 48A; L. Berkeley: Three Pieces for Clarinet; I. Stravinsky: Three Pieces for Clarinet Solo; R. Rodney Bennett: Sonatina for Clarinet Solo; L. Cahuzac: Arlequin; H. Tomasi: Sonatine Attique; J. Mayer: Sargam. Clarinet Classics 0072. Total time 78:01. Clarinet Classics
British clarinetist Janet Hilton presents impeccable interpretations of music for solo clarinet in Flying Solo, a celebration of her 50-year career as a clarinet soloist. Since her days as a scholarship student at Royal Northern College of Music, Hilton has appeared as a soloist with major British orchestras and as a chamber musician in festivals such as Edinburgh, Cheltenham and the BBC Promenade Concerts. Her orchestral career includes principal positions in the Scottish Chamber Orchestra, Welsh National Opera, Kent Opera and Manchester Camerata. An acclaimed pedagogue, she served as Head of Woodwinds at the Royal College of Music London, where she continues to maintain a clarinet studio. Guest teaching and master class invitations include Paris Conservatoire, Vienna University for the Performing Arts, Melbourne Conservatory, Sydney Conservatory and Xinghai Conservatory of Music.
The robustness of the British clarinet school is evident in Hilton's playing, as she exudes warmth and resonance in even the most technical passages. Interpretations are adept, girded with warmth and imagination, without overly stretching the boundaries of delicateness. Throughout the compilation, Hilton performs with unwavering attention to detail, shaping every note of each phrase with thoughtful musicality.
Originally conceived as a compilation of pieces Hilton enjoyed performing, the selections transcend art forms and cultures. A Year and a Day explores the connections between music, literature and drama. 2 Memorials steps into the world of blues, and the final movement of Stravinsky's Three Pieces for Clarinet is based on ragtime. Wordsworth Miniatures is a response to selected Wordsworth poems, and the multi-faceted actor in commedia dell'Arte is evoked in Arlequin. Arnold's Fantasy disregards the intended purpose as a musical study to break the conceptual barriers of a test piece. Finally, Mayer's Sargam adeptly blends western and Indian classical music, providing the clarinetist an entrance in a heretofore forbidden world.
A consummate pedagogue, Hilton succinctly yet engagingly explains her thought process behind the selection of works and their personal meaning to her in a live interview: www.clarinetclassics.com/media. The video provides listeners an opportunity to meet the performer and to view her technique, scores and stage presence. While the mastering of the recording produced a somewhat dry and sterile sound quality, the video exudes a vibrational warmth that is inherent in her approach. Furthermore, the liner notes written by the performer highlight her commitment to education, relaying the inspiration and history of each composition.
In this recording, Hilton selected works that display the beauty of the instrument, without a reliance on overly flashy passagework or extended techniques. The listening connoisseur is offered a variety of standard works and new selections to please the palette, while performers are presented with recital options that are accessible to both clarinetist and audience member. This disc would be a welcome addition to any clarinetist's library and it serves as a fine example of the eloquence of the British clarinet tradition.
Michelle Kiec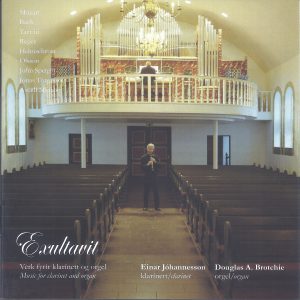 Exultavit: Music for Clarinet and Organ. Einar Jóhannesson, clarinet; Douglas A. Brotchie, organ. W.A. Mozart: Four Church Sonatas; J.S. Bach: Prelude in F-sharp Minor, No. 14, BWV 883; G. Tartini: Concertino; M. Reger: Ave Maria; R. Helmschrott: Sonata da chiesa X; O. Olsson: Alma redemptoris mater; J. Speight: Music, when soft voices die; J. Tómasson: Exultavit Maria; A. Másson: Kansóna. Total time: 77:20. Amazon
The clarinet and organ are an unusual pairing, yet after listening to Exultavit by clarinetist Einar Jóhannesson and organist Douglas A. Brotchie, I think they are a well-suited and fascinating combination. Since both the organ and the clarinet are blown pipes, it is clear why this combination works well, and it puzzling that it has not become more popular. The instruments blend so well together that there are times when it is difficult to know whether one is listening to the organ or the clarinet. The overall effect Jóhannesson and Brotchie create in this recording is lush and beautiful.
The duo breathes new life into Yona Ettlinger's arrangement of Mozart's Four Church Sonatas. Previously, I was never fully convinced of this work. In this scoring, the organ gives the work the weight that is missing in other arrangements. In addition, the contrapuntal writing seems to work better among more equally matched instruments. Jóhanneson's sound melts into the organ in the slow movement, and throughout the work their balance and blend is stunning. This recording turns a minor transcription into a much more substantial work.
Bach's "Prelude in F-sharp Minor No. 14" from the Well-Tempered Clavier is another successful transcription. The overall affect is warm and enveloping. Once again, contrapuntal writing between two similar sounding instruments creates a pleasing blend of contrasting lines.
Gordon Jacobs's arrangements of Giuseppe Tartini's works, which became the Concertino for Clarinet and String Orchestra, is popular among clarinetists. This transcription transforms it. With the addition of the organ, the work becomes grander. The organ's ability to sustain in the same way as the clarinet makes this transcription fuller and, particularly in the slower movements, more satisfying. Perhaps one misses the lightness of the strings or piano in the fast movements, but the duo's choices still made this transcription work well.
The Ave Maria of Max Reger, arranged by Eberhard Kraus, is a lovely song with organ accompaniment. This work, along with Otto Olsson's Alma redemptoris mater and Áskell Másson's Kansóna, are somewhat simpler works that feature lyrical lines and more traditional liturgical organ writing. These works seem useful for church musicians or others needing new works for ceremonies and events.
The most exciting original work on this recording is Robert M. Helmschrott's Sonata da Chiesa X. Helmschrott wrote 12 church sonatas for organ and one or more instrument between 1984 and 1994. The work's musical language is modern yet borrows from early sources, including medieval church modes, Jewish, Greek and Roman music. The first movement, "Ekologe," is at first slow and ponderous, then builds in energy to an extended, dramatic clarinet cadenza. The second movement is as close to light dance music as one could imagine the organ capable. Both in the second movement "Rondellus" and "Ekologe," the clarinet carries the melody, and the part is technically challenging and intense.
Overall, this recording is well done with a pleasant mixture of transcriptions and new, original works for the medium. The liner notes are excellent and place each work into context. The only issue I found was that the track numbers are incorrect both on the back of the disc and in the liner notes, which creates some confusion for the listener. Yet this should not discourage anyone from listening to this unique recording, especially those looking for new, audience-friendly works.
Amanda McCandless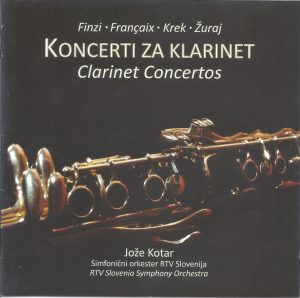 Clarinet Concertos. Jože Kotar, clarinet; Milena Lipovšek, flute; RTV Slovenia Symphony Orchestra; Simon Krečič, conductor (Finzi and Žuraj); Benoît Fromanger, conductor (Françaix); Marko Letonja, conductor (Krek). G. Finzi: Clarinet Concerto, Op. 31; J. Françaix: Double Concerto for Flute, Clarinet and Orchestra; U. Krek: Concert Fantasy for Clarinet and Orchestra; V. Žuraj: Clarinet Concerto. RTV SLO Klasika 114045. Total time: 72:32. RTV SLO
Clarinet Concertos is the latest CD recording by the Slovenian clarinetist Joše Kotar. It includes works by Gerald Finzi, Jean Francaix, Uroš Krek and Vito Žuraj. These concertos are diverse in their musical styles and contain many challenges for the performers. In these performances, Kotar does an excellent job meeting the virtuosic demands of each piece. He is clearly a fine artist and the playing in all four works is flawless and beautifully performed.
Clarinet Concerto, Op. 31 by Gerald Finzi is the first concerto on the recording. Kotar gives a solid performance of this piece. He plays with a smooth dark sound and plays with great sensitivity and control. His tuning and ability to blend with the orchestra create a flowing and expressive interpretation that is very satisfying and enjoyable.
In the Françaix Double Concerto for Flute, Clarinet and Orchestra, Kotar demonstrates his technical virtuosity. Flutist Milena Lipovšek, whose beautiful sound and technique are equally impressive, joins him. What is most striking about this performance is the interaction between Kotar and Lipovšek, as their ensemble skills and ability to match tonal colors is extraordinary. They perform technical passages with great precision and the interchange of material between the two is seamless and immaculate. In the third movement, Kotar shows that he is equally comfortable playing the bass clarinet. He plays with great finesse in the staccato passages and expressive lines and keeps the playing light and nimble throughout the entire movement.
The Concerto Fantasy for Clarinet and Orchestra was written by the Slovenian composer Uroš Krek, and premiered in 1988. Highly chromatic and innovative in its harmonies, this single movement work has great substance and colorful orchestration. It is a compelling work that features many instances of musical dialogue between Kotar and individual members of the orchestra. The timing of the phrases and interaction with the ensemble is impeccable, resulting in a very engaging and energetic dynamic between the orchestra and soloist. This is a great piece and a wonderful performance.
The last piece is Slovenian composer Vito Žuraj's Clarinet Concerto. This piece is completely different from the other three. This avant-garde work is very difficult for the soloist and select solo instruments in the orchestra. Initially, I was not engaged, but was drawn in by the creative sounds and textures created in the orchestra as the work unfolded. The kaleidoscope of colors and effects just kept evolving and getting more exciting as the piece progressed. By the end, I was fully enthralled and completely swept away. Kotar's performance drives the piece forward, as he effortlessly transitions between extended and traditional techniques, while constantly responding and contributing to the changing textures of the orchestra. The virtuosity of many of the solo players in the orchestra, particularly contrabassoon and piccolo, is also impressive. This piece is complicated and required a lot of skill and virtuosity from the soloist and orchestra, and the result was a compelling and exciting performance.
The overall recording quality is high quality. Kotar sounds beautiful and the orchestra does a wonderful job supporting him. The space in which they recorded lacks reverberation, but provides a smooth and rich space for this literature. I was delighted to hear some new repertoire by Slovenian composers and to become more acquainted with Kotar's playing. I would definitely recommend this as an addition to anyone's clarinet recording library.
David Shea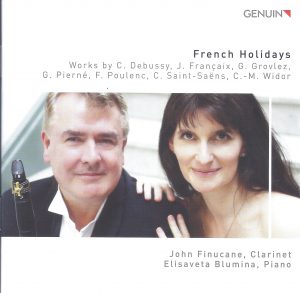 French Holidays. John Finucane, clarinet; Elisaveta Blumina, piano. J. Françaix: Tema con variazioni; C.M. Widor: Introduction et Rondo; F. Poulenc: Sonata; C. Saint-Saëns: Sonata in E-flat Major, Op. 167; G. Pierné: Canzonetta, Op. 19; G. Grovlez: Sarabande et Allegro; C. Debussy: Première Rhapsodie. Genuin GEN 17451. Total time: 67:45. Amazon and iTunes
John Finucane and Elisaveta Blumina present a mostly traditional collection of French repertoire in their new album French Holidays, which highlights the clarinet's "cantabile virtuosity." This concept unifies the album and is explored in the extensive liner notes that provide historical background, a brief discussion of the clarinet in France and how it became celebrated for its vocal quality. Three pieces on this disc, including Widor's Introduction and Rondo, Debussy's Première Rhapsodie, and Françaix's Tema con variazioni, were written for the Paris Conservatory's annual competition.
Finucane and Blumina are exemplary collaborators and are on the same page regarding interpretation throughout the album. Finucane has led a distinguished and multifaceted performance career. He is principal clarinet with Ireland's RTÉ National Symphony Orchestra, tours regularly as a soloist and chamber musician, and serves on the faculty of the Royal Irish Academy of Music. In addition, he conducts ensembles such as the RTÉ National Symphony Orchestra and Concert Orchestra, the Ulster Orchestra and Opera Theatre Company and the Hibernian Orchestra. Blumina has distinguished herself as a member of the "Ensemble Blumina" trio, a scholar of the works of Mieczyslaw Weinberg, and artistic director of both the International Chamber Music Festival in Hamburg and the festival "Giluim" Musica Judaica Salzland.
A dynamic performance of Françaix's Tema con variazione opens the album. The third and final variations were particularly strong stylistically and sounded effortless. Equally impressive is the cadenza in which Finucane demonstrates flexibility in navigating the large melodic leaps. At times, however, I wanted more focus to the tone through the registers.
Widor's Introduction et Rondo follows with its rhapsodic opening. The start of the "Rondo," partly due to its reserved tempo, seems a bit over-controlled. Nonetheless, the interpretation is sensitive and well-crafted. Finucane demonstrates incredible control in the altissimo range and his intonation is excellent.
Poulenc's Sonata was, for me, the highlight of the album. The performance is filled with character and the playful contrast that we expect from Poulenc. I love the way Finucane allows the first movement's lyrical melody to unfold so naturally. The second movement is stunning as is the rousing third movement with its brisk tempo and humor.
As with the Poulenc, Finucane imbues the lyrical opening theme of Saint-Saën's Sonata with a lovely vocal sound. The second movement could have been more animated with a faster tempo, but the execution, especially the light ascending staccato passages, is elegant and crisp. Look to the fourth movement for another example of the graceful style and tight ensemble the duo achieves.
Gabriel Pierne's charming Canzonetta is perfectly placed after the two sonatas. The main theme's elegant quality is irresistible and played beautifully with a long phrasing arc and expressive rubato. This performance highlights Finucane's great control – notably in the soft altissimo register.
Originally written for oboe, Grovlez's Sarabande et Allegro is a welcome addition. This six-minute arrangement offers many opportunities to display technical and lyrical playing. The contemplative "Sarabande" is approachable and memorable while the "Allegro" is bubbly and light with fast articulated lines. Finucane expertly navigates the passagework as it fluctuates between registers. The delicate and intertwining clarinet and piano lines in the middle of the "Allegro" are also striking. I look forward to using this work in my own teaching.
The album concludes with a polished and colorful performance of Debussy's Première Rhapsodie. I particularly enjoy the dreamy texture evoked at the opening as well as the clarity of the Animé section.
The performances on this album truly showcase the fine collaboration between two sensitive musicians. They succeed in highlighting the clarinet's "cantabile virtuosity."
Justin Stanley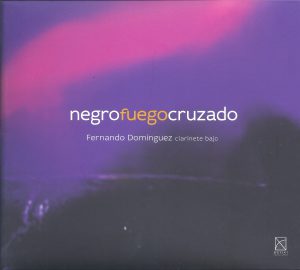 Negro Fuego Cruzado. Fernando Dominguez, bass clarinet; Ónix Ensamble. E. Eoussaint: Estudio Bop 8 "A Dolphy-Too"; A. Lara: Entre la bruma va; J. Álvarez: Negro Fuego Cruzado; A. Fuentes: Lood; H. Paredes: Intermezzo malinconico; G. Macías: Bésame azul. Urtext Digital Classics JBCC263. Total time: 52:24. Urtext Online
Negro Fuego Cruzado offers an eclectic mix of new works for bass clarinet written by predominantly by Mexican composers for Fernando Domínguez. A strong force of contemporary performance in Mexico, Domínguez performs as a member of ÓNIX Ensemble, Mexico City's Woodwind Quintet and Duplum Duo. He studied at the Vienna State Conservatory and at the Sweelinck Conservatory in Amsterdam with Harry Sparnaay. Fernando's inspiration for the project and the collaboration bring together different stylistic worlds handled deftly, ranging from sometimes post-minimal to spectral to complex. The composers featured on the album represent a span of works from 2007 to 2013. The works are worth hearing for Domínguez's bass clarinet performance, extended techniques including a powerful slap-tongue, and use of electronics.
Written in 2007, the album's first track by Eugenio Toussaint, Estudio Bop 8 "A Dolphy-Too," is a jazz-inflected solo work that highlights Domínguez's roots studying with Harry Sparnaay. Toussaint's piece is explicitly evocative of jazz musician Eric Dolphy, according to the composer's words. The work aims to explore this language through a pseudo-improvisatory sound world.
Ana Lara's work Entre la bruma va, written in 2008, features Domínguez traversing a range of extended techniques from flutter-tonguing to slap-tonguing through contrasts of fast technique with slow lyrical lines. The dynamic range and diversity of sound colors shines with the accented tonguing popping drastically out of a sometimes-subdued texture.
Javier Alvarez's piece, and the title track negro fuego cruzado (2008), evokes emotions both grating and jarring. The mixture of sounds created by Alvarez in conjunction with the almost menacing bass clarinet writing creates a vacillation between ethereal space and industrial-sounding grit. In the liner notes, Alvarez states: "contrast between granular and continuous sounds are reinforced, thus generating the sound scaffolding of the work." The title meaning of black crossfire finds its place among "images of fire and metal," with a chaotic explosion of force ending in the pure sound of the bass clarinet.
Arturo Fuentes' Lood approaches the bass clarinet sound world with texture and noise. The electronics capture the frenetic nature of the air, the key sound and the shimmer of the upper bass clarinet overtones, and combine them into an effervescent piece. Some sounds are similar to Mario Davidovsky's Syncronisms with the high electronic notes and static clicks. The bass clarinet mixing that had been at the fore seems to have become more distant.
From the first pops of slap tonguing, Domínguez sets up a surprisingly wide dynamic contrast that brings the subsequent air and breath sound to life. Hilda Paredes's Intermezzo malinconico (2013) creates a landscape of "opposites: aggression and its consequences, deep and subtle pain" through the malicious articulation and Domínguez's pleading breath and tone control.
The last track, Bésame azul by Gonzalo Macías, sets up a simple lumbering idea that takes flight among electronic howling of clarion bass clarinet sounds. Macías transfigures these sounds and tangentially moves them away from the original idea. The eerie soundscape is unsettling and the deft playing by Domínguez brings out the work's color and character games.
This recording provides an interesting window into varied approaches to the modern bass clarinet. Fernando Domínguez's performance along with the eclecticism of these new works makes this a valuable addition to the modern clarinetist's collection.
Ford Fourqurean