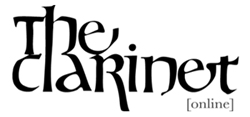 Originally published in The Clarinet 44/4 (September 2017). Printed copies of The Clarinet are available for ICA members.
---
by Christopher Nichols
This edition of "Audio Notes" celebrates new works for clarinet, as well as unfamiliar composers. I hope it entices readers to explore these works and consider them for future programs!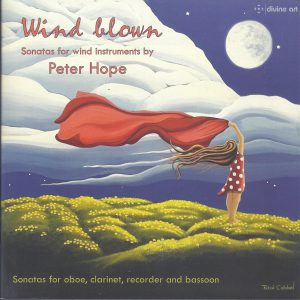 Wind Blown: Sonatas for Wind Instruments by Peter Hope comes from the Divine Art label (DDA 25137) and is available for purchase as a digital download through iTunes or as a CD at Divine Art Records. Peter Hope (b. 1930) is a new and welcome discovery, but his biography suggests his music is more familiar than his name, especially for those residing in the United Kingdom. BBC TV News used his music for over a decade as its theme music. Hope frequently arranged for the BBC Concert Orchestra and artists such as Jose Carreras, Kiri te Kanawa and Jessye Norman. His compositional voice is accessible and self-described as "unashamedly tonal." This recording, his first complete disc of compositions, contains sonatas for oboe, clarinet, bassoon and recorder. In addition, there are two chamber works for unusual combinations: one for recorder, clarinet and piano and one for speaker and recorder.
The clarinetist is Thomas Verity, principal second and E-flat clarinet in the Royal Liverpool Philharmonic Orchestra. Throughout Hope's Sonata for Clarinet and Piano, Verity performs with a focused and vocal sound that is complex and rich in overtones. This is especially noticeable in the upper clarion and altissimo registers, with excellent intonation throughout the range of the instrument. He phrases every passage with conviction, which is a delight to hear. Pianist Simon Passmore, director of music at St. Ann's Church in Manchester, joins Verity for this recording.
Hope structures his sonata in three contrasting movements. Verity spins beautiful, lyrical phrases over Passmore's supportive accompaniment in the first movement titled "Moderato." The second movement, "Vivace," contrasts as it is largely "conversational." Listeners should notice Verity has admirably polished technique – his rendition, executed with apparent ease, generates excitement.
The closing movement, "Freely, Allegro," includes elements of klezmer style, evident from Hope's choice of modes, dance-like music and energetic portamentos! Despite all the exuberance in this movement, it concludes in a poignant, reflective manner.
Tallis Remembered, written for the unusual instrumentation of recorder, clarinet and piano, originated as a work for violin, recorder and piano. John Turner joins Verity and Passmore for this chamber work, which is a theme and variations written in response to Wendy Cope's poem Tallis's Canon. This charming, small-scale work provides clarinetists the rare opportunity to collaborate with a recorder in 21st century repertoire.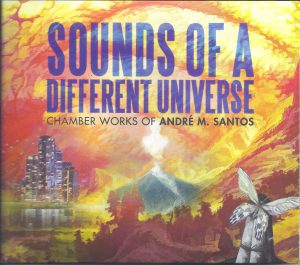 Sounds of a Different Universe, another composer-centric recording, features chamber works of emerging Portuguese composer and guitarist André M. Santos (b. 1984) on Ravello Records RR7943, part of the Parma Records umbrella of labels. It presents compositions for a variety of chamber ensembles, two of which include clarinet in unusual combinations.
Word Study: Manipulation (2015) for clarinet and accordion, according to Santos's liner notes, explores the "abstract psychological theme" of manipulation. As one might expect, this instrumentation has a fresh, unique sound to it. Sérgio Neves (clarinet) and Carisa Marcelino (accordion) are members of the Portuguese chamber ensemble Des Concertante Trio, which won the Confédération Internationale des Accordéonistes 2006 International Competition for Chamber Music. Neves and Marcelino form an ideal ensemble. Balance and ensemble are perfect and these musicians clearly connect in a manner only possible with frequent and regular collaboration. In particular, I commend Neves for his fine control of the upper clarion and altissimo registers at extreme dynamics and beautiful shaping through this five-minute duo.
Santos composed Lima, for oboe, clarinet and piano with electronic sounds, in three untitled movements as a tribute to Lima, Peru. Hence, it uses a traditional rhythmic motif of Peruvian music with an occasionally klezmer-inspired clarinet part. Each movement creates a sound picture of the composer's perception of the city, which Santos describes as "one of the most confused places in the world where I have been…"
Portuguese musicians Bruno Graça (clarinet), João Miguel (oboe) and Cândido Fernandes (piano) phrase beautifully together, but there are occasional ensemble and intonation discrepancies. Santos's composition thrives in the various tone colors available. He exploits the available blend between oboe and clarinet, but also harnesses the contrasting aspects of these characteristic timbres. The microphone placement sounds somewhat close, which results in an intimate sound to the recording and excellent balance. However, sonorities lose their complexity, especially at louder volumes.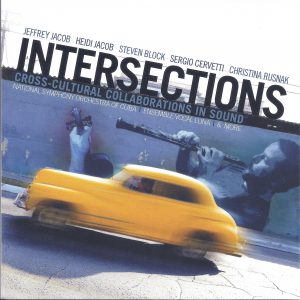 Intersections: Cross-Cultural Collaborations in Sound (Ansonica Records AR 0002, also a Parma Records imprint) "embodies the beautiful art whose creation has been enabled by the newly opened cultural exchange between the United States and Cuba" according to the disc's complementary website. Listeners may access this website, offered in lieu of liner notes, at Ansonica Records. It includes composer biographies, links to purchase digital downloads, photos and study scores. This recording's excellent engineering and production result in a clear, warm and balanced listening experience.
Composer, cellist and conductor Heidi Jacob is associate professor of music at Haverford College near Philadelphia, Pennsylvania. She constructs untouched by morning and untouched by noon, for bass clarinet, trumpet, trombone, baritone voice and piano, in eight short movements with texts from iconic philosophers and poets such as Heraclitus, Voltaire and Emily Dickinson. According to Jacob's program notes, the work "explores the duality of atonality and tonality using a range of musical styles in which I sought to observe the effect of the constraints of this brevity. The larger structural trajectory is determined by juxtapositions of these diverse styles and the interconnection of the various musical materials and texts."
Alden Ortuño Cabezas, a member of the National Symphony Orchestra of Cuba (NSOC), will impress bass clarinet aficionados. He performs with a beautiful, flexible sound and explores a wide array of colors as dictated by the context of each movement and phrase. He demonstrates true sensitivity throughout Jacob's composition and has remarkable facility!
Sergio Cervetti (b. 1940), former New York University faculty, wrote the three movements of And the Huddled Masses for clarinet and string quartet. In his program notes, Cervetti cites his inspiration as the tragic story of a young Ecuadorian girl who made the desperate journey from her native country to join her parents, illegal immigrants living in New York, and then committed suicide at the Mexican border when her entry was thwarted by immigration authorities.
Cervetti, an immigrant to the United States in 1962 from Uruguay, expresses heightened awareness of such circumstances in today's global state of affairs. This composition is an emotional roller coaster which justifies repeat listening and contemplation.
For Cervetti's composition, Cabezas is joined by a string quartet from the NSOC, comprised of Leonardo Pérez Baster, violin I; Luis Alberto Mariño Fernández, violin II; Yamed Aguillón Santa Cruz, viola; and Lester Monier Serrano, cello. Enrique Pérez Mesa, music director of the NSCO, conducts. Again, Cabezas plays with an attractive sound, excellent intonation and superior facility with particularly noteworthy command of the extreme altissimo. However, I desired more shape, dynamic contrast and variety of tone color in sustained passages, especially considering the subject matter.
Due to space constraints, I limited my discussion of these recordings to those with clarinet, but do explore the other tracks. There is much beautiful music to experience on these three recent releases! v