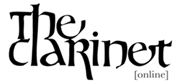 ---
An Interview with Simon Wyrsch
with Sarah Manasreh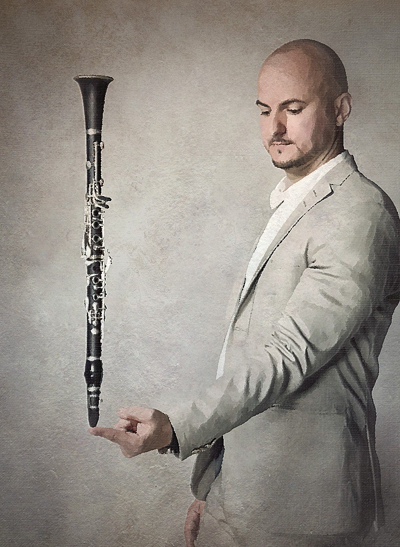 (To watch the Zoom interview, click here.)
Jazz clarinetist Simon Wyrsch has an ambitious, diverse career driven by curiosity. From traditional jazz settings and commercial music to funk bands, his work is exciting and vast, covering many traditions, sounds and timbres. While his ethic and interests have taken him all over the world, Simon's artistry and creativity have made important contributions to the entire clarinet community, honoring countless improvisational traditions. On March 21, 2021, I sat down with Simon to find out more about his life, career and projects.
Growing up in Zurich, his whole family loved music. His father played guitar and bass and his two brothers played instruments too. He loved listening to recordings of jazz. While at the Waldorf School, Simon heard the clarinet in the orchestra. His attention wasn't captured by wild fast virtuosic passages, though, but rather just the sound of the instrument:
SW: "Well, I remember at school there was the orchestra playing. I guess you in the U.S. say I went to Waldorf School so there were a lot of arts, painting, working on wood. Just came in very handy because I loved all those kinds of things. I remember that the orchestra was playing. There was one part where the clarinet held a note or changed to another note. That sound captured me."
After hearing Simon's smooth and velvety sound, it's easy to see what inspired his love for clarinet. He said the question he is asked most is about his sound creation and concept, the very same question I asked. It turns out the secret to his sound is simple: a really good warmup:
SW: "Well, I'm fascinated with the classical clarinet sound. We all talk about the dark, round, centered sounds of the clarinet, so that's basically what I'm striving for too. Actually, I'm doing a lot of classically-oriented practicing just to have an idea of how it could be: like playing scales, arpeggios. It's a lot of classical oriented practice that sets me free at the end to make to make the music I want which is more improvised stuff."
This classical practice is similar to many common warmups, and includes things like Baermann scales, Klosé scales and thirds, and Kroepsch arpeggios. His warmup lasts up to an hour, but later he stresses that memorizing these exercises in all keys is integral to learning to improvise. Simon's warmup has been constant over the years, he says that it stays with him whether he is at home or on tour. He has even taken time to explore material on reeds, sound production and clarinet mechanics.
Simon's classically-oriented warmup really does set him free, he says. His approach to exploring new sounds on the clarinet is systematic including patient trial and error work. Like his diverse career, he wants to make diverse sounds. In an effort to create interest in his performances and satisfy his natural curiosity, he has hooked bass clarinets up to bass pedals, he can whistle across the upper joint like a flute, and he has a full range of extended techniques at his fingertips. Regarding learning how to perform the clarinet like a flute, he says:
SW: "I think I heard it many, many years ago; someone did it at a concert. Then I went home and tried to do it by myself of course. It's a tricky thing because you're blowing too hard the first couple days. You start to get dizzy. But again, for me, it was just a systematic approach. You learn clarinet. You systematically start to compose. You have: Dixieland band, swing band, bebop band, free-jazz band. You just try on every aspect to go further to learn. It's the same with the clarinet. I started to do those mouthpiece exercises with the piano and expand my range there. That's what happened with the flute sound. I just kept experimenting."
Using the flute sound, he spiced up his first solo recital two years ago:
SW: "I played a solo program – just clarinet and loops. You really have to have something to do, in my case it was 40 minutes. I just like to have different aspects of the instrument making different sounds and colors, so that flute sound came in handy."
Simon's sound experimentation comes in handy with his many projects. His most recent projects include Benny's From Heaven – a more traditional jazz combo, Spyctronix – a rotating group of funk musicians, and the Ethnic Trance Trio – a group that incorporates different world music traditions. With Spyctronix, you can hear Simon playing funk on the bass clarinet by hooking the instrument up to a bass pedal. Just as he approaches many things, the sound for this was in the back of his mind, and he systematically experimented with ways to create this unique sound:
SW: "Well, there is a great tenor player and bass clarinet player that I had on my interviews: Bob Mintzer. This was in the '80s when he played with Jaco Pastorius and Randy Brecker, and they all used some effects. I think this was back in my mind somehow – this kind of sound. Then I tried different pedals and the one sound that you're referring to, I think it's from an electric bass pedal that I got it out from. It's just a great thing to play loud on an instrument that usually cannot be really heard when you play with a drum set. It was just my electric project that I went into and had a lot of fun making different sounds."
When Simon isn't creating beautiful sounds or hooking bass clarinets up electronically, he is networking and connecting with other musicians – a driving force in his diverse career. His group Ethnic Trance Trio evolved from a 2015 touring project that took him all over Russia. It was there he met and began collaborating with Gudimir, a master of the gusli, the oldest string instrument in Russian folk music. Later adding a percussionist, they released an album. The style of the group is a mix of western jazz and classical styles, Russian folk music, and the harmony of Indian music. With a lower tuning pitch (A = 432 Hz) and cyclical and hypnotic melodies, the group is able to create a warm and esoteric atmosphere.
The final group, Benny's From Heaven, is Simon's outlet for more traditional jazz. A tribute to the clarinet's "Golden Age of Jazz", they perform standard swing charts, but it doesn't stop there. This group also performs Simon's own compositions:
SW: "I have this Benny Goodman tribute band that's called Benny's From Heaven because there is a famous song called Benny's From Heaven. And we play all those hits from that time. We play a lot […] for dances. Just because it was such an important time – that swing era – with the clarinet with Benny Goodman. But then, of course, I think it's important to compose yourself, to find somehow your way of playing jazz. So, I started writing around 20, so we play my music so to speak."
During the pandemic, Simon has continued to perform with other musicians in St. Petersburg for dances using this genre. However, his musical diversity and the groups with which he performs have allowed him to be flexible in and out of the pandemic with his projects and income:
SW: "Well, I just enjoy playing different kinds of music in general, so I have an outlet for all my tastes, right? I have this funky band where I have effect pedals for the clarinet which is very inspiring because the sound that's coming out is totally different than the regular clarinet sound. That's a lot of fun too. And different venues that you can play with a band like that so I can maybe play a club that has more Rock 'n Roll or groovy things going on. For me, it's what I personally love to do and also, what I sell at the end to play gigs and to make a living. […] Luckily, in St. Petersburg […], of course there are restrictions, but not so tight. I used to play gigs all the time in clubs, so I had the good fortune of being here than in Switzerland where everything is closed, and nothing is happening. It worked out well, but who knows what the future will bring. I didn't plan too much ahead. Actually, early on, as I mentioned, I had different projects going on because I love different kinds of music, but also because it creates different opportunities. The same is with income. In my case, I'm also doing some studio work from time to time, playing on a movie or when my composition is played from my CDs on the radio, I'm getting some royalties from there. So, I tried to create that income and money flow from various different angles."
Even with less restrictions, Simon has gotten creative since the lockdowns began. Beginning in July 2020, he set up informal interviews with fellow clarinetists who perform different styles of improvisatory music all over the world. At the time of this interview, he had posted 131 interviews. In order to achieve this huge number, he sometimes did two interviews per day, and still more interviews are being released. The importance of this project goes beyond just recording living history but illuminates the diverse use of clarinet in diverse music traditions and genres and the incredible players that perform in each style:
SW: "Well, we are all stuck at home, and I thought it would be great to get in touch with all the guys that are doing more or less the same that I'm involved in, and also to give people a voice. I had the top five players on the show too. Guys like Paquito D'Rivera, Eddie Daniels, or Bob Mintzer, that everybody already knows. But then there are tons of people that are playing great. You know, it's the tip of the iceberg. It's the same in every field. It was just a lot of fun to talk to everyone in a loose kind of way. I didn't have fancy intros with 'sponsored by.' Just called those people up and have a chat. And somehow people responded to it positively. I think the younger generation, for example teenagers that are coming up, maybe they never had a chance to hear the view of so many players that's playing the same instrument that he does or she does."
These interviews also lend themselves to a broader mission: bringing improvised clarinet back to prominence. Through inspiring young musicians, giving improvisors a voice, and experimenting with sounds, electronics and mixing genres, his work is bringing jazz clarinet back into the spotlight. And it all comes back to clarinet sounds, and, of course, electronics:
SW: "Over the years the music got louder and louder. First there were no amplifiers for guitar, for bass. Everything was acoustic. Then it changed to electric keyboards and everything. So, no chance for the clarinet to be honest. But today, with today's technology, with pick-up mics and all kinds of gear, you actually can compete volume-wise with the drummer, with the keyboard player. So you have to go with time, I guess, to use that gear too. For example, you mentioned Spyctronix, I used effect pedals, or I used, it's a small company in Germany, Rumberger, make these microphones inside the instrument. You plug it in, and you have a really direct signal. Things like that are very useful to me to finally make it happen. That you can play and be heard."
Simon believes we have to electrify the clarinet just as we have the instruments in the rhythm section. Simon is careful to point out that this is just his opinion, and that we must also be cognizant of the audience and the style of music they prefer.
In crafting a career with such breadth and depth, Simon is a wealth of knowledge. The interview ended with advice to those who want to build a performing career down any path and clarinetists who are interested in developing their improvisation skills. He also shared thoughts on how a clarinetist can break into the commercial music scene:
SW: "You don't even have to go to jazz necessarily. You start with, for example, learning those scales not by reading those fat books where it is written in all keys. Just memorize what you're doing. It can set you free on the instrument, and you can learn a lot and you don't even have to play jazz. I mean you can just improvise. You can learn how to improvise in Baroque music. Get a teacher; get a book to just get started."
He acknowledges that breaking into the industry can be tough these days with the internet, but the more you network, listen, add skills and diversify, the better chance you have. Most of all, he encourages everyone to follow their own interests whether others like it or not:
SW: "Nobody is waiting for you. […] You have to be very secure. In my case, I'm my biggest fan, but also my biggest critic. It only working like that, I guess. Because otherwise if you're depending on if somebody else likes what you're doing, I don't know how long the road will be. If you're fascinated with something, just go for it."
Simon is continuing to record interviews and release them on his YouTube channel and is performing gigs in St. Petersburg. He is offering lessons to anyone who is interested in learning to improvise whether in jazz or just to be free from reading printed music. He also suggests, for anyone ready to do trial and error with electronics, to check out http://www.horn-fx.com, a webpage dedicated to helping players decide what electronics might fit their needs. More information about Simon's career can be found on his website http://simonwyrsch.ch/. He plays with Rumberger microphones, Vandoren reeds and Buffet-Crampon Prestige Clarinets. Exploring his recordings and projects is well worth the time.