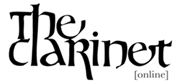 ---
Audio Reviews: May 2021
Listen to the majority of these recordings in the ICA May Reviews Spotify Playlist!
---
The Clarinet Online – Audio Reviews May 2021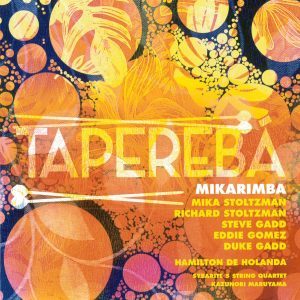 Taperebá: Mikarimba. Mikarimba: Mika Stoltzman, marimba; Richard Stoltzman, clarinet; Steve Gadd, drums; Eddie Gomez, bass; Duke Gadd, percussion; Hamilton de Holanda, 10-string Brazilian mandolin; Sybarite 5 String Quartet: Sarah Whitney, violin; Monica Davis, violin; Angela Pickett, viola; Yves Dharamraj, cello; Kazunori Maruyama, piano. H. de Holanda/arr. Vi. Santos: Taperebá; B. Douglas: Return Bahia; P. Simon/arr. S. Gadd: 50 Ways to Leave Your Lover; M. Santamaria/arr. D. Matthews: Afro Blue; C. Corea/arr. T. Garland: Spain; J. Spencer/arr. M. Stoltzman: DJ Dog Demokracy; G. Gershwin/arr. K. Maruyama: Rhapsody in Blue; P. Metheny/arr. P. Stoltzman: Letter From Home. Big Round Records, BR8959. Total Time: 51:00.
Taperebá features jazz marimbist Mika Stoltzman with an eclectic ensemble of clarinet, ten-string mandolin, piano, bass, percussion, and string quartet. The album shares its name with a coastal city and a luscious, mango-like fruit, both found in Brazil. The "fruits" of this album are seven tasty, original arrangements and one fresh composition. Every track on this Latin-influenced disc departs on a delightful and unexpected journey. Changes of feel within each tune—at times spacious, at other times driving—along with harmonic inventiveness and rich textures create an engaging sense of storytelling.
Celebrated clarinetist Richard Stoltzman joins on six of the eight tracks, and his performances on Taperebá epitomize ease and imagination. He brings a vocal quality and incredibly liquid legato rarely heard among clarinetists. His striking shadings of timbre, ranging from hazy and warm to raw and wailing, embody the essence of each tune's varied landscape. His virtuosity shines through, too, in passages of light-on-his-feet articulation with an unmistakable speechlike quality. In Kazuyori Maruyama's arrangement of Rhapsody in Blue, Mr. Stoltzman is especially soulful.
From intimate audio engineering to simpatico ensemble playing and bold repertoire, Taperebá radiates warmth and joy on many levels. On top of that, the vibrant performances from Ms. Stoltzman and her bandmates in these subtly layered arrangements invite the listener to return again and again.
– David Yandl
---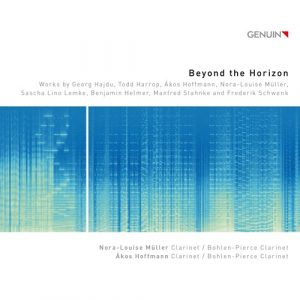 Beyond the Horizon. Nora-Louise Müller, Bohlen-Pierce clarinet; Ákos Hoffmann: clarinet, Bohlen-Pierce clarinet; Julia Puls, Bohlen-Pierce clarinet; Lin Chen, Bohlen-Pierce kalimba, percussion; Melle Weijters, 41-tone electric guitar; Julia Stegmann, viola (in Bohlen-Pierce tuning); Tair Turganov, double bass (in Bohlen-Pierce tuning); Georg Hajdu, electronics, synthesizer; Sascha Lino Lemke, electronics. G. Hajdu: Burning Petrol (after Alexander Nikolayevich Scriabin); Beyond the Horizon; T. Harrop: Maelstrom; Bird of Janus; Á. Hoffmann: Duo Dez; N. Müller: Morpheus; S. Lemke: Pas de deux; B. Helmer: Preludio e Passacaglia; M. Stahnke: Die Vogelmenschen von St. Kilda; F. Schwenk: Night Hawks. Genuin Classics, GEN20695. Total Time: 60:10. 
Nora-Louise Müller's Beyond the Horizon spotlights the unique harmonic possibilities of the Bohlen-Pierce, or "BP," scale. Spanning a twelfth (as opposed to the usual octave) and composed of intervals between whole and half steps, the BP scale requires a specially designed clarinet. Müller is a BP clarinet trailblazer and has written extensively on the topic. In the liner notes, she's included a brief, yet clear explanation of BP theory and its application to the clarinet, which is extremely helpful for new listeners.
The ten works included on this disc pair BP soprano clarinets and BP tenor clarinets, built by Stephen Fox, with a range of instruments in different tunings: traditional clarinets, electronics, strings, percussion, electric guitar and kalimba. Written by various composers between 2007 and 2015, the single movement works span three to eight minutes each. Within that time, substantial inventiveness and diversity are showcased. As one might expect, use of a novel tuning system invites disparate influences, be they modern, non-western, or ancient.
In their performances, Müller and her partners do more than just exploit the BP scale's distinctive tuning; they deliver artistic interpretations that bring this eclectic collection to life. Warm, covered sounds and delicate attacks on the first track, Burning Petrol, precede a rich spectrum of coloristic effects throughout the disc. Bold, folklike outbursts wail on Duo Dez, and ethereal, breathy sounds flitter on Pas de deux. Müller's daring commitment to the clarinet's timbral capabilities, married to the BP scale's harmonic potential, lead this disc to deliver on its promise of creating "otherworldly music."
– David Yandl
---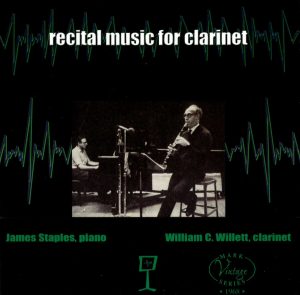 Recital Music for Clarinet. William C. Willett, clarinet; James Staples, piano. G. Finzi: Five Bagatelles; W. A. Mozart: Larghetto from Quintet, K. 581; A. Szalowski: Sonatina; L. Vinci: Sonata No. 1; W. Benson: Gentle Song; L. Bernstein: Sonata; C. Edmunds: Gay Hornpipe. Mark Records, 4882-MCD. Total Time: 45:00.
Recital Music For Clarinet is a wonderful collection of beginner to intermediate works for clarinet. These works provide a solid starting point for any student looking to study music recordings in preparation for performance. Detailed liner notes include brief historical facts about each work, and a few, including Szalowski's Sonatina, Bernstein's Sonata, and Edmonds's Gay Hornpipe, offer technical performance suggestions. William C. Willett is a proponent of utilizing vibrato within any clarinet repertoire, where appropriate, and does so in these recordings.
Finzi's Five Bagatelles provides an exciting opening to the compilation. The tempos chosen throughout the piece make way for clarity in technique and consistent articulation. Vibrato is used tastefully within the slower second, third and fourth movements. Willett's even tone production throughout all registers of the clarinet creates more depth of expression.
In his performance of Mozart's Larghetto from Quintet K. 581, Willett flaunts his lyrical sound control. The work calls for steady air and legato fingers that are occasionally hindered by the use of vibrato, which is placed at the forefront of expression. Overall, this is a lovely recording.
Movement one of Sonatina by Szalowski is presented with great style and energy. There are minute tuning discrepancies in sustained tones, but they are redeemed within the somber second movement where Willett sings beautifully through the clarinet. Articulated notes within the chalumeau register lose clarity, but musicality is still prevalent.
Vinci's Sonata No. 1 is a short work with lyrical and technical benefits. Although the work is simple in form and structure, Willett's musicality and style breathe life into the work, which outshines the minor technical glitches within the onslaught of articulated passages.
Similar to Sonata No. 1, the lyrical benefits are apparent within the performance of Benson's Gentle Song. This work provides Willett with the perfect avenue in which to display his practice of vibrato as well as the gentle nature intended to be captured in his nearly imperceptible legato articulation and legato fingering.
The performance of Bernstein's Sonata movement one is solid. However, the ending leaves more to be desired, as air support seems to noticeably waver. Interpretation of tempos throughout the second movement can easily throw the listener. The brisk tempos are not standard for the work and could prove difficult for an intermediate performer. All other aspects of the performance would be great for any performer to consider in their own performance preparation.
Gay Hornpipe by Edmunds is as the listener and performer may expect; this cheerful music is complemented by Willett's energetic articulation and smooth technique. The climactic moment on a high F is tastefully executed before bringing the work to a close.
This album provides a great musical study starting point for beginning and intermediate performers. The historical facts and performance suggestions alone are valuable and coupled with the recordings, those additions create a quality resource for performers and teachers.
– Lauren Miller
---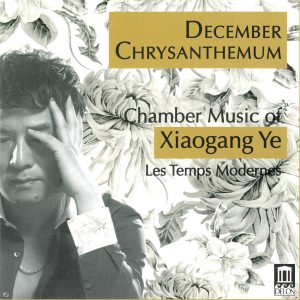 December Chrysanthemum: Chamber Music of Xiaogang Ye. Les Temps Modernes: Fabrice Pierre, conductor; Michel Lavignolle, flute; Jean-Louis Bergerard, clarinet; Claire Bernard, violin; Florian Nauche, cello; Emmanuelle Maggesi, piano; Anna Astesano, harp; Benoit Poly, percussion; Su Chang, zheng. Xiaogang Ye: Basong Cuo for Zheng and Five Players, Op. 65; Colorful Sutra Banner for Piano Trio, Op. 58; December Chrysanthemum for Flute and Piano, Op. 52; Namucuo for Piano, Op. 53; Hibiscus for Six Players, Op. 48; San Die for Zheng and Flute, Op. 7a. Delos Productions, DE 3559. Total Time: 55:13.
The 2020 album December Chrysanthemum is  a fusion of independently developed and long-lived styles, melded together in new and interesting ways by composer Xiaogang Ye.
Xiaogang does a masterful job blending the two distant and distinct styles of Western art music with those of traditional Chinese folk musics. The familiar chamber ensemble of mixed winds and strings along with piano and percussion is augmented with a zheng (a type of Chinese zither) to achieve a surprisingly well balanced blend of divergent timbres.
Xiaogang has been one of the more prominent composers in China for decades. After finishing his studies in composition both in China and in the Unites States, he has served  as professor at the Chinese Central Conservatory of Music, and is serving as Chairman of the Chinese Musicians' Association and in various other prominent positions within China. Perhaps it is his cross-cultural education and travels along with his cultural importance in China that gives his music a unique voice and complex texture. This album is easy to listen to despite the unapologetic dissonances and aggressive rhythms.
Though the works on this album are original, one can detect flashes of styles from other prominent 20th century Western composers. Xiaogang evokes an angst similar to that in Béla Bartók string quartets, the whimsy of Francis Poulenc's chamber works, and the piano dreaminess of Claude Debussy's preludes.
The album is expertly performed by the French ensemble Les Temps Modernes, who do a superb job moving between the Western classical style in which they're trained, and the traditional Chinese sounds of the composer. Clarinetist Jean-Louis Bergerand contributes to two of the works on the album: Basong Cuo and Hibiscus, and in both instances his tone is relaxed and effortless, and his technique and blend are impeccable.
– Gary Fair
---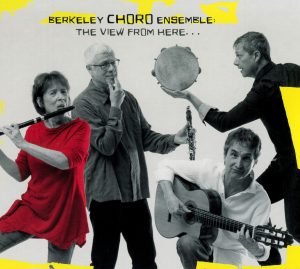 Berkeley Choro Ensemble: The View From Here… Berkeley Choro Ensemble: Jane Lenoir, flute; Harvey Wainapel, clarinet; Ricardo Peixoto, seven-string guitar; Brian Rice, pandeiro and percussion; Jeff Cressman, trombone; Paul Hanson, bassoon. I. Maciel/arr. H. Wainapel: Choro à Marco César; R. Peixoto: Nesse Momento; Quase Chorando; Feliz Sem Saber; H. Wainapel: Sempre Voltando; Nas Ruas de Perdizes; M. Sève/arr. H. Wainapel: Fabiano e Sua Turma; C. Mariano/arr. H. Wainapel: Choro #7; D. Teixeira/arr. H. Wainapel: Do Mingus; I. Almeida/arr. H. Wainapel: Choro Manco. Independent Release. Total Time: 46:00.
This 2018 release from the Berkeley Choro Ensemble is a pleasurable listening experience. The album, The View From Here… is a collection of choros – a uniquely Brazilian genre originating in the 1880s. The style is an effective synthesis of simplicity and complexity, European and African, free-spirited and controlled, and instantly evokes images of a carefree existence in Rio de Janeiro.
The ten tracks on the album are composed by living Brazilian composers who are active musicians and of course well-experienced with the choro genre. The choro is a precursor to other uniquely Brazilian genres like samba and bossa nova, and that parentage can be heard on many of the works.
Harvey Wainapel's clarinet playing is par excellence. His finger work is clean, clear and smooth, and his intonation and blend with Jane Lenoir's flute playing are on target. His tone is a combination of the style and technique of Artie Shaw and the always-dulcet timbre of Ralph McLane.
The ensemble is spot-on. The balance among the unusual instrumentation is always perfectly voiced, the intonation is never an issue, and the individual timbres of the instruments blend together so perfectly that the dissonances are always playful. Choro is a style of popular music, but the musicians' classical training doesn't betray the lightness and freedom of the style.
If you're looking for an album of well-executed playing and engaging stylistic elements that also recalls the spirit of Rio, this is recommended for you. The composers and musicians capture the nostalgia of a bygone era that remains preserved in its music.
– Gary Fair
---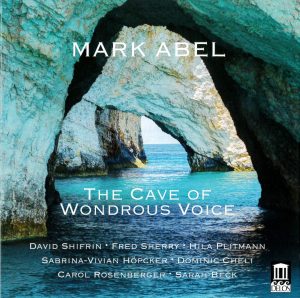 Mark Abel: The Cave of Wonderous Voice. David Shifrin, clarinet; Fred Sherry, cello; Hila Plitmann, soprano; Sabrina-Vivian Höpcker, violin; Dominic Cheli, piano; Carol Rosenberger, piano; Sarah Beck, English horn. M. Abel: Intuition's Dance; Four Poems of Marina Tsvetaeva; The Elastic Hours; Clarinet Trio. Delos Productions, DE 3570. Total Time: 68:08.
The Cave of Wondrous Voice features the world-premiere recordings of chamber works by American composer, Mark Abel. Abel, primarily known for his vocal music, began his career as a rock musician and producer in New York. Abel refers to this album as a milestone in his career due to its focus on instrumental chamber music performed by a team of esteemed musicians.
The first work on the album, Intuition's Dance, is performed by clarinetist, David Shifrin and pianist, Carol Rosenberger. This spirited piece features exciting virtuosity contrasted with moments of thoughtful lyricism. It begins with a sprightly clarinet introduction that sets the tone for the dance music that follows. A strong sense of collaboration is evident between these two musicians. Shifrin's effervescent clarinet tone is supported by Rosenberger's sensitive phrasing.
Four Poems of Marina Tsvetaeva, the lone vocal work on the album, contains the first setting of the Russian poet's works in English translation. Abel, inspired by the song cycles of Dmitri Shostakovitch and Sofia Gubaidulina, views his cycle for soprano, English horn and piano as a brief introduction to Tsvetaeva's significant oeuvre. The recording features the exceptional musicianship of soprano, Hila Plitmann, English hornist, Sarah Beck, and Rosenberger on piano. Plitmann's riveting performance of this cycle is especially captivating.
The third work on the album, The Elastic Hours, is a duo for violin and piano. The two movements entitled, "What Friday Brought" and "Saturday's Circumference," are performed sensitively by violinist Sabrina-Vivian Höpcker and pianist Dominic Cheli. The final work, Clarinet Trio, again features Rosenberger and Shifrin, joined by cellist, Fred Sherry. The first movement, "The Unfolding," creates moments where the three voices come in and out of unity. The second movement features moments of heartfelt lyricism and upbeat rhythmic activity. The final movement, "In Good Time," begins with the clarinet and cello alone. This movement alternates between serious and cheerful music before closing serenely. While Clarinet Trio is performed masterfully by all three musicians, Shifrin's inspiring artistry is especially evident in this work.
The liner notes are full of insight into Abel's works and include the artists' biographies, program notes, and the English translations of Tsvetaeva's poems by Alyssa Dinega Gillespie. These works represent a stimulating addition to the chamber music repertoire and are highlighted by the performances of Abel's accomplished collaborators.
– Kylie Stultz-Dessent
---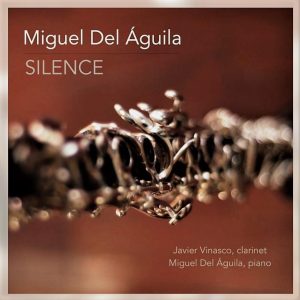 Miguel Del Águila: Silence. Javier Vinasco, clarinet; Miguel Del Águila, piano. M. Del Águila: Silence to Nelson Del Águila; Pacific Serenade; Islamorada, Op. 106; Milonga, Op. 111-B; Seducción, Op. 96-B; Estudio Rítmico, Op. 119; Malambo, Op. 115-D. Independent Release. Total Time: 53:29.
 Silence, released in 2020, features the music of composer, Miguel Del Águila, performed by Colombian clarinetist, Javier Vinasco, and the composer on piano. Del Águila was born in Montevideo, Uruguay. His more than 130 works contain components of his South American roots, establishing Del Águila as a distinctive and esteemed composer.
The album opens with an introspective work entitled, Silence to Nelson Del Águila. It is a highly expressive piece, dedicated to the sudden passing of the composer's brother. Here, the title represents the emptiness or void one experiences with the death of a loved one. The music contains stylistic elements from Latin jazz and tango and is performed beautifully by Vinasco and Del Águila. Vinasco's rich tone soars above the piano throughout the contemplative phrases.
Estudio Rítmico for solo, unaccompanied clarinet was dedicated to Vinasco, and is a notable track on the album. It is a demanding work that features Vinasco's virtuosic and technical prowess. The relentless dance-like rhythms build into moments of musical excitement that demonstrate Vinasco's control and technical brilliance.
Del Águila's Pacific Serenade is a four-movement work, first composed for clarinet and string quartet and later adapted for clarinet and piano. The work is sensuous and delicate, influenced by the Brazilian choro which is paired with blues and jazz harmonies. Malambo, the final piece on the album, was originally composed for bassoon and later adapted for clarinet. The composer describes this piece as representing a celebration in Argentina paired with the inner thoughts of a person—struggling with past memories and feelings of isolation—debating whether to join the festivities. The rhythmic nature of this work was inspired by the malambo dance, which Del Águila characterizes musically with alternating 12/16 and 7/16 meters.
This album is an exciting display of works for clarinet and piano, demonstrated by Vinasco and Del Águila's outstanding artistry. Del Águila's performance provides the listener with an authentic presentation of the composer's voice. His excellent musicianship is evident through his sensitive phrasing and collaboration with Vinasco. Vinasco's exceptional clarinet playing is reflected through his tonal control, thoughtful phrasing, and technical agility.
– Kylie Stultz-Dessent
---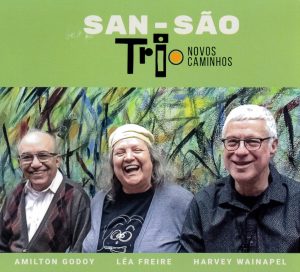 San-São Trio: Novos Caminhos. San-São Trio: Léa Freire, flutes piano; Amilton Godoy, piano; Harvey Wainapel, clarinet, soprano saxophone, alto saxophone L. Freire: Sem Dó Nem Piedade; Mamulengo; Samba Do Árvore; Deixa Estar; Risco; Fé; Samba Do Guigui; A. Godoy: O Batraquio; Novos Caminhos; Teste De Som; Tudo Bem. Maritaca, M1052. Total Time: 60:00.
Novos Caminhos (New Ways) is an eclectic and upbeat album featuring a fusion between jazz and Brazilian music. Californian clarinetist and saxophonist Harvey Wainapel travels regularly to Brazil, where he met flutist/composer Léa Freire and pianist/composer Amilton Godoy. The trio's name pays homage to performers' roots in San Francisco and São Paulo, and this recording serves as both a testament to the musicians' artistic abilities and also their friendship. The pieces on this recording, all composed by Freire and Godoy, showcase driving rhythms contrasted with sentimental and playful expression.
Throughout the album, each performer exudes an effervescent energy while shifting effortlessly into flowing lyrical interludes. The interplay among the three musicians is excellent as the texture changes from lush harmonic unisons to virtuosic solo episodes, and each musician expertly maneuvers their way from ensemble player to centerstage soloist. Wainapel demonstrates his skills as both a clarinetist and saxophonist, and Freire also performs on alto flute and piano on some tracks.
The titular piece on this album, Novos Caminhos, feels a bit more introspective than the rest, and the balance and gentle energy the musicians create perfectly capture the quiet ebullience. This is an enjoyable foray from the frenetic energy and upbeat jazz and Brazilian rhythms pulsing throughout this album.
Whether you're looking for rich harmonies or virtuosic passages, this recording will transport listeners with its energetic rhythms, buoyant melodies and lively interplay among these three talented musicians.
– Jenny Maclay
---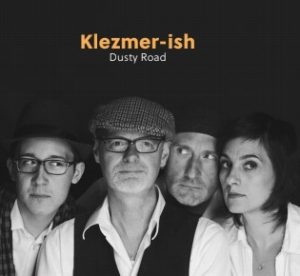 Klezmer-ish: Dusty Road. Thomas Verity, clarinet; Rob Shepley, guitar, violin; Concettina Del Vecchio, piano accordion, violin; Marcel Becker, double bass. Traditional: The Klezmer's Freilach; Pandelaşul Fetelor; Hershel; Doina and Street Melody; C. Gardel: Volver; J. R. Shepley: September Sun; Dusty Road; A. Piazzolla: Kicho; S. Levi: Amud Ha'Esh; A. J. Neilburg, C. Smith: I'm Confessin'; J. Myrow: Blue Drag; J. Hein: Give Me a Lift to Tzfat. Riverboat Records, TUGCD1125. Total Time: 56:16.
Dusty Road is a new album recorded by Klezmer-ish that explores music from various cultural backgrounds and in pursuit of a different life. This album draws inspiration from music of bygone travelers fused with klezmer and jazz.
This captivating disc is dynamic and highly enjoyable. Although the main focus of the group is klezmer music, a variety of influences are apparent in an entertaining performance that showcases their capacity as musicians. The journey begins with The Klezmer's Freilach, opening with an expressive solo from the violin that passes to the cello that later picks up in tempo as the clarinet enters. A personal favorite was the beautifully performed tango, Volver, which featured exceptional balance as the melody was passed between the instruments involved. Another highlight was Hershel, which starts out very slowly with a low clarinet introduction, gradually accelerating in tempo, to a delightful upbeat tune. The final track, Dusty Road, is the only track that features a vocalist and ties the disc together nicely.
The piano accordion shapes the character through its different harmonies when featured. Although the clarinet is not featured on all of the tracks, the works without clarinet would still be appealing and enjoyed by all instrumentalists. This album does not just feature upbeat klezmer tunes, but also variety – there are some tracks that are introspective, which makes this recording refreshing to hear.
Each of the members were able to bring out the subtle musical nuances of the melodies and the richness of the harmonies as shown in their virtuosic performances.
This disc is a collaborative effort with a lot of heart and soul. I highly recommend for anyone who is interested in world music!
– Kristine Dizon
---