Originally published in The Clarinet 48/1 (December 2020). Printed copies of The Clarinet are available for ICA members.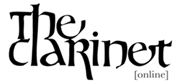 ---
A Lifetime of Generosity: James M. Pyne
 by Chuck West, with Tony Costa and Jane Ellsworth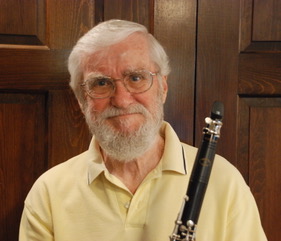 The clarinet family mourns the loss of one of its most eclectic geniuses, James Michael Pyne (1936-2020), who passed away peacefully at home after a lengthy illness. His genius as a classical and jazz musician, teacher and mouthpiece designer and his endless intellectual curiosity and eclecticism are only overshadowed by his famous kindness and generosity.
Jim Pyne's career rose to international stature in several areas: as a performer, teacher, researcher, acoustician and as a major architect of the American clarinet sound. Appointed associate principal beside his teacher Allen Sigel in the Buffalo Philharmonic (New York) at the age of 18, he rose to principal clarinet at the age of 22, while studying for his master's degree at the Eastman School of Music under Stanley Hasty. Pyne performed with the Philharmonic for 27 years, under distinguished conductors that included Josef Krips, Lukas Foss, Michael Tilson Thomas, Julius Rudel and Semyon Bychkov. Leaving the Buffalo Philharmonic in 1986, he began a 26-year career as professor of clarinet at The Ohio State University. At OSU, as well as previously at the University of Buffalo, the Cleveland Institute, and the University of Michigan, he taught many of today's leading clarinetists, including university professors, military band performers and orchestral performers.
Of no small significance is the leadership role Jim Pyne played in the development of the American clarinet sound, producing handmade mouthpieces played worldwide. An affinity for the sound quality known as Viennese permeated his concept of reed and mouthpiece making – a concept molded with the help of Josef Krips, his first conductor in Buffalo. He was endlessly curious about music and musical sound, leading him to a leadership position on the Committee for Musical Acoustics for the Acoustical Society of America, and membership of The Ohio State University Center for Cognitive Science. His lectures at ICA ClarinetFests® and at meetings of the Acoustical Society of America often included topics involving spectral characteristics of single- and double-reed instruments, with such lecture titles as "The Architecture of Timbre," "Overview of clarinet mouthpiece/reed research and psychoacoustical research in progress at Ohio State University," and "The interaction of pitch, harmonics, and the equal loudness curves in the timbre analysis of musical tones." Jim collaborated with many of the world's leading clarinetists in the design of his renowned, hand-crafted mouthpieces.
Jim brought his Ohio State University clarinet choir to several ClarinetFests® during his career, and he himself was host and artistic director of the 1998 ClarinetFest®, titled "Vienna and the Clarinet: A Festival and Symposium." His conference in Columbus was the largest International Clarinet Association gathering to that date, attracting more than a thousand attendees.His personable smile and attentiveness would be found at many ICA conferences in the displays where people would gather to shop for his mouthpieces, barrel joints, and other Pyne-Clarion products—of the company that he and wife Kyle ran. We all recognized his kindness, generosity, and genuine interest in the well-being of the people around him.
Jim lived in Columbus with his wife of 36 years, where they raised their three children, Kelsey, Nettie and James Jr. He was an avid boater, biker and master fisherman, spending many summers on the waters of Kentucky, Ohio, Minnesota and Northwest Ontario.
Jim Pyne's influence on the clarinet profession has been solidly established. He was a unique individual, living at the intersection of genius, generosity, talent, accomplishment, eclecticism and curiosity. His contributions in so many areas are profoundly appreciated.
---
What follows are additional tributes from those who knew Jim Pyne and worked with him. 
Over the 40 years I knew Jim, I learned so much from him. Of course, I learned about the clarinet. Jim was a brilliant teacher in every way. Above all, his conception of sound, and his razor-sharp ear for when the sound really "worked," were unsurpassed. And that, along with his incredible technical skill and knowledge, made him one of the greatest mouthpiece makers of our time.
But I learned so much else from my friend Jimmy. I learned perseverance. He taught me to never, ever give up on trying to achieve what I wanted, be it on the clarinet or anything else. He taught me that hard work matters a lot, perhaps more than sheer talent, and that with hard work it is absolutely possible to get where you want to be. He taught me that the toughest obstacles, ones that you feel are insurmountable, can be overcome – and that when you do overcome them, your life will be changed. And Jimmy modeled all of these things in his own life. He was one of the most indefatigable people I've ever met.
Jimmy also taught me about vivacity and gusto for life. He lived that! I am forever grateful for the many ways that this beautiful human being touched my life: for his constant encouragement and support, his humanity, and his friendship. I will never forget him.
– Jane Ellsworth
---
Jim Pyne, "Jimmy," was my first mentor and a unique voice in the clarinet world. His innovative and creative approach will always be remembered and his human kindness deeply missed. His unforgettable sound and natural musicianship was like no other.
– Erika Shrauger
---
Jim was a fantastic pedagogue, but his traits that contributed most to my success were his selfless dedication toward my (all "his students') success and his incredible loving spirit.
– Douglas Moore-Monroe
---
He rescued me from being a good, but frustrated, clarinet player losing my will and vision. His secret as a teacher was to find what was unique and inspiring in a student's playing and build upon it. I remember him naming several people in the studio and what was good and unique about each of them, then telling me what was good and unique about me. What seemed simple became transformational, as I embraced my own strengths and voice and begin learning from others.
I got a kick out of the fly-wheel clarinet stands and mouthpiece fishing lures in Pyne's workshop.
His coaching the week before I won my job was a game-changer. After briefly working on details, he said my excerpts were in good shape but that my overall playing sounded unpolished. He encouraged me to focus on technique and not just play the list. He was spot on! I had just a few days, but it was enough.
I was also remembering that "Mr. Pyne" picked out two instruments for me, one of which after I graduated. He once gave me the mouthpiece he was playing because I liked it so much and had a recital coming up. Once when I came to his house to work on bass clarinet mouthpieces, I guess I wanted something pretty unusual. He had various models designated by letters, but he ended up putting my "L" initial on the mouthpiece I chose since it didn't fit his usual models. I was elated!
His enthusiasm was absolutely infectious, and he always helped me believe in my own potential. What greater evidence of caring is there?
– Dan Lochrie
---
I had the incredible opportunity to study clarinet with Jimmy Pyne in the 1970s in Buffalo, New York while I was in high school and first year at University of Buffalo (before I moved to Virginia). Of the hundreds of things I learned from him and will never forget, two specific things truly molded my clarinet teaching. One was his emphasis on the beauty of a dark, German sound. We spent many hours experimenting with different mouthpiece facings to get just the right sound and response that he wanted for me. Those first mouthpieces cost $20! The second thing was reeds. Not only did he show me how to work on reeds to better suit the mouthpiece, but his generosity as he gave me reeds he had purchased. I will never forget one time he had just received a large order of reeds (Olivieri at the time); I had never seen that many boxes of reeds at one time! He laughed and reached over and gave me a whole box of unopened reeds. I could not believe it! To this day, I always give reeds to students. When they ask why I tell them because my clarinet teacher gave me some, and I know how great that made me feel!
Jimmy Pyne was like a dad to me, I loved, admired, and respected him so much. Years later, I named my son after him – James (Jimmy) Michael!
– Jo Marie Larkin
---
I met Jim in 1976. I was studying with David Shifrin at Michigan. He was playing on one of Jim's mouthpieces and I drove from Ann Arbor to Buffalo to buy one. Over the years, I'd bet I've purchased near 100 for students from him. When I played in ProMusica I would sometimes visit and buy what he had ready. Jim was so kind to me. I was never his student at a university, but boy he taught me so much about sound and actually about life. We had some pretty deep conversations. I'm still playing on his mouthpieces, now 44 years later. I have a number in reserve still as well! He was a gentleman, and I'll miss him a lot. God bless you, Jim, and your family.
– Bob Spring
---
Mr. Pyne was a scholar, a craftsman, and a brilliant musician. More importantly, he was a kind and caring human being who gave tremendous support to his students. I will always be grateful for the opportunity to learn from him.
– Antoine T. Clark
---
Jim was truly one of a kind and I will miss him dearly. Over the past 20 years we worked closely together and I will relish every moment that we shared. His passion for tonal beauty on the clarinet was an inspiration. It could be late-night phone calls, long hours in his basement or even our drives to and from the airport; each moment was a lesson from a true master of his craft. Jim was selfless, and his love for family and faith in God was extraordinary. He inspired me on so many levels. Here are just some of Jim's innumerable qualities: Graciousness; a brilliant culmination of physicist and artist; humility; deeply spiritual and passionate for the art of music making at the highest level possible; dedicated teacher; a gift from God; the most loving husband, father and friend. God Bless you, Jim.
– Stephen Williamson
---
Mr. Pyne had a profound influence on my life. I hear his voice every time I teach, and I hear his sound every time I play. I'll never forget all that he taught me and know that his legacy will be passed on for generations to come.
– Kathy Mulcahy
---
Mr. Pyne instilled in me the importance of the beauty of sound in conveying meaning through music. He was also a champion for me at a very challenging time in my life and I am forever grateful.
– Carmen Eby
---
Jim and I worked intensively together shortly after my appointment as principal clarinet of the Cleveland Orchestra in 1976. His ideas about sound, resonance, tuning, blend and projection drove him obsessively to search for and develop new, unique and controversial design concepts in his clarinet mouthpiece design work. I happily played Jimmy's mouthpiece for years until one day when I decided to craft my own mouthpieces. I feel so indebted to Jimmy for his friendship and his genius. Jim was a dear friend who gave of himself tirelessly to so many. His spirit will live on through many of us for years to come. RIP, dear Jimmy.
– Frank Cohen
---
I am heartbroken to hear about Jim's passing.  Most people know him as a master mouthpiece maker, wonderful teacher and accomplished player. He was all of that, but what made him special was his generosity of spirit and care for each person, so every mouthpiece made was like a gift to invite you to play from the heart. I will miss him and his special kindness.
– Ricardo Morales
---
Jim Pyne was a genius master artist/clarinetist, master teacher and pioneering acoustician in the clarinet world. I am forever grateful for the times I would visit his home where he made the magical mouthpiece treasures that I would carefully carry home and endlessly play post-visit. I would leave full of awe and excitement to have these treasured mouthpieces and would look forward to the next concert I'd get to perform on my "new Pynes." During these visits, Jim would generously and kindly share secret tidbits with me, teaching me amazing things that I use to this day as a performer and teacher. I would leave his workshop so inspired, thinking how fortunate his students were to be in the company of this giant of our field. Jim was also a giant of humanity. When in his presence, one could feel his soulful spirit and connection to the Divine. He was a devoted family man and he and Kyle were a beautiful couple full of life and soul. Jim Pyne is a true legend in our field and his legacy will live on forever through all those fortunate enough to know him. God Bless Kyle and family on your immense loss, and Jim, may you rest in peace.
– Caroline Hartig
---
Many years ago, my wife and I were on a trip across the country to see family when I decided to see if I could meet Mr. Pyne and try mouthpieces. That humble appointment in his famous basement set me on the path to where I am today. Mr. Pyne was both kind of heart and discerning of ear and I left that day with two new mouthpieces and an invitation to apply for his doctoral program at OSU. In 1997, I entered his studio as one of his graduate teaching assistants and helped him (with many others) coordinate the 1998 ClarinetFest® held at The Ohio State University. My own teaching, playing and work in the profession is largely inspired and made possible by him. He was an amazing musician, scholar, person and mentor and his voice and spirit are ever-present in my teaching and performing. I will always remember his kindness, generosity and that wise twinkle in his eye.  Thank you, Mr. Pyne!
– Anthony J. Costa
---