Originally published in The Clarinet 48/1 (December 2020). Printed copies of The Clarinet are available for ICA members.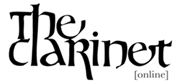 ---
Remembering Jim Ognibene
by Gene Kavadlo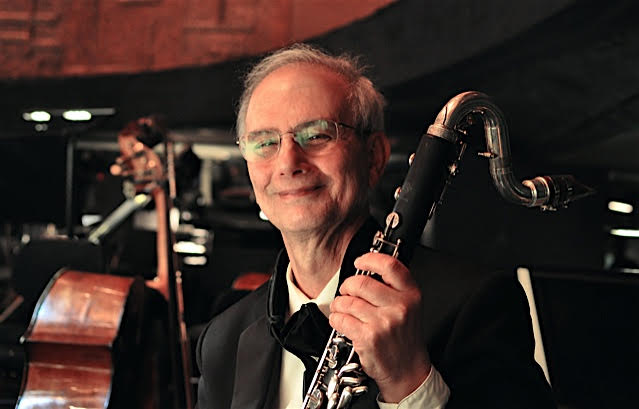 As the orchestra rehearsed, the loud sound of a vacuum cleaner in the lobby became increasingly annoying. Finally, the conductor asked his assistant, a rather diminutive fellow, to see if he could do something about it. Jordan went to the lobby. Suddenly there was a "THWAP!" and the annoying sound stopped abruptly. Without missing a beat, Jim said, "Oh no! Now we're going to have to get Jordan out of the bag." Anyone who knew Jim knew that he had the sharpest wit in the room.
My children, now in their 40s, always referred to him as "our Jim." Our Jim succumbed to a 17-year battle with cancer on August 11, 2020. He was a loving father to his son, Joseph Nunzio Ognibene, and stepson, Sam Oatts. Family members include Jim's mother, Theresa Ognibene, sister, Mary Ellen (Mark) Vencel, brother, Michael (Mary) Ognibene, and his former wife and dear friend, Katherine Fink.
I first met Jim in our student days at Indiana University during the 1960s. After college, Jim served four years in the military as a member of the United States Marine Band and White House Orchestra, and I went on to become the principal clarinetist of the Charlotte Symphony in North Carolina. One day I got a call that started with, "You probably don't remember me." It was Jim, and, of course, I knew exactly who he was. He wanted to audition for a clarinet opening in the Charlotte Symphony, but his application had been rejected because he, "lacked experience." I told him I would make sure he was invited. He took the audition and won the job – so much for screening resumes. Thus began of a fabulous eight-year relationship as colleagues in the same orchestra. It was in the Charlotte Symphony that Jim started playing the bass clarinet.
When Jim won the job with the Metropolitan Opera Orchestra, I had very mixed feelings. I didn't want to lose my dear colleague, but he certainly couldn't pass up a career move like that. Yet, as he did with decisions both large and small, Jim wavered. He loved the quality of life in Charlotte and his orchestra colleagues. Living in New York was a big unknown; he'd make more money, but the cost of living was much greater. Of course, he ultimately made the right decision – how could he pass up a chance to play in a world class orchestra!
Before leaving Charlotte, Jim found out that one of his first assignments would be to play the basset horn obbligato from Mozart's La Clemenza di Tito. Jim had never played the basset horn, nor heard La Clemenza di Tito. We listened to a recording in my living room (This was before YouTube), and Jim burst out laughing. When I asked him what was so funny, he said "I'm so glad I have to play this at the MET before I play it someplace really important." Naturally, his performance several weeks later was superb.
Thus began his 33-year tenure as principal bass clarinetist with the MET.
Jim's playing can be heard on numerous Grammy award-winning MET recordings, including Wagner's Der Ring des Nibelungen on Deutsche Grammophon. He was also a member of the All-Star Orchestra made up of leading players from major American orchestras. He served many summers in the Spoleto, Grand Teton, Bard, Napa Valley and Verbier festivals, and was an instructor at Julliard. He humbly credited his musical success to working alongside some of the finest musicians in the world, who share their condolences and fond memories below. The Vincent James Ognibene Clarinet Scholarship is being established at the Dana School of Music to honor Jim. Please contact Gene Kavadlo at [email protected] for information on assisting in this effort.
---
What follows are tributes from those who knew Jim Ognibene and worked with him.
Jim called the many lovely clarinet duets in the repertoire "buddy music." It was in that generosity of spirit that we played and enjoyed the long performances in the pit. His endearing interactions inspired us all. I will forever miss his sweet and funny disposition, as well as his great musicianship.
– Ricardo Morales, Principal Clarinet, Philadelphia Orchestra; Former Principal Clarinet, MET Orchestra
---
I played with Jim for 10 years at the MET. My earliest and fondest memories of playing in the MET involved Jim by my side playing B♭ clarinet or A when he begrudgingly had to play second clarinet sometimes, even though in his hands, the bass clarinet was an instrument of otherworldly beauty. With his self-deprecating humor and perfect comedic timing, he'd always have us in stitches during long rehearsals or slightly less than interesting operas. Jim was an amazing musician and the most humble musician I've ever known. The sounds Jim would make when he would play Aida or Wagner. Wow. People say this piece or that piece was made for some player or another but, with Jim and those operas, it was true. I'll miss him greatly.
– Anthony McGill, Principal Clarinet, New York Philharmonic; Former Principal Clarinet, MET Orchestra
---
No words could properly define Jim Ognibene, but I will try, nonetheless. If ever there was a saint on this earth it was Jim. I have never known a man with more humility, kindness, humor, and depth of love as a friend and father. He is perhaps the greatest musician I will ever know. Jim was my friend, my mentor, and a role model for anyone who had the honor of knowing him. He is irreplaceable on so many levels. We are all saddened by his passing and I will miss him eternally.
– Stephen Williamson, Principal Clarinet, Chicago Symphony Orchestra; Former Principal Clarinet, MET Orchestra
---
Brilliant man and huge inspiration during my MET Opera years. True musician and amazing human being. You will be missed, dear Jim. Rest in Peace.
– Boris Allakhverdyan, Principal Clarinet, Los Angeles Symphony Orchestra; Former Principal Clarinet, MET Orchestra
---
Jim Ognibene was an inspiration on every front. His gentle and caring personality touched everyone around him, his sharp wit often had the section cracking up (especially in performance!), and his beautiful personality shone through in every note that he played.
When trying clarinet equipment or reeds he would (without fail) twirl his finger to illustrate the special "glow" and "spin" that he was after in his sound and in his phrasing. These qualities seemed to exist so effortlessly in his playing, yet anyone who knew him knows that he worked tirelessly to achieve them. Hearing him play endless phrases in Die Walküre or Aida was a mesmerizing experience and are memories that I will forever be inspired by. We'll miss you Jim.
– Anton Rist, Principal Clarinet, MET Orchestra
---
To my truly great mentor, colleague, and friend Jim. I loved your great playing and your musical phrasing. Your bass clarinet sound had such a great soul. I will miss you so much, my hero.
– Inn-Hyuck Cho, Principal Clarinet, MET Orchestra
---
For 18 years, I sat next to this humble, hilarious, incredible person. We saw each other through many ups and downs, always with respect and a lot of laughter. My heart is so heavy that we have lost this gentle giant of the bass clarinet. Words really cannot do him full justice, so for now, we hold him and his family in our hearts …
– Jessica Phillips, Second Clarinet, MET Orchestra
---
Jim Ognibene was the most supportive, kind, generous, and funniest person I've ever worked with. He was a consummate professional, an amazing musician, and a beautiful soul. I will forever be grateful for everything I learned from him not only as a musician but as a person. I will miss you my dear friend.
– Dean LeBlanc, Clarinet/Bass Clarinet, MET Orchestra
---
Jim Ognibene was my best friend during my 11 years at the MET. We carpooled for five years and sat next to each other for 11. He was kind and thoughtful, and the funniest person I've ever met. About Götterdämmerung, he once said: "You know, Sean, there's nothing I want to do for six hours." After a particularly brisk Gran Partita Adagio, he said "I did it all in one breath." When frustrated, he would say "I hate the bass clarinet" (or basset horn – we once staged pictures of him flushing one down a toilet!), but he is still the finest master of those two instruments I ever heard. His artistry was superior, and so was his heart. I will miss him.
– Sean Osborn, Former Second Clarinet & E♭ Clarinet, MET Orchestra
---
Jim was one of the kindest people I have ever known, a true gem. As an associate member of the MET clarinet section, I had the great privilege of sitting next to Jim on numerous occasions. He always made me feel welcome in the section, he was always supportive and kind, and it was always a joy to chat with him. We had many great conversations about all sorts of things: clarinet, family, spirituality, trains … (he was a big rail-fan like my son). Although we had lots of nice conversations, hearing Jim play was always the highlight of sitting next to him. I would often tell Jim that sitting next to him was like a lesson for me. I learned so much about music and phrase direction from him. It didn't matter what he played, whether it was a big solo or a simple whole note doubled by the bass section, Jim would always play with artistry, integrity and the most incredible spin to the tone. His profound presence in the clarinet section will be deeply missed. I'm so incredibly grateful I got to know Jim and will miss him dearly.
– Shari Hoffman, Associate Clarinet, MET Orchestra
---
Good friend, generous and humble colleague, dedicated and caring father, very quick wit; and, of course, fantastic, and very soulful musician with a sound and musical personality that reflected his wonderful traits as a person. Just a few of the many positive things that come to mind when I think about Jim. It is a privilege to have known him, a great honor to have made music alongside him and humbling to have had the opportunity to try and fill his enormous musical shoes. May he rest in peace; he will be missed a great deal. Thank you for your friendship and for all your wonderful playing, Jim; and for the C*.
– Lino Gomez, Associate Clarinet/Saxophone, MET Orchestra
---
Today I am mourning the loss of a dear friend, a beautiful spirit, a true human being, a musical idol and the most inspiring colleague I had the privilege to work with. His incredible artistry, kindness and keen sense of humor will be remembered forever. He is gone and I am left with a huge hole in my heart.
– Pavel Vinnitsky, Associate Clarinet, MET Orchestra
---
So sad to hear of the passing of Jim Ognibene. Jim was a marvelous musician, a wonderful person, and a true friend. He will be greatly missed. Our sincere sympathy to his family.
– Mitch Weiss, Former Associate Clarinet, MET Orchestra
---
I had the great good fortune to know Jim Ognibene for 10 years, first as a coach at the Verbier Festival, then as a treasured colleague at the Metropolitan Opera. In both capacities, you could not hope for a kinder, more supportive, wittier presence. Jim rarely, if ever, had a single unkind thing to say about anyone or anything, preferring instead to model the kind of decent, compassionate person we all aspire to be. On top of that, Jim was a supreme musician. It's telling that, when recalling Jim's artistry, everyone seems to recall being astonished by something different. For some, it's Aida; for others, Clemenza di Tito. I could listen to Jim play Wagner all day, and I still maintain that it's worth buying a subwoofer just to be able to hear Jim's rich, inimitable sound one more time. It may not quite live up to hearing him live, but then, what does? Jim, we love you, and we'll miss you.
– William Short, Principal Bassoon, MET Orchestra
---
Jim Ognibene was one of the most talented and warm-hearted people I have ever had the honor of meeting or working with. Jim's musicianship was of the highest caliber, and I have countless memories of listening to him play and being in absolute awe of what I was hearing. He was much revered by his colleagues, and for good reason. Jim was a much-loved member of the MET Orchestra. His absolute kindness and support of everyone around him were unmatched. Playing with him for 16 seasons was a privilege that I won't ever forget. I know that I'm not alone in feeling this way. I, and all of Jim's colleagues, will sorely miss him. He was truly one of a kind.
– Daniel Shelly, Second Bassoon, MET Orchestra
---
Jim had this way of closing his eyes intermittently when he was talking with you. It was a subtle but reliable quirk to his warm and easy conversational style. After a while, I came to look forward to catching these head-pitched-back, eyes-closed moments because when they opened, he'd unleash a wry sense of humor that was both hard-edged and endearing. He was quick witted yet had the slow and patient comedic timing of Bob Newhart. I loved talking with him in the MET locker room year after year. It didn't matter what he had to say – I just loved being in his presence.
– David Krauss, Principal Trumpet, MET Orchestra
---
I still remember clearly Jim Ognibene bringing his wonderful artistry to the MET orchestra from North Carolina. Being from the South myself, I was familiar with the travel involved with the North Carolina job. When the MET orchestra began touring as an orchestra in 1991, Jim and I would often have rooms next to each other because the name Ognibene was alphabetically after Norrell in the orchestra roster. Of course, having Jim next door was the nicest neighbor that you could possibly have in Seville! Jim was easily one of the most even-tempered individuals I have ever known and I never encountered him when he was anything less than friendly. Less than four years ago with my oldest daughter playing bass clarinet in her high school band, Jim spent time with my daughter helping her obtain a better instrument than the school instrument that she was playing. Jim understood that my daughter greatly enjoyed playing but wasn't going to be a music major in college. Jesse still plays bass clarinet in the non-majors wind ensemble at Boston University and I credit Jim's kindness at helping my daughter develop this joy. Listening to Jim in the Ring repertoire was always a joy, but I'll always remember his wonderful musicianship playing Ernani. Rest in peace, my dear friend!
– Steve Norrell, Former Bass Trombone, MET Orchestra
---
RIP Jim Ognibene. Jim was a true gentleman. He was soft-spoken but outspoken, serious but hilarious. And of course, the best bass clarinet player I've ever heard. He's perhaps the only bass clarinetist I've known that was considered one of the true stars of the orchestra. You could watch a video of the Ring and keep rewinding to hear his solos again and again. Our world has lost a legend.
– Weston Sprott, Second Trombone, MET Orchestra
---
Jim was a gracious and charming man, an incredibly gifted musician, and these things were evident to everyone at all times on all occasions. The reiteration of these sentiments so universally drives home the certainty we all share that we knew a truly good person. A truly good man.
But Jim and I shared an unusual connection, beyond the charm and kindness he always expressed to me and to all of our colleagues at the MET. It was a dental connection, and we never tired of telling new people about it whenever we found fresh ears and the time to do it.
Not long after I joined the MET 20 years ago, Jim befriended me and bestowed upon me and the other new musicians his kindness and brilliant wit at various intermissions. At some point during the season I developed debilitating tooth pain, to the point that I felt I must require a root canal. This provoked in Jim a storytelling desire, and so he proceeded to tell me that, some 20 years before, he was playing a Ring cycle elsewhere and suddenly had terrible dental pain of his own, such that his dentist decided he needed an emergency root canal. Jim, being a gracious colleague and not wishing to leave the orchestra in a lurch, asked the dentist to dose him up on pain killers so that he might play his performance that evening and have his surgery thereafter. And so he hurried to the pharmacy to fill his prescription. The pharmacist asked his denomination ("lapsed Catholic") at which point she asked if he would allow her to do a faith healing on him. He acquiesced, let her take his hands in hers and complete her ritual, then left with his medication. The pain disappeared that night, never to return. He needed no root canal and no medication.
Until the very next day after which he told me the story! The age-old, storied pain returned and he then needed a root canal! He was convinced that, in his effort to entertain me, he had angered the forces that had healed him by making light of his ad hoc healing. My dental pain resolved, his promptly returned, and so was borne the legend of our cosmic dental connection. Jim was laughingly concerned for his own well-being when I first became pregnant with my son, but it turned out that our medical synchronicity had ended.
This is all to say that, even though I am not one of the very many people who felt that Jim was their best friend – and there seem to be many, which speaks volumes about him – I had my very own corner of the MET world with Jim, which I believe he made many people feel. It is what I will miss so much about him, in addition to his witticisms and the head-turning beauty of his playing. As I have always privately thought, Jim was as funny as Bill Murray, if Bill Murray was funnier.
Now we have told lots more people our crazy story, Jim, and we did not even have to wait for intermission. I will miss you. Rest In Peace, lovely friend.
– Sylvia Volpe, Violin, MET Orchestra
---
I studied with the great oboist John deLancie, first oboist for some 30 years of the Philadelphia Orchestra. When Jim was stationed with the Marine Band in D.C., he was dating an oboist. On a number of occasions he would make the 3-hour drive to Philly to bring her to her lesson with Mr. deLancie. On one of those drives he needed to use the bathroom; when he asked permission, Mr. deLancie told him no.
Years later, Mr. and Madame deLancie came to the MET. They were ardent opera fans. At the end of one of the performances, they met me at the MET gift shop. Before we parted company, he asked me, "John – who was playing the basset horn in Clemenza di Tito two broadcasts ago?" I was delighted: "funny you should mention him; that was my close friend, Jim Ognibene." "Well…let me tell you – that was some of the finest woodwind playing I have ever heard!" "Why, Mr. deLancie, that's Jim coming through the doors right there." And Mr. deLancie insisted on taking Jim aside, and spoke avidly to him for a number of minutes. For Jim it was one of the greatest accolades he'd ever received.
Later that night, I called Jim. Of course – I knew the line was coming. "I thought the time was right for me to ask if I could use his bathroom now."
– John Ferrillo, Former Principal Oboist, MET Orchestra
---
Jim was such a very kind man. And he had a very distinctive and personal sound … whenever there was a bass clarinet solo, we would all listen in the pit, enchanted. What a beautiful line, such elegant phrasing. But most of all, he was just a great guy, good-natured and genuine. A real gem. We will miss him very much.
– Christoph Franzgrote, Associate Violinist, MET Orchestra
---
I never thought of the bass clarinet as a solo instrument until I heard Jim Ognibene play the many and varied solos for bass clarinet found in the opera repertoire. Jim's tone quality, phrasing, and generally artistry were simply spectacular. On top of that, he was also a really wonderful person. I actually think most fondly of his solos, and his sense of humor. Towards the end of a long rehearsal, Jim could lighten the atmosphere and break up the room with a casual one liner or offhand remark just when everyone needed it most. He will be missed.
– Laura McGinnis, Violinist, MET Orchestra
---
Jim was an ace. He was the colleague we all wish for in our orchestra. His amazing soulful solos were a gift he gave me night after night. They are seared in my conscience forever. Perfectly executed and full of a stunning depth of emotion. A synthesis of years of hearing the best vocalists alive and who Jim was as a musician. I am heartbroken never to hear him in our pit again.
– Mary Hammann, Violist, MET Orchestra
---
For many years I shared a locker room row with Jim. He had the personality that would brighten one's day: always a smile, a witty or a supportive comment. His wry wit kept us all in that row entertained. His musicianship was nothing short of superb and I would always look forward to the bass clarinet solos, which were played with such beauty of tone, sensitive phrasing and beautiful tone colors. I was shocked by the passing of this wonderful man and colleague and I miss him terribly.
– Nardo Poy, Associate Violist, MET Orchestra
---
It's funny, in all of the 27 years that I shared with Jim in the MET Orchestra, I don't ever remember hearing people call him "Jim," we just referred to him as "Ognibene". When I looked up the definition of his last name it said "(may he have) all good," or "(he has) all good. In my mind I always just thought of Ognibene as "all good" because really, that's what he made me feel. Whether he was playing one of his exquisite bass clarinet solos, asking about something in my life, talking about his deep love for his sons, or telling one of his hilarious stories or analogies, it was just "all good." Ognibene had that way of making people around him feel comfortable, accepted and like they were also "all good" – maybe it was his humble, self-deprecating approach to life, maybe it was the way he truly looked at someone when they were speaking to him, maybe it was that twinkle in his eye, or maybe it was just the essence of who Ognibene was. All I know for sure is that without Ognibene on this earth, life feels sadder, less beautiful, emptier, darker and definitely not as good. Miss you so much dear friend!
– Katherine Anderson, Former Violist, MET Orchestra
---
My dear friend and colleague Jim passed today. I cannot think of anyone I've ever met to be as humble, as kind, as friendly, as supporting and as a consummate professional and outstanding artist as Jim Ognibene. Jim's locker at the MET was quite close to mine. Over the years we would go from a friendly "Hi, how are you," to deep discussions over topics ranging from the most mundane of daily life matters to deeply philosophical, political and sociological issues. Then Jim would crack one of those brilliant lines he was famous for and the air would clear as if a breeze of fresh air just blew through, he'd pick up his bass clarinet and walk again into the orchestra pit ready to do his magic again.
There was nothing equal to the experience of what it feels like as a musician playing hours and hours during the Ring by Wagner and all of a sudden all goes quiet and the bass clarinet begins to recite a motive which envelopes everyone not only in the house but also in the orchestra pit in a way in which only Jim could do. After such a performance I'd find myself in the locker room close to Jim and I once said, "Jim, you play those solos like you own them." Without a second of hesitation, Jim replied, "thanks but, I'd like to rent them out once in a while." That was his sense of humor. There will be more Jim stories. They will never stop. Jim will never be forgotten.
– Rafael Figueroa, Principal Cellist, MET Orchestra
---
I cherish the years that I spent sitting near Jim Ognibene in the MET Orchestra pit and consider it a true honor to have done so. Few moments in music come close to Jim's bass clarinet solos in Aida and Die Walküre; his soul will continue to soar through that music – I will never forget the beauty of his sound and the genuine musicianship that he brought to every note! Not only was his playing exquisite, he was the best colleague. Kind, positive and considerate, not to mention hilarious, Jim always had a smile for me and made me remember the incredible gift we were given night after night – to perform such incredible music together. Rest in Peace, my friend. I will miss you dearly.
– Kari Docter, Cellist, MET Orchestra
---
Jim Ognibene was not only an extraordinary musician, he was also a warm, funny and dear colleague. As a harpist we sat next to each other. We used to say we were stand partners. There are markings in his parts that read "cue the harpist" since we had many very long tacets. Outstanding in solo bass clarinet parts were his performances in Aida, La bohème, the Ring cycle and more. It was a privilege to play with Jim. I will miss him very much.
– Susan Jolles, Associate Harp, MET Orchestra
---
I consider myself fortunate to have worked with Jim during his entire career at the MET. He was always an upbeat, positive person with a wry sense of humor! His passing was a shock. He will be sadly missed by his many, many friends.
– Rafael Guzman, Associate Percussion, MET Orchestra
---
As a guitarist, I only played in a couple of productions a year at the MET. But over several decades, I had the great pleasure of sitting right next to Jim for countless rehearsals and performances. Always a consummate musician, I witnessed his effortless artistry up close. Jim was warm, genuine and had a wonderful sense of humor. Our favorite thing was sharing jokes and making each other laugh. I'm very grateful for the time that I spent with him. He was a bright light in the orchestra and much beloved by everybody. I will miss him.
– Fred Hand, Associate Guitar, MET Orchestra
---
Jim was a sweetheart, a great colleague, a wonderful friend. He was completely self-effacing, as humble and respectful of his colleagues, the music, the job, as one could possibly be. He was loved by us all.
– Trudy Kane, Former Principal Flutist, MET Orchestra
---
A humble genius who made the room stop and listen whenever he played. A quiet man whose words had weight when he spoke, and razor-sharp wit.
– James Ross, Trumpet, MET Orchestra
---
One time, when several of us MET players were crafting bios for a chamber music program in a prestigious Manhattan church, Jim decided to tweak all of us with his side-splitting bio. While the rest of us were listing all our accomplishments with as much fanfare as possible, Jim wrote this: "Jim Ognibene, clarinetist, second from left, fourth row, in his high school marching band. These days, in his spare time, he works at growing grass in the backyard of his suburban home."
– Mary Ann Archer, Former Flutist, MET Orchestra
---
Jim Ognibene was one of my favorite colleagues, always easy to talk to and a superb musician with a soulful sound. He will be missed.
– Caroline Levine
---
Dear Jim. It was my great privilege to be your friend. In our four years together at I.U. as clarinet students of Earl Bates, we played many performances in band, orchestra and in recitals. You were such a unique person, warm, kind and possessing a wonderful sense of humor. And of course, you had that true inner talent, drive and belief in yourself that took you all the way to the MET. I treasure the many good times that we shared together. With heartfelt respect and admiration. Love always.
– Randy Cunningham
---
Jim Ognibene was one of the few finest people I have ever known. Pablo Casals had a hierarchy of "man, musician, cellist," meaning the most important thing was to be a good human being, next in importance to be a good musician, and last, a good cellist. Jim had all his priorities straight. He started with incredibly beautiful bass clarinet playing, rare musicianship, and was a kind, gentle, grounded, authentic and very funny man. One of my last joys with Jim was texting something about Kaspar clarinet mouthpieces – he asked what makes them so great, and I said, "I don't know – I think it's the varnish." He thought that was funny. He had such a good sense of humor himself, that it really felt good to me that he thought my quip was funny. There is no higher compliment. I treasure that.
I play swing jazz, and Jim would play "Has Anybody Seen My Gal" with me. After Jim died, I played this tune with a friend, just really for myself, to give my love for Jim to the world one more time. I will always miss you, Jim.
– William Rappaport, Former Second Clarinetist, Atlanta Symphony
---