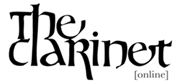 ---
Audio Reviews February 2021
Listen to the majority of these recordings in the ICA February Reviews Spotify Playlist!
---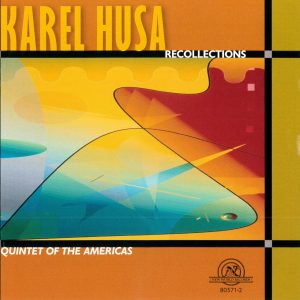 Karel Husa: Recollections. Quintet of the Americas: Sato Moughalian, flute; Matthew Sullivan, oboe; Edward R. Gillmore, clarinet; Barbara Oldham, horn; Laura Koepke, bassoon; David Oei, piano; Perspectives Ensemble, David Gilbert, conductor. K. Husa: Deux Preludes; Five Poems; Recollections; Serenade. New World Records, 80571-2. Total Time: 61:24.
Recollections is an exciting compilation of wind chamber music by Karel Husa performed by the Quintet of the Americas. This unique album was released on New World Records and comes with exceptionally informative liner notes written by Keith Powers.
The first piece on the album is Husa's Deux Preludes written in 1966 for flute, clarinet and bassoon. Edward R. Gilmore stands out in an aggressive and expertly executed clarinet solo in "Prelude 1" and with lightning-fast trills in "Prelude 2."
Five Poems was written for the Quintet of the Americas and premiered in 1995 at Weill Recital Hall. Throughout the work the ensemble manages Husa's abrupt changes in style with ease and grace. Gilmore's clarinet playing is especially impressive in the bird calls that open the second movement, "Happy Birds," and in the fourth movement, "Fighting Birds," when his sharp, clear technique makes the movement sparkle.
The eponymous work of the album, Recollections, was commissioned in 1982 for wind quintet and piano. The piece is characterized by ambiguous rhythm; one can almost never truly feel a consistent beat. Of the work, Husa said, "I want it to sound like rain falling in an imprecise pattern." Quintet of the Americas and pianist David Oei meet this challenge expertly and sensitively in a flawlessly balanced and introspective recording.
Finally, the quintet is accompanied by the Perspectives Ensemble in Husa's Serenade, written in 1963. This arrangement for wind quintet and orchestra is a reworking of his Evocations de Slovaquie which was originally written for clarinet, viola and cello. Drawing from Slavic folk music, this work has prominent and outstandingly performed clarinet solos in each of its three movements and concludes the album in a fun, uplifting manner.
– Madelyn Moore
---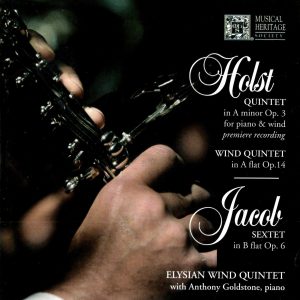 Holst: Quintets/Jacob: Sextet. Elysian Wind Quintet: Keith Bragg, flute; Christopher O'Neal, oboe; Julian Farrell, clarinet; Richard Skinner, bassoon; Christopher Blake, horn; Anthony Goldstone, piano. G. Holst: Quintet in A minor, Op. 3; Wind Quintet in A flat, Op. 14 (H 67); G. Jacob: Sextet in B flat, Op. 6. Musical Heritage Society, 5171979. Total Time: 53:08.
This album offers a unique look into Gustav Holst's early style and into British chamber music for winds. In addition to its historical value for illuminating Holst's earliest works, the album is enjoyable and pleasing to hear.
Opening the album is Holst's Quintet in A minor, Op. 3, which was written in 1896 while he was a student at the Royal College of Music but never performed. Scored for piano, oboe, clarinet, horn and bassoon, the work was rediscovered and first performed by members of the Elysian Wind Quintet and pianist Anthony Goldstone. Clarinetist Julian Farrell shines in a lovely, fluid opening to the first movement and in the light, elfin second movement.
Holst's Wind Quintet in A flat, Op. 14, was written in 1903 before the composer delved into the English folk music for which he would become known. It was not premiered until 1982. The first movement, "Allegro moderato," opens with a passionate clarinet solo that Farrell executes beautifully. However, Farrell truly excels in the second movement, "Adagio" with an enviable solo that is focused, fluid and sensitive. Throughout all movements, the ensemble plays with impressive balance and style.
The album closes with Gordon Jacob's Sextet in B-flat, Op. 6, written in 1962. The contrast in styles from early Holst to developed Jacob is refreshing, and the ensemble handles both delightfully. For this listener, the most impressive movement on the album is the final one, "Rondo with Epilogue." The opening is energetic and angry, with impressively fast and crisp articulation in the clarinet which give way to several rich chalumeau moments.
Overall, this album is a pleasant window into British chamber music of the twentieth century.
– Madelyn Moore
---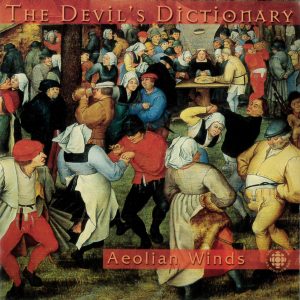 The Devil's Dictionary: Aeolian Winds. Aeolian Winds: Fiona Wilkinson, flute; Ian Franklin, oboe; Peter Shackleton, clarinet; David Howard, bassoon; Derek Conrod, horn. G. Ligeti: Six Bagatelles; C. Nielsen: Wind Quintet, Op. 43; G. Kulesha: Bagatelles from "The Devil's Dictionary"; J. Françaix: Wind Quintet No. 1. CBC Records, MVCD 1142. Total Time: 67:25.
The Aeolian Winds is a well-known Canadian Wind Quintet and each member is a professor of music at the University of Western Ontario. All pieces on the album are from the standard woodwind quintet repertoire except the title track, Gary Kulesha's Bagatelles from "The Devil's Dictionary."
In Ligeti's Six Bagatelles, listeners can immediately notice the great effort of the performers to convey the contrasting and unique styles of each movement. Aside from a few overpowering moments by the piccolo, the first movement is a perfect example of unified ensemble articulations and the clarinet's important role in bridging the upper and lower timbres of the quintet The improvisatory-sounding second movement highlights the double reeds at the onset before combining with the clarinet. Peter Shackleton blends into the sound of each instrument with chameleon-like accuracy. Shackleton does a meticulous job of matching the short and resonant articulation of the bassoon in the third movement and later works with the oboe to create lyrical, vivid lines that sound new and refreshing. The Aeolian Winds are effective in capturing the complex and challenging characters of each movement and distilling it for the listener.
The group's performance of Nielsen's Quintet is notable for its crystalline clarity and interpretation. Each musician displays complete ownership of their individual parts, thereby allowing them to imbue their playing with unique personality and flair. Shackleton brings out the solo lines with care and swagger, while delicately accompanying and fading into the background when necessary. Shackleton's vibrant sound in the second movement solo conveys its playful yet melancholic character. The cadenzas in the final movement are the crowning glory, building, cresting and falling effortlessly to dynamics so soft they are hardly perceived.
Kulesha's Bagatelles from "The Devil's Dictionary" is an interesting juxtaposition to the other works on this album. Shackleton's playing in the second movement sounds akin to colors in a kaleidoscope – always the same essence, but with refraction of color constantly evolving and bleeding into the next phrase. The group's performance of this work makes a compelling case that it deserves a place among the others in the standard repertoire due to expert shaping and complex character shifts.
The Aeolian Winds did a lovely job with these standard pieces of woodwind quintet repertoire and introduced a new work that is certain to become part of the canon. My only wish is that there were more works on the album to hear Shackleton's finessed and thoughtful clarinet playing.
– Vanessa Davis
---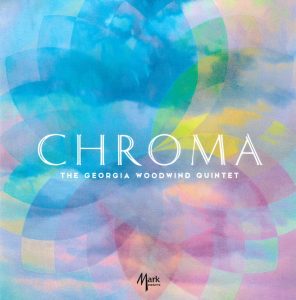 Chroma: The Georgia Woodwind Quintet. The Georgia Woodwind Quintet: Angela Jones-Reus, flute; Reid Messich, oboe; D. Ray McClellan, clarinet; Amy Pollard, bassoon; Jean Martin-Williams, horn. T. Blumer: Quintet for Wind Instruments, Op. 52; G. Jacob: Wind Quintet No. 1: Serenade for Five Wind Instruments; V. Persichetti: Pastorale, Op. 21; A. Etler: Quintet No. 1 for Wind Instruments. Mark Masters, 51929-MCD. Total Time: 64:00.
Chroma comes from the Greek khrōma (color) and is fitting for The Georgia Woodwind Quintet's beautiful recording. The disc explores different aspects of tonal language spanning from the ultra-romantic style of Blumer to the dark and brooding harmonies of Etler.
The first piece on the disc, Quintet for Wind Instruments, Op. 52, by Theodor Blumer features harmonic language similar to that of Richard Strauss and Paul Hindemith with four movements that exhibit a variety of different styles. D. Ray McClellan's playing is not unlike the grace and poise of a prima ballerina, spinning and leaping in one moment and lyrically flowing to a gentle repose in another. His command of the instrument is impressive, performing the many soaring and whirring technical passages with bravado and style. Interplay between the members of the quintet is well-connected and driving, bringing a special regal energy to the performance. McClellan's solo in the second movement sings in the warm and haunting chalumeau register, before climbing into the shimmering clarion to blend into the color of the other instruments. The work displays the individual musical shaping of each soloist while also showing off the group's ability to meld together into one instrument with many facets of color.
In Jacob's Wind Quintet No. 1: Serenade for Five Wind Instruments, short movements provide a taste of five different styles of music beginning with a bright, almost Weill-like cabaret introduction. The warmth and flexibility of McClellan's sound acts as sonic glue, binding each part to the others, especially in the "Air."  The melodically driven "Jig" allows the group's members to exhibit their individual and collective technical prowess. The most memorable moment of the movement is a beautiful, flowing and broad clarion-register clarinet solo highlighting McClellan's nuanced tonal quality. Another standout moment in this piece is the opening clarinet solo in the fifth movement, "Theme and Variations." McClellan's timbre and phrasing evidence his musical artistry, which are complemented by the wonderfully smooth and connected arpeggiated technique he plays later in the first variation.
Opening with a heartfelt and nuanced flute solo by Angela Jones-Reus, Persichetti's Pastoral is skillfully performed. The pacing of the flute and clarinet duo in the opening of the second movement accentuates the tension in the melody while also showcasing Persichetti's distinct harmonic language. Jones-Reus and McClellan's playing is so emotional and connected that it prepares the listener perfectly for the upcoming synchronicity of the full ensemble.
The progression of the pieces on this album work much like a great wine tasting – from the most gentle to the most intense. Etler's Quintet No. 1 for Wind Instruments showcases McClellan's low chalumeau register and its complex, rich tone quality. It is a true joy to hear such full-bodied sound, and impressive how he expertly blends his timbre with the flute in its highest register and the other instruments when approaching their extremes as well. Though this is perhaps the most challenging work to listen to on this album because of the dissonant and accented style for which Etler was well-known, The Georgia Woodwind Quintet masterfully brings out the unsettled beauty that underlies the craggy and dissonant solo lines in each movement with their individual and collective virtuosity. Overall, this is a recording not to be overlooked and would make a most excellent addition to anyone's musical library.
– Vanessa Davis
---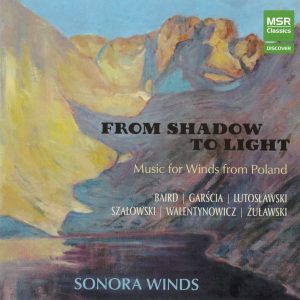 From Shadow to Light: Music for Winds from Poland. Sonora Winds: Bethany Gonella, flute; Stuart Sutter, oboe; Anastasiya Nyzkodub, clarinet; Marta Troicki, bassoon. W. Lutosławski: Trio for Oboe, Clarinet and Bassoon; A. Szałowski: Trio for Oboe, Clarinet and Bassoon; W. Żuławski: Aria con Variazioni for Flute, Clarinet and Bassoon; W. Walentynowicz: Trio for Reeds; T. Baird: Divertimento for Flute, Clarinet, Oboe and Bassoon; J. Garścia: Tema con Variazioni for Flute, Clarinet and Bassoon. MSR Classics, MS 1702. Total Time: 50:55.
A new album from the Sonora Winds offers several rarely-played works that deserve to be programmed with greater frequency. The general blend of the ensemble is quite lovely, most especially the exchanges between the flute and the clarinet in the second movement of Baird's Divertimento and in the fuller textures of Żuławski's Aria con Variazioni. The members of the group successfully convey the prismatic colors of these Polish compositions and their individual instruments. Clarinetist Anastasiya Nyzkodub excels at matching the vibrant and pointillistic attacks of the double reeds while maintaining fluid technical mastery of her instrument and delightfully liquid phrasing.
The album opens with a recording of Lutosławski's Trio with all of its verve, color and amusing syncopations. The tempi feel like they could have leaned forward more in the high energy style of Lutosławski but overall the interpretation is satisfying. The second and third movements waver appropriately between urgency and stillness, perhaps lacking only in the execution of the soft dynamics in tutti passages.
Szałowski's Trio provides warm washes of sound. Nyzkodub's playing is sinuous and twisting in the "Gavotte;" the entire ensemble performs  graciously overlapping figures in the "Allegro." Walentynowicz's Trio is refreshingly pleasing with its charming simplicity and obliging tonality. Tema con Variazioni by Garścia brims with graceful joy and heartwarming naivete. The real surprises of this album are the Żuławski Aria con Variazioni and the Baird Divertimento as they exploit different pairings and textures with original ideas and compelling storytelling. The program notes and performer bios provide excellent insight into the history of each composition, the relevance of this recording project and the performers themselves.
– Andrea Vos-Rochefort
---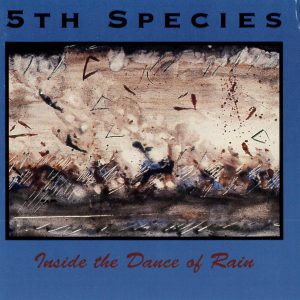 5th Species: Inside the Dance of Rain. 5th Species: Anne Thompson, flute, piccolo, alto flute; Libby Van Cleve, oboe, oboe d'amore, English horn; Donald Hutton, clarinet, bass clarinet; Shannon Peet, bassoon; James Sommerville, horn, ratchet. J. Wolfe: On-Seven-Star-Shoes; D. Mott: Inside the Dance of Rain; R. Komorous: Fumon Manga; M. Bresnick: Just Time; W. Prezament: Trilling; A. Jarvinen: Goldbeater's Skin; G. Ligeti: Ten Pieces. Artifact Music, ART-007. Total Time: 72:17.
Difficult unison playing and thrillingly exact execution of demanding writing are defining elements of this album of under-performed works. Julia Wolfe's On-Seven-Star-Shoes glistens with energy as each performer projects the vibrant personality of their primary instrument with auxiliary pairings on piccolo and bass clarinet. The concept of the CD  benefits greatly from changes in both personnel and instrumentation, as evidenced by David Mott's Inside the Dance of Rain, an eerily triggering sound portrait of rainfall for bassoon and English horn that serves as the album's namesake work. The only track using the traditional forces of the wind quintet is the ebbing and flowing Fumon Manga by Komorous, which showcases the gorgeous tone of Anne Thompson on flute. Clarinetist Donald Hutton shines with his incisive rhythmic precision and impeccable intonation in the angular sections of Jarvinen's Goldbeater's Skin and Prezament's Trilling.  His versatility of tone allows him to be a shape-shifter within the ensemble in Wolfe's On-Seven-Star–Shoes and Ligeti's Ten Pieces. Hutton performs both works with charisma and vigor.
It is remarkable how the energy of the performers allows the more abstract pieces on the album to shimmer and captivate. Such is the case with James Sommerville's striking horn playing in Martin Bresnick's Just Time, a cerebral study of ratios applied to polyrhythms using the eleventh partial in the style of natural horn playing. In the program notes, a lovely connection between the composers is revealed. Martin Bresnick was a teacher to Julia Wolfe, which provides an element of unity to the works on the album. Another cerebral work, Ligeti's Ten Pieces is often discouraged from performance due to its aggressive nature and intensely detailed textures, but it sparkles in this recording even in the most forceful altissimo passages of the clarinet.
Commissions and premieres on the album include Arthur Jarvinen's Goldbeater's Skin, a feat of rhythmic unison that seems to hang weightless in the air, and Wendy Prezament's Trilling, which draws its emphasis on piled fifths from Stravinsky's harmonies (Orpheus in particular) and is written for the compelling combination of flute, piccolo, Eb clarinet, and bassoon. The ensemble variety on the album and the description of the pieces in the program notes create a wonderful introduction to new and old works. The album encapsulates the idea of constantly-shifting textures and instrumentations which is most clearly evident in Ligeti's Ten Pieces.
This album demonstrates that new and eclectic compositional styles can effectively make their way into traditional mediums of wind chamber music.
– Andrea Vos-Rochefort
---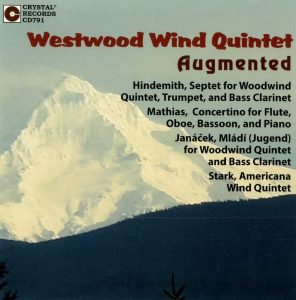 Westwood Wind Quintet: Augmented. Westwood Wind Quintet: John Barcellona, flute; Peter Christ, oboe; William Helmers, clarinet; Patricia Nelson, bassoon; John Cox, horn; Doug Reneau, trumpet; Carol Robe, bass clarinet; Lisa Bergman, piano. P. Hindemith: Septet für Blasinstrumente; W. Mathias: Concertino; B. Stark: Americana Wind Quintet; L. Janáček: Mládí (Jugend). Crystal Reccords, CD791. Total Time: 62:40.
Wind quintet enthusiasts will likely be familiar with the Westwood Wind Quintet (John Barcellona, flute; Peter Christ, oboe; William Helmers, clarinet; John Cox, horn; Patricia Nelson, bassoon) due to their prolific recording and performance career. The album title Augmented refers to the featured repertoire: three of the four pieces incorporate one or more instruments beyond the standard wind quintet.
In Paul Hindemith's Septet for wind quintet, bass clarinet (performed by Carol Robe) and trumpet (performed by Doug Reneau), the musicians demonstrate exemplary balance through the dense counterpoint. Helmers's clear and polished tone is evident in many lyrical solos for clarinet, while Robe articulates with precision and clarity equal to her soprano-range colleagues. The ensemble's technical precision in the closing fugue is particularly virtuosic.
Bruce Stark's Americana Wind Quintet (the only piece on this recording for standard wind quintet) features the consonant harmonies and open sonorities so commonly used as a trope of American music. The ensemble plays with great dexterity in technically demanding passages while conveying a sense of optimism and passion in the numerous chorale-influenced sections despite some less-than-perfect intonation.
Robe rejoins the quintet for a polished performance of Leoš Janáček's Mládí. Robe displays her rich and balanced tone in numerous melodic phrases, while Helmers plays with great style and infectious energy in the numerous articulated exclamations, making the most of concise melodic figures.
Although without clarinet, the performers of William Mathias's Concertino (flute, oboe, bassoon and piano) are to be commended for a sparkling rendition of this quartet. Listeners interested in this repertoire will be thrilled to read the detailed liner notes by American composer David DeBoor Canfield; Canfield provides biographical information, historical context, and compelling descriptions of each piece and composer. I recommend wind quintet enthusiasts augment their recording collections with this impressive disc!
– David Cook
---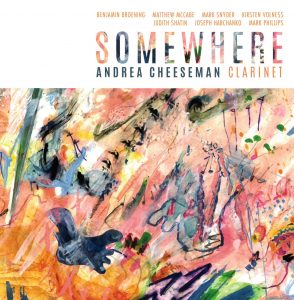 Somewhere. Andrea Cheeseman, clarinet, bass clarinet. B. Broening: Arioso/Doubles; M. McCabe: Somewhere; M. Snyder: Messy; K. Volness: Ultraviolet; J. Shatin: Penelope's Song; J. Harchanko: Breath; M. Phillips: Favorable Odds. Ravello Records, RR8018. Total Time: 52:26.
Based in Columbia, South Carolina, Andrea Cheeseman advocates for electroacoustic music for clarinet and bass clarinet alike. On Somewhere, Cheeseman presents a diverse array of music demonstrating the numerous timbres, colors and qualities possible through a combination of clarinet and electronics.
The first composition, Arioso/Doubles for clarinet and electronics, features Cheeseman interjecting free melodic figures over a tranquil background. Her warm and centered tone provide a striking contrast to the bright electronic timbres. The use of delay partway through the piece effectively adds another layer of texture to the piece. In the title track, Somewhere by Matthew McCabe, Cheeseman creates a compelling atmosphere punctuated by various nature (or nature-like) sounds of rain, wind, and birds.
Messy by Mark Snyder projects an aura of foreboding through delay-created dissonance and long melodic lines that Cheeseman shapes with great clarity and direction. She does an admirable job of sculpting this piece into a musical arc, leading the listener from beginning to end. In Kirsten Volness's Ultraviolet, Cheeseman displays her impressive abilities on both clarinet and bass clarinet, effortlessly switching between the two instruments and perfectly capturing Volness's various descriptors such as "Aggressively" and "Bluesy, laid back."
Judith Shatin's Penelope's Song juxtaposes Cheeseman's clearly articulated melodic figures against an ostinato of mechanical sounds (a welcome change from the previous, more ametric tracks on the album), later dissolving into a series of multiphonics and quarter-tones in dialogue with various electronic timbres. In Breath by Joseph Harchanko, Cheeseman switches to a brighter and more penetrating tonal quality that aligns with the various percussive and string-influence timbres. Favorable Odds by Mark Phillips is a powerful closer to the album, allowing Cheeseman to display her lyrical playing before embarking on a funky section full of style and character. Fans of electroacoustic music should definitely give this a listen!
– David Cook
---