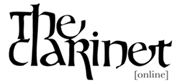 Originally published in The Clarinet 49/1 (December 2021). Printed copies of The Clarinet are available for ICA members.
---
Tribute to Dr. K Tod Kerstetter
By Sarah Watts
---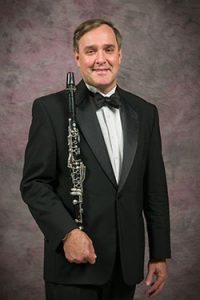 Dr. Tod Kerstetter was a clarinetist and professor of music in the School of Music, Theatre, and Dance at Kansas State University in Manhattan, Kansas, and served as treasurer of the ICA since 2012. Tod was involved in many commissions of clarinet works, including compositions by David Maslanka, Mauricio Murcia, Kevin Walczyk and Craig Weston. As an arranger and editor, his published editions included two of Molter's concertos for E-flat (originally D) clarinet and piano, and Krommer's Op. 71 Concerto for Two Clarinets with String Orchestra. Tod also co-authored with Robert Chesebro the clarinet pedagogy book The Everyday Virtuoso, available from Woodwindiana in Bloomington, Indiana. He received degrees in clarinet performance from Furman University (B.M.), Indiana University (M.M.), and the University of Georgia (D.M.A.). His clarinet teachers included James Campbell, Robert Chesebro, Henry Gulick, Theodore Jahn, Dieter Klocker and Richard Waller.
During his recent battle with cancer, Tod continued to teach clarinet at Kansas State University; he also continued in his role as treasurer for the ICA. Tod also created YouTube videos where he performed many of his clarinet arrangements including Queen's "Bohemian Rhapsody." (Here, Tod had joked with his children that since he had 139 hits, or followers, he should sell merchandise).
Away from his clarinet performing and teaching, Tod was a family man. He married his wife Jackie in 1989, who is also a musician and professor at Kansas State University. Tod was also a loving father to David (age 13) and Jordan (age 10). At any clarinet event, you would hear Tod's infectious laughter as he shared stories about his beloved boys.
Tod is greatly missed by his family, friends, colleagues and students, but his legacy of recordings, arrangements and humor will be lasting memories for us all. The tributes below show the respect and admiration we all have for our dearly missed clarinet companion.
Tod's K-State family and students were very important to him. Jackie has found consolation in reading all of the notes from students and friends, and she would like to share these words written by one of his former students Rachel Palmberg. These words summarize Tod's legacy of his artistry.
---
"Words can't begin to describe what Tod meant to me at K-State, nor the weight of his passing. I am grateful to have gotten to know your family while I was in Manhattan; even a bit. Tod was the final deciding factor that brought me to KSU. I did a campus tour and was feeling overwhelmed before ending the day with a lesson with Tod. He made me feel warm and welcome straight away. He was one of the most genuine people I know. Even as a high school senior, I was drawn not only to his talent and knowledge, but to his kindness and empathy. Tod made me feel seen and known as I navigated my early 20s. Even as it became more and more clear I wouldn't pursue a career in music after graduation, he still encouraged me and supported me every step of the way. He valued his students as people, not just musicians. He was a father figure to so many in his decades as an educator, which deepens the weight of his loss. I am grateful not only for the short time I had with him, but also for the scores of other lives he touched. I believe God used Tod to influence a generation of young adults in the crucial time they were growing into who they would become. His sudden passing is a severe injustice, but drops of his identity live on in your family, his colleagues, and his students. That is what I am choosing to celebrate between the tears."
– Rachel Palmberg, former student
Although I knew Tod of course for a long time, I had the privilege to get closer to him and learn to know him better when I became a board member of the ICA. Tod always was very professional and clear in his function as our treasurer, always open for a good and positive talk.  We will miss his warmth and positivity (although cancer came in an aggressive way back to him).  He was not a person of many words, he said what he wanted to say and that was sufficient for him.  On the other hand, he enjoyed life so much!
Music was an important part of his life, not only because it was his job, but overall because he loved it so much and it also brought him closer to other people.  He commissioned new music and made arrangements for clarinet. The ICA was very important in his professional life, we will miss him so much.
Thank you for everything, Tod!
– Eddy Vanoosthuyse, Former Principal Clarinet, Brussels Philharmonic & Clarinet Professor, Royal Conservatory Ghent and Fontys Conservatory Tilburg
Tod Kerstetter was a warm, welcoming and optimistic person; I consider it a privilege to have known him as a teacher, mentor and colleague.
– Christopher Nichols, Assistant Professor of Clarinet, University of Delaware & ICA Board Member
I will remember and miss Tod for so many reasons – his artistry, creativity, intellect, wit and collaborative spirit – but most of all for being such a kindhearted person and thoughtful friend.
–  Mitchell Estrin, Professor of Clarinet, University of Florida & ICA Past President
Tod was such a humble, charming, funny and incredibly talented man who was an inspiration to those fortunate enough to know him. We shared our battles with cancer on many occasions, and I admired his positive outlook, despite his many hardships during his battle; he continues to serve as an inspiration to me, personally, for which I am eternally grateful.
– Diane Barger, Professor of Clarinet, University of Nebraska-Lincoln & ICA President Elect
Tod had a profound impact on me both professionally and personally, as he was the first person to patiently teach me to improvise back in the summer of 1987 when we both were in the "Barge Band." I miss you Tod, and hope you are up there jamming with the greats!
– Michael Lowenstern, freelance bass clarinetist and recording artist, Earspasm
Tod said to me once that he loved ClarinetFest® as it was an adult clarinet camp. Tod would give sublime performances, fascinating lectures and then make you laugh until you cried at the bar. I'll miss you buddy!
– Sarah Watts, Director of Performance, Sheffield University & Bass Clarinet Tutor, Royal Northern College of Music
Tod Kerstetter was a shining light among human beings. I had the privilege to work with him in ICA and as a colleague for many years. In all that time, Tod never once said a harsh word about anyone. He always lit up when talking about his beloved family, his wife Jackie and his two boys, often recounting loving and humorous stories. Tod was an amazingly gifted clarinetist and composer and brilliant person. He will be greatly missed and has left a void in the lives of those fortunate enough to know him.
– Caroline Hartig, Professor of Clarinet, The Ohio State University & ICA Past President
Tod was such a kind spirit. I was fortunate to be able to work with him for several years while he served on the ICA Board. He loved the ICA and worked hard to support the organization's mission. I will miss his wonderful playing, his room-brightening smile, and his incredible sense of humor. He really was one of a kind. Rest in peace, TK.
– Jessica Harrie, ICA Executive Director of Operations
I have had the privilege of teaching Tod Kerstetter for over nine years. He was a wonderful clarinet student; he had an exemplary work ethic, a quintessential performing ability, a vast knowledge of the music he played or wrote, he was modest about his multifarious accomplishments as an arranger and composer. He also had a deep love for his family, his students, and his friends. In 2008 Tod and I collaborated on the writing of a book, "The Everyday Virtuoso." Finally, he was dear friend whom I shall deeply miss.
– Dr. Robert Chesebro, Professor of Music and Coordinator of Woodwind Studies, Furman University
Tod and I know each other from our graduate school years at Indiana University. Over Labor Day weekend I attended his memorial service and recital in his honor the following day. From interacting with these former/current students it is evident that not only was Tod a great clarinet teacher and mentor, he also made a lifelong, one to one connection with each and every student that instilled confidence and pride not only in their performances but in the person they are and continue to become. Tod is sorely missed by all.
– Jonathan Towne, Master Chief Musician (retired), United States Coast Guard Band
I had the honor of working with Tod on the ICA Board of Directors for seven years and found him to be one of the kindest, most compassionate people I have ever met, loved by all. A truly wonderful man, world-class musician, teacher, friend and colleague whose loss will be felt for a very long time.
– Denise Gainey, Professor of Clarinet and Associate Chair of the Department of Music, University of Alabama at Birmingham & ICA President
In 2013 I spoke to Tod for the first time in real life in Assisi, Italy, during ClarinetFest® 2013 (we had contact before on the internet). Every now and then in a person's life you meet people like you've known them all your life. Even if you don't see each other for a long time, you immediately continue where you left off about anything as if it were yesterday. Tod was straightforward, modest yet passionate, very empathetic, family man, super humorous, altruistic, a super good musician and teacher and above all very wise and sincere. A real friend. We have experienced various Clarinet Festivals together, sat on the ICA board together, played music together, [we would] eat, drink and celebrate. Then bad tidings came and Tod (along with Jackie, David and Jordan) went ahead with full courage, but it wasn't to be. We all have to go one day, but Tod had to go way too early.
– Stephan Vermeersch, President, European Clarinet Association