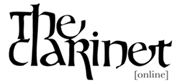 Originally published in The Clarinet 49/1 (December 2021). Printed copies of The Clarinet are available for ICA members.
---
International Spotlight
"International Spotlight" showcases perspectives from the global clarinet community. The Clarinet welcomes submissions from ICA country chairs and other members about historical topics, performance practice, pedagogy, people, institutions, clarinet conferences or festivals, and other trends in clarinet communities around the world; please send items to [email protected].
---
 Historic Panorama of Clarinet Teaching in Venezuela and the Latin American Clarinet Academy
English Version
by David Medina Rodriguez, with translation by Victor Padilla
Spanish Version can be found here
---
There are many cases of Latin American clarinetists who were from Venezuela or studied there, and who have performed on many national and international stages, which shows their level of technical and artistic achievement. The successful training of clarinetists in Venezuela is due to a historical process that is worth exploring.
Background
The first evidence recorded about clarinet teaching in Venezuela indicates that around 1770 in the music schools of Las Reducciones (settlements where the Spanish relocated indigenous populations), native people learned to play musical instruments such as the violin, flute and clarinet, among others. However, the first report regarding institutional teaching of the clarinet dates to 1831 in Caracas, when, with the support of General José Antonio Páez, the Philharmonic Society was founded along with its school of theoretical and practical music, where professors Luis Jumel and José Rivas taught clarinet.
In 1849, the Academia de Bellas Artes was created along with its School of Music, the latter financed with official state resources. Even though it did not have a clarinet chair at first, the work of the school is still considered as the greatest effort in this period to formalize music teaching. Later this academy was renamed to Conservatorio de Bellas Artes in 1870, and then Instituto de Bellas Artes in 1877.
In 1887, the Academia Nacional de Bellas Artes was created, with a clarinet position. The newspaper El Diario de Avisos published on Monday, July 25, 1888: ¨The Young M. A. Granado played with taste and feeling a nocturno for clarinet accompanied by Bustamante, the pianist," as a part of his evaluation in the music and declamation classes of the Academia Nacional de Bellas Artes.
Later, in 1906, a clarinetist named Cayetano Martucci entered the Conservatory of Music and Declamation when he was only 12 years old. He soon joined the Banda Marcial Caracas, becoming a renowned clarinetist and later in 1918 traveling to New York to perfect his studies. From 1849 until 1945, the Academia de Bellas Artes changed its name several times, from Instituto Nacional de Bellas Artes, Academia Nacional de Bellas Artes, Conservatorio de Música y Declamación, Conservatorio Nacional de Música, Escuela Superior de Música, and as it's known today, Escuela de Música José Ángel Lamas.
By 1950, Oreste Denti was professor of clarinet at the school, followed in 1964 by Alfonso Pagliuca, both from Italian roots. Until this time it is known that the repertoire that was mainly studied was the Lefèvre and Klosé methods. According to clarinetists who studied at this time, the academic teaching of the clarinet was unfortunately marked by an atmosphere of rigidity and a sort of clandestine self-improvement; any material used that was different from the established generated disputes between teachers and students. In this context, it is worth mentioning Tibulo Zambrano, who studied until the fifth year at the Escuela Superior de Música and in search of self-improvement, became the first Venezuelan clarinetist to obtain a degree in clarinet outside the country, graduating from the Santa Cecilia Conservatory of Music in Rome in 1971.
From the 19th century until the 1970s, clarinet was taught within the different civic bands and military schools, in philharmonic societies, in private lessons and in the Escuela de Música José Ángel Lamas, which by that time was the only place to pursue academic study of the clarinet – the only institution in the country where you could graduate as a Performer Teacher of Clarinet.
After 1970 there was a notable era of creation and transformation of the institutes and music schools in Caracas, such as the Escuela de Música Juan Manuel Olivares (1945), Escuela de Música Lino Gallardo (formerly Escuela Nacional de Folklore since 1963), Escuela de Música Prudencio Esaá (1970), Escuela de Música José Reyna (1970), Escuela de Música Pedro Nolasco Colón (1971) and Conservatorio Nacional de Música Juan José Landaeta (1971).
In this matter, it is important to note that in 1974, Maestro José Antonio Abreu began to develop the Symphony Orchestra Project with young Venezuelans. As was mentioned in my previous article with Ricardo Dourado Freire in The Clarinet, Abreu and eight young music students began meeting in late 1974 to develop their ideas.1 The first rehearsal was held on February 12, 1975, and 11 musicians were present in a small room at Juan José Landaeta School of Music. It was a rough start, but Abreu believed they could build an orchestra, and with every rehearsal more people showed up to play with them. The orchestra officially debuted on April 30, 1975; in that concert, the clarinet section included Eduardo Salazar, Pedro Naranjo and Leonel Méndez. This orchestra is known today as Orquesta Sinfónica Simón Bolívar de Venezuela.
In 1979, Abreu's project was registered as the State Fundation for the National System of Youth and Children's Orchestras of Venezuela (FESNOJIV is its acronym in Spanish), and there was a proliferation of orchestras throughout the National Territory, what we know today as "El Sistema."
As part of the nascent project, Abreu achieved the creation of the Simon Bolivar Conservatory of Music to fulfill the need for an academic center where it was possible to expand the academic training of the members of the orchestra. Later in 1985, the University Institute of Musical Studies was created, which operated in the facilities of the Simon Bolivar Conservatory. The continuation of studies at the master's level was finally implemented in 1996 at the Simón Bolívar University. The creation of all these musical institutions marked new horizons in the formal study of the clarinet in Venezuela.
A new history in clarinet teaching
Starting in 1980, a new history for clarinet in Venezuela began in Caracas. We should not ignore all the other musical events that were simultaneously taking place in other parts of the country, such as the presence of foreign teachers in the state of Zulia as members of the Orquesta Sinfónica de Maracaibo, which by 1983 had been named "Nation's Intangible Cultural Heritage" for being held up as the best orchestra in Latin America at that time. However, Caracas has always been historically known as the center of all cultural and artistic activity in the country. It is the city with the highest number of musicians, professors and students. Even in 1985, Caracas had the only academy where people could get a degree in clarinet. For this reason, we find it necessary to set our eyes on the musical events that were taking place in this city, and that soon after contributed and influenced musical development in the entire nation.
Before 1980, there were already Italian, Polish, Dutch and Spanish clarinetists that had come to Venezuela after World War II, as well as clarinetists from other Latin American countries. The landscape for clarinet playing was based in the Italian school of thought with new trends for teaching and execution brought by North American clarinet players. Adding to this was also the curiosity shown by young students that by the mid-'70s had the opportunity to travel abroad and experienced an awakening in regards of information about clarinet worldwide – for example, the addition of new works and methods to the then-standard repertoire.
By 1980, there were in Caracas two important representatives of the clarinet, both Italians: Alfonso Pagliuca, soloist of the Banda Marcial Caracas; and Giuseppe Gai, soloist of the Orquesta Sinfónica Venezuela; who also appear as teachers in the record books of different music schools.
On the other hand, one of the already existing orchestras in Caracas by 1980 was the Orquesta Filarmónica de Caracas, which was almost in its entirety formed by foreign musicians, mostly from North America; this orchestra's main building was called the Conservatorio Filarmónico. Among the clarinetists in this group were John Fullam (now principal clarinet for the Buffalo Philharmonic), William Hudgins (principal clarinet for the Boston Symphony Orchestra), Bernadette Mathews, Randalf Griffiths and Mark Friedman. Friedman, according to local clarinet players, came to Venezuela to stay and contribute to clarinet teaching in several music institutions in Caracas from his arrival in 1981 until his return to the U.S. in 2018.
It is worth mentioning that by that point in time in 1980, the interest for going to music school and becoming professional was lost; people who wanted to move forward with clarinet usually took private lessons or joined the project led by Abreu. Probably because most active clarinetists were reaching retirement, partly due to old age and partly because they were not up to date with new repertoire, mouthpieces, reeds and new instrument models, all of these were brought by foreign clarinetists that came for some period of time to play in both Municipal and Philharmonic orchestras of Caracas.
Developing a School
Interviews held with clarinet students in the '70s and '80s in Caracas mention that the most important event for the academic learning of clarinet in Venezuela was the arrival in the country of Luis Rossi in 1980, after he was invited to replace Italian clarinetist Giuseppe Gai as soloist at the Venezuela Symphonic Orchestra. Rossi opened the eyes of some young Venezuelan clarinetists and signaled to them the modernity of the instrument in their country.
The row of young Venezuelan clarinetists at the Orquesta Sinfónica de la Juventud Venezolana Simón Bolívar, conducted by Abreu, suffered from a lack of solid teaching in the performance of the instrument. In those years there was a conflict, a sort of rivalry between schools in regard to playing technique, and that is the context in which Rossi arrived, after being invited to teach the clarinetists at the Simón Bolívar Conservatory Orchestra through recommendations of his colleagues, Argentinian oboist Lido Guarnieri and Uruguayan bassoonist Filiberto Núñez. The first visits of Rossi to play and give classes to the clarinetists of the orchestra were organized by Eduardo Salazar, who at that time was the principal clarinet of the orchestra and taught the first generation of clarinetists of El Sistema.
Luis Rossi was a young and competent clarinetist filled with musical culture, from both his native country (Argentina), where he frequently performed in the Teatro Colón, and Europe (England), where he had just finished his studies. Although very few clarinetists trusted him at the beginning, Venezuelan clarinetists today recognize that Rossi was the most accomplished master to teach the embouchure, throat use, tongue use, breathing, sound quality, air emission, instrument repair and construction details, and the equipment combination of reed, mouthpiece and ligature; proposing a solid manner of playing the clarinet, with his main pupil being Valdemar Rodríguez.
Rossi opened the doors for the clarinet repertoire at a time in our country when the Weber and Mozart concertos and Brahms sonatas were barely known. He was the one who for the first time in Venezuela played Rossini's Theme and Variations, Debussy's Première Rhapsody, Stravinsky's Three Pieces for Clarinet Solo, Brahms's sonatas, Messiaen's Quartet for the End of the Time, and the Stanford and Corigliano concertos, as well as the premiere of numerous works from Latin American composers, the most remarkable being Blas Emilio Atehortúa.
Under the direction of Rossi, in the clarinet section of the Simón Bolívar Symphony Orchestra, a clarinet quartet arose with Valdemar Rodríguez, Alejandro Montes de Oca, Carlos Mujica and Eloy Salgado. The group played a notably complex repertoire for a clarinet quartet, performing on international stages by 1986, including Buenos Aires, Montevideo and Santiago de Chile. This first clarinet quartet was named Chalumeau. Two years later, and following the same line, Rodriguez encouraged four of his pupils to form the Cuarteto de Clarinete de Caracas, with Jorge Montilla, Orlando Pimentel, Victor Salamanqués and Carlos Bello, who performed many concerts in Asia, Europe, the United States and Latin America. Albums were produced and important composers were inspired to create new works for this ensemble.
In 1987, from the heart of the clarinet section at Simón Bolívar Symphony Orchestra, and with the initiative of Valdemar Rodríguez, the first Festival of Youth Venezuelan Clarinetists was organized, where important works were performed such as the Mozart Clarinet Concerto, the Debussy Première Rhapsody, Manevich Concerto and Spohr's Concerto No. 1, works which, until that moment, no Venezuelan artist under 25 years old had been deemed capable of performing live. It is worth mentioning that in that same year Latin American audiences heard for the first time Mozart's Concerto in its original version for basset clarinet at the Teatro Colón in Buenos Aires, performed by Valdemar Rodríguez.2
Thanks to the continued visits by Rossi to Venezuela, to the initiative and tenacity of Rodríguez along with other colleagues, and to the special support of Abreu; the foundations were laid for the development of the teaching and performance of the clarinet at each center for the system of orchestras deployed throughout the country. Also, between 1987 and 2013 10 international festivals of the clarinet were held in Venezuela, which likely were the first large-scale festivals of the sort in Latin America.
The Academy
While Valdemar was clarinet soloist at the Simón Bolívar Symphonic Orchestra, he was quite passionate for the teaching of the clarinet, as Luis Rossi described:
Sometimes it would happen that Valdemar would teach in other countries in Latin America and he would call me to say "They don't know much about breathing techniques, or mouth position" … and all that information from the Latin American landscape that he gathered is what encouraged him to found the Latin American Clarinet Academy, which turned out to be a wonderful idea, mainly because of how so many teachers are invited to Venezuela to share their knowledge. I believe that this is something unique, something that, to my knowledge, does not exist in any other Latin American country.3
This way, maestro Valdemar created the Latin American Clarinet Academy within the system of orchestras, with notable pupils from Venezuela and Latin America, who would travel to Venezuela to train with a team of renowned Venezuelan professors and to participate in the many activities programmed with international masters. Valdemar is thus renowned internationally as one of the main influences on Latin American clarinet performers, many of whom play important roles today as soloists, members of bands, symphony orchestras and chamber ensembles, and professors of clarinet at conservatories and universities all over the Americas.
In recent years, the academies that were created in El Sistema experienced a significant change of their structure as well as of their names, such as the Latin American Clarinet Academy, whose name and structure changed to become the National Clarinet School, with a new vision and leadership.
Rebirth
Despite the many difficulties through which Venezuela is going at present, and of his own retirement after 40 years of service in El Sistema, Valdemar Rodríguez's passion for teaching the clarinet remains lively. He brought the academy back to life as a private project on September 17, 2019, Luis Rossi's birthday, this time with the name Luis Rossi Academia Latino Americana de Clarinete. He hopes to maintain a legacy more than 30 years in the making through an internationally renowned technical and artistic performance level, and above all, to honor of the founder and mentor of this wonderful milestone in the history of the clarinet in Venezuela and Latin America: Maestro Luis Rossi.
---
Endnotes
1    Ricardo Dourado Freire and David Medina Rodriguez, "News from Latin America" (The Clarinet Vol. 42/3, June 2015), p. 82.
2    "Concierto de los ganadores," La Prensa, November 13, 1987
3    Luis Rossi, interview by David Medina Rodriguez, 2006.
---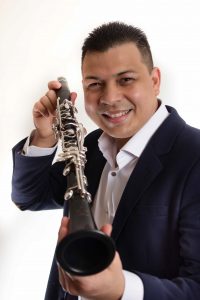 About the Writer: Clarinetist David Medina was trained in the famous Venezuelan social and musical program known as El Sistema. He earned a bachelor's degree in clarinet performance at the Instituto Universitario de Estudios Musicales in Caracas, studying with Valdemar Rodríguez, and a master's degree in clarinet performance at the Simón Bolívar University of Venezuela with Luis Rossi. For 17 years he was principal clarinet of the Simón Bolívar Symphony Orchestra of Venezuela, performing and recording under the baton of maestro Gustavo Dudamel and many other renowned conductors. Currently, David Medina is the clarinet soloist of the National Symphony Orchestra of Chile and teaches at the Instituto de Música de la Pontificia Universidad Católica de Chile.