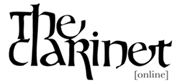 Originally published in The Clarinet 49/2 (March 2022). Printed copies of The Clarinet are available for ICA members.
---
Tribute to Béla Kovács
by Bence Szepesi
Hungarian version can be found here
Béla Kovács (1937-2021) began his musical studies in 1946 at the music school in Tatabánya, Hungary, which was founded by his father. He studied first on the piano, and then clarinet from 1949 onwards with the artist of the Opera House, Ernő Dohnányi's favorite clarinetist, Imre Dobos. Between 1951 and 1957 he continued his studies at the Ferenc Liszt Academy of Music in Budapest as a student of György Balassa. As a college student, he won fourth prize at the Warsaw VIT Competition in 1954 and third at the Moscow VIT Competition in 1957. From 1956 to 1981 he was a solo clarinetist of the Hungarian State Opera House Orchestra and the Budapest Philharmonic Society Orchestra. Between 1962 and 1972 he was a member of the Hungarian Wind Quintet; in 1962 this group was awarded second prize at the Geneva Music Competition, first prize at the Budapest Music Competition, and in 1964 the Liszt Prize.
Between 1975 and 2020, Kovács was a clarinet teacher at the Ferenc Liszt Academy of Music, an assistant professor (1978), an associate professor (1979), and professor emeritus (2009). In 2004 he was a visiting professor at the Conservatorio di Musica in Udine. Since 1989 he has been a clarinet professor and professor emeritus at the Universitat für Music in Graz. He was a guest clarinet teacher at the Vienna Conservatory and at the Egressy Béni Art High School Budapest. As a soloist, chamber and orchestra musician, he performed in many places in Hungary and abroad; he performed several pieces by contemporary Hungarian composers, inspiring many of them to compose clarinet works. Many of his CD and broadcast recordings became famous. Among his virtues as a performer, his almost perfect technique, his superior style and his receptivity to musical humor have always been highlighted. His work in the literature was also significant; he published several clarinet textbooks:
Everyday Scale Exercises for Clarinet (1978)
I Learn to Play the Clarinet 1 (1983)
I Learn to Play the Clarinet 2 (1986)
Besides these, Kovács composed more than 60 works for solo clarinet, clarinet and piano, clarinet chamber ensembles, saxophone and piano, and saxophone quartet. His best-known works worldwide include the Hommage series.​ He was a jury member of several prestigious foreign competitions. The Liszt Ferenc-Prize (1967) and the Kossuth-Prize (1988) stand out among his many state awards. He was elected an honorary member of the International Clarinet Association in 2011. In honor of his 40 years of pedagogical work, the 1st International Béla Kovács Clarinet Competition was held in 2015 in Békéscsaba.
Kovács once wrote:
Thanks to my profession, I have toured many countries and cities around the world, as well as concert halls, radio and record studios. As a soloist, as a member of various chamber ensembles, during my orchestra tours or in the jury of music competitions, I met many excellent domestic and foreign artists, played together and made friends that still last. In my performing and teacher creed, I consider Bartók's guidance to be the most important: "Only from a pure source." ​​(www.Kovácsklarinet.hu)
[See also George Stoffan's "The Clarinet in Hungary,
Part 1: A Conversation with Béla Kovács" in the
June 2021 issue of  The Clarinet. Ed.]
---
The following are remembrances from those who knew
Béla Kovács.
Very hard to say even a few words. I was one of the last students with whom Mr. Kovács showed instructions with his clarinet in his class. I could list many memorable lessons and unforgettable memories when I could play music with him in his quintet or sit on a jury with him. The biggest experience was when I heard him play the clarinet at classes and concerts. This is what cannot be taught, only heard. Luckily, his recordings and music will stay with us.
 – Bence Szepesi, President of the Hungarian Clarinet and Saxophone Society, Principal Clarinetist of the Dohnanyi Symphony Orchestra, Saxophone Professor of the University of Miskolc
In the mid-1950s, when Kovács exploded into the Hungarian musical life, everyone was amazed his beautiful voice on the clarinet. No one had heard such a sound before, neither in voice nor in phrases and staccatos. For the next 40 years, he became the ideal for me and others, too. In my opinion, his greatest musical value is that I have never heard him go wrong in phrases or musical styles, he was always very nicely phrased, his sense of style was perfect. We were in a very close relationship with friends and teachers. He has been my role model since I was a child. We will never forget.
 – Kálmán Berkes, Ferenc Liszt Award Winner, Clarinetist, Conductor
Béla Kovács is an iconic figure in the Hungarian clarinet education and art world. He was the most defining person of my musical life since I was 18 years old. I was his student at the Academy of Music for 5 years and after my graduation I was asked to be his teaching assistant. In addition, we played a lot of music together in the Ferenc Liszt Chamber Orchestra, and later in his own group: Kovács Clarinet Quintet. Sitting next to him, I learned the in-depth music that is characteristic of him. He was never a believer in superficial, self-serving music. Even if I didn't call friendship the relationship between us – it is certain that he was a distant man in a sense – yet I felt close to him. As a student, I regularly turned pages on his concerts and recordings. On these occasions, I learned a lot about music and how essential is the timing, break, waiting and calm. It wasn't just the music that made us close to each other. Several times he invited me to his apartment, where we watched soccer together – which was our common passion. He was a notorious fanatic of Real Madrid. He was a role model! His wonderful clarinet voice, which was mentioned a lot, brought a new color, opened a new chapter in the history of Hungarian clarinet playing. We didn't talk that long ago, maybe he was already feeling the end of the road approaching … he said, "You know, Zsolt, I'm very happy that I have lived a rich, successful and long life."
 – Zsolt Szatmari, Clarinet Professor of the Ferenc Liszt University of Music, Solo Clarinetist of the National Philharmonic Orchestra
In October of this year, it was 46 years since Béla Kovács, as a teacher, and I, as one of his first students, started our lifelong relationship at the Budapest Academy of Music. Béla Kovács was the Mozart of the clarinet world; studying with him felt like entering a church. Each time we received far-reaching instrumental and musical instructions. We often ended the day on the soccer field in a good mood, to our common delight. The compilation of our "golden team" was: Béla Kovács, Kálmán Berkes, József Balogh, Géza Bánhegyi and László Gy. Kiss. We also knew in the music and on the soccer field that there was a real genius among us. We have inherited a legacy from the world from which we can draw for the rest of our lives. He will always be here with us until we reunite in the celestial team, but there He will be the Genius among us.
 – Laszlo Gy. Kiss, Ferenc Liszt Award Winner, Clarinetist
I was the piano accompanist of Béla Kovács at the Liszt Ferenc Academy of Music in Budapest for 35 years. During this time, not only the students, but I also learned a lot from him about music, clarinet and teaching. His composer vein and exceptional sense of style was especially evident in his Hommages. He also wrote piano accompaniment for many and we were always very happy when he brought the latest to show for the class! These amazing pieces are happily included in their repertoire by clarinetists around the world. Many people know that he is excellent at playing the piano, not just classical music. Sometimes, if he had arrived in the classroom earlier, he sat down at the piano to jazz up, improvise, which we really enjoyed and which will be an unforgettable memory!
 – Hilda Hernadi, Pianist,
Liszt Academy of Music