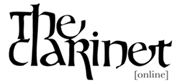 Originally published in The Clarinet 49/2 (March 2022). Printed copies of The Clarinet are available for ICA members.
---
 Tribute to Armand Ferland (1926–2021)
by François Ferland
The French version can be found here
With great sadness, I must report that Armand Ferland, my father, clarinetist emeritus well-known to many readers of The Clarinet, passed away last August. He was 95. Musician extraordinaire, a superb clarinetist and a very fine conductor, he was a performer, teacher and scholar.
He was born in Saint-Boniface, Manitoba, Canada, the second of seven children. He started early on violin (he played in the family string quartet) and added clarinet a few years later so he could join a band. He moved to Montréal, Québec, at age 21 to study clarinet at the Conservatoire de musique de Montréal, one of only two out-of-province students admitted to the school yearly in those days. He completed the course in four years, taking all the extra credit classes he could (he was considered an odd duck for doing this, as he spent so much time studying rather than practicing) and still earning top honors.
During this period he also enlisted in the Band of the Fusiliers Mont-Royal, a Canadian Army Reserve organization. He quickly rose to the rank of sergeant, while catching the eye of national military music leadership. Upon completion of his studies in Montréal and newly married (both in 1952), rather than embarking on the expected performer's career, he transferred to the Regular Canadian Army and was promptly sent on the Director of Music Course at the Royal Military School of Music (Kneller Hall) in Twickenham, England, just outside London (his clarinet instructor there was Reginald Kell). He graduated with honors at the end of 1954. By this time he had also earned the titles of LRAM (Licenciate of the Royal Academy of Music) and LGSM (Licenciate of the Guildhall School of Music).
He came back to Canada at the end of 1954 with two young sons (myself included), a commission to the rank of lieutenant and a posting to command the Band of the Royal Canadian Horse Artillery, in Winnipeg, Manitoba, whose previous director was retiring. Three more children were born during our stay in the Prairies, a girl and two more boys. He was posted again in 1961, to take over the Band of the Royal 22e Régiment, the famed Vandoos, in Québec City.
In addition to his duties as commanding officer and director of music of the Vandoos, ever curious of all things musical, he took classes at the Laval University School of Music, in Québec, eventually earning both B.M. and M.M. degrees. In 1968, just as he was about to be posted to yet another military band, the university offered him a tenured position; he resigned his commission and accepted, becoming professor of clarinet, conducting, chamber music and orchestration at Laval, as well as conductor of large instrumental ensembles.
During this time, he was also active in the Canadian University Music Society (president, 1979-1981), in the International Clarinet Association (he chaired the organizing committee and hosted ClarinetFest® 1990, in Québec City) and in the Québec community and school band movement (he was for many years head adjudicator for the annual competition of the Fédération des harmonies du Québec). He retired from his position at the university in 1995, at age 69, though he remained an active performer, teacher and adjudicator for many years. In his final years, he very much enjoyed playing clarinet quartets, quintets and sextets with a group of his former students, by now themselves retired, a weekly affair until Covid struck.
Dad was a very knowledgeable and sensitive musician, always a pleasure to work with. I had the opportunity to play my flute under his direction in my university days, and it was always a pleasure. His conducting was clear and precise, yet also sensitive to the message of the music. I picked up some of his idiosyncrasies in my own conducting, such as the unconscious habit he had of rising on tiptoe for upbeats, which I eventually found also came naturally to me.
He was forever aspiring to increase his knowledge of all things musical, including music theory, music history, organology, music education, instrumental and conducting technique, etc. I took a different professional path, specializing in historically informed performance on period instruments. Of course, he was very interested in this different performance practice as well. In June 2009, when he was 83, we drove down to Boston, Massachusetts, to attend the biennial Early Music Festival, a week-long immersion into the music of the past, from the Middle Ages to Beethoven. He loved it.
Dad was a gentle soul, gifted with an exquisitely sophisticated sense of humor. Always available to give advice to current and former students, colleagues, friends and family, he always managed to tactfully get his point across. He was always there for me, and for my siblings, of course, but especially for me professionally, as well as personally. And I shall always remember him as much more than a father, but also as a mentor, as a colleague, as a friend.
---