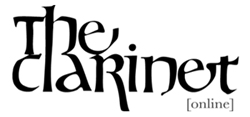 Welcome to The Clarinet [Online]! Here you'll find supplemental material to the ICA's print journal The Clarinet, along with additional content that we either couldn't print in the journal or that would be better suited for an online format.
Please Click to Continue to all of The Clarinet [Online] content, or go to the content from the individual columns below.

Columns:



Audio Notes


Reviews of clarinet CDs


A new space for sharing information about the clarinet: pedagogy, equipment, culture, literature, and history in a format designed with younger clarinetists and non-professionals in mind.



Useful and interesting clarinet content on the web



Pondering Pedagogy


Discussions aimed at clarinet educators

ICA Classifieds



Buy and sell clarinets and accessories from ICA members.
---