---
TCO Audio Reviews: June 2023
---
Ask of Me What the Birds Sang. Jennifer Tscheulin, clarinet; Emily Robinson, clarinet; Kühn Choir of Prague, Lenka Navrátilová, conductor; Linda Sitková, organ; Katie Procell, soprano; Jeremy Lyons, guitar; Christine Thomas, mezzo-soprano; Karen Johnson, flute; Bonghee Lee, piano; Valerie Hsu, piano; Andrew Stewart, piano; Wei-Der Huang, piano; Mariko Hiller, piano; Melissa Lindon, flute; Audrey Yu, oboe; Emily Robinson, bassoon; Tia Wortham, bassoon; Jay Chadwic, french horn. G. Baxter: Spanish Johnny; When Lights Begin to Show; A Jagged Path; The Long Hill; Wrapped in the Wind and Sun; November 1994; Tattoo; Flirt; Songs Without Words in Miniature; A Parting Glass; The Darkness Between Us; Still Falls the Rain. Navona Records, NV6481. Total Time: 74:33.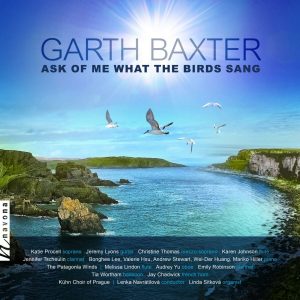 Ask of Me What the Birds Sang explores the voice of contemporary American composer Garth Baxter. Renowned for his art song compositions and self-styled as a modern traditionalist, Baxter presents a charming variety of instrumental and vocal works inspired by British, Irish, and American song and poetry.
The clarinetists featured on this album include Emily Robinson of the Maryland-based woodwind quintet Patagonia Winds, and the soloist Jennifer Tscheulin, also based on the Eastern seaboard. Both artists bring a wonderfully rich tone and expansive sense of musicality to Baxter's signature lyrical writing style.
Robinson ably contributes to the agile Patagonia Winds in the two wind quintets. The first, A Jagged Path, showcases the composer's more angular, contemporary approach to harmony in a departure from the shimmering tonality elsewhere (particularly in the second quintet, A Parting Glass), and this contrast is a welcome addition. Robinson leans into the rhythmic complexity of the work with ease, weaving intricate lines with dexterity across the ensemble and traversing the wandering melodies over the wide range of the clarinet seamlessly.
Tscheulin is paired with piano on Wrapped in the Wind and the Sun, while performing alongside flute and guitar in When Lights Begin to Show. In both contexts, the ensembles are well-balanced and particularly well-matched with flutist Karen Johnson. The flute, clarinet, and guitar trio is marvelously reminiscent of salon-type chamber stylings from an earlier period, but with a modern sensibility. The duo with piano is considerably more introspective, offering Tscheulin an opportunity to showcase their great sensitivity of phrasing.
This recording provides a helpful resource to clarinetists examining contemporary wind quintet or small chamber repertoire with a wide accessibility. Baxter's sumptuous, warm harmonies and clear-voiced melodies in the diverse instrumental and vocal settings presented create a most pleasant listening experience for any audience.
– Emily Kerski
---
Wider than the Sky Glenn Dickson, clarinet and live loops. G. Dickson: Introit; Closer to the Fire; Gentle Touch; Memories Lost; Pursuing Winds; Brave Shines the Sun; Wider Than the Sky. Digital Release. Total Time: 63:28.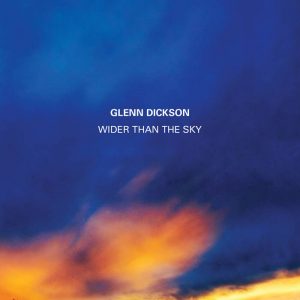 Wider Than the Sky is the culmination of clarinetist Glenn Dickson's pandemic-inspired livestreaming series titled Dreams & Meditations, where he continued his experimental journey of improvising and composing pieces for clarinet and live electronics. The seven works on this album were inspired by various klezmer and Greek improvisors as well as Dickson's childhood inspirations, flutist Paul Horn and guitarist Robert Fripp.
The album begins with Introit, a work that immediately brings the listener into a meditative, blissful, yet somewhat intense musical atmosphere. Dickson soars in the clarion register with a klezmer-inspired sound as the live electronics maintain a floating and constant drone. He alternates between adjoining with and soaring above the electronics. The tone is one of confidence and angst, all while sounding carefree.
Closer to the Fire embodies a clarinet choir-type feel, with the electronics embodying a mimicking role which becomes more prominent as the piece progresses. Dickson's tone is resonant, clear, and emotional, maintaining a warm, inviting atmosphere for the audience. Long held notes are interspersed with quick blips while the full dynamic range is explored.
Each piece relates to its title, such as Gentle Touch incorporating soft, gentle attacks and Memories Lost maintaining a dense, thick soundscape where each line layers above the next, becoming a lost memory if not listened to closely. In Pursuing Winds, a windy and ocean-like soundscape is created through the use of well-executed bubbly runs under loud, altissimo clarinet screams. Relaxation feels restored in Brave Shines the Sun, where we hear a glimpse of that long klezmer-inspired solo line introduced in Introit. Wider Than the Sky closes the album, where Dickson showcases sweet genuine melodies over warm luxurious harmonies.
– Lara Mitofsky Neuss
---
Moods & Miniatures Maureen Volk, piano; Christine Carter, clarinet; Michelle Cheramy, flute; Beverly Diamond, piano. C. Crawley: iPieces for piano; Ten a Penny Pieces; Toccatas for Piano; Kalamalka: Suite for Piano Duet; Twelve Preludes; pieces-of-eight. Canadian Music Centre, Centre Discs, CMCCD 28621. Total Time: 68:50.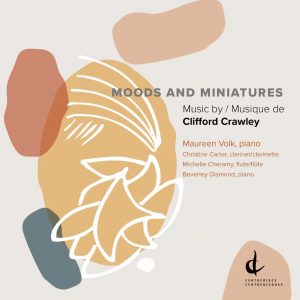 Clarinetist Christine Carter, pianist Maureen Volk, flutist Michelle Cheramy, and pianist Beverely Diamond join forces on Moods and Miniatures to showcase solo and chamber music by Canadian composer Clifford Crawley (1929–2016). Crawley taught courses in composition and music education at Queen's University from 1973 until 1993, when he received the title of Professor Emeritus.
Ten a Penny Pieces is a charming and varied set of character pieces for clarinet and piano, which Carter and Volk masterfully navigate with charm and elegance. Carter extracts a wide variety of tonal colors from the clarinet, ranging from warm and mellow in the "Cavatina," to bright and penetrating in the "Pezzatrana." Her respectable command of the instrument and meticulous phrasing shine through the divergent movements, always sounding at ease in the plethora of stylistic and technical challenges "Crawley" presents. Furthermore, Volk and Carter are true partners in this collaboration, exchanging musical ideas and phrases with absolute ease.
Pieces-of-eight for flute, clarinet, and piano is another collection of miniatures ranging in style and influence. Carter and Cheramy shine in their solo movements, both demonstrating nuanced phrasing and lush tonal qualities. The movements for trio feature exquisite balance between all three instruments and pristine intonation, with the lively and energetic "Roulade" that closes the recording. It is also a highlight due to the absolute ease and sense of joy that shines through the rapid articulation and cascading melodic lines of the flute and clarinet.
Although the Ten a Penny Pieces and Pieces-of-eight are the only works in this recording to feature clarinet, I enjoyed the other pieces for piano and piano duet equally so. The liner notes in PDF form contain detailed descriptions of each piece and biographical information about the performers in both English and French.
– David Cook
---
Fugitive Footsteps Inbal Megiddo, cello; Charae Krueger, cello; Rebecca Rust, cello; Jian Liu, piano; Robert Henry, piano; Deborah Rawson and John Warren, clarinet; Cory Schantz, baritone; Friedrich Edelmann, bassoon; Heather Witt, mezzo-soprano; John Lawless, percussion. L. Sherr: iSonata for Cello and Piano; Khayele's Waltz; Fugitive Footsteps; Flame Language; Elegy and Vision. Navona Records, NV6492. Total Time: 67:21.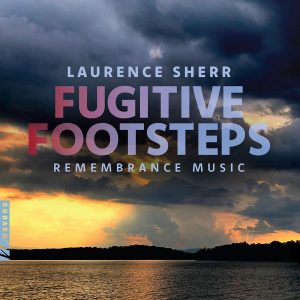 Khayele's Waltz is a playful set of variations spun between the cello and clarinet that capitalizes on the wide range and various characters of the two instruments. There is a heavy klezmer influence throughout that provides melodic contrast and a vocal quality within the clarinet part. The piece was premiered at a Holocaust remembrance ceremony and contains many folk elements. The recording could benefit from a more balanced mix as some registers are projecting more or less against the other instrument when it happens to be in a different range and the sound is occasionally more two-dimensional than on other tracks. Deborah Rawson's playing boasts a smooth foundation and flexibility within her sound.
Flame Language is introspective and vibrant with an evocative text and intense moments of drama. The clarinet playing is fluid, while sometimes transparent instead of complementary in its blend with the cello. Despite this, the ensemble has excellent rhythm and interplay. Laurence Sherr's compositional style creates a percussive feel in the clarinet and piano parts, devoting the more lyrical parts to the voice and cello. John Warren exploits the melodies he has with plaintive grace notes and dissonances with a singing finish to a beautiful piece.
The disc also features ensembles without clarinet on the other tracks including choir, unaccompanied cello, cello and piano, and an excellent track with bassoon and cello. All tracks feature the suffering and stories of Holocaust survivors while projecting a resilient and brighter future.
– Andrea Vos-Rochefort
---
Cosmic Portraits Antonio Fraioli, clarinet; Caterina Stocchi, flutes; Caterina Villari, saxophone; Emma Nicòl Pigato, saxophone. A. Fraioli: Orbite; V. Young/arr. A. Fraioli: Stella by Starlight. H. Buss: Cosmic Portraits. K. Stockhausen: Cancer from Zodiac; Libra from Zodiac; Leo from Zodiac; Sagittarius from Zodiac. GDE Ediziono Musicalli. Total Time: 36:00.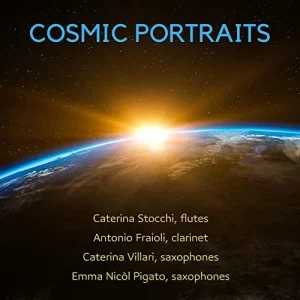 Antonio Fraioli is an Italian clarinetist, composer, and pedagogue who currently serves as professor of clarinet at the Conservatorio de Musica San Pietro a Majella di Napoli. A prolific performer and composer, he has recorded many of his works that have been performed internationally.
Cosmic Portraits contains nine tracks that relate to different elements of the universe. The first track, Orbite, by Fraioli, features an ensemble made up of the composer, Nicòl Pigato, Caterina Stocchi, and Caterina Villari. The piece starts with everyone playing together, which then opens up to interplay between the individual voices that is both melancholic and expressive. This contrasts with livelier moments when the ensemble performs together. The range of dynamics and interplay between all the instruments is a joy to listen to and demonstrates the effectiveness of the ensemble's communication.
The second work features Pigato playing Cancer from Zodiac, a shorter work taken from Tierkreis for solo saxophone by Karlheinz Stockhausen. What I particularly enjoyed was Pigato's free and cadenza-like approach, along with her use of slap tongue. The third work, Leo from Zodiac, highlights Villari's articulation, which reminded me of the rhythmical precision and style needed to perform Denisov's Clarinet Sonata. It was great to hear the subtlety and range of dynamics in how she approached the higher registers, which are very difficult to cleanly achieve on the saxophone.
All of the performers are featured in Antonio Fraioli's arrangement of Stella by Starlight. It is an excellent ensemble performance that explores the different colors of Fraioli's arrangement that highlights its musical ideas creating a sound atmosphere representative of starlight. A tonal piece reminiscent of the 1940s film, the ensemble does an excellent job of conveying its freedom, but also the simplicity that should be programmed for more live performances.
Libra from Zodiac from Stockhausen's Tierkreis features Fraioli, exploring the ranges of the instrument and the subtle usage of semi-tones combined with a wonderful melodic line. Fraioli does an excellent job of conveying the melancholic character of this short movement. The next work features Stocchi in Sagittarius from Zodiac by Stockhausen. In addition to the other works featured here, it is also a short piece that demonstrates her flexibility in the extremes of the instrument and expressiveness in her performance, along with a fun use of flutter tongue.
The final work features the entire ensemble in Cosmic Portraits composed by Howard J. Buss. The first movement is ominous in character and almost conversation-like between all the instruments, developing into something more cheerful with the flute and clarinet melody dancing over the accompaniment. The second movement also begins with a melancholic saxophone solo that evolves into a very ethereal, and calming experience. The final movement is lively with a continuous conversation-like exchange between all the instruments which provides a really uplifting end to the performance. The performance was refreshing and I also enjoyed how the ensemble utilizes contemporary techniques for all instruments and that they were interwoven into the melodic framework of the piece, making it very enjoyable to listen to.
If you're interested in programming works that relate to the universe and/or looking for some stellar repertoire ideas, I would highly recommend listening to this recording!
– Kristine Dizon
---