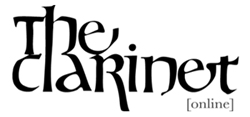 Originally published in The Clarinet 45/3 (June 2018). Printed copies of The Clarinet are available for ICA members.
---
Remembering Carmine Campione (1937–2018)
by Anthony J. Costa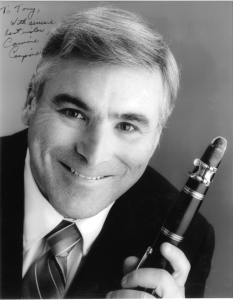 On January 2, 2018, the clarinet world said farewell to a beloved teacher and performer, Carmine Campione. Born in Elizabeth, New Jersey, on May 7, 1937, Campione began playing the clarinet at the age of 10, and by the time he was 13 he was playing professionally in area dance bands. During his high school years, Campione studied with two clarinet legends: Joseph Allard and Daniel Bonade. He began his undergraduate studies in 1955 at the Oberlin Conservatory with teacher George Waln. In 1956, he was accepted to the esteemed Curtis Institute of Music, where he studied with Anthony Gigliotti, principal clarinetist with the Philadelphia Orchestra from 1949 to 1996. In 1959, while a student at Curtis, he attended the Tanglewood Music Festival on a Koussevitsky Foundation Grant and received the High Fidelity Magazine Award for the Outstanding Instrumentalist at Tanglewood. Campione went on to receive both his Curtis Diploma and Bachelor of Music Degree from Curtis in 1961.
Later that year, at the age of 24, he auditioned for and won the second clarinet position with the Cincinnati Symphony Orchestra (CSO). That same year, he was appointed to the faculty of the University of Cincinnati College-Conservatory of Music (CCM). In subsequent summers, Campione performed with the Robin Hood Dell Orchestra (Philadelphia Orchestra summer season), the Marlboro Music Festival, Pierre Monteux's School for Conductors and the Bay Chamber Concerts in Camden, Maine.
During his tenure with the Cincinnati Symphony Orchestra, Campione performed under renowned conductors, recorded extensively and toured the world. With his colleague Richard Waller (CSO principal clarinet 1961-1994), he premiered Ingolf Dahl's Symphony Concertante for two clarinets and orchestra in March of 1976 under the direction of Thomas Shippers. Campione also played with the Cincinnati Summer Opera and was invited to appear at four International Clarinet Association conventions as both a recital soloist and clinician.
In 1998, after 37 seasons, Campione retired from the Cincinnati Symphony Orchestra. He continued to teach clarinet at CCM until 2008, when he retired after an impressive 47 years of teaching. During his career, Campione also served on faculties for Xavier University and God's Bible College, both in Cincinnati, Ohio.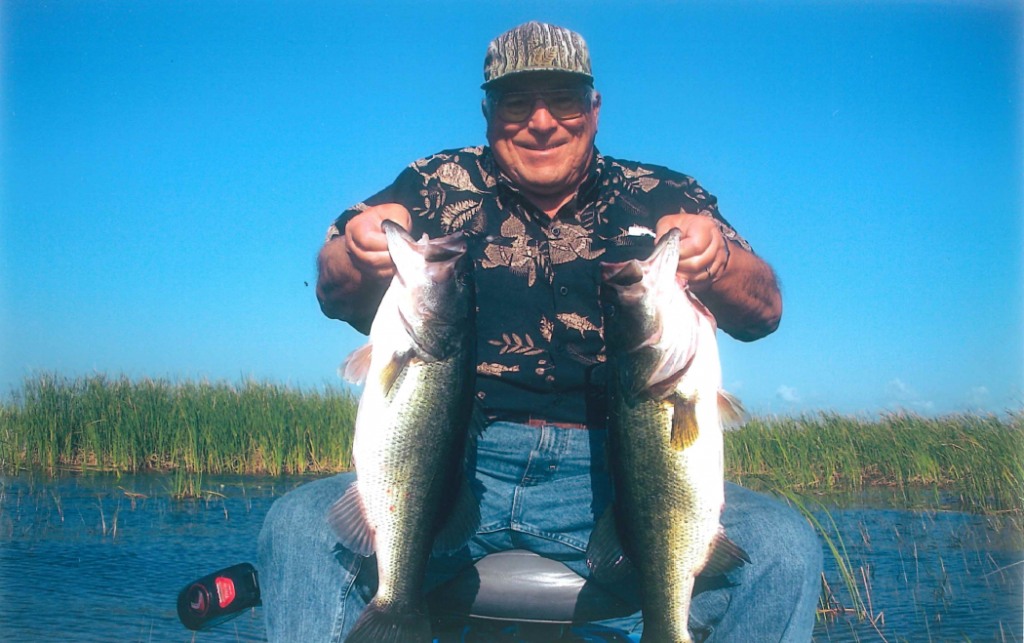 After many years of teaching clarinet and much encouragement from his students, Campione put his proven methods of clarinet playing and instruction in writing. The first printing of Campione on Clarinet – A Complete Guide to Clarinet Playing and Instruction was introduced at the International Clarinet Association's ClarinetFest® in New Orleans in 2001. The book remains a favorite with clarinetists the world over.
Carmine is survived by his wife Karen (née Ryan) Campione, children Ann-Marie (Richard) Adams, Carmine Christopher Campione, Angela (Rick) Schreiber, James (Vee Subla) Webb and Stephanie Kirkpatrick, eight grandchildren and two great grandsons. He is also survived by many loving uncles, aunts, nephews, nieces, cousins, and a countless number of devoted students, colleagues and friends.
Karen Campione says that her husband loved sharing anything clarinet with anyone who asked. Everyone who knew him knew of his passion for the clarinet, music, golf, fishing, football and his church. Campione's former students continue his legacy as collegiate clarinet professors, music educators and members of orchestras and military bands throughout the world.
Thank you Carmine for your inspiring musicianship, teaching, wonderful spirit and friendship. The life of the self-described "little Italian kid from Elizabeth, New Jersey" will be forever celebrated.
---
Some thoughts from Campione's colleagues and students:
Carmine was "old school" in that he played with an elegant style that made me feel that my teacher from Curtis, Donald Montanaro, was sitting right next to me. There was no one with his expertise and calmness for a stressful situation – he was completely unflappable when things got crazy.
– Richie Hawley, professor of clarinet and
woodwind department chair at Rice University Shepherd School of Music;
former principal clarinet of the Cincinnati Symphony Orchestra (1994-2011)
---
My favorite story about Carmine is when he once said I will close my eyes and you play a note. He closed his eyes and when I played a note, he came in on his clarinet immediately as if he could see me.  He was a consummate artist.
– Richard Waller, principal clarinet with Cincinnati Symphony Orchestra (1961-1994)
---
"Carm" loved football and had season tickets to the Bengals. He was nice enough to include me several times. They usually lost, of course, but I think he enjoyed the strategy and performance aspects. Musically, he was great with (and always very aware of) embouchure. When I first came to Cincinnati, he helped me with mine. Those ideas have been passed on to most of my students, spreading his influence even further.
– Ronald Aufmann, clarinetist/bass clarinetist
with Cincinnati Symphony Orchestra and
faculty at University of Cincinnati
College-Conservatory of Music
---
I had the privilege of studying with Carmine Campione for five years (1977-1982) at the University of Cincinnati College-Conservatory of Music. My memories of that period are quite vivid and filled with recollections of both great teaching and friendship. Mr. Campione (I never could call him Carmine) had the ability to analyze your playing and make corrections to a degree far greater than anyone with whom I have studied or worked. I have been fortunate to study with several outstanding teachers but I believe that he was the best teacher of the clarinet that I ever encountered. The musicianship and expression that permeated his playing were embedded in every lesson—I'm sure most of his students remember the methodical approach to the Rose 40 Studies with emphasis placed upon note grouping and connecting the intervals, always at a tempo much slower than you wanted to go. He was that rare teacher who taught you how to play the instrument and the music, giving equal attention to both aspects of performance.
My greatest disappointment about my time studying with him is that we rarely got to hear him perform outside of the orchestra. I do remember a wonderful performance of the Schubert Octet that he gave at CCM with other members of the faculty (I recall that some of the players were Otto Eifert, bassoon, Mike Hatfield, horn, Philip Ruder, violin, Peter Wiley, cello, and Barry Green, bass). In a visit with him a few years ago after he had retired from teaching, he recalled this performance as one of the best in his career.
I was lucky to have been able to study with Carmine (there, I used your first name!), and what I learned from him I have used in my teaching throughout my career. I have not performed on the clarinet in several years as I have moved to both conducting and administration, but I know that his approach to teaching and playing permeates my work. I try to pass his lessons down to all with whom I work, just as he passed down the lessons learned from Bonade, Allard and Gigliotti. His passing saddens me, but I hope that his legacy as a teacher and performer will continue to be remembered and passed on by those of us who had this great privilege.
– Dr. Charles Taylor, director, the University of
New Orleans School of the Arts
---
Carmine Campione was my teacher and friend for nearly 50 years. Besides clarinet, he taught people about life, and two of his other favorite things: fishing and golf. He credited his four years of study with Joe Allard as having learned how to play correctly. For the rest of his life, many students and professionals would go him to get help in correcting problems in order to play better. He acquired the nickname of "Dr. Fixit" for his abilities at getting to the heart of bad habits and helping to get rid of them.
We played many concerts together where he was always at the ready with helpful hints of an easier fingering or anything else that helped you sound your best. Always the natural teacher, he could pick up the clarinet and demonstrate exactly how he felt something should be played, on the 1st try.
Carmine is a large part of my success as a musician. He never got me to be as successful at golf or fishing. His warm smile and caring personage will be missed, but not forgotten.
– Eugene Marquis, adjunct at Xavier University and Mt. St. Joseph Universities, Cincinnati, Ohio
---
There are several things I remember about studying with Mr. Campione and feel that my lessons with him for four years at CCM during my undergraduate degree program provided a good foundation for clarinet playing.  Our early lessons really focused on embouchure.  This was definitely his strength, and I recall spending a lot of time working on that, before I ultimately switched to double-lip.  We used etudes and studies of Rose, Jeanjean and Cavallini to apply a unique phrasing or technique.  He had a remarkable sense of where to scrape reeds to balance them.  It was a rare treat to hear him play in our lessons.  I felt he really enjoyed helping his students improve their playing, and was generous with his time.  If things were "on a roll," a lesson might continue past the scheduled end time; and if you were next, you just waited.
We are lucky to have his book Campione on Clarinet preserving the essence of his teaching. For us students, the annual studio outings at his lake, with a picnic and fishing, were fun. Outside of music, he was very religious, and enjoyed Cincinnati's classic eateries LaRosa's Pizza and Skyline Chili. I consider myself fortunate to have studied with him.
– Christopher Zello, Milwaukee Ballet
Orchestra and Yamaha Performing Artist
---
I don't think I would be where I am today if I had not spent two years studying clarinet with Carmine Campione at UC College/Conservatory of Music. I had come from an extremely small music school in rural Louisiana and barely knew any orchestra excerpts when I auditioned for Campione and Tom Legrand. Somehow, they accepted me and I went from the very beginning of the Rose Etudes (Bonade teachings) to passing my 30-excerpt board and my master's recital with distinction (it helped that I played the Bartok Contrasts with Christian Tetzlaff!) He knew exactly how to teach me, fundamentals, working on my own reeds, phrasing, technique and he told me tons of stories of his career in music, which made me want to be in that world, too. I have played professionally ever since and am so grateful for his teaching.
– Suzanne Gekker (Myers), clarinetist in the Washington, D.C. area and teacher at the
Washington Conservatory of Music
---
Mr. Campione was both a mentor and father figure for me as an undergraduate student. He was generous with his time and our lessons were full of advice for clarinet, music and life. Our lessons were structured in a way that allowed for both self-discovery and creative tangents. To this day, much of the way that I teach fundamentals in my studio, comes from my work with him. His ability to diagnose and remedy a clarinet related problem was unmatched and he upheld a high standard in his studio, while at the same time being very supportive. Mr. Campione could balance a reed using his thumbnail and reed rush like no one else and to this day I cannot figure out how he did it! His love of music and all things clarinet was exciting and contagious. Other passions were golf, fishing, football and his church. I will always remember fondly going bass fishing with him on several occasions and marveling at what a great fishing teacher he was! He always caught more than me – maybe it was the large-mouth bass belt buckle he was fond of wearing. My last conversation with him in the fall of 2017 largely dealt with fishing and family. I feel so fortunate to have his book to share with my students and I will always hear his voice and inflections when I read it. I am forever grateful for my time spent with Carmine Campione as a teacher and friend and will miss him greatly.
– Anthony Costa, associate professor of clarinet at Penn State University
---
About the Writer
Dr. Anthony J. Costa is associate professor of clarinet at Penn State University and a Buffet Crampon USA artist. Find more information at www.personal.psu.edu/ajc26/PSU_Clarinet_Studio.