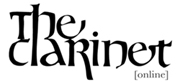 Originally published in The Clarinet 46/1 (December 2018). Printed copies of The Clarinet are available for ICA members.
---
Pedagogy Corner
by Paula Corley, ICA Pedagogy Chair
Leonard Bernstein's Sonata, Movement II:
A Practice Duet for Two Clarinets
In an interview with Paul Laird, Leonard Bernstein described himself as an "eclectic" composer, saying his eclecticism created "the magic factor which is the individuated thing called Bernstein." This eclecticism is evident in the second movement of his sonata for clarinet and piano. Bernstein began the Sonata in 1941 while visiting Key West, Florida, and it would become his first published work. The ongoing syncopation, rhythmic energy and instrumental interplay reflect the Latin American and jazz influences that helped define Bernstein's eclectic style.
Movement II of Bernstein's Sonata for clarinet and piano is one of the most fascinating and demanding pieces in the clarinet literature. The complex interaction between clarinet and piano creates a true duo rather than a solo with accompaniment. Both parts are ambitious, and each player must understand the relationship between the two parts to effectively perform the piece.
This duet is scored for two clarinets and is intended as a study guide for student and teacher. An attempt was made to extract the most important melodic motives from the piano part to provide aural cues for the clarinetist. Sections of the piano part were difficult to extract due to the simultaneous, complex motives in both hands of the piano part; and range choices in part two (piano) were made to facilitate tuning and balance between two clarinetists. Part one (clarinet) appears as in the M. Witmark & Sons (Warner Brothers) edition of 1943.
This duet project took place over the course of an academic year with the help of Allyson Wittman, Texas Lutheran University student. It is presented by permission with thanks to Tyler Rubin, copyright administration assistant at Boosey & Hawkes. Many thanks to Professor Steve Cohen (Northwestern) and to Dr. Al Corley (Texas State University) for their editing expertise.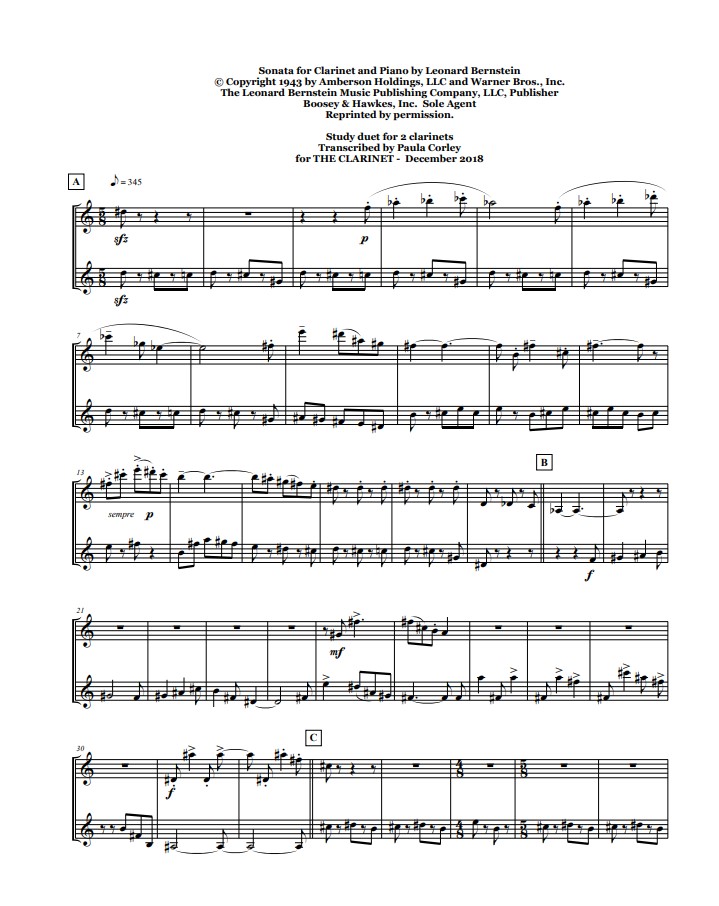 You can download a PDF of the full duet here to play it for yourself.
Sources:
Bernstein, Leonard. The Absorption of Race Elements into American Music [Thesis]. Harvard: April 1939.
Laird, Paul. Leonard Bernstein. New York, NY: Routledge, 2002.
Rice, Albert R. Notes For Clarinetists. New York, NY: Oxford University Press, 2017.
About the Writer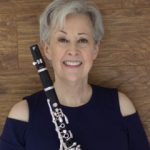 Paula Corley is a Texas music educator whose passion is clarinet. She is the "mayor" of Clarinet City (www.clarinetcity.com), pedagogy chair for the International Clarinet Association and the clarinet instructor at Texas Lutheran University in Seguin. The author of two
books for developing clarinetists, Paula has appeared at over 40 music conferences throughout the United States. She is a performing artist and clinician for Vandoren and Buffet Crampon, and is featured in the "Play Wind" app developed by Buffet Crampon Paris.