Originally published in The Clarinet 46/1 (December 2018). Printed copies of The Clarinet are available for ICA members.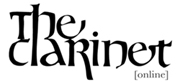 ---
Reviews
MUSIC
STUDIES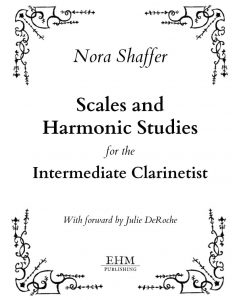 Nora Shaffer. Scales and Harmonic Studies for the Intermediate Clarinetist. EHM Publishing, 2017. $22.95
Nora Shaffer is an in-demand freelancer and private instructor in the Chicago area. She graduated from DePaul University where she studied with Larry Combs and Julie DeRoche, earning both a Performer's Certificate and a Master's in Music (with distinction). Shaffer completed her B.A. in music at Luther College in Decorah, Iowa. She has also studied with Stephen Williamson, Bil Jackson and Andrew Stevens. Shaffer created this method book specifically for the intermediate clarinetist. She stated in the introduction, "Over the past several years of teaching, I felt that there was a gap in the method books available for intermediate clarinet students. This book aims to fill that gap and provides a bridge from beginning to more advanced scale methods."
This method book includes practice suggestions, all major and melodic minor scales, a set of tone/pitch development studies and a foreword by Julie DeRoche. The manner in which the scale exercises are organized is by the circle of fifths; first increasing the number of flats and then decreasing the number of sharps, with G major as the last scale in the method. This is an interesting way to organize scales because it forces students early on to learn major and minor keys with multiple flats and sharps. Each key follows the same format: the first exercise consists of a one-octave scale in half notes, followed by the same scale but in eighth notes. Other patterns, among a variety of scale and arpeggio exercises included, are interrupted scales, scales in thirds and chromatic scales.
The next section focuses on twelfth interval work. Shaffer provides a very useful explanation discussing the harmonic series of the clarinet and its importance in regards to pitch and tone development. It would have been useful if Shaffer had provided a metronome marking for the twelfth exercises or instructions describing how slow or fast these exercises should be taken. Placing this information prior to the scale studies would impress on students the importance of tone development. In the third section, Shaffer provides valuable and detailed explanations about pitch training and provides various exercises to practice this independently with a tuner. Overall, this is an excellent book of studies geared toward the intermediate clarinetist.
Highly recommended!
– Kristine Dizon
CLARINET AND PIANO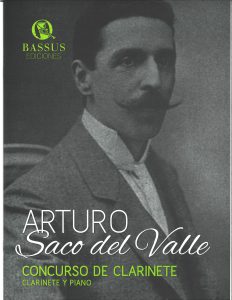 Arturo Saco del Valle. Concurso de clarinete. Bassus Ediciones Musicales, 2013. $18.95
The worldwide clarinet community continues to thrive from the work of dedicated clarinetists and scholars such as Pedro Rubio, whose Bassus Ediciones Musicales rediscovers forgotten Spanish repertoire from the 19th and 20th centuries. A handwritten copy of Arturo Saco del Valle's Concurso de clarinete (1918) was found in a Madrid antique shop and is revitalized here in a clear, visually appealing edition up to modern standards by Rubio. Pianist Ana Benavides has revised and fingered the
piano part.
Saco del Valle (1869-1932), a musical polymath, most likely composed the Concurso to serve as an audition piece to fill a clarinet chair in the San Sebastian Wind Band, which he directed. Saco del Valle also worked with symphony orchestras. He conducted the Madrid premiere of Debussy's Première Rhapsodie and was a prominent opera conductor. His career included work as a pianist and as Maestro Mayor of the Royal Chapel, Madrid. His granddaughter, Maria Dolores Oviedo Saco del Valle, wrote a detailed two-page biography for this edition.
The Concurso is a medium-difficult work of 119 measures with two main sections: Adagio/Vivo and Allegretto. The B-flat major Adagio begins as an embellished operatic recitative and segues into florid lines of greater length. The harmony is detailed with secondary dominants, appoggiaturas, passing tones, sequences and prolific use of fully diminished chords. Moving to G minor for the Allegretto, the writing for the clarinet has increased variety with melodies, arpeggios, scales, leaps and trills blended into a pleasing, entertaining mix. The range is relatively modest, with the clarinet exceeding altissimo F only once, reaching an A in the climactic arpeggio of the last phrase.
– Gregory Barrett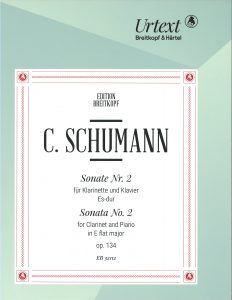 Camillo Schumann. Sonate Nr. 1, Op. 112 for clarinet and piano in B-flat major. Breitkopf & Härtel, 2017. €22.50
_____. Sonate Nr. 2, Op. 134 for clarinet and piano in E-flat major. Breitkopf & Härtel, 2017. €19.90
Remember falling in love with the expressive qualities of the Brahms sonatas? You can rekindle that feeling with these works by organist, pianist and composer Camillo Schumann. Schumann (1872-1946) was born in Saxony, not far from Dresden, into a musical household – though not related to Robert Schumann (1810-1856). From 1879 to 1883 he studied at the Leipzig Conservatory with Carl Reinecke, among others. The Camillo Schumann Society website describes in detail Schumann's life and the decades-long stewardship of his never-before-published autograph manuscripts. Over 300 works, including several more for clarinet, are now
being rediscovered.
Sonate Nr. 1 (1916) is cast in four generous-sized movements: Allegro ma non tanto, Andante cantabile, Scherzo (with trio) and Allegro moderato. As befits these Romantic large-scale movements, each has contrasting sections, either tranquillo or un poco moto. As in the benchmark Brahms works, these are duo sonatas – an equal partnership. The piano writing is generally not as thick as in the Brahms works; commentators have compared Schumann's works not only to Brahms, but also to Liszt and Rachmaninoff.
Continuing the analogy to Brahms, Schumann's Sonate Nr. 2 is the slightly more diminutive and soft-spoken. The first movement, Allegro ma non tanto in 3/4 time, concludes tranquillo. The second movement, Un poco Adagio (A-flat major) – Allegro con brio (F minor) – Un poco Adagio (A-flat major), also ends tenderly. The last movement links 213 measures of a 6/8 E-flat major Moderato to a brief 45 measures of 2/4 Allegro molto with triplet subdivision concluding fortissimo. Wow, what a journey! Was the Brahms Sonate Nr. 2 a model? Run to your shop and order these works now.
– Gregory Barrett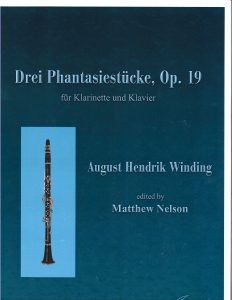 August Hendrick Winding. Drei Phantasiestücke, Op. 19, for clarinet and piano. Edited by Matthew Nelson. Jeanné Music Publications, 2017. $22.50
Robert Schumann's 1849 Fantasiestücke for clarinet and piano rightly deserves its esteemed position in the clarinet repertory. But why not enjoy variety in life? Thanks to German-Danish connections we can realize this richer life. Known to many clarinetists is Danish composer Niels Gade's (1817-1890) Fantasistykker (1864) written for clarinetist Mozart Petersen. Also for Petersen is this work by a fellow Dane, August Winding, in a new edition by Matthew Nelson based on the 1872 Kistner (Leipzig) first edition. Nelson corrects what he deems are errors and inconsistencies, but is not so heavy-handed as to rewrite novel phrasing and rhythmic ideas that may indeed be in Winding's style.
What was musical life like in early-to-mid-19th-century Denmark? Singing and music lessons became compulsory subjects in Danish schools after 1814. Romantic nationalism was gaining favor in vocal, instrumental and operatic works. There was a connection between cultural and political ideas. Denmark was searching for a national identity to contrast itself to neighboring German states and to foster Nordic unity. Part of the picture is that Denmark's leading musician, Niels Gade, was Mendelssohn's co-conductor at Leipzig Gewandhaus concerts from 1844 to 1848. Gade would become director and teacher at the new Copenhagen Conservatory in 1867. The following year, 1868, saw the formation in Copenhagen of the Kammermusikforening. Perhaps it was for this new chamber music forum that Winding composed Drei Phantasiestücke?
Each of the three pieces in Winding's work is tuneful and rhythmically vital, marked by Romantic period harmony with chromatic passing notes. Although slower sections are encapsulated within the relatively long pieces, most of the music is moderate to fast-paced. In general the level of difficulty is slightly greater than in Gade's nearly contemporary work. The first and third pieces are in the concert keys of D-flat major and the middle is in B-flat minor.
– Gregory Barrett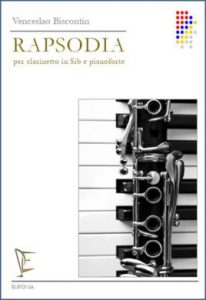 Venceslao Biscontin. Rapsodia for clarinet and piano. Edizioni Eufonia, 2018. €17.00
Venceslao Biscontin is an active clarinetist, composer and conductor living in Italy. He founded the ClariNoir Clarinet Choir and has composed repertoire for it. His Rapsodia for clarinet and piano is dedicated to Silvio Maggioni, clarinetist and publisher of Edizioni Eufonia, and Vincenzo Paci, principal clarinet of La Fenice Theatre Orchestra of Venice.
The material of this interesting composition is full of variety and, as noted by the composer, was inspired by tunes of light music. The structure of this piece proceeds in the following manner: A slow introduction (Largo) is followed by a più mosso tempo section with brilliant passages heading to a sort of brief cadenza (indicated as liberamente ). The work concludes with an Allegro having in the final part one more liberamente cadenza and frequent passages in the high register.
It is a short composition, but rich with interesting melodic and virtuosic elements which make it demanding and rewarding to perform.
– Luigi Magistrelli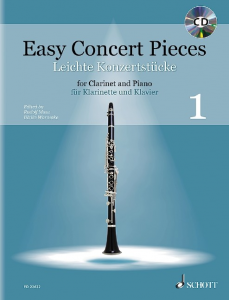 Rudolf Mauz and Ulrike Warnecke, editors. Easy Concert Pieces for Clarinet and Piano. Schott Music Ltd., 2017. Two books, €17.50 each.
Easy Concert Pieces, volumes 1 and 2, features a wide selection of repertoire arranged for clarinet and piano, by well-known composers from the Renaissance, Baroque, Classical, Romantic and Modern eras. The first book contains familiar melodies, suitable register ranges and simple rhythms. Most of the works are written in the chalumeau register through throat-tone A. The pieces in
the second book were selected to help young clarinetists further develop their musical artistry, consisting of more challenging selections that are written to altissimo C. Both books include a CD with play-along tracks.
Easy Concert Pieces for Clarinet and Piano is a great collection of familiar works for beginner to intermediate clarinetists. The selection and order of the works in both books are progressive and well-chosen for this series. Both books are fantastic supplements for individual lessons, competitions, recitals and examinations. This is a great way to introduce students to a wide range of repertoire from all periods. Highly recommended!
– Kristine Dizon
SOLO CLARINET AND ENSEMBLE
Remi Tamai. Sur Mesure: Pieces pour commencer en duo pour clarinet en sib et piano, Book 1 and Book 2. Gérard Billaudot, 2017. $19.00 each.
Remi Tamai studied at the Paris Conservatory where she won six prizes in piano, chamber music, harmony, counterpoint, 20th-century writing and orchestration. She has composed several works, including Le 8ème Samouraï (The 8th Sammurai) for the dance competition Prix de Lausanne and Ukiyoé, a work written for the Conservatory of Argenteuil and Bezons. She currently teaches piano at the Erik Satie Conservatory in Paris.
Tamai has collaborated with French clarinetist Stéphanie Carne who provided Tamai with insight into clarinet technique. Tamai's books are designed as a progressive study in developing skills in ensemble playing. Tamai wrote, "This duet series (two volumes) aims at strengthening the beginner students' musicality, enriching their repertoire and developing their autonomy for future musical projects."
These books are a wonderful addition to the beginner repertoire for clarinet. In the first book, Tamai also includes short works for two clarinets and piano. The first 10 pieces are written in the clarinet's comfortable middle register. With the 11th piece, "Écho," students are introduced to the higher notes on the clarinet. The second book presents longer works for the clarinet and piano, with a wider range of notes on the clarinet. More advanced rhythms are introduced. Similar to the first book, there are works for clarinet duet and piano. The pieces in the second book are musically interesting and will challenge the beginner. I highly recommend both books for the beginner clarinetist!
– Kristine Dizon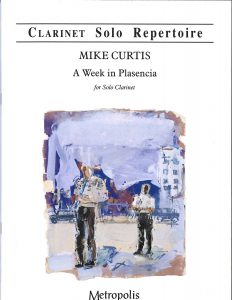 Mike Curtis. A Week in Plasencia for solo clarinet. Metropolis Music Publishers, 2018. $21.00
_____. A Week in Plasencia for clarinet quartet. Metropolis Music Publishers, 2018. $28.00
New works by Mike Curtis are always welcomed by me as they invariably put a smile on my face. This is doubly true with A Week in Plasencia due to its two versions. Curtis attended the 2015 Madrid ClarinetFest® and then headed west, almost to Portugal, for a week of sightseeing in the historic city of Plasencia. The city and its features inspired eight movements, one for each day of the week, framed by two Sundays. We visit the Plaza Mayor, a medieval aqueduct, an ornithological park, island park, Café Goya, the river Jerte, a rumba festival and the memory of the large historic Sephardic community.
Curtis' style is marked by jazz and syncopated dance vernaculars within a classical framework. With his prowess on the clarinet he knows exactly what is idiomatic for clarinetists – this leads to his works' happy playability. The solo clarinet version of A Week in Plasencia is technically easy-medium to play, with moderate tempos and easy range, but is also musically satisfying for advanced players. Curtis does include spice: "false fingered C-sharps," plenty of mordents, a little mixed meter, a few lip bends and a glissando. What is unwritten, but interpretively required, is the willingness to be flexible with your sound to capture a jazz-like sensibility and to be informed in klezmer style interpretation for the Sephardic movement – my personal favorite.
The quartet version – printed on heavyweight paper – includes all the music of the solo version and ingeniously redistributes it among three B-flat clarinets and one bass clarinet (to low E). Even though four players are sharing the melodic lines, the quartet version is more difficult as the players must coordinate syncopated figures within the heterophonic style. Exact placement of a 16th note on the second, third or fourth part of a beat is wonderful training for student quartets. Curtis uses an ingenious plan for variety and interest: the second, third, sixth, seventh and eighth movements use the full quartet – with a nice balance of demands for each player. The remaining movements are duos with the first, second and third B-flat players each getting a chance to be featured with the bass clarinetist.
– Gregory Barrett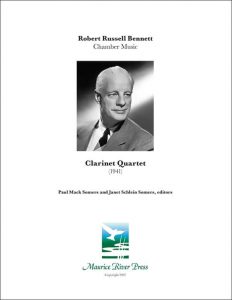 Robert Russell Bennett. Clarinet Quartet. Maurice River Press, 2007. Exclusively distributed by Theodore Presser Company. Duration c. 13' 50". $45.95
Robert Russell Bennett (1894-1981) is well known to wind players for his orchestrations of a huge number of Broadway shows – over 300. Having been classically trained, he won two Guggenheim Fellowships which allowed him to study with Nadia Boulanger in Paris. He was legendary for his ability to produce prodigious amounts of music each day. His output included symphonies, chamber works, sonatas, duos, a ballet, a concerto and an opera.
The Clarinet Quartet (1941) is part of a series, the Maurice River Press Robert Russell Bennett Project, which is devoted to Bennett's unpublished works. The quartet received its premiere on "Russell Bennett's Notebook," a weekly radio program in New York City. To paraphrase G. J. Ferencz, a Bennett biographer, the work is influenced by American popular music, particularly swing. However, it keeps itself well within the classical camp.
The work is scored for four B-flat clarinets; all four parts will require advanced players. The set comes with an excellent printing of the score and parts. There are three movements which present a variety of moods. The meticulous editing was done by Paul Mack Somers and Janet Schlein Somers.
There are many sections in the first movement. It begins with the marking Quite vigorously and it opens with a lyrical line for the first clarinet. This is followed by the others playing mostly homogeneous rhythms but with close harmony underneath. A new theme follows, lyrical but with an opaque accompaniment. The next section, More animated and "bold" appears with more flowing lines. This is followed by a new section marked Lighter and faster. It starts with crisp staccato but is followed by jazzy figures. A section marked Quietly follows and returns to the opening theme of the movement, but it concludes with a return of the staccato section and a ripping unison D major scale.
Movement II, In slow movement style, is quite a contrast. The harmony is tertian, the lines are flowing and legato, and the dynamic level is soft. A middle section features a solo for the fourth clarinet. The movement ends as it began, with the softly flowing lines.
Movement III is marked Freely at first and begins with a cadenza in the fourth clarinet followed by another cadenza for the first clarinet. In American march time follows. This is a typical march tune except much of the harmony is in major seconds. The first clarinet adds a high register theme, perhaps imitating a piccolo, followed by a trumpet-style theme, first alone, then in harmony. Then all four clarinets partake in the march while Bennett juxtaposes several ideas that build up to the finale. But suddenly, it is soft again. The soft themes appear in thirds, then in tritones, then in major seconds. Finally the first and second clarinets have two long cadenzas (reminiscent of the clarinet cadenza in Ravel's Rhapsodie Espagnole). The ending is fast, short, and powerful. (Perhaps Till Eulenspiegel?) Clever! This is a fun piece.
– Robert Chesebro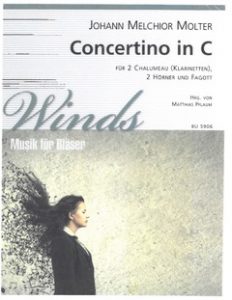 Johann Melchior Molter. Concertino in C for 2 chalumeaux (or clarinets), 2 horns and bassoon. Musikverlag Bruno Uetz, 2016. €13
Johann Melchior Molter (1696-1765) is most well-known to clarinetists as the composer of some of the earliest clarinet concertos, but also wrote for chalumeau. This Concertino consists of three short movements without any tempo indications. The published parts contain first and second chalumeau parts in C and also corresponding parts for clarinets in B-flat. This is helpful, because although the upper range is very modest (first chalumeau only plays up to a fourth-space E) the lower range of the second chalumeau extends below the range of the modern B-flat soprano clarinet with a concert C in the middle of the bass staff. In the transposed part for B-flat clarinet, these notes are transposed up an octave. Each of the two horn parts is provided in C and in F.
Although tempo markings are not provided, all three movements seem to have an upbeat feel; there is not a slow, expressive movement. The writing uses the instruments mostly in pairs (i.e., two clarinets together trading off with two horns), with the bassoon part being the most independent of the five. There are very few articulation markings. Sixteenth notes are always tongued, but there are not more than two beats of 16th notes in a row in any part. The writing is mostly very simple in terms of rhythm, range and technique. A competent high school or even middle school student could certainly play the clarinet parts. It should be noted that the third movement ends abruptly and has the words "Autograph endet hier" (Autograph ends here), so if considering this piece for a performance, it might only be viable to do the first two movements. Alternatively, completing the third movement could be a fun composition assignment!
– Robyn Jones
Modest Mussorgsky [Moussorgsky]. Pictures at an Exhibition arranged for wind quintet and piano by Salvatore Schembari. Edizioni Eufonia, 2018. €80.00
Pictures at an Exhibition is a well-known piano work by Mussorgsky most often heard in arrangement for full orchestra. Countless additional arrangements for varied instrumental combinations have been made. Maurice Ravel's orchestral version, as all of us know, is the most celebrated. Salvatore Schembari wanted to make his own arrangement for five winds (flute, oboe, clarinet, horn, bassoon) and piano. Schembari is a clarinetist and a member of the Italian Army Band of Rome, and is very active as a wind band conductor, composer and arranger. He has written a large number of interesting original compositions and arrangements using a variety of instrumental combinations. These include opera fantasies on themes from L'Elisir d'Amore, Barber of Seville and Sonnambula, pieces for clarinet and piano, solo contrabass clarinet, clarinet choir, clarinet quartet, chamber music with flute, guitar, wind quintet, etc.
This interesting arrangement of Pictures at an Exhibition includes all the parts of the work and it has been premiered in Rome by Schembari's wind quintet. The arrangement has been conceived starting from the solo piano version. It is well done and effective for a public performance. The clarinet player of this sextet must alternate between B-flat, E-flat and bass clarinet, and the flutist also plays alto flute and piccolo. In a few sections, including "Cum mortuis in lingua mortua," and "Il mercato di Limoges," Schembari preferred the solo piano, but in all the others he includes the five winds with piano. This is a good piece to be put together with the Poulenc, Roussel or Thuille Sextets, all original compositions for piano and winds.
– Luigi Magistrelli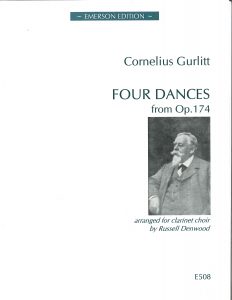 Cornelius Gurlitt. Four Dances from Op. 174. Arranged for clarinet choir by Russell Denwood. Emerson Edition, 2006. €13.25
Cornelius Gurlitt (1820-1901) was a composer, pianist, organist and military band master who penned hundreds of compositions. Most of his works are piano pieces for home use and there are numerous songs, but also conspicuously a Konzertstück for clarinet and piano or orchestra. His Four Dances, arranged here for clarinet choir of E-flat clarinet, three B-flat clarinet parts, alto clarinet, bass clarinet and contrabass clarinet, is drawn from his Eight Melodious Pieces for piano. Russell Denwood arranged "Gavotte," "Strolling," "Valzette" and "Hunting Scene," and each is a charming miniature in easy key signatures.
The E-flat clarinet, alto clarinet and contrabass parts are independent and no alternate instrument parts are included. Fitting the easy level of the music, the bass clarinet descends to only E-flat.
– Gregory Barrett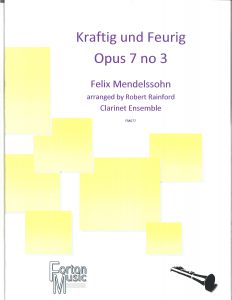 Felix Mendelssohn. Kräftig und Feurig, Op. 7, No. 3. Arranged for clarinet choir by Robert Rainsford. Forton Music, 2017. €13.50 digital or €18.00 printed music.
Consider the prowess of the teenage Mendelssohn: by the age of 16, among his already large output was the masterpiece for string ensemble the Octet, Op. 20. Around the same year he composed Sieben Charakterstücke for piano, the third of which is a 101-measure Allegro Vivace fugue that we can now perform on our clarinets. Robert Rainsford has made a joyous version that emphasizes teamwork and the principle that many can achieve an accomplishment greater than a few. To achieve this Rainsford has scored for 11 discrete clarinet parts, often working in pairs, like two hands. The music, set in F major for the B-flat instruments, is mostly scored with no more than a few measures in a row played by one voice. The cooperative effect is most prominent in the passages of dovetailing groups of five 16th notes.
The preferred instrumentation is E-flat clarinet, five B-flat clarinet parts, alto clarinet, two bass clarinet parts, contra-alto clarinet and contrabass clarinet, but the alto clarinet can be replaced by either a sixth B-flat clarinet or a bass clarinet, and the contra-alto clarinet can be replaced by bass clarinet. These alternate parts are supplied. All in all it will be quite a party, and I hope I am invited.
– Gregory Barrett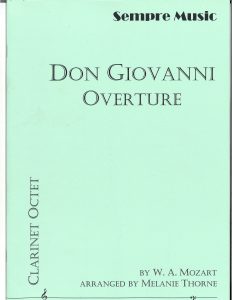 Wolfgang Amadeus Mozart. Don Giovanni Overture. Arranged for clarinet octet by Melanie Thorne. Sempre Music, 2017. $35.00
Veteran arranger Melanie Thorne has created another winner. The scoring is for E-flat clarinet (or B-flat substitute), four B-flat clarinet parts, two alto clarinets (one part can be played on B-flat) and two bass clarinets. Mozart's original keys of D minor/D major have been lowered to C minor/C major. Bass clarinet parts descend to only low E. The level of difficulty is directly proportional to the speed you choose to play!
Although titled for clarinet octet, I wouldn't hesitate to have multiple players on a part. Good for festival days and college choirs.
– Gregory Barrett