Submitted by Dr. Janice L. Minor, devoted and loving student of Ron's, University of Cincinnati College-Conservatory of Music, 2004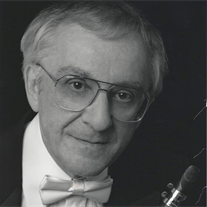 On Tuesday, June 22, 2016 the clarinet world said farewell to the beloved Ronald Zecher de Kant. Ron had a distinguished career as a musician and professor. Born in Lancaster, Pennsylvania, on Oct. 30, 1931, Ron received his Artist Diploma from the Juilliard School in 1953, where he studied with esteemed clarinetist, Daniel Bonade.
Following Juilliard, he taught for two years at the U.S. Naval School of Music in Washington, D.C. After a year in Toronto with the National Ballet Orchestra, Ron was principal clarinet with the New Orleans Philharmonic Orchestra (1956-1965). He was principal clarinet of the Vancouver Symphony Orchestra (1965-1980), the CBC Vancouver Chamber Orchestra (1967-1983), and performed with the Santa Fe Opera during the summers (1970-1972). Ron was professor of clarinet at Arizona State University from 1983-1987 and professor of clarinet at the University of Cincinnati College-Conservatory of Music from 1987, serving as chair of woodwinds (1989) and brass until his retirement in 2004.
Post retirement, he was visiting professor of clarinet at Louisiana State University during the 2004-2005 academic year. His former students continue his legacy as collegiate clarinet professors/music educators and have earned positions in major Canadian and U.S. orchestras and military bands. Ron passed away peacefully at his home in Cincinnati, Ohio. He is survived by his beloved wife, Brenda Mitchell, daughter Monique (Niki), cousin Barrie Zecher and his wife Leoma, and his countless number of devoted students, colleagues, and friends.
Thank you Ron for your supreme musicianship, tutelage, and wonderful spirit. Your life will be forever celebrated.
Tribute messages for Ron and his family can be shared at the Neidhard-Young Funeral Home website at: http://www.neidhardyoungfuneralhome.com/obituaries/Ronald-DeKant/#!/Obituary
Memorial contributions may be made to the American Heart Association