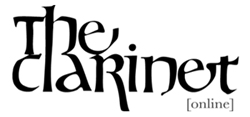 Originally published in The Clarinet 45/3 (June 2018). Printed copies of The Clarinet are available for ICA members.
---
Music Reviews- June 2018
Studies/Etudes
Patricia George and Phyllis Avidan Louke. Advanced Clarinet Studies: The Art of Chunking. Clarinet edition by Rob Patterson. Theodore Presser, 2017. 150 pp. $29.99
Patricia George and Phyllis Avidan Louke are flutists who have written an impressive number of flute study books. Their joint book Advanced Flute Studies: The Art of Chunking has been available for a few years. Now available is a version for clarinet edited by clarinetist Rob Patterson. The strategies that many musicians have consciously or unconsciously used to develop technical abilities or to learn specific repertoire are explained step by step. By grouping two, four, eight or more notes into one "chunk" the performer gains new skills and fluency. The principle can also be extended to the level of the measure.
The clarinet version is organized into 48 lessons of two to four pages each, ordered through the sharp major keys and their relative minors and then the flat major keys and their relative minors. George, Louke and Patterson have added just the right amount of commentary and awareness cues for the user to understand the chunking method and to feel gentle guidance. Chunking is explained in detail, warm-up exercises are included, a discussion of "The Art of Playing Preludes and Cadenzas" is provided, and to practice newly developed chunking abilities, 19 standard orchestral clarinet excerpts are printed with chunking guidance.
Each lesson begins with basic exercises selected from the following: five-note scale patterns, a two- or three-octave scale, a "tone color" scale that ascends and descends multiple times, diverse seventh chords, a scale in thirds, the chromatic scale, broken seventh chords and a legato interval exercise by Daniel S. Wood. If you also play flute you may be familiar with Wood's exercises. Here they are printed in the middle-ish register of the clarinet with directions to also play one or two octaves higher. While the preliminary basic exercises for the most part use the range normally found in clarinet studies, the same is not true for the bulk of the material in the book. Full-page exercises by 19th century flutist Luigi Hugues (1836-1913) are essentially reprints of his original flute version. The same is generally true for the lovely Preludes by flutist Anton Bernhard Fürstenau (1792-1852) and for the cadenzas by flutist Leopoldo Pieroni (1847-1919).
There are two ways to look at the reprint of flute material to be played by a clarinetist. On the one hand, practice below chalumeau C will not be achieved, but on the other, greater fluidity in the altissimo will be developed – here typically reaching to altissimo G, G-sharp or A. As this book is intended for the advanced student I will leave the lowest notes for another day and enjoy new and wisely selected studies presented in a novel chunking-suggested environment.
– Gregory Barrett
James Rae. 18 Concert Etudes for Solo Clarinet. Universal Edition, 2017. $19.95
Born in England in 1957, James Rae studied clarinet, bass clarinet, piano and composition at the Guildhall School of Music. Since leaving the Guildhall, he has pursued a highly successful and varied career in music. His work falls into three categories: performing, writing music and teaching. As a composer, he is one of Europe's most published writers of educational wind music. He has
over 120 publications to his credit, published mainly by Universal Edition. Rae is currently saxophone professor
for the National Youth Orchestra of
Great Britain.
In his preface to this collection, Rae states that these etudes were written with the serious clarinet student in mind. He relates that these studies overlap but go beyond the level of another of his works, 12 Modern Etudes. He adds that the pieces in 18 Etudes can also be used in concerts or recitals, hence providing variety to other accompanied works.
The etudes are clever, engaging and enjoyable to play. Each offers a different musical style. Many of the etudes have challenging rhythms, especially if one is to play them at the fast metronome markings. The composer uses tonal keys and traditional harmonies but he frequently writes perfect fourths and fifths. The phrasings are diverse, dynamic changes are frequent and staccato and tenuto markings are meticulously clear. The performer is never left guessing. What is also laudable is that the spacing between the lines on each page is much greater than scores of most other publishers. This adds to the clarity.
As in other studies by Rae, each etude has a title. The first "Valse" has a bright tempo, quarter = 148. This is followed by "Ragtime" which is rapid with straight eighth notes. The next "Lento espressivo" is one of the few with a relaxing pace. Following is "Jazz Waltz" with a very bright waltz tempo and swingin' eighth notes. Fun! "Lacrimoso" is slow, followed by "Ballad" which is jazzy with lazy grace notes. "Andante" is next and it is mostly soft with trudging sixteenth notes. If you have fallen asleep, "Funky!" will certainly awaken your attention. It is syncopation-plus and it includes bends, lip-ups, doits and falls. A big-band jazz saxophone player would love this one! Continuing, Rae adds another swing, but more technique on "Giocoso" and "Veloce." "Meccanico" imitates machine music and "Leggiero" provides a bit of exercise for the tongue. "Adagio" has slow quarter notes but each is followed by five grace notes – perhaps imitating a harp. "Vivo" and "Furioso" are the pieces de resistance which may humble some. But that really depends upon the tempo (the finale is marked Presto (quarter = 136+). Four and six notes per beat are the main menu and a couple of arpeggios have six notes on half of a beat… á la Capriccio Espagnol? I highly recommend this one if you are looking for a variety of pieces that are interesting and challenging!
– Robert Chesebro
Solo clarinet works
Márton Illés. Harom akvarell klarinétra/Drei Aquarelle für Klarinette. Breitkopf & Härtel, 2014. Duration: 5' €13.80
Marton Illés (b. 1975) is a Hungarian composer who has studied and worked mostly in Germany. His orchestral and chamber music works are regularly performed in the most prestigious concert halls in Europe. Drei Aquarelle für Klarinette (Three Watercolors for Solo Clarinet) was a commission for the Felix Mendelssohn Music Conservatory Competition in Berlin in 2015. The piece frequently uses extended playing techniques in an idiomatic way, notably multiphonics, multiphonic trills and "false fingerings" producing microtonal pitches. The middle movement has very fast passages in extremely soft dynamics. The piece was originally written for the German-system clarinet but it can be equally well performed on the Boehm system clarinet. The score gives fingerings for both systems, with many fingering tables and other indications. This may seem awkward at first, but once you get accustomed to it, it is clear and precise. Illés's Harom akvarell is technically challenging but is also a very effective concert piece which has had a lot of performances already. You can find a good video recording of its premiere on the composer's website.
– Mikko Raasakka
Zequinha de Abreu. Tico-tico no fubá for clarinet solo. Arranged by Florent Héau. Gérard Billaudot, 2014. $9.10
This solo clarinet arrangement of Abreu's very popular pop/jazz/Latin tune is fun and easy to play. I especially like the grace notes in the middle section – very cute! Excellent as an encore or for students. Good for practicing articulation and varieties of articulations.
The layout is clear and easy to read, but I think the tempo markings are a misprint, and should be half note equals 96 and 120 respectively, not quarter note.
– Sean Osborn
Juan de Dios López-Maya. Variations on a Theme by José Ángel Montero for unaccompanied E-flat clarinet. Cayambis Music Press, 2016. Duration: 3'30" $14.90
Venezuelan composer and musicologist Juan de Dios López-Maya received his Ph.D. in humanities at the Universidad Central de Venezuela and preliminary degrees from the Universidad Central de Venezuela and the Instituto Universitario de Estudios Musicales. His catalog includes many works for various chamber ensembles. Many of López-Maya's compositions have been performed and recorded by Venezuelan ensembles.
This piece was inspired by the works of Venezuelan composer José Ángel Montero (1832-1881). He is mostly known for operatic and religious music. Variations on a Theme by José Ángel Montero for unaccompanied E-flat clarinet is a collection of variations based on Montero's compositional style. The form is an introduction followed by four variations: Moderato scherzando, Moderato, L'istesso tempo and Allegro.
Variations on a Theme by José Ángel Montero is a fantastic addition to unaccompanied E-flat clarinet repertoire. It can also be performed on B-flat clarinet. It consists of an array of different musical characters. The introduction begins with a happy, straightforward melody followed by the jazzy first variation. The second variation is solemn in character, the third more lively. The final variation is an echo of motivic material found in the introduction.
Despite the short length of this work, López-Maya captures the spirt of Montero's music. This work is perfect for performers who are interested in learning more about South American music and is a wonderful addition to solo E-flat clarinet repertoire. I highly recommend this work for advanced high school students to professionals.
– Kristine Dizon
Concerto works
Daniel Dorff. Summer Solstice – Concerto for Clarinet and Strings (piano reduction by composer). Published by Theodore Presser Company, 2017. $18.99
I had the great pleasure of premiering this version, and have performed the full orchestral concerto as well. I love this piece, and recommend it highly to everyone. It is in the American symphonic language of midcentury neoclassicists and is extremely beautiful. The first movement opens with a tremolo landscape introduction with a long phrase in the high clarinet. The rest of the movement is taken up with a fun romp reminiscent of children playing in the summer sun, running through fields laughing and leaping, occasionally catching their breath. The coda increases the humor with large "hee-haw" leaps and hoedown rhythms in the piano, ending with a spectacular arpeggio up to double-high C.
The second movement opens quietly and contemplatively, and continues the deep exploration of beautiful sounds. Lush, expressive passages contrast with this contemplation and occasional forays into a lullaby before ending with the opening material. The third movement opens with slow and low material that makes up the bulk of the fast "triple time! ma energico" to come. The second theme is a slightly wobbly slower dance. The third is a jazzy theme that leads back to the first material in a mad crescendo to the end.
This concerto manages to be tonal, expressive and beautiful without seeming cliché. At 18 minutes, it makes a great recital piece and is perfect for high school and college students as well as professionals. The parts are well laid out and easy to read. Highest recommendation.
– Sean Osborn
Lev Kogan. Klezmer Dance Suite for clarinet, strings, percussion and tuba. Arranged by Alan Kaufman. Cadenzas by Gene Kavadlo. Israel Brass Woodwind Publications/OR-TAV Music Publications, 2017. Score: $19.95, score and clarinet part: $35.00, set of parts for orchestra: $70.00
Gene Kavadlo, longtime principal clarinet of the Charlotte Symphony Orchestra, is the mastermind behind this singular work for solo clarinet, strings, percussion (two players) and tuba. Kavadlo, already familiar with klezmer-style works by Lev Kogan (who studied with Aram Khachaturian), collaborated with arranger Alan Kaufman to transform five of Kogan's Hassidic Tunes for clarinet and piano into a more dynamic version with orchestra.
Kogan granted permission for the project and Kavadlo gave stylistically appropriate titles to Kogan's heretofore unnamed tunes. Kavadlo composed the introductory solo clarinet "Doina" (cadenza for listening) that foreshadows subsequent melodies. It leads to the first movement "Freylekh." Similar, albeit on a smaller scale, introductory solo clarinet cadenzas by Kavadlo precede the next movements, "Khosid'l" and "Nigun." The fourth movement "Kolomeyke" is led into by a duo cadenza for clarinet and violin. In contrast, the concluding "Bulgar" begins with orchestra.
Appropriate ornamentation is provided for the clarinet – mordents go to the upper neighbor note. In the written preface Kavadlo encourages the clarinetist to be inventive "to find their own voice" in the music through additional embellishment and stylistic performance. This flexibility extends to the score itself where single or multiple players on the string parts is sanctioned, as is substitution of another bass instrument in place of tuba.
Kaufman's light orchestration is deft and captures the character of historic klezmer ensembles.
– Gregory Barrett
Clarinet and one other instrument
Lowell Liebermann. Elegy for B-flat clarinet and piano, Op. 119. Theodore Presser Company, 2017. Duration: 8' $9.99
Lowell Liebermann (b. 1961) is one of America's most frequently performed and recorded living composers. His musical style is unashamedly neoromantic with a strong penchant for polytonality. Liebermann's oeuvre contains a lot of interesting music for clarinet: several chamber music works and a concerto for clarinet and orchestra, written for and premiered by Jon Manasse in 2009. Manasse, with pianist Jon Nakamatsu, also gave the first performance of Elegy for clarinet and piano. Liebermann's Elegy begins with the clarinet's beautiful melodic line accompanied by the piano's (sometimes polytonal) tranquil, floating eighth notes. In the middle section, Liebermann uses the same melodic material but adds intensity with a faster tempo, stronger dynamics and a thicker piano texture. After a dramatic culmination led by the piano's left hand the piece calms down and regains the lyrical atmosphere. The technical challenge in the otherwise simple clarinet part is that it frequently uses the altissimo register (up to high A) in soft dynamics. Not a piece for beginners, but very effective for a clarinetist who has mastered the highest register. Liebermann's Elegy (or Berceuse as it is called on the composer's website) is an important addition to clarinet and piano repertoire.
– Mikko Raasakka
Theresa Martin. Paragon for B-flat clarinet and piano. Potenza Music, 2015. $16.95
This seven-minute duo comes with a program note explaining Martin's idea of a perfect life, or a paragon of a life. It is enjoyable, interesting and engaging. It showcases a large range of expression by utilizing material from long lines to fast passages, all thematically derived from the opening material. There are fun, intricate rhythms and many contrasting sections – in fact, I wish many of them were longer, because the music is so interesting.
This is an excellent smaller recital piece, and would also be great for a high school or college student, especially one with great rhythm but lacking a lot of fingers (technique-wise on par with the Messager Solo de concours). The page layout is clear and easy to read – bravo!
– Sean Osborn
James Rae. You Must Remember This… Old Favourites Arranged for Solo Clarinet and Piano. Universal Edition, 2016. $26.95
This edition is a collection of ten "oldies but goodies." The tunes are certainly well-known and were at one time, very popular. The ten golden oldies are: Daisy Bell, As Time goes By, La Paloma (The Dove), Give My Regards to Broadway, Fascination, Bill Bailey, Won't You Please Come Home?, When Johnny Comes Marching Home, Over the Waves, Misty and Chicago. Also included is a preface by the composer that states this edition could make an ideal prequel to a couple of similar editions, Take Ten (UE 19 736) and Take Another Ten (UE 21 169).
Rae has arranged these beloved melodies for clarinet in B-flat and piano and has set them in comfortable keys. Most are in the key of C major for the clarinet and a few have one or two sharps. The melodies are not embellished but two have instructions to swing the eighth notes. Both the clarinet part and the piano part are graded between 1 and 4 (easy to medium) on a scale of 1 to 8. The arranger refers to the piano accompaniments as very "teacher friendly" and he includes chord symbols. All the songs begin with a four-bar introduction. Metronomic tempos are marked and the phrasing and articulations are carefully done. There are also descriptive comments such as "dreamy," "gentle," "lively," "bright tango style," "Dixieland," "relaxed feel" and "swing." These may provide the younger student with a mood to imitate.
These arrangements could be used for a recital, an encore following a recital, a PTA meeting, or just something that students can play for their own and others' enjoyment.
– Robert Chesebro
Zlatan Vauda. Sonata brevis for clarinet and piano. Edicije DSS: Društvo slovenskih skladateljev. Ljubljana, Slovenia, 2006. €12.00
The Slovene-Serbian composer and conductor Zlatan Vauda (1923-2010) studied at the Music Academy in Belgrade in the class of Prof. Tajčević, took additional studies abroad with Swarowsky and Jelinek, and served as conductor of the Belgrade Radio/Television Children's Choir named after the famous Serbian-American scientist Nikola Tesla.
Speaking about Vauda's music, composition Prof. Vlastimir Peričić stated: "Starting from neoromanticism, Vauda's works reveal a spontaneity of inspiration with their direct melodic invention and rhythmic pulsation, his recent works being more profound due to his search for a contemporary harmonic expression."
Vauda's most frequently performed work is the fresh and elegant Sonata brevis, written during his studies. It was premiered in 1952 in Belgrade by clarinetist Ernest Ačkun and pianist Biljana Šahović. The next year Ačkun performed it in Vienna, where the "strong talent" of its composer was noticed. Other significant performers include Milenko Stefanović (who recorded it in Munich, Germany), Ante Grgin, Nikola Srdić, Ognjen Popović, Predrag Nedeljković and Mihailo Samoran. When I performed it at ClarinetFest® 2013 in Assisi, Italy, an American professor informed us that it has also been performed in the United States.
Sonata brevis was published by Vauda in 1968, in Belgrade, with a dedication to Ernest Ečkun (which is missing in the newest edition!) and reprinted in 2006, in Ljubljana, by the Society of Slovene composers. The clarinet part was edited in February 2008 by Jože Kotar, clarinet professor at the Music Academy in Ljubljana, who followed written instructions given to him by Vauda toward the end of his life. The printing of the new edition is large and clear, with carefully planned page turns, which facilitate performance.
Sonata brevis is written in three movements. The first, Allegro ma non troppo (Allegretto ma non troppo in the newest edition!) is in sonata form, with a charming and dignified first theme, singing second theme and a cadenza ad libitum for clarinet before the recapitulation. The elegiac second movement, Adagietto, starts with a misterious, dolorous introduction, followed by faster material. The third movement, Allegro scherzando, recalls the first movement in its character and cleverly emphasized contrasts between material, and convincingly ends the sonata.
– Andrija Blagojević
Luigi Cherubini. Trois Morceaux for clarinet and bassoon. Edited by Dario Zingales. Da Vinci Edition, 2017. €14.90
The Japanese/Italian publishing house Da Vinci recently published the Three Pieces (Trois Morceaux) for clarinet and bass (bassoon or cello). They are three unpretentious but delightful instrumental miniatures written by Cherubini (1760-1840) to be performed for the exams at the Paris Conservatory, where for many years he was active as director. The first piece was conceived for clarinet and the other two originally for oboe, but they are also suitable to be played on the clarinet. The first piece, (composed 1824) has previously been published but never the other two. In this well-prepared Da Vinci edition, Dario Zingales, clarinet teacher assistant at the Mozarteum Academy in Salzburg, has done a good job in assembling them together. These Trois Morceaux are a fine addition for the clarinet and bassoon (or cello) duo combination.
– Luigi Magistrelli
Adriana Verdié. La Voz del Viento for two bass clarinets (both doubling B-flat clarinet). Cayambis Music Press, 2016. $19.90
Adriana Verdié is an Argentinean composer who currently teaches theory and composition at California State University, Long Beach. She has a handful of other works from Cayambis Music Press that might be of interest to clarinetists, including a clarinet/percussion duo, a clarinet/violin duo, and a wind quintet.
La Voz del Viento (The Voice of the Wind) is described by the composer as "an imaginary travel through a day in the life of wind." In the brief program notes that are included with the score she lists a series of nine moods that are to be explored, such as "whispering wind," "dancing wind," and "icy night wind." These moods are not delineated within the music itself, so it will be up to the performer to decide where they belong. The piece is one movement, but contains sections that are calm and lyrical, more active and rhythmic, and free with rubato (without exact rhythms).
The piece begins and ends with two bass clarinets, but there is a middle section where each player switches to B-flat clarinet. Written in the clarion and altissimo registers, this lyrical section requires considerable control and good intonation between the two players to achieve the desired ethereal effect. As one might expect with a piece about wind, there is flutter tonguing and the indication to "blow air into the instrument." There is also a multiphonic and a "klezmer bend" in the lower part. The upper range for the bass clarinet is very reasonable for the majority of the piece, though each player does have a high F above the staff. It is published in score format, which will simplify the rehearsal process, but there are several page turns that will have to be worked out. This piece is approximately 10 minutes and 45 seconds in length, and is a good vehicle for exploring the expressive capabilities of the bass clarinet.
– Robyn Jones
Clarinet ensemble music
Claude Debussy. Petite Suite pour quatuor de clarinettes. Arranged by Laurent Arandel. Collection Jean-François Verdier. Billaudot, 2014. $44.99
The four movement Suite: "En bateau," "Cortège," "Menuet" and "Ballet" arranged in a medium-hard version for three B-flat clarinets and bass clarinet to low C. Good sharing of thematic material among all the parts. Key signatures are G, D, E-flat and A-flat major with some minor mode inclusion.
– Gregory Barrett
Benjamin Godard. Quartet No. 3 Arranged for clarinet quartet by Robert Rainford. Forton Music, 2016. £16.00 for a printed copy, or £12.00 for a digital download.
Parisian-born Godard (1849-1895) entered the Conservatoire at age 14 and became a professor in 1887. His style is reminiscent of Mendelssohn and Schumann. Rainford has arranged Godard's last string quartet for two B-flat clarinets, alto clarinet (substitute B-flat clarinet part included) and bass clarinet (to low C, with ossias provided). This medium-difficult quartet includes four movements: Allegro non troppo in B-flat, Adagio non troppo in 9/8 (E-flat major), Molto moderato in A-flat major and Allegro con moto that moves from B-flat minor to the home key of B-flat major.
– Gregory Barrett
Georg Frederick Handel. Arrival of the Queen of Sheba, Sinfonia from the oratorio Solomon. Arranged for clarinet quartet by Mark A. Craig. Alry Publications, 2012. $18.00
Craig uses three B-flat clarinets and one bass clarinet (preferably to low C) in this C major setting. No sixteenth notes in the bass clarinet. Pairs of parts alternate with the full quartet. This short musical gem of only 89 measures makes for a con brio arrival.
– Gregory Barrett
Mikhail Glinka. Valse – Fantasie for 4 B-flat clarinets and bass clarinet. Arranged by Jean-Marc Morisot. Collection Jean-François Verdier. Gérard Billaudot Éditeur, 2015. U.S. distribution by Carl Fischer/Theodore Presser. $24.99
This medium-easy 132-measure abridged version of Glinka's Valse requires a bass clarinet to only low E. Third and fourth parts are almost entirely offbeats. Good introduction to the key of A minor for younger players.
– Gregory Barrett
Edvard Grieg. Elegiac Melodies, Op. 34. Arranged for clarinet choir by Robert Rainford. Forton Music, 2008. £12.00
Easy arrangements in predominately homophonic texture of movements "Hjertesar" and "Varen." Flexible instrumentation includes: E-flat clarinet (which could be omitted by adding brief melody section to a B-flat clarinet), 4 B-flat clarinets, alto clarinet (or clarinet 5), bass clarinet (or alto clarinet), and contrabass clarinet (or bass clarinet or contra-alto clarinet).
– Gregory Barrett
Gioacchino Rossini. Overture to Il Signor Bruschino. Arranged by Melanie Thorne for clarinet choir. Sempre Music, 2016. Duration: 5' $35.00
Melanie Thorne is widely known for her compositions and arrangements for a variety of chamber ensembles. Sempre Music publishes most of her works. Her proficiency as a teacher and performer has given her the skill to produce arrangements that are idiomatic and that showcase the expressive characteristics of diverse ensembles.
This arrangement is for clarinet choir of E-flat clarinet, five B-clarinets, alto clarinet and two bass clarinets. Clarinet 1 doubles the E-flat clarinet throughout, making this work useable by high school students who do not have an E-flat clarinet available to them. The parts in the arrangement do not exceed the usual range of the clarinet, only reaching to altissimo E.
In Rossini's original, after the slow introduction, the string players solemnly tap their bows to the candleholders attached to their music stands. This created a stir at the time, but among modern audiences bow tapping is not considered unusual. Thorne uses key clicks by the clarinets to copy this effect. Thorne does a good job of capturing the quintessential Rossini, his light-heartedness, his flurry of scales and thrilling crescendos.
– Lori Ardovino
Camille Saint-Saëns. Danse Macabre, Op. 40. Arranged for clarinet choir by Melanie Thorne. Sempre Music, 2015. £16.95
Musically rewarding and challenging arrangement due to tonguing speed and trills/mordents/grace notes. For E-flat clarinet (or B-flat substitute), 4 B-flat clarinets, alto clarinet (or B-flat) and two bass clarinets.
– Gregory Barrett