---
From MBA to DMA: 8 Things I Learned in Business School About Clarinet Teaching
by Roddy Terrell, MBA, with Andy Hudson, DMA
Music has always been the most important thing in my life. Growing up, I knew I wanted to eventually teach and perform on my favorite instrument, the clarinet. This passion led me to undergraduate and graduate musical study, a tour with the US Army 82nd Airborne Division and the Army Ground Forces Band, and my current home in North Carolina. However, there was a point in my life when I thought I was fully done with pursuing a career in music and, as a result, I decided to walk away from my performance career and go back to school to earn my Master of Business Administration degree (MBA). I was ready to enter the corporate world.
Life, however, has a way of surprising us and before I knew it, I found myself right back in the middle of a career in music education and performance – but this time, I was armed with an arsenal of principles from one of the country's most illustrious business schools. It has been incredible for me to see what's possible when one views their private studio as a business venture. Whereas many of my business school colleagues went on to found tech startups or invest in novel ideas, I decided to use the knowledge I accumulated in my MBA to write a business plan for a private clarinet studio. I wanted to bring my musical life into focus through the lens of my MBA.
The resultant venture is Oak City Clarinet, my personal clarinet studio, which I own and operate much like the corporations and businesses I studied in graduate school. Here are some of the things I learned in my MBA that I use in my everyday teaching, and I hope you will find these useful as well.
---
 1. The Importance of Networking
Sometimes, the best opportunities in life can appear without you even searching for them. Often it is "who you know" that will bring forth your next gig, or a new student, or a new teaching opportunity. Throughout the many courses I took in my MBA, one constant theme was the importance of networking. Simply put, it is essential that you meet as many people in your field as possible, and that you make a good impression on them. The smallness of the music world will shock you, and you never know which person you might have met will recommend you for a job. For example, When I first moved to Raleigh, NC, I emailed every band director in the county that I lived in. I told them who I was, a little about my background, and that I wanted to teach in the area. Most of these emails did not get a response, but a few of them did, and those connections led to opportunities. You might also network by attending your state's music conference, or going to local concerts and sticking around to say hello to the performers. Sometimes all you need is one reply, or one person to say yes, or one business card to set your career in motion.
While we often think of networking as the opportunity to "get" from people who are already established in our field, I think the secret to networking is to "give" to people. For example, when a few of the band directors I emailed responded to me, I offered to visit their schools to judge auditions or do free masterclasses. These experiences in turn led to more introductions to other people in the area, which ultimately led to the recruitment of my own private students and the formation of a clarinet quartet with other local professionals! These first impressions are vitally important, and since you never know who you will meet, it's important to be kind and professional to everyone! Encountering as many people as you can, putting your best foot forward, and always expressing a willingness to work and to give to others will pay huge dividends. They just might come back around and give back to you!
---
2. Building a Social Media/Online Presence
You need to exist online. As society continues to become more electronically connected, it is important that you build a presence on social media as well as online. In my marketing class, we explored the different mediums one can utilize to reach a target audience. Print publications like newspapers or USPS mail are no longer the most cost-effective or impactful way to reach a large number of people. Instead, create a business page on sites like Facebook, Instagram, YouTube, and Twitter. In these mediums, it can be quite effective to interact with your target audience. In addition, you can create videos or other media that showcases your skills so that potential students and parents can see what it is you offer, and so that students can practice new concepts ahead of time.
In addition, you should also create a business email address as well as your own business website. Be sure that these sites stay up-to-date, and that they have information on how to contact you and any relevant information. For example, on my website, I have a page that lists my prices and how to contact me. My business email is connected to this part of my website, so I do not run the risk of potential job opportunities ending up in my spam folder. If you aren't able to keep a certain social media platform updated, it is better to just get rid of it. You want your students, potential students, and professional network to stay updated on all the great work you're doing, so be sure you broadcast your own materials and the success of your students.
---
3. Keep Track of Everything
Keeping up-to-date and accurate records will make your life exponentially easier when tax season rolls around. In my Financial Management class, we learned the importance of keeping track of all money in and money out. This also applies to mileage. Mileage is very important when it comes to taxes as it will lead to tax exemptions. The same goes for purchases made for your studio. Did you buy a new laptop for work? Write it down. Reeds, swabs, instruments? Be sure you claim all of it!
This can all seem very daunting at first, so I recommend a few things. First, if keeping accurate records by spreadsheet like Excel or Google Drive is not your forte, utilize software specifically designed for this. I personally use Intuit Quickbooks Self-Employed. It allows me to track my mileage, expenditures, and revenue. In addition, it can produce charts that are important from a business perspective, such as cash flow charts and profit-loss statements. You can also create invoices directly on the app, so everything stays in one place. This is useful because you can create tax documents or even file directly through the application. I also recommend keeping every receipt that is related to your business: gas, food, equipment, etc. Write it all down, as you never know what items could be tax-deductible!
---
 4. Know Your Worth & Explore Pricing Strategies
Musicians do not work for free. I repeat, musicians do not work for free! Knowing and understanding how much to charge for your services is an important and sometimes difficult skill to learn. In business school, we learned about understanding your worth to the company you worked for. Music is no different. There are a few ways that you can accomplish this. First, look around your area and see what other teachers and performers are charging. What is their background? Is your teaching and educational experience comparable? Are you moving from an urban area to a rural area, or from the suburbs into the city? Your prices may change. Asking around will give you a good baseline on what people in the area are willing to pay for different services. If you want to be competitive through costs, you can either charge less than your competition or offer more than your competition. Is the service you offer worth more or less than your competitors? Can you charge less than your competitors to achieve a market advantage and still make a profit? Should you charge more but have fewer students? As you can see, understanding your competition, market, and your own worth contribute to how much you should charge your customers.
You should also be aware of different pricing strategies you can take advantage of to bring in more business. Businesses often offer discounts like "buy one get one free" or "10% off if you purchase three months," etc. Your private studio is no different! For example, I offered many different pricing bundles such as a "new student package." In this I would offer 5 lessons for the price of 4 for your first month of studying with me. Essentially, I was saying that I'll give you a free lesson just for signing on to take lessons with me. I would also offer a discount if the students paid their lesson fees a month in advance. Most of my students chose to pay this way. As lessons became a monthly cost for the students or student's parents, I started getting paid more regularly and finances became much easier to manage. I also invoice my students or their parents. Whenever you send an invoice, you want to be sure that whatever you are charging is stated clearly on the invoice, as well as any discounts you are giving. This keeps both you and the person paying honest! You can come up with many different pricing strategies that could work in your area. Do not be afraid to try new things!
---
5. Contracts
Never underestimate the importance of a solid contract. When starting new business ventures and working with new clients, every stipulation discussed in the business meeting should end up in a contract. The contract should be thorough and not contain any loopholes. In business school, we learned that even the smallest of errors in a contract could render it void! When working with students, it is important that they understand your expectations. You might even stipulate how much the student should aim to practice each week, or that they will arrive early to the lesson and put their instrument together in the waiting room. While they may not reach these benchmarks, signing a contract with you can help a student commit to the process, which gives everyone involved a better experience.
More importantly, it is essential that parents understand your attendance and payment policy and agree to it. Should you find yourself in a situation where a student doesn't show up for a lesson or gives you less than 24 hours' notice that they will not be attending a lesson, you need to have a clear plan of action in place. I recommend that a student give no less than 24 hours' notice if they intend to miss a lesson. I also recommend that, except in the case of emergency, you don't refund the money for lessons canceled after the 24 hour notice period has expired. They're paying for your time, after all, and time is money.
 All of this needs to be spelled out clearly in a contract that you, the student, and the student's parent sign before any lessons take place. Of course, there will be instances where things cannot be avoided and, in those situations, you should be kind and offer exceptions. It is always at your discretion, but you should make sure that it is all spelled out in the contract. It will prove much easier to relax the expectations down the road than to intensify them.
---
6. Make Time For Family and Friends (and Yourself!)
Starting a new venture can be daunting and time-consuming. We have all heard stories about tech entrepreneurs working 16 hour days and sleeping at their desks. Being your own boss is a wonderful feeling, as you can work as much as you like. However, do not take your personal life for granted. It is easy to burn out and ultimately and it may sound cliché, but money cannot buy happiness. You need to have a work-life balance that leaves you feeling refreshed both professionally and personally. I have read too many case studies about business executives who worked long hours striving for financial gain but lost all personal connections. I do not believe any job is worth sacrificing your own well-being. Make time for yourself and your family. You will thank yourself in the years to come that you did.
One important thing we can do is maintain our own practice and performance life. We love the clarinet, after all – that's why we teach it! I have continued to perform throughout my life, and have continuously sought higher training to improve my abilities. Now in my mid-30s, I have returned to graduate school to pursue my terminal music degrees. I also perform in a clarinet quartet, freelance with local orchestras, and collaborate with composers on new music. Staying engaged in the parts of music that energize me keeps me motivated to teach and can serve to inspire my students.
I also recommend that you have some non-musical hobbies. For example, I am an avid runner and enjoy the chance to take care of my body and mind separate from the instrument. Some people may begin a meditation or yoga practice, or take up woodworking or crafting. My husband and I love to cook, and we enjoy trying new recipes and trying new foods. You do not serve your students or yourself by ignoring the ones you love!
---
 7. Be Ethical
It should not be surprising to know that in business school, ethics is taken very seriously. This is an important and somewhat recently added component of the curriculum, as business practices have not always placed ethics as a high value. However, with the spectacular public failures of companies like Enron and WorldCom, business schools now endeavor to ensure that the people they are sending out into the workforce are operating in an ethical manner. I believe this applies to your teaching as well. Treat everyone you meet with respect. Be kind to your students. Do not take advantage of any situations for personal gain: you are the subject matter expert, so people will listen to your advice. You must steward your position of influence with an honest and steadfast hand.
For example, do not tell students they should buy a brand-new professional clarinet if they are not ready for one. If you have business interests in other areas, do not offer items to your student that will help you financially but will offer nothing of value to the student. This also includes showing respect for students by maintaining professionalism at all times, respecting their boundaries, and never breaching the trust they and their parents have placed in you. Teaching is a supreme honor, and our students look up to us regardless of their age. We must never violate this sacred trust.
And lastly, just because something is not illegal does not mean it is necessarily ethical. Always be honest, pursue integrity, and do everything you can to help others succeed!
---
 8. Do Not Be Afraid to Try New Things
Teaching is not a one-size-fits-all process. Many people instruct their students the same way that they were instructed, but this is not always the best way. Understanding that each student is different and that everybody learns in different ways will vastly improve your experience as an educator. Be sensitive to your student's needs and be adaptable. If something that has been successful for you and your students in the past is not working for a current student, try to understand why. Could you improve this technique in some way? Could you explain it in a way that will make more sense to your student? Maybe it's just time to change course with that student. Your students are looking to you for guidance and structure and I have often found that we learn just as much from them as they do from us. Be flexible and creative, and the teacher-student relationship will be very rewarding for everyone.
I am so grateful that my career led me through business school and back into a career in music, and I hope you are able to utilize a few of these tips I've offered in your own studio! I know enough to know that these are not the only ways one should conduct business or teach, but I have had a lot of personal success by applying these principles to my teaching. If you're just getting started, be patient with yourself. Starting a business is a little bit like having a newborn around the house: at first, it will require tremendous focus and a lot of your time and attention, but over time it will become more self-sustaining. Always be kind and humble, and remember that it is quite a privilege to have the opportunity to instruct people in the great art of music. Above all, music should be fun and rewarding for both you and your students! Never lose sight of why you entered this business in the first place.
---
About The Authors: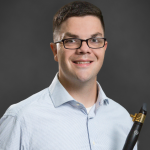 Roddy Terrell is the owner and proprietor of Oak City Clarinet in North Carolina and earned his MBA from Northeastern University. He earned his BM from Furman University and pursued graduate work at Louisiana State University before serving in the US Army as a member of the 82nd Airborne Division and the Army Ground Forces Band. He is currently completing graduate study at the University of North Carolina Greensboro where he studies with Andy Hudson and Anthony Taylor.
Dr. Andy Hudson is Assistant Professor of Clarinet at the University of North Carolina Greensboro and the North Carolina State Chair for the International Clarinet Association. He holds degrees from Northwestern University and Columbus State University and desperately wants the Cubs to go all the way this season. Let's connect online at www.theandyhudson.com