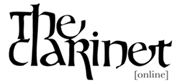 Originally published in The Clarinet 49/3 (June 2022).
Printed copies of The Clarinet are available for ICA members.
---
Low Clarinet Festival
January 5 – 8, 2023
by Stefanie Gardner

The International Clarinet Association's first-ever Low Clarinet Festival takes place at Glendale Community College in Glendale, Arizona, January 5-8, 2023. This coincides with the 50th anniversary of the ICA and will be a celebratory event marking the growth of the ICA and the rise of low clarinet enthusiasts around the world.
The planning committee has selected "Community" for the theme of this four-day event, culminating in a performance where festival attendees of all levels will perform together in one massive low clarinet choir concert in an attempt to break a Guinness World Record. The festival will also feature solo works, chamber music, presentations, master classes, clinics and exhibits with sheet music, instruments, mouthpieces, reeds, ligatures, cases, repair stations and everything low clarinet!
This event is open to anyone who loves low clarinets and wants to spend some quality time with other low clarinet enthusiasts. Come and meet fellow low clarinetists from around the world!
The festival is organized by the ICA New Music Committee and the 2023 Low Clarinet Festival Planning Committee: Jason Alder, Jeff Anderle, Lara Díaz, Stefanie Gardner, Michael Lowenstern, Marco Antonio Mazzini, Jonathan Russell, Stephan Vermeersch and Sarah Watts.
Glendale is part of the Phoenix metropolitan area and is only a 20-minute drive from Phoenix Sky Harbor International Airport. Accommodations nearby include the Westgate Entertainment District (6 miles from campus and a 10-minute drive) including hotels, restaurants, shopping, and the State Farm Stadium (home to the Arizona Cardinals Football team and the Fiesta Bowl). This entertainment district often hosts large groups for games, conferences, concerts and other large events. The hotels in the Westgate Entertainment District include Hampton Inn, Renaissance Hotel and Spa, Springhill Suites, Aloft, Residence Inn, Home2Suites by Hilton, TownPlace Suites by Marriott, and Tru by Hilton. The plaza has several amazing restaurants, bars, pubs that can accommodate any dietary restrictions and an outlet mall to boot! Glendale Community College, as well as the Westgate Entertainment District restaurants and some hotels, offers free parking.
Festival attendees are encouraged to fly into Phoenix Sky Harbor International Airport (America's Friendliest Airport!). Phoenix weather in January is stunning (average high/low of 68°/45° F), with plenty of things to do and see in Arizona, such as visiting the Grand Canyon, hiking in the beautiful Phoenix Mountain Parks, visiting Sedona (less than 2 hours away), and touring the largest musical instrument museum in the world (MIM), to just name a few.
General questions can be sent to [email protected].