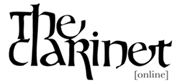 Originally published in The Clarinet 49/3 (June 2022).
Printed copies of The Clarinet are available for ICA members.
---
ICA Instrument Donation Program
by Jessica Harrie
During the height of the COVID-19 pandemic, the ICA introduced an instrument donation program. To date, we have received a total of 21 instruments ranging from student models to professional-level instruments. These clarinets were in varied conditions and the ICA has partnered with repair technicians across the United States to bring the instruments back to playable condition. These clarinets are being repaired by Lisa's Clarinet Shop, Mike Lomax of Lomax Classic, Sean Wahl from Buffet Crampon and Glen Sargent from Second Wind Music.
In 2021, the first batch of repaired instruments was donated to the HEAL Center for the Arts in St. Louis, Missouri, and the Love and Hope Music School in City Soleil, Haiti.
In addition to quality student instruments, the ICA received donations of several professional-level clarinets. One of these instruments, a Buffet Crampon R13 B-flat clarinet, was donated by Jack Homer and repaired by Sean Wahl of Buffet Crampon. This instrument was given to 16-year-old clarinetist Icsis Church of Pegram, Tennessee. Icsis plans to go to college and continue studying music but did not have an instrument of her own. You can read Icsis's story on The Clarinet [Online].
Another Buffet Crampon R13 B-flat clarinet, donated by Lynn Pettipaw and repaired by Sean Wahl of Buffet Crampon, was sent to Glendale Community College clarinet student Alexis Noland. A student of Stefanie Gardner, Alexis has been playing on a student-level plastic instrument and was unable to afford a professional instrument. You can read Alexis's story on The Clarinet [Online].
We are immensely grateful for the support for this new program thus far and hope that we can continue to help provide instruments for students in need. If you would like to donate a clarinet, sheet music or clarinet accessories as part of the ICA Instrument Donation Program, or if you know a student that would benefit from this program, please contact ICA Executive Director Jessica Harrie at [email protected].