Originally published in The Clarinet 47/2 (March 2020). Printed copies of The Clarinet are available for ICA members.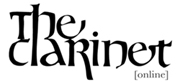 ---
"International Spotlight" showcases perspectives from the global clarinet community.
International Spotlight: NEW PATHS FOR CHAMBER MUSIC: THE BASS CLARINET AND VIOLIN DUET
by Lara Díaz, ICA Country Chair for Spain
The bass clarinet has come a long way from the opera house pit in the 19th century to the very demanding contemporary solo works in the 21st century. Composers have always tried to highlight the uniqueness of its expressive qualities and sound, and the wide range of possibilities it offers. Players and composers are working together to expand the repertoire of this awesome instrument, including trying new ensembles and combinations.
The potential of the violin-clarinet combination is well known. As a trio with piano, it has a huge and increasing repertoire that many composers appreciate, from Bartók, Stravinsky, Milhaud, Khachaturian and Berg, to today's composers – including more than 200 works dedicated to the Verdehr Trio – and some little contributions like the Vanhal trios. The repertoire without piano is not so extensive; we can name Hindemith, Busch, L. de Pablo, Ingenhoven, G. Berg and an early contribution to the repertoire from Gebauer, among others. The range of possibilities of both instruments together is remarkable and it grows even more when we add the bass clarinet. These two instruments match and complement each other exceptionally well. Both have a very warm and sensuous sound and can be played very expressively. They also give a very broad tonal range.
In the Formica's Age Duo (Lara Díaz, bass clarinet, and Marco Pastor, violin) we know very well the possibilities for this combination. We founded Trio Contrastes (clarinet/bass clarinet, violin and piano) about 20 years ago and we have a huge experience working together along with composers. The repertoire for violin and bass clarinet duet is currently quite limited and it is in an interesting phase of expansion. We wanted to contribute to it in a more dynamic way involving ourselves in the creative process through direct contact with composers.
The following works below were created for their premiere in July 2018 in Mongolia. The aim was to expand the repertoire and possibilities of the bass clarinet and to be involved in the creation of new music by collaborating actively with composers from very different backgrounds (the U.S., Spain, Brazil, Germany…) and compositional tendencies (from classical education to rap and hip-hop, to Brazilian choro), the result of our openness to innovation, both in instrumentation and in style. We tried to make this project even more special with a series of videos in which some of the movements of the works have been recorded in unusual places in our city (Salamanca, Spain), chosen either because of their antiquity, their tradition or their somewhat esoteric or unreal aura, which match with the character of the works.
After the Formica's Age Duo performance at ClarinetFest® 2019 in Knoxville, we received very positive feedback and many people became interested in the new repertoire. Many composers contacted us to offer us new creations, so I was encouraged to write this article about our experience and the first scores written for us.
Emilio Mateu Nadal (Antella, Spain, 1940) was the first composer to write for the Formica's Age Duo 10 years ago when he created Dos Grabados. He was principal viola of the RTVE Orchestra in Madrid for many years, but he studied both violin and viola. He knows the violin and its possibilities very well, and the clarinet, too. He was surrounded by clarinet players from his family (father, uncles, cousins, brothers) for his whole life. He wrote several works for clarinet in the past, but he only thought about using this combination because he is an old friend of ours. In his own words:
I would never write for a violin-bass clarinet duet if I didn't know you. I was not very sure about the result until I listened to it live, but I am very happy with the extraordinary effect. The timbre, range and sound of the bass clarinet are fascinating, and it offers almost unlimited possibilities for a composer. In fact, I am writing a new work using the same instruments for you, because, as far as I know, you are probably the only stable duo like that in the world.
Dos Grabados (Two Engravings) is a very interesting work. The structure is written a little like Pictures on an Exhibition. Nevertheless, the initial theme is played unison by both instruments taking us into a more intimate place, almost religious, like the artist's own atelier. There are two very different sections. The first one alternates cantabile parts with agitated moments in fortissimo. The second one is in giocoso mood. It explores different effects in both instruments (the violin with arpeggio chords in bariolage, tremolos, pizzicatos; the bass clarinet with defined lines, notes in staccato, frullato…) and shows a variety of textures and intensity of the music. The work is published by Emana Ediciones, Spain.
Dorothee Eberhardt (Memmingen, Germany, 1952) wrote Juntos (Together) in 2018 and dedicated it to Marco Pastor and Lara Díaz, who also played its first performance. Dorothee is a clarinet player too, and she knows the instrument perfectly. The title refers to the different ways in which the instruments play together; at times they move closely together, at times at a great distance from each other. At times they are in rhythmic unison, at times they play in a rhythmically complex texture. And at times they try to imitate the sound of each other, at times their sounds are wide apart. The title also refers to the different moods of the piece in which the voices express themselves together: the first movement of Juntos is calm and contemplative, the second fast and full of energy, and the third refers to a dance. The basic framework of each of the three movements is set by a rhythmic ostinato. It is published by Friedrich Hofmeister Musikverlag, Leipzig.
Alexandre Schubert (Minas Gerais, Brazil, 1970) is a composition teacher at Universidade Federal do Rio de Janeiro (UFRJ). He wrote his Divertimento in 2018 for the Formica's Age Duo. Similar to Emilio, he plays violin and he is very comfortable writing for the instrument. He knows the bass clarinet very well too (in Brazil they call it clarone), first listening to the great solos of the symphonic repertoire and then staying in touch with great contemporary bass clarinet players in Rio de Janeiro. He says about it:
I love the broad and deep sound of the bass clarinet combined with its incredible agility. In the Divertimento I did not use extended techniques; nevertheless I like the idea of exploring melodically the sound of the bass clarinet. The idea of ​​Divertimento is related to the satisfaction of playing chamber music, to dialogue with the partner, that comes together to create a complete universe of sound. I think this pleasure of making music together, listening and responding to each other is fundamental, hence the possibilities of polyphony and rhythmic diversity that I used in the piece. Sometimes I use some rhythmic gestures present in Brazilian music, as a way to take some of our culture to new places. I was very happy when Lara y Marco recorded those videos of the group. It is an excellent and unconventional way to present the work, that is, in places outside the concert halls.
The output of composer-guitarist-rapper-DJ-producer Gene Pritsker (Russia, 1971; New York-based) includes chamber operas, orchestral and chamber works, electroacoustic music and songs for hip-hop and rock ensembles. His compositions employ an eclectic spectrum of styles and are influenced by his studies of various musical cultures. In 2018 he wrote a very effective suite of five pieces, Bitter Suite, for bass clarinet and violin, with very different moods (from hypnotic and mysterious to counterpoint style, or a dance with an energetic rhythm). He writes:
When the Formica's Age Duo asked me to write a piece for violin and bass clarinet, I got very excited because the color combination for those two instruments appealed to me a great deal. I wrote a suite of five pieces, each one highlighting the timbre created by this combination and the virtuosity each instrument inherently has at its disposal.
Luiz Pardal (Brazil, 1960) Ph.D. in composition from University Federal de Bahía, professor/researcher at the School of the Federal University of Pará and multi-instrumentalist, adapted two of his choros (De Bem com a Vida and De Ontem pra Hoje) for the Formica's Age Duo. This is an example of popular music that also works very well with this ensemble. Similar to the other composers, Luiz has been very surprised and charmed at the result and the huge range of possibilities that the duo offers.
At the moment, we are receiving proposals of new works by composers from various countries and backgrounds, so it seems that the bass clarinet/violin duo has a long way to go! v
---
About the Writer
Lara Díaz is an active Spanish clarinetist and bass clarinet soloist. She has performed at major festivals in Europe, the U.S., Canada, South America and Asia, both as a soloist and with Trio Contrastes and the Formica's Age Duo. She also takes part in the international bass clarinet quartet Four New Brothers. She teaches at the Salamanca Conservatory, and has led the "Antonio Romero" clarinet master classes since 2003. Lara Díaz is the Spain country chair for the ICA and board member of the European Clarinet Association.