Originally published in The Clarinet 48/3 (June 2021). Printed copies of The Clarinet are available for ICA members.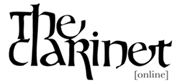 ---
International Spotlight: Interview with Marco Mazzini of Clariperu
by Eddy Vanoosthuyse, ICA International Vice President
"International Spotlight" showcases perspectives from the global clarinet community. The Clarinet welcomes submissions from ICA country chairs and other members about historical topics, performance practice, pedagogy, people, institutions, clarinet conferences or festivals, and other trends in clarinet communities around the world; please send items to [email protected].
English Version
(Read the Spanish version here: https://clarinet.org/international-spotlight-entrevista-con-marco-mazzini-de-clariperu/)
Eddy Vanoosthuyse: Marco, some years ago you started Clariperu; what was the primary idea to start this organization?
Marco Mazzini: The name Clariperu was born during my time as a clarinet student at the Peruvian National Conservatory. In the '90s, the internet was really new for all of us and the Conservatory had a computer at the library where you could access the internet for up to an hour. I was hooked. Very soon I realized all clarinet-related information was in English and my friends didn't speak English, so I had to tell them every day what I had found. Then I thought, "one day I will create a website just in Spanish." So I did in 1996, inspired by my friends. And this is still the spirit of Clariperu, to share and serve our community. Every project is created to help young musicians, promote our great performers and help launch careers of amazing musicians here in Latin America.
EV: You talk about your studies in Peru – can you tell us something more about these first studies in Lima?
MM: I started at a very young age to be aware of music and to take my first music lessons. My father is a pianist and I grew up listening to him all the time, from Bach to tangos and traditional Peruvian music. He taught me theory and I could read music when I was 5. When I was about 10 years old I enrolled at the National Conservatory (they have a department just for children). It was only at 16 that I began the clarinet and my main teacher was Ana Barrera, a great musician and mentor. It was then that I discovered the main repertory of the clarinet. This was the period when I discovered chamber music and I had the opportunity to play in the conservatory's wind band and orchestra. What a wonderful feeling!
EV: What about your further studies?
MM: It was in 1999 that ClarinetFest® went to Ostend, Belgium, and I wanted to be there to see and listen to great clarinetists of the world. I could travel and that trip changed me a lot: I discovered great performers and wonderful music, and listened to contemporary music. It was a revelation. It was then that I enrolled at the Belgian Clarinet Academy and met Guido Six and you. I was very impressed by your performance of Dirk Brossé's War Concerto during the last day of the ClarinetFest® 1999 and when you mentioned I could study with you, I didn't think twice. That same year I came back to be your student at the Ghent Conservatory and in these years I learned so much about music, professionalism and myself. I also discovered the bass clarinet and the contrabass clarinet. My bass clarinet teacher in Belgium was Mark Kerckhof and later Harry Sparnaay. I had the opportunity to premiere many bass clarinet concertos for orchestra and wind ensemble. In 2019, I gave in Peru the Latin American premiere of Bart Picqueur's bass clarinet concerto Mr. Livingstone I presume? and the world premiere of Concierto Latinoamericano para clarinete bajo by César Cano.
This was in Colombia the same year. And I still keep learning and practicing new music.
EV: What were the projects you organized with Clariperu?
MM: As a team, we meet regularly to create new projects. New ideas are put into action and it's an effective way to grow, to improve as an organization. We have three lines we work on: live events, online events and artists in residence. The Latin American Clarinet Congress and the Workshop for Young Clarinetists are part of our live events. We created the National Clarinet Ensemble Festival in Lima and it had huge success – we inspired the birth of new clarinet trios, quartets and clarinet choirs in Peru! The Iberoamerican Clarinet Choir is one of our online events. It was a shy event: we invited our community to sign up to create this virtual ensemble. Little did we know that more than 700 clarinetists would participate. It was beautiful. This year we will be back with this project. Every three to four months we organize Clariperu's Community Week where we share every day the creative work of a clarinetist from Latin America. We are currently running the Clariperu's Young Artists, an online clarinet competition where only one piece is required. The goal is to motivate the study of the clarinet by young performers at a high level. We have top clarinetists as a jury: Alessandro Carbonare (Italy), Marina López (Argentina), Philippe Cuper (France), Diana Gallegos (Ecuador) and you, Eddy! And of course we celebrate the World Clarinet Day every August 13 with our community. It's so beautiful to share the music and social media posts created by our community for this special day. Finally, we have created the Peruvian Clarinet Orchestra, Sexto Sentido and the Clariperu's String Quartet. These musicians in residency get our full support. We organize concerts for them and they take special participation during our festivals. This is something very special, since we can create work for our own musicians in Peru.
EV: How exactly are the creative meetings of Clariperu's team run?
MM: I consider the mindset of my team very important. To start with, we don't call it a "working meeting" or "workshop" but a "creative gathering." We know we get together to be creative, to find new ways to do things. We use the brainstorming technique where every single idea, no matter how crazy it may sound, is taken and written down on a big board. We use the reverse brainstorming technique as well. One person uses a laptop to write everything in our online drive but the rest of the team writes with bright crayon colors on the board or huge sheets of paper hanging from the wall, so we can all see what we are saying and building. To see the ideas, words or even drawings trigger your imagination. We have a culture where everyone has a voice and there is no ranking – I'm the oldest of the group but I'm not in charge of these creative meetings; we appoint someone to help conduct each meeting. I also encourage the team to try new things and to embrace failure. This is very important. We are not afraid to experience a failing project or concert. We analyze why that happened and move on. Even if this costs us money, our mindset is not that we are wasting it: we are investing to learn and to dare to grow.
EV: What are your plans with Clariperu for the future?
MM: Clariperu has grown a lot during the last five years, especially as a team that is constantly creating new ways to promote the clarinet and make an impact in our community. So far we will keep the Iberoamerican Clarinet Choir as a virtual project and we will organize three online competitions: Artist Clariperu, Young Artist Clariperu (under age 26) and Little Artist Clariperu (under age 12). And of course, we will get to our concerts and festivals as soon as the health situation is safe for all of us.
EV: What are your personal plans for the future?
MM: This year I'm starting to record a lot, especially with the bass clarinet. Also, a great deal of my time goes to practice and recording with the contrabass clarinet – I have a project called "ContraBach" on YouTube, where I play Bach's music with the contrabass clarinet – fun and challenging! Clariperu is a priority for me, since we want to keep growing and it's a wonderful space to put my creativity in action.
EV: You are the ICA country chair for Peru and also became the continent chair for South America; what do you want to achieve?
MM: I think this is the time to think big, to think as a world clarinet community and take full advantage of the technology we have at hand. I consider that collaboration, mutual support and respect are essential to grow as an international organization, to start thinking about why we are all together. I want to follow that line for the ICA in South America: to create a community beyond language and countries.
EV: You became the ICA continent chair for South America; I guess there are different cultures in the continent. How are you going to work around this?
MM: Latin America is a big continent but we have an advantage: a common language. We can travel from Mexico to Patagonia with no communication problems. This helps a lot when we want to coordinate future events. One of the first steps I will take is to get in close touch with the ICA's country chairs. I'm sure new ideas will come to work together with the ICA in favor of our large international community.
EV: You mentioned contemporary music, can you say what is inspiring you in the music of today and what would you like to see in the music of tomorrow?
MM: I'm all in favor of new music. We must know the works of past composers to better understand the evolution of our instrument in history and to appreciate their creativity. It is also very important to create, promote and perform new music – that is how we go beyond our limits. New music challenges you not only as a performer but as a listener. I learn to appreciate music on a different level when I'm confronted with a new composition. I learn about myself. Nowadays, I see many composers are trying to connect with their audience, which I consider important as well.
EV: Why do you think the work of the ICA is important?
MM: For every profession and product there is a community. We need mentors, a well-organized group of people to lead, motivate and enrich their communities. The ICA is creating this sense of a true international community, people who share the same interests, exchange ideas and support each other to achieve a common goal. And I think it is important to keep in mind the big difference between a large group of people/members/followers and a community. A community takes time, effort and resources, because it needs to be served, heard and supported, all the time – that is the reason in Clariperu we have very clear the why we do what we do. As clarinetists, we need the work of the ICA to feel part of a larger musical world, to feel the support, feedback and collaboration of musicians around the world. This helps us all to believe in what we do … and why.
EV: How do you see the future of these organizations?
MM: One thing we have learned during this pandemic time is not only to be aware of the technology we have at hand but to take full advantage of it. We are in the future and I consider the next step is to think creatively about how to use our technology to benefit our communities. Every organization should be very aware of new technologies and try them immediately (that is why our YouTube channel was created some months after this popular website was created in 2005). As I mentioned before, we must take risks and be ready to fail too. How can we serve our community with live and online events? How can we promote the clarinet, new and old music, performers and new publications beyond Facebook? The process to answer these questions is something I enjoy very much, and there is always a new way to do things. After all, we are artists and creativity is part of our daily life!