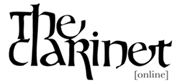 Originally published in The Clarinet 49/3 (June 2022).
Printed copies of The Clarinet are available for ICA members.
---
In Memoriam Gary Gray
by Michael Drapkin and John Bruce Yeh
It is with great sadness that we note the passing of our beloved mentor Gary Gray. Gary was our teacher when we were growing up in Los Angeles. He helped us through our formative clarinet years and wisely counseled us on our careers and shepherded us through our journeys to Eastman and Juilliard. More importantly, he introduced us to each other, commencing a close lifelong friendship.
Gary studied with Robert McGinnis at Indiana University and was mentored by Mitchell Lurie, who helped him launch his expansive career in the Los Angeles studios. Before arriving in California, he held positions in orchestras including the St. Louis Symphony, and held a long tenure as principal clarinetist of the Los Angeles Chamber Orchestra.
In addition to being heard on dozens and dozens of movie scores, it is perhaps his teaching that had the most profound impact. He taught private students like us, and taught clarinet, saxophone and jazz band for many years at UCLA and the Aspen Music Festival.
While our careers led us far away from Los Angeles, we always loyally remained in contact, and like so many, we will carry a part of him around with us for the rest of our lives.
---
The following are remembrances from those who knew Gary Gray. 
Barbara Heilmair, Associate Professor of Clarinet & Music History, Portland State University School of Music:
Gary Gray was a unique artist, touching listeners with his special charisma and style in all the genres that he played, from classical through film and swing music. I am grateful for the time in Gary's clarinet studio, where he included students into his global and high-end perspective on music-making. He was a true supporter of women in music and exceptionally kind. He gave many of us an opportunity in his studio where he also became an unforgettable mentor and friend.
Jonathan Sacdalan, Freelance Los Angeles-area Clarinetist and Educator:
Anyone who knew Gary would recall fond memories of his humor, generosity, friendship and unshakable optimism. One thing that I could always count on was for Gary to pick up the phone whenever I was in need of career advice. His continued mentorship during and well after my D.M.A. studies at UCLA inspired me to pursue a varied career as an orchestral clarinetist and a studio musician for film and television soundtracks. Needless to say, his teaching shaped me both musically and as an individual. I consider myself fortunate to have studied with such a wonderful person.
Nicolina Logan, Freelance Clarinetist and Co-Artistic Director, Burbank Chamber Music Society:
When I think of Gary, I think of so many joyful, insightful and transformative moments which, were I to catalog them, would take up all the words in the world; so I will pause here with a simple thought of how he continues, as ever, to make me smile – I smile in memory of his presence, bright with great humor and enthusiasm, kindness and warm practicality; I smile in awe of his overflowing generosity, in wonder at his brilliance, spontaneity and musical luminosity; and I smile still in amazement, to try and count the millions of magical ways he's shaped our lives – just one of which was his infinite commitment to and truly abundant love for his students. I am indebted to Gary for everything he was and everything he illuminated for me at UCLA and beyond. He remains one of the most influential, beloved people in my life, and I know I am not alone in saying that I think of him always with the deepest gratitude and the utmost love and joy.
Gary Bovyer, Principal Clarinet, Long Beach Symphony & Hollywood Bowl Orchestra; Clarinet Faculty, Pomona College:
Gary was my teacher, my colleague, my mentor and friend. Gary was an excellent teacher. I came out of every lesson feeling challenged but also with the confidence that if I really focused and applied myself fully I could achieve what it was he'd given me in the lesson. He was extremely demanding but always positive and encouraging. He not only taught clarinet but also what it is to be a great teacher. Gary was always a gentleman at work and appreciated his colleagues for their musical gifts but also their humor. He was a great audience for raunchy orchestra humor. But he had an incredibly sharp, quick wit, usually delivered in quiet asides. If a conductor was asking us to repeat a difficult passage multiple times, I would hear him remark, "Keep doing it until we get it wrong, huh?" When decent synthetic reeds came on the scene I brought a bass clarinet reed in to work. I said: "Hey Gary, check this out," and played it for him. He remarked; "Wow! Sounds pretty good! What's it supposed to be?" A vintage Gary quip. I put the reed away.
Virginia Figuereido, Freelance Los Angeles-area Clarinetist and Educator:
During my doctoral studies at UCLA. I had the great privilege of studying under Gary Gray. One of the things that impressed me the most while working with him was how he would always "go the extra mile" for all of his students. We all knew that he was an incredibly busy person, with his full time teaching duties at UCLA and his thriving performing career in Los Angeles. Nevertheless, he always took the time to help his students however he could. Gary would often bring his students to his concerts. One event that comes to mind was a concert in Los Angeles that he invited me to come see and meet some of his colleagues. Upon arrival, everyone, colleagues and listeners alike, knew Gary and could not wait to shake his hand or give him a hug. That's how I remember Gary, as the artist that everyone always looked forward to seeing perform or as a colleague. Gary was well respected and beloved by the entire music community in Los Angeles, and will always be remembered by his artistry, generosity and friendship.
Jim Kanter, longtime Principal Clarinet, Pacific Symphony Orchestra and Los Angeles film studios solo clarinetist (retired):
Gary was a highly respected colleague of mine for nearly 40 years, mostly working together on TV and motion picture scores. His artistry was sublime, elegant and always flawless. He was also one of the best touts for restaurants and neuromuscular massage therapists. I could always count on Gary. He was passionate about his teaching at UCLA and took great satisfaction in the success many of his students have had as performers. It was evident he took the teaching very seriously, bringing the same level of integrity that was evident in his performances. It was an honor to work with him and count him as a friend. He is sorely missed. He leaves a wonderful legacy with his solo recordings, TV and motion picture score participation and his students.
KT Somero, Librarian, Los Angeles Philharmonic:
It's certain I'm not alone in saying that Gary Gray was my mentor and friend, at a formative age when I really needed both of those things. At UCLA, he taught me about the clarinet and bass clarinet, the joy of chamber music, and how to shape a beautiful musical phrase – like a vocalist. We shared a background in jazz and saxophone playing, and experience in the niche role of performance librarianship. The LACO and Pacific Serenades concerts Gary encouraged me to attend introduced me to masterworks and living composers. He helped me earn the opportunity to live in Chicago and study with the amazing John Bruce Yeh. Moreover, Gary trained me to be a decent human being –the kind of colleague future colleagues would want to call back. What a guy! Wish I could tell him, one more time: Thank you for everything, G.G.G. May your legacy live on in your students, family and friends.
Daniel Dorff, Composer and Vice President of Publishing, Theodore Presser Company:
Although I only knew Gary for two summers at Aspen, he was responsible for some of the most important developments as I grew from a curious teenager into a dedicated composer in the summers following 11th and 12th grade. I went to Aspen for composing, and double-majored in classical saxophone. The clarinetists called him Mr. Gray, and the saxophonists called him Gary. Aside from training me technically, Gary knew where I really needed to learn. When the chamber orchestra asked him to play alto sax in the Martin cello concerto, Gary sent me instead. I'd never played in a highly professional orchestra, or with such messy parts, fast changing meters, or under a conductor as hard to follow as Maestro Mester. After the first rehearsal, Gary received a phone call to send someone else who was ready for this level of professionalism; Gary said he's not replacing me, and that I'd be up to speed for the next rehearsal. We worked, I learned, Gary taught me how to quickly rise to the occasion, and 50 years later that lesson remains fresh.
Bil Jackson, former Professor of Clarinet, Vanderbilt University; former Principal Clarinet, Colorado Symphony; 35-year artist-in-residence faculty, Aspen Music Festival:
I first met Gary as a sax jazz fellowship student at the Aspen Music Festival in 1977. Whatever success I had in my career I largely owe to my background in jazz and I will be eternally grateful to Gary for giving me this incredible opportunity. I remember him as being such a naturally gifted musician. Gary was able to speak different musical languages with effortless fluency. It was only later on that I learned what a significant presence Gary had in the L.A. studio scene – and later on as the distinguished principal clarinetist of the Los Angeles Chamber Orchestra. His is an exemplary musical legacy.
Daniel Won, Freelance Chicago-area Clarinetist and Educator:
I studied with Professor Gary Gray, a true role model and mentor, as an undergraduate at UCLA. I admired his extraordinary musicianship, gentle nature, love for all types of music, unparalleled care for his students, and that he was always performing. Gary would take his students to concerts and backstage to meet world-class artists. I'll never forget meeting Eddie Daniels, my idol, for the first time after his Five Seasons concert. Gary, Eddie and I talked shop backstage about old mouthpieces, barrels and double-lip embouchure – a young budding clarinetist's dream. For graduate school, Gary suggested I study with his former student, John Yeh, of the Chicago Symphony. Not thinking twice, I went to Chicago, and have stayed for nearly two decades as a professional clarinetist. I will forever be indebted to Gary for his significant role in shaping my musical identity and career.
Eddie Daniels, Jazz Clarinetist:
I know that if Gary were here now, and maybe he is, he would be embarrassed about all the things said about him. That shyness was one of his most endearing traits. He never in my time with him bragged or attempted to inflate himself … When I heard him play a tenor sax solo on something he did with Juliette, I was shocked and excited … he had the sound, the feel, the groove of a "funky jazz tenor player." Most refined classical clarinet players, even the most wonderful ones have trouble having the kind of flexibility to do that. I mentioned how great he sounded and he said something like, "Oh well … I tried." So, I could say a lot of things about Gary … a great friend, he would go out of his way for you without being asked. One time a few years ago, I had a gig at Vitello's, and on his own he had signs about the performance printed up and went around town placing them in music stores … wow … he didn't even tell me directly that he did that!! So much to say … I wonder if he will be reborn a roaring, funky, burning killer tenor player … I can hear him laughing right now!
Love to you Gary!
Dave Koz, Grammy-Nominated and Platinum Bestselling Jazz Saxophonist:
Gary was of course a legendary, world-class clarinetist … but sometimes that genius overshadowed his equal genius on the alto saxophone. He had one of the most beautiful, velvety rich sounds on the alto … and played the instrument in such a unique way. So delicately, but with an incredible power behind the sound. I was always mesmerized anytime I had the opportunity to hear him.
I learned volumes from Gary over the many years of being his student at UCLA. But the biggest takeaways were not necessarily in how to play. His gift as an instructor was to teach his students how to "be"… how to listen to others, how to be present in any musical situation, and perhaps most importantly, how to be a professional. Unlike so many career professors, here was a guy who was actually doing the work as a first call studio musician. Having that kind of expertise and experience in the classroom was beyond rare, and so very special.
Gary was a kind and gifted man with an outsized presence at a very important crossroads in my life. I will never forget him, nor the huge gift he selflessly gave me with his endless encouragement, inspiration and warm friendship.
Juliette Gray:
Gary was my husband for 39 years. He was the kindest, most loving, funny, generous person I have ever known. If you were to put us into a computer dating database there would have been no chance we would have been a match. Me Jewish from London, he a WASP from Indiana.
I learned a lot from him about music and life. He did not love everything he had to play. The music we both loved was the romantic, impressionist repertoire and jazz – especially the Great American Songbook. We collaborated on a few songs together – me on spoken word and him on tenor sax for his retirement concert from UCLA – it was a labor of love and I commissioned Bryan Pezzone to write a new piece dedicated to Gary called Fantasie de la Mer, for clarinet, French horn, violin and piano. The piece has already been performed again several times and is available to be played more by others. The rest of the concert was culmination of his favorite types of music – classical, jazz and film music and is now a CD called Jazzical Journeys (https://jazzicaljourneys.hearnow.com) He was thrilled to have carte blanche for this project with no interference from the usual powers in the studios, orchestras, etc. He told me when he was in hospice care that this was his favorite project together with his Grammy-nominated Copland concerto. His original performance of the Copland was in Aspen with Copland conducting. He was so proud of that. Gary leaves a wonderful legacy with his other recordings plus a legacy as a master teacher of generations of successful students.
We had an amazing memorial for Gary on April 3, 2022, which included wonderful music, even a clarinet choir playing Bach, and some wonderful testimonials from colleagues, students and friends. The memorial can be viewed at this link: https://vimeo.com/697526908.
I now have to learn to live without my best friend, confidante and lover, but the feeling of having loved and been loved in a true partnership and the strength he leaves behind will be with me for the rest of my life.
—————————————————————————————————————————
The Gary Gray Clarinet And Saxophone Scholarship Fund at UCLA was established in his memory: https://giving.ucla.edu/campaign/donate.aspx?fund=31624C. Donations of any size will make a difference to future generations of clarinet and saxophone players.