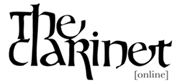 Originally published in The Clarinet 49/3 (June 2022).
Printed copies of The Clarinet are available for ICA members.
---
Audio Reviews
June 2022
I Got Rhythm. Julian Bliss Septet: Julian Bliss, clarinet; Neal Thornton, piano; Martin Shaw, trumpet; Colin Oxley, guitar; Tim Thornton, bass; Ed Richardson, drums; Lewis Wright, vibes. G. Gershwin and I. Gershwin: I Got Rhythm, S'Wonderful, Embraceable You, Strike Up the Band, Fascinating Rhythm, Soon; B. Goodman, J. Mundy and C. Christian: Airmail Special; B. Goodman: Slipped Disc; A. Hickman and H. Williams: Rose Room; G. Gershwin, B. DeSylva and B. MacDonald: Somebody Loves Me; C. Christian: A Smooth One; L. Prima: Sing, Sing, Sing. Signum Classics, SIGCD651. Total Time: 40:05.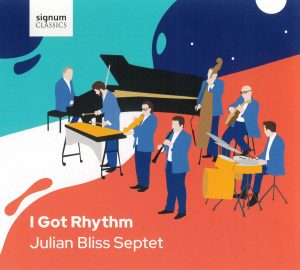 I usually am not very excited to listen to "tribute albums," especially when the musicians attempt to replicate the actual solo lines or improvisational notes of the previously recorded idols. But, if a noble goal of jazz is to create new life in standard tunes through innovative, fresh arrangements and personalized improvised choruses, then the results can be exciting, pay tribute to and even stand beside the efforts of the great performers of the past. This is exactly what you will find on this inspiring disc.
Recorded and produced in Great Britain, this is the second CD of the Julian Bliss Septet. The result of a decade of performing on tour, this is simply a collection of, according to the liner notes, "some of our favourite tunes to play
and listen to." It honors the classic songs of the Gershwin brothers and the timeless tunes that are associated closely with Benny Goodman.
The disc starts with four immediately recognizable tracks by George and Ira Gershwin: I Got Rhythm, S'Wonderful, Embraceable You and Strike Up the Band. From the fiery first number, the prodigious talents of Julian Bliss and this wonderful ensemble are on full display – song arrangements that work well, rock-solid time, an infectious rhythmic confidence from each member that drives the group, brilliant improvisation all around (here in the clarinet, vibraphone, trumpet and drums), Bliss's gorgeous classical sound and an ensemble surety that is only attained through years of working together. These traits are a constant on each of the 12 tracks.
Of the Gershwin tunes included here, Embraceable You stands out for its ethereal treatment. The longest track on the disc (at 5:40), we just don't want it to end. It is cloyingly slow, but full of understated emotion and genuine beauty. The intonation is perfect. The rich tone of the clarinet is supported fully by the vibraphone with the motors on their slowest speed. Nothing is rushed, and gradually the soul of the tune is revealed in all its glory.
Benny Goodman was known for his strict adherence to his very personal intuition of the right tempo for each tune. He would have loved Rose Room, which hits and holds the groove from bar one. Likewise, Soon by the Gershwins is simply such a beautiful tune that it deserves to be played more often. Apart from a too-close miking of the clarinet (Bliss's gorgeous tone doesn't need any help in sounding great!), Soon is an open invitation for us to explore Goodman's entire recording catalog, especially the lesser-known tunes.
The way to excel as a jazz soloist is to surround yourself with the finest musicians you can find and then just get out of their way. Bliss has done just that. He assembled (in 2010) the best jazz musicians London could offer. His ensemble is comprised of truly exceptional artists in their own right; especially good are Lewis Wright (vibes) and Tim Thornton (bass). I do wish that the mixing was a bit more even: The piano and guitar are often lost in the ensemble, and Martin Shaw's fine trumpet playing is too often overshadowed or hidden in the background behind a mute. However, the exceptionally versatile and musical playing of Bliss's clarinet carries the day on every track, and the septet never fails to swing hard. I can understand how this ensemble has met with such resounding success in live performances. The excitement easily carries over on to this disc.
My other wish is that the tunes were longer. For a disc total of about 40 minutes, only two selections are longer than 4 minutes (two others are less than 3 minutes). I dearly wanted to hear extended solos and have the group really stretch out. With a full set of liner notes on the history of the group, songs and full bios of these talented players, this attractive disc is a must have for any jazz clarinetist or jazz consumer. Give it a try – you will not be disappointed.
– Jerry E. Rife
---
XX Century Music for Solo Clarinet. Luca Luciano, clarinet. O. Lacerda: Melodia; I. Stravinsky: Three Pieces for Solo Clarinet; O. Messiaen: "Abîme des Oiseaux" from Quartet for the End of Time; J. Cage: Sonata for Clarinet; C. Santoro: Fantasia sul América; M. Arnold: Fantasy; L. Berio: Sequenza IXa, Lied per clarinetto solo; R. Miranda: Ludica I; G. Gershwin/arr. L. Luciano: Summertime. NovAntiqua Records, NA56. Total Time: 48:24.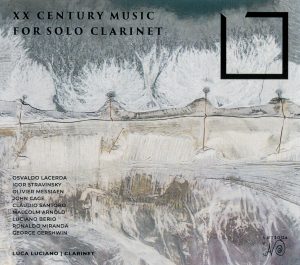 This disc is a collection of both standard works from the contemporary solo clarinet repertoire and several lesser-known works of excellent merit. The standout performances of this album are Luciano's interpretation of Sequenza IXa, which is quite well done and captures Berio's fragmented style with ease, and the performer's own arrangement of Summertime by Gershwin. The latter in particular is a brilliant rendition of the standard tune that showcases the technical capabilities of the clarinet and Luciano's versatility and flexibility.
Melodia by Osvaldo Lacerda is a perfect opening to this album. The language is melodic and approachable, and the deft changes of phrase are handled beautifully by Luciano.
A standard in our contemporary repertoire, Three Pieces for Solo Clarinet by Stravinsky has been recorded many times, yet Luciano has found something new to say in his version. The first movement has an angular take in his approach at times, which he uses to bring dramatic contrast between phrases. The second movement has a breathless quality but is still brilliant and his technical prowess is clearly evident. In the third movement Luciano highlights the jazz elements, which serves to end the piece in a delightfully playful way.
"Abîme des Oiseaux" from Messiaen's Quartet for the End of Time is another masterpiece from the contemporary clarinet literature and Luciano's interpretation is bold and unique. Luciano takes considerable liberties with tempo, articulation, dynamics and rhythm, but not without musical justification. He has a clear expressive arc and his choices reflect that. There is something to be said for having the artistic courage to diverge from a traditional interpretation.
John Cage's Sonata for Clarinet is a highlight of the album. Luciano captures the short melodic phrases and quick changes of style exceptionally well and his control of a wide variety of articulations in the first movement showcases that mastery. The second movement is a calm interlude, and the third movement is again captured impeccably by Luciano with a seemingly effortless command of style and technique.
A piece that is new to me, Fantasia sul América by Cláudio Santoro is an interesting collection of colors and musical textures. It would be a good addition to any recital to feature the tonal flexibility and range of the clarinet.
Malcolm Arnold's Fantasy is well-known and Luciano's version is aligned with his approach to the other standard pieces. He pushes the dynamics and gestures to the extreme to make a presentation that is widely varied and keeps the listener engaged.
Sequenza IXa is one of our most substantial contemporary works and I think this language is well suited to Luciano's approach to the literature. The piece itself is organized in short thematic fragments that grow and expand, and he captures this exceedingly well. Luciano's command of dynamics is admirable and his rhythmic integrity is sure. He has total control of the multiphonics which shine in particular here. For me this is an excellent performance and a standout on the album.
Miranda's Ludica I is a study in rhythmic modulation and Luciano uses that style to lend a jazz feel to sections of the piece, which provides sharp contrast to the lyrical middle section. I think the contrast works well and is very effective.
Lied per clarinetto solo, also by Berio, is a piece of wide and varied colors and timbres that Luciano captures expertly while pushing the boundaries of what is possible on the clarinet. The result is a concept of the piece that is interesting, vibrant and captures the energy of a live performance.
The final offering of the album is Luciano's own arrangement of Summertime by George Gershwin. This version is a brilliant rendition of the standard tune that has heavily coupled contemporary clarinet technique and jazz style with the extreme virtuosity of the clarinet. I don't believe that the piece is available for purchase, but I hope that Luciano will consider publishing his version because it would be a delightful ending to any program.
– Spencer Prewitt
---
New American Masters Volume 7: Songs & Stories. Palisades Virtuosi: Margaret Swinchoski, flute; Donald Mokrynski, clarinet; Ron Levy, piano; with guest artists Barbara Dever, mezzo-soprano; Frank Basile, narrator and baritone; Timothy Maureen Cole, soprano; Marisol Espada, cello; John Ostendorf, narrator. M. A. Sedek: Portraits of Van Gogh; T. Juneau: Songs from the Laurel Tree; J. Kaufman: Paterson; R. Stubblefield: Fire Diamond; R. Levy: El Dorado; S. Barab: The Sea Princess; K. Turner: Vathek Revisited. 4Tay Inc., CD4060. Total Time: 77:33 (disc 1) 73:40 (disc 2).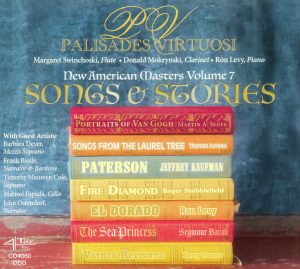 This newest volume of the Palisades Virtuosi chamber ensemble's New American Masters series is the result of the incredible work that flutist Margaret Swinchoski, clarinetist Donald Mokrynski and pianist Ron Levy have undertaken to commission nearly 100 new trio works since the creation of the ensemble in 2002. Born out of a need for new music and a passion for creating a body of new repertoire, their "Mission to Commission"® has led to an impressive seven volumes of world premiere recordings of newly-commissioned works. The title of this 150-minute, two-CD set, Songs & Stories, succinctly sums up its musical contents: commissioned works for flute, clarinet and piano – and several special guests – that have storytelling as their common thread. The diversity of the unique voices of the composers creates a delightful listening experience that one might not expect at first blush.
Portraits of Van Gogh (2010) for flute/alto flute, clarinet/bass clarinet, piano and narrator by Polish-American composer Martin A. Sedek weaves together the story of Van Gogh's life. It depicts the juxtaposition of tragedy and vivid beauty that he longed to see in himself and the world. Each movement centers around one of Van Gogh's paintings. "The Potato Eaters" begins with a haunting melody in the bass clarinet as narrator John Ostendorf introduces Van Gogh and foreshadows his fraught life. The most compelling element of "Potato Eaters" is the rich tonal tapestry created by the alto flute and bass clarinet which meld together beautifully. "Starry Night" is captivating with its contrasting sections of floating melodies that are contradicted by pointed articulated passages and key clicks. The music itself becomes a narration of sorts where we can clearly hear the disassociation of a calm starry night and the tumult perhaps felt by Van Gogh.
Thomas Juneau's Songs from the Laurel Tree (2017) is a cycle of five songs each set to poetry for flute, clarinet/bass clarinet and piano commissioned by mezzo-soprano Barbara Dever. Each movement follows the Greek myth of Daphne through, according to the liner notes, "emotional stages beginning with frustration that she has been forced to become a tree for all eternity through flirtation, acceptance, and culminates in her apotheosis." Throughout, Dever's tonal expression is further enhanced by Swinchoski and Mokrynski's sensitive dynamics and precise intonation which create beginnings and endings that merge imperceptibly into one another and highlight the consonances and colorful contrasts in mood. The dreamlike quality created by the serene voices of the clarinet, flute and the bubbling piano in the last movement, "Daphne Wakes – Apotheosis," are distinctly evocative of Margaret Kaufman's poetry.
Premiered at Lambert Castle in the city after which the piece is named, Jeffrey Kaufman's Paterson (2018) for flute/piccolo, clarinet/bass clarinet, cello, piano and narrator is inspired by the poetry of William Carlos Williams. Paterson depicts "the city as a man, a man lying on his side peopling the place with his thoughts," according to the liner notes. Williams's poetry, eloquently realized by Frank Basile, begins in a meditative manner. Mokrynski demonstrates a silky tone especially in the softer dynamic ranges. The legato playing of the clarinet, flute and cello is superb. Sections of warmth and sensitivity give way to more bombastic dissonances where sounds compiled by the composer mimicking rhythmic factory machines, a waterfall and a glass harmonica add an underpinning to the programmatic charm of the piece. Throughout, the ensemble is uniformly excellent, and the piano playing is always balanced and supportive.
Disc one's final piece, Fire Diamond (2016) for flute, clarinet, and piano by Roger Stubblefield, is the only piece that has no words, spoken or sung. It is a tone poem that sonically illuminates a story written by the composer in which a seeker pursues a legendary Fire Diamond that resides at the summit of the Chomolungma Mountain in Tibet. Of particular interest is the pointillistic section toward the end of the piece. Sparkling and light arpeggios in the flute blend playfully with articulated passages in the clarinet to create a shimmering texture where one can feel the excitement of the seeker as the diamond begins to reflect the sunlight.
Ron Levy's El Dorado was originally composed in 2003 and arranged specifically for the Palisades Virtuosi in 2019 for flute, bass clarinet, piano and baritone. Levy was fascinated by mythology devoted to a monomaniacal search for something, and thus based his piece around the dissonant tritone to capture Edgar Allen Poe's melancholy and bitter poem. The pulsing ostinatos in the bass clarinet and piano punctuated by flute flutter-tongue suggest the ill fate for those who seek to quench a Faustian thirst.
The Sea Princess is a striking departure to a whimsical aesthetic fit for the Broadway stage. Seymour Barab's 50-minute piece is a retelling of Hans Christian Anderson's 1837 tale "The Little Mermaid." It was commissioned for the Palisades Virtuosi and Sesame Street's Bob McGrath in 2005, but ultimately ended up going in an entirely different direction, with soprano Timothy Maureen Cole both narrating and singing this tour de force mini-opera. Indeed, Cole is truly spectacular in giving a voice to an entire cast of characters. In all ways, The Sea Princess feels quite grand and gives the illusion of much greater forces, an amazing feat for four musicians. The balance throughout is first rate – the storytelling happens in each instrument and creates a tapestry unique to this ensemble. Swinchoski, Mokrynski and Levy perform this work with lyricism, intensity and total control while never overtaking the theatrical delivery of Cole's words. Aside from its somber, albeit serene, ending, this is a feel-good piece of the highest quality.
Connected thematically to the first two pieces on this disc, the last piece on Songs & Stories explores both the desire for power and the supernatural. Kerry Turner's Vathek Revisited evokes the Gothic novel Vathek by William Beckford. Not meant to be a literal rendition, Turner's Vathek Revisited is a musical impression with readings from the novel to enhance each movement. The opening movement, Andante, quotes the 16th century harem song Neva pesrev fate. In this theme, short bursts of flutter-tongue in the flute that interject otherwise unison melodic lines conjure this Turkish song and effectively set the scene, not unlike the opening credits of a film. The piece also employs the use of slap tonguing to emulate regional instruments of the Middle East. The contemplative soliloquy in Moderato is beautifully florid; each performer's expression captures the introspective and sad nature of its content. This is a compelling and effective performance of a fascinating work.
New American Masters: Songs & Stories is attractively produced and well recorded. Liner notes are extensive, and given the programmatic nature of the works, the website www.palisadesvirtuosi.org is included for further information and links to poems and the story behind Fire Diamond. The passion that the members of the Palisades Virtuosi have for their commissions is palpable in this CD set which will surely enrich any musical library and provide inspiration to those seeking to diversify their own programs.
– Anna Roach
---
Transit Voices. Rane Moore, clarinet; Timothy Phillips, clarinet; Sharan Leventhal, violin; Jonathan Miller, cello; Laura Usiskin, cello; Randall Hodgkinson, piano; Jeremy Samolesky, piano. C. Vollrath: Merging Memories; Testament II; The Unknown Harbinger; Trio for Violin, Clarinet and Piano; Pollock's Pictures; Testament I, Clarinet Sonata No. 4; Clarinet Sonata No. 5; Bela's Bash; Farewell to a Virgin. Navona Records, NV6332. Total Time: 75:40 (disc 1) 54:09 (disc 2).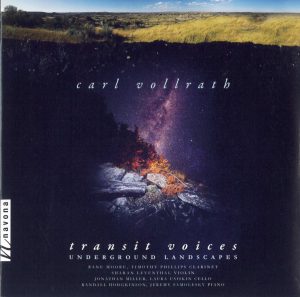 American composer Carl Vollrath's music for clarinet is featured on the album Transit Voices. Originally born in New York City, Vollrath studied composition with Ernst von Dohnanyi and John Boda before joining the music faculty at Troy University in 1965, where he taught until 2005. Of the 10 compositions featured on this two-disc recording, Rane Moore is featured on eight and Timothy Phillips on the remaining two, in addition to an assortment of pianists and string musicians. Moore is a regular in the American East Coast's contemporary music scene where she plays with The City of Tomorrow, Callithumpian Consort and Sound Icon. Timothy Phillips is professor of clarinet at Troy University and is known widely for creating and hosting "Clarinet Corner" on Troy Public Radio WTSU.
In her performance of Merging Memories for clarinet and piano, the first composition on this recording, Moore demonstrates a lush and warm tonal quality that matches the brooding nature of Vollrath's writing. Moore's playing features great fire and intensity at the appropriate moments. Her use of vibrato, whether prescribed by Vollrath or Moore's interpretative decision, adds another layer to the heated climax of the piece.
Phillips does an excellent job of navigating Testament II, Vollrath's trio for clarinet, cello and piano, exquisitely matching articulation and timbre with cellist Jeremy Samolesky. Their shared passages conjure the image of a hybrid wind-string instrument with both voices moving in incredible synchronization with each other. Their performance of The Unknown Harbinger juxtaposes brooding lyricism against infectious grooves, giving all performers a chance to let their virtuosity shine.
In Vollrath's Trio for Violin, Clarinet and Piano, Moore, Leventhal and pianist Randall Hodgkinson weave in and out of each other's lines, with Moore's clarity of articulation shining in the first movement, "Moonlit Shadows." Moore produces an especially rich and resonant sound in this piece that enhances the natural resonance of Leventhal's violin. I especially appreciated Moore's sensitivity in the third movement, titled "Scherzare," where her contrapuntal imitation of Leventhal in the beginning comes across with complete ease.
Pollock's Pictures is notably difficult due to the complex interactions between clarinet and cello. Moore demonstrates delightfully precise and rapid articulation in the first movement, perfectly imitating the rapid bow strokes of the cello without ever sounding labored or mechanical. The second movement, "Convergence," features excellent intonation and coordination between Moore and Miller, generating a sound world reminiscent of something between Igor Stravinsky and Francis Poulenc. "Cathedral," the third movement, marks one of the more tonal selections on this recording and gives Moore and Miller more opportunity to engage with each other in a compelling back-and-forth, with each musician's turn of phrase inspiring the other.
The second disc begins with Testament I, another trio for clarinet, cello and piano. The rustic nature of Moore's dance-like melodies and Miller's simple pizzicato bass line conjures images of folk music. In her few solo moments in this trio, Moore plays with such seamless legato that one can forget that the clarinet is a wind instrument due to the vocal nature of Moore's playing.
Vollrath's Clarinet Sonata No. 4 is the most conducive piece on this recording for Moore to demonstrate her facile technique; every movement features some harrowing passage which Moore navigates with impressive ease. On a recording full of Vollrath's music, this piece stands out due to the wide range of atmospheres captured in its four movements, ranging from Romantic lullabies to jazz influences and scherzo-like settings that seem more aggressive than joking. The liquid nature of Moore's tonal quality stands out in the second movement of this sonata in particular, perfectly exemplifying the nature of the "Dreamily" movement.
The Clarinet Sonata No. 5 begins with an extended portion for unaccompanied clarinet, which Moore manages to interpret in an impressive manner: always sounding planned and intentional, never wandering or bogged down. Moore draws on a different tonal quality in this piece than the previous selections, yielding something more penetrating and direct at various points of emotional intensity. In the second movement, Moore tosses off articulation of wide, disjunct melodic writing with admirable precision and bounce.
The final two pieces on this recording, Bela's Bash for violin, clarinet and piano and Farewell to a Virgin for clarinet and piano, bring the recording to a satisfying conclusion. Bela's Bash is an infectious folk-inspired romp that seems to fuse Béla Bartók's Contrasts with an American barn dance. Farewell to a Virgin for clarinet and piano is a true tour de force for tonal control and expression, with Moore rising to that challenge and clearing the bar.
Transit Voices is an outstanding addition to the field of clarinet recordings, featuring a wide variety of instrumental combinations as an in-depth look into Vollrath's writing. Moore and Phillips both demonstrate some of the best characteristics of our instrument and imbue every piece with the requisite spirit for an exciting performance. For the greatest listening experience, I certainly recommend consuming this recording a piece or two at a time to allow ample time to process and enjoy the nuance of each of Vollrath's contributions to our repertoire.
– David Cook
---
Voyage: Clarinet and Piano Around the World. Eleanor Weingartner, clarinet; Alfredo Isaac Aguilar, piano. L. Cahuzac: Cantilène; B. Kovács: After You, Mr. Gershwin!; R. Kókai: Four Hungarian Dances; W. Lutosławski: Dance Preludes; G. Jacob: Sonatina for Viola or Clarinet and Piano; F. Schubert/arr. C. Baermann: Gretchen am Spinnrade, Lob der Tränen, Wohin?.Urtext Digital Classics, JBCC315. Total Time: 53:48.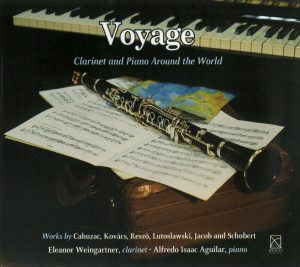 Voyage, featuring Eleanor Weingartner, clarinet, and Alfredo Isaac Aguilar, piano, is a delightful journey through a variety of musical styles from Europe and North America. Most notably, this album features musical nuance
and finesse within the many stylistic changes as well as exquisite phrasing and ensemble performance.
The album opens in the South of France with a charming piece by Louis Cahuzac, Cantilène. Weingartner's focused tone, particularly in the throat tones, is immediately captivating. All the while, the agility and effortlessness of her technique lends itself to the style of this piece. Accentuated by Aguilar's light touch and musicality in the bass line, one might imagine rays of sunshine on an ideal summer day.
While this album is a voyage through musical styles, it also is an exploration of time. Written by Hungarian clarinetist Béla Kovács, After You, Mr. Gershwin! whisks the listener into 1920s America. Weingartner and Aguilar's connection is particularly noticeable in this piece with each piano chord landing exactly where it should within the swirling clarinet technique. Most impressively, Weingartner keeps her warm, singing sound while regaling us with flutter tonguing, accents and glissandos that give this piece its signature jazzy style.
The most effective pieces on an already masterful album are the collection of dances by Kókai and Lutosławski. Kókai's Four Hungarian Dances is written in the style of four Hungarian folk dances, each stylistically different and demanding. Weingartner's flexibility in extreme range, unusually accented passages, and vibrato combine with the unwavering cleanliness of Aguilar's technical prowess and detailed musical phrasing to make their rendition highly emotional and engaging for the listener. Lutosławski's Dance Preludes contains similarly challenging stylistic changes. This piece requires crisp, light staccatos, warm lyricism and impeccably clean technique; both performers bring mastery to this performance. However, the ensemble is what makes this recording so compelling. Dovetailing lines, expertly matched articulations and thoughtful balance between the two performers make this piece even more captivating.
Gordon Jacob's Sonatina for Viola or Clarinet and Piano is performed with musicality that shifts seamlessly between amusing, whimsical passages and enchanting lyricism. Just as with the other selections on Voyage, the duo's ensemble is magnificent, elevating the piece's vibrancy. Weingartner's timbre and long lyrical lines make the second movement particularly touching. Each entrance in the clarinet is carefully and effectively executed, but most satisfyingly, the long phrases are carried through all the way to the end with unwavering deliberateness.
The album is wrapped up with Carl Baermann's arrangements of three Schubert songs. This seems to be the perfect way to close an album with such a diversity of style. In these pieces, it becomes apparent that in any style from any period, Weingartner and Aguilar perform with elegant musicality and ensemble. The singing quality of Weingartner's phrases and her flexibility in range and dynamics make for a passionate performance. Throughout Voyage, the musicians bring their very best to each piece. The programming of the music will keep listeners engaged from beginning to end. The duo commits to each style, bringing energy to an already exhilarating program. I highly recommend giving Voyage a listen!
– Sarah Manasreh
---
Clarinet Beyond Borders. Stephan Vermeersch, clarinets. H. Pousseur: Madrigal I, Stèle à la mémoire de Pierre Froidebise, Hermes I; S. Vermeersch: Hommage à Louis Sclavis; V. Runchak: Homo Ludens I, v.runchak.eb_clari@net; V. Dinescu: Satya IV, Lichtwellen, Reversing Fields, Clariwehlinos; S. Azarova: Trojaborg, Outvoice, Outstep & Outwalk; T. Olah: Sonata. Digital Release. Total Time: 72:00.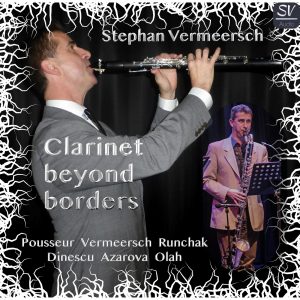 It is an ambitious project to curate a CD of solo clarinet works as it runs the risk of sounding repetitive, but Stephan Vermeersch utilizes clarinets big and small and expands the musical vocabulary with experimental sounds, amplification of percussive effects, singing and other extended techniques in ways that feel like a sound safari, living up to its name, Clarinet Beyond Borders. The length and breadth of the album is extensive, but the musicality, theatrics and sheer expression are undeniable. The program notes add to the experience and house valuable information, but the formatting is a little unclear in the PDF. Six composers are featured on this album including the soloist Stephan Vermeersch, with his Hommage à Louis Sclavis, and significant contributions by Henri Pousseur and Violeta Dinescu who both deserve more recognition in the established repertoire.
Violeta Dinescu's contributions are virtuosic works in the scope of responsibility given to the performer. Clariwehlinos, a sonic journey reflecting the many potentialities of sound within the clarinet, retains a meditative quality even as bursts of energy explode and recede with liveliness and verve. Vermeersch shows great control of the clarinet and is unafraid to explore sonic possibilities within the tone. This dedication to exploring the beyond of sound creates an inspiring blend of grunge and soulful singing interspersed with bouts of technical fluency. Lichtwellen for bass clarinet gets a little lost in the wealth of new sounds surrounding it, but Reversing Fields and Satya IV are successful in evoking otherworldly instruments using only the B-flat clarinet as a palette with a distinct flair of folk.
Henri Pousseur is of the Darmstadt School and his works show a determination to cross-pollinate inspirations in surprising ways. Hermes I testifies to the diverse nature of the recording and Vermeersch manages to retain a folk-like simplicity with well-integrated effects such as slap tongue and flutter tongue without distorting a wistful nature in the sound. Madrigal I resembles a stream-of-consciousness clarinet monologue, and Stèle à la mémoire de Pierre Froidebise for bass clarinet is a delightful romp of flexibility that is playful and charming while slightly haunted, like an abandoned carousel.
Stephan Vermeersch's Hommage à Louis Sclavis is perhaps the most striking performance of the recording. It sounds like an entirely different instrument with a playful percussive nature and wanders through singing and playing and back again, alternating improvisatory melodies with rapid-fire technique on the bass clarinet, even including one section that evokes a didgeridoo.
Vermeersch creates a sense of urgency in Volodymyr Runchak's Homo Ludens I with Morse code articulation patterns across all the registers and beautifully plaintive phrases made striking with vibrato and singing while playing. While some of the technical experimentation is not beautiful in a classical sense, it is always striking and communicative on a new level, driving music to a more comprehensive level of self-expression. The only piece for EÌ clarinet, v.runchak.eb_clari@net is appropriately wild and exciting, showing excellent control of the altissimo and effective new techniques.
Vermeersch's flexibility and prowess on all of the clarinets is laudable; other highlights include his human growls on Svitlana Azarova's Outvoice, Outstep and Outwalk for bass clarinet and an equally creative use of sounds with a hint of jazz in Trojaborg. In addition, Vermeersch navigates Tiberiu Olah's Sonata and its world of experimental sounds and musical form with tightrope precision in a way that is expertly performed and somehow finishes full circle with a sense of plenitude and rightness, despite what seemed like unrelated detours without the full context.
– Andrea Vos-Rochefort