ICA Welcomes New Staff
The ICA welcomes Sarah Manasreh as editor of The Clarinet [Online] and Karl Kolbeck as audio reviews editor for The Clarinet.
Sarah Manasreh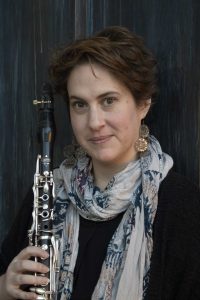 Sarah Manasreh is assistant professor of clarinet and music theory at the University of Wisconsin – Stevens Point and principal clarinet of the La Crosse Symphony Orchestra. As a solo performer, she often pushes the boundaries of traditional clarinet performance – engaging in commissions, premieres and unusual programs – most notably as the founder of The Big Black Blotch: New Music Project which connects emerging composers with professional performers. Sarah is an active member of the ICA; in addition to her ICA duties, she has formed several student-led groups at UWSP that promote wellness and equity in music. Specifically, she established the Student Coalition for Equity in Music which engages students in discussion and sparks action for diversity, equity and inclusion in music. She received her D.M.A. from Michigan State under the tutelage of Elsa Ludewig-Verdehr, M.M. from the Royal Northern College of Music and B.M. from Florida State University.
---
Karl Kolbeck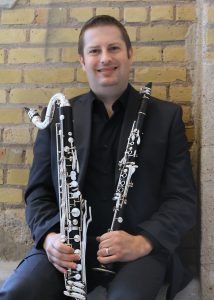 Karl Kolbeck serves as professor of woodwinds at Wayne State College in Nebraska where he teaches applied clarinet, saxophone, double reeds and related courses. He holds degrees from Adams State College, the University of New Mexico and Texas Tech University. His primary teachers include Barry McGinnis, Keith Lemmons, David Shea and David Dees.
Kolbeck has performed with numerous orchestras and other ensembles throughout Nebraska, Iowa, Texas, New Mexico, Colorado and Arizona. He currently performs with the Sioux City Municipal Band, Crazy 8 Brass Band, Clarinet Spectrum and Northeast Area Jazz Ensemble, and makes frequent appearances with the Sioux City Symphony Orchestra. As a founding member of the Black Box Trio and Trio Mezzklarno, Kolbeck is an advocate for the performance of new music and has been involved in several commissions and premieres. He has participated in recording projects for Summit Records and Naxos, and has performed at conferences hosted by the International Clarinet Association, North American Saxophone Alliance, National Association of College Wind and Percussion Instructors and College Music Society. Kolbeck is a D'Addario Woodwinds Performing Artist.
---