ICA Welcomes New Social Media Coordinator Jenny Maclay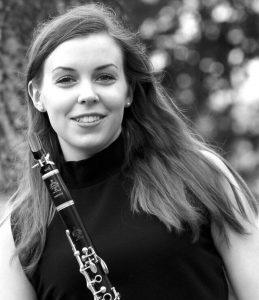 The ICA is excited to welcome Jenny Maclay as our new Social Media Coordinator! Jenny will be keeping us all connected on Instagram, Facebook and the ICA Blog. You can read more about her in her bio below, or on her website jennyclarinet.com. For inquiries about ICA social media accounts and blog, you can reach Jenny at [email protected].
Vandoren Regional Artist Jenny Maclay enjoys a diverse career as a clarinet soloist, recitalist, orchestral player, chamber musician, and blogger. Maclay was the recipient of the 2015-2016 Harriet Hale Woolley Award for musical study in Paris, where she received her Master of Musique, interprétation, et patrimoine at the Versailles Conservatoire in the class of Philippe Cuper. Currently, Maclay is pursuing her Doctorat en musique interprétation at the Université de Montréal, where she is a student of André Moisan. She has achieved several notable musical honors, including selection as a semi-finalist and finalist for such international competitions as Concert Artists Guild and Astral Artists. Recent honors include a recital at the 2019 ClarinetFest in Knoxville, Tennessee and receiving 1st prize at the 2017 Clé d'Or international music competition.  Additionally, she was the highest-ranked clarinetist at the 2016 Tunbridge Wells International Young Artist Competition in England.
Maclay has performed with orchestras throughout Europe and North America. In 2017, she toured with the Jeune Philharmonie franco-allemande et hongroise, an international orchestra comprised of musicians from over 20 different countries. During past seasons, she has performed with several orchestras, including the Ensemble Orchestral Les Voyages Extraordinaires, Écoute Ensemble de Musique Contemporaine, Orchestre d'Harmonie de Levallois, Florida Orchestra, Valdosta Symphony, Ocala Symphony, and the Gainesville Chamber Orchestra. As a chamber musician, Maclay has performed several masterworks in prestigious venues, such as her performance of the Mozart clarinet quintet at the pre-opening at La Seine Musicale in Paris.  Maclay received her Bachelor of Music Degree in Clarinet Performance at the University of Florida, where she graduated summa cum laude and was a Fulbright Scholar finalist. Her teachers include Philippe Cuper, Karl Leister, André Moisan, and Mitchell Estrin.
Maclay maintains a popular blog, Jenny Clarinet, where she regularly posts educational articles and advice for musicians. Her first book, an examination of unaccompanied clarinet repertoire, is currently in publication.  Maclay is a Vandoren Regional Artist and performs exclusively on Vandoren reeds, mouthpieces, and ligatures. She serves as the Social Media Coordinator for the ICA.
For more information, please visit www.jennyclarinet.com.