Originally published in The Clarinet 46/4 (September 2019). Printed copies of The Clarinet are available for ICA members.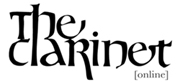 ---
Air Travel with a Bass Clarinet:
What Today's Bass Clarinetist Needs to Know
by Tod Kerstetter and Josh Ng
As the popularity of the bass clarinet continues to grow, more and more clarinetists will begin to experience the issues presented by air travel with this larger instrument. Although players of large instruments such as horn or trombone routinely face this issue, many soprano clarinetists have never had to deal with the anxiety of having to find a spot to stow a large case. On the other hand, many longtime bass clarinetists can give a litany of stories involving hassles with airline staff over not wanting to send their instruments into the checked luggage part of the plane. After presenting personal stories about traveling with bass clarinets to ClarinetFest® 2018 in Belgium, we will discuss current U.S. Department of Transportation policy and regulations of various non-U.S. carriers, with practical suggestions for clarinetists.
Tod Kerstetter: There was no one in line at the British Airways check-in desk at the Brussels Airport, so I knew things were likely too good to be true. The gate agent requested to take a look at my hand luggage, and after talking to her supervisor on the phone, simply declared that I would have to check my bass clarinet case rather than carry it on. The problem was that my Wiseman Model A bass clarinet case, which measures 34-by-8-by-8 inches, was slightly too long for British Airways' official specifications for hand luggage (31-by-11-by-10).
At the time, I was stunned. This case was specifically designed to fit in the overhead bin of every commercial plane I have ever flown, including the small Embraer 145 (Canadian regional jet) that is used to fly into my hometown airport in Manhattan, Kansas. But what popped into my mind was to try to suggest alternatives rather than simply pitching a huge tantrum. I first asked if I could "gate check" the case, but apparently that is just not a common alternative in Europe. I then requested to reclaim the bag at London Heathrow, knowing that I'd likely have a very good chance to get it on the huge Airbus A380 that would be flying me from London to Chicago. The agent surprisingly allowed this option, and here is where some luck came into my story: she then tagged my case as "fragile" and told me to take it to a different, special conveyor belt specifically for fragile cargo. I then walked away from the desk.
Somewhat in shock at this turn of events, I opened my case and added some T-shirts that I had in my other carry-on bag to cushion my instruments. In addition to my Buffet Prestige low-C bass, I was also carrying my Rossi B-flat clarinet. At this point, a simple and rather rebellious idea popped into my head. What if I simply removed the tag (well out of sight of the gate agent, of course!), and conveniently just walked it through security as I normally would? I figured that the worst-case scenario would be having to check it at the gate or from inside the plane. But I reckoned that my chances were pretty good – as an American Airlines credit card holder, I would likely get on the plane early enough to avoid problems.
As I had anticipated, I had no problem getting the case securely stored on the London to Chicago flight, nor on the Chicago to Manhattan, Kansas flight – a 50-seat Embraer ERJ-145, by far the smallest plane that I flew on the entire trip. In hindsight, it is not surprising that there was no problem getting the case through security and stowing it in the overhead bin on the Brussels to London plane. But my heart was racing the whole time, wondering what sort of repair bill I would rack up for my instruments.
Josh Ng: It was my turn to check in with Emirates at Adelaide Airport in Australia. My heart thumped as I slowly walked to the Emirates check-in desk. I was well aware that the Australian carry-on weight restrictions are 7 kg, and I knew for sure that my Buffet Prestige low-C bass clarinet in its Wiseman Model A case would exceed that limit, but since I was planning to play the bass clarinet at ClarinetFest® 2018, I decided to take the plunge. In order to shed the weight, I had left my B-flat clarinet home for this trip.
After checking in my suitcase, it was time to weigh my bass clarinet case. It weighed 9.2 kg. The flight agent then told me that my instrument had to be checked in due to being too heavy and big. I was immediately daunted by the prospect of my bass cracking in the unheated cargo bay due to the very cold temperatures at 35,000 feet. No way I was going to let that happen!
So I calmly told the flight agent that it was a fragile musical instrument and it would not be suitable to put in the cargo bay, but he was adamant that it needed to be checked in. He eventually called his supervisor who came to the scene. The supervisor tried to persuade me to check my instrument in, but I resisted. He then asked me a question I was uncomfortable to answer: what was the value of my bass clarinet? Seeing this as the only way out, I told him I got it for $10,000 AUD (at the time, approximately $7,450 USD, which was the price when I bought it secondhand.) Upon hearing this, the supervisor finally relented, but he told me if there was no space in the overheads, I would have to comply with the rules and check it in.
I went to the boarding gate as early as I could and managed to board the plane (a Boeing 777) early enough to secure a place for my bass in the overhead compartment above me. But what left me flabbergasted was that my case occupied only about 60 percent of the overhead space! It was mostly a weight issue. Still during the entire 22-hour, two-flight journey (Adelaide-Dubai, Dubai-Brussels), I was on the edge of my seat most of the time in case something happened – fortunately, nothing did.
This experience left me perplexed at how hard it is to fly with a bass clarinet under Australian/Emirates weight restrictions, not to mention adding a soprano instrument or two. Most bass clarinet cases, including BAM or Wiseman (other than the carbon fiber model), weigh around 4-5 kg, and adding the bass clarinet itself (3.5-3.8 kg) they are bound to exceed 7 kg! With so many obstacles faced by us bass clarinetists flying with our instruments, Tod and I decided to do a joint research project regarding this very issue.
What can damage your instrument?
The temperature of the cargo hold is often cited as a major reason for danger to wood instruments, because the temperature outside an airplane at cruising altitude is normally around -60º F (-51º C). However, this does not mean that the temperature of the cargo hold will drop even close to this number. Websites that discuss the transportation of wine by serious collectors cite the actual temperature of the average cargo hold to be between 40º and 50º F (4-10º C). From responses on websites by experienced pilots, it appears that there are different settings for the temperature of different sections of the cargo hold. It seems clear that while the temperature may vary depending on the exact location of your item (and could still cause your instrument to crack), it won't drop below freezing. A factor worth researching is whether your airplane will be transporting pets or other live cargo. If so, the pilot will select a significantly higher heat setting for this part of the cargo hold. Some have reported successfully requesting that their instruments be held alongside pets.
Regardless, it seems that the greatest concern is the handling of the instrument as baggage between the terminal and the airplane. Baggage handling at an airport is the subject of many jokes as well as that of many travel horror stories. Josh reported that on a recent flight on Cathay Pacific he was forced to check his bass clarinet but was assured that it would be treated as a fragile item – sent to the airplane via a separate conveyor belt. However, the ground crew in Hong Kong did not take note of the "fragile" tag and put the instrument in the same compartment with all other baggage. Fortunately, his case adequately protected his bass clarinet and it arrived undamaged.
The United States 2015 Law for Musicians
Every bass clarinetist (or player of any large instrument) should be aware of this regulation: on March 6, 2015, the United States Department of Transportation implemented a new standardized policy for flying with musical instruments, for all airlines based in the United States. These new rules were written for any type of musician in mind, from the casual guitarist to the touring professional, and were designed to prevent the musician from incurring any unreasonable expenses or hassles. The process of traveling with an expensive musical instrument remains a dreaded uncertainty among musicians, but this new law certainly helps.
The official document can be found at www.transportation.gov (PDF link: http://bit.ly/2Ywj2Rp)
Quoting from this document:
Section 403 of the Act and this final rule provide that carriers are required to allow passengers to stow their musical instruments in an approved stowage area in the cabin only if at the time the passenger boards the aircraft such stowage space is available. With the exception of certain disability assistance devices, overhead bins or under seat stowage space is available to all passengers and crew members for their carry-on baggage on a ''first come, first served'' basis. Accordingly, carriers are not required to remove other passengers' or crew members' carry-on baggage that is already stowed in order to make space for a musical instrument. However, this also means carriers are not allowed to require a passenger to remove his or her musical instrument that is already safely stowed (e.g., in the overhead bin) to make room for carry-on baggage of other passengers who boarded the aircraft later than the passenger with the musical instrument. This is true even if the space taken by the musical instrument could accommodate one or more other carry-on items. Because the rule does not require that musical instruments be given priority over other carry-on baggage, we encourage passengers traveling with musical instruments to take steps to board before as many other passengers as possible to ensure that space will be available for them to safely stow their instruments in the cabin. This includes utilizing pre-boarding opportunities that some carriers offer (usually for a fee).
To summarize, U.S.-based airlines must now allow instruments that are small enough to be stowed on board as carry-on baggage, as long as the instrument fits in the overhead storage bins or under the passenger's seat at the time of boarding. Storage is provided on a first-come, first-served basis – you cannot ask someone to remove a suitcase that is already in the overhead bin to make room for your instrument. It may be worth paying an extra fee for the privilege of earlier boarding, and you cannot be charged any extra fees for bringing an instrument on board as carry-on baggage beyond any standard carry-on fee charged by the carrier. Passengers who have instruments that are too large to fit in the overhead bins or under a set (for example, cellos and double basses) may store their instrument in a separately purchased seat.
Air Travel in Australia: The Weight Issue
Apart from the size issue that troubles the traveling bass clarinetist, another caveat is the combined weight of the bass clarinet and its case. Most Australian airlines and airports stipulate that the carry-on baggage must not exceed 7 kg, which most loaded bass clarinet cases (around 8-10 kg) are bound to exceed. This greatly increases the chance of being forced to check in your bass clarinet unless you manage to persuade the check-in crew to let you carry your instrument as cabin baggage. Another thing to keep in mind is that your bass clarinet will usually be counted as a part of your carry-on baggage allowance, so chances are you won't be able to take your carry-on suitcase along. Weight limits for hand baggage are beginning to appear in the regulations for other airlines around the world as well.
The only airline in Australia that has an extra baggage policy specifically for musical instruments is Virgin Australia, but the policy only benefits members of a number of Australian musician unions, and it is only applicable to check-in
baggage, not carry-ons. Such constraints
of Virgin Australia's policy effectively nullify its protection for the traveling
bass clarinetist.
Policies in the rest of the world
The policies in the rest of the world are not as clear and are often quite unfavorable for those traveling with a bass clarinet. The problem for bass clarinetists revolves around two main issues: (1) the instrument being too large for the "official" carry-on size limit, and (2) the instrument being too heavy for airlines that have a maximum weight policy for carry-on items.
With some airlines, the policies are a bit flexible. For example, Lufthansa Airlines (based in Cologne, Germany) states in its policies that "should the musical instrument exceed the dimensions for carry-on baggage 55 cm x 40 cm x 23 cm (height + width + depth) by only a small amount, it may still be possible to take it on board in exceptional cases, as long as it fits into the overhead lockers." However, the issue of weight still remains. Lufthansa's official weight limit for carry-on items is 8 kg, too little for the weight of a bass clarinet in a standard case (remember Josh's case with instrument weighed 9.2 kilos; Tod's weighs in at 8.6). There is, of course, the option of purchasing a carbon fiber case – the Wiseman Model A carbon fiber version weighs 2.25 kilos, or half that of the standard Model A bass clarinet case. However, this option is a rather expensive one.
The International Federation of Musicians maintains a very useful website (www.fim-musicians.org/airlines-list) that rates policies of every airline by color:
"Green" (best): Airlines complying with the current US FAA regulation. These companies accept musical instruments in the cabin, provided they fit in the overhead compartments or under a seat, without specific size limitations.
"Red" (lowest): Airlines that apply the same size limitations to musical instruments as to regular cabin luggage.
"Amber": Airlines that do not comply with the current US FAA regulation but apply size limitations that are more favorable than those applying to regular cabin luggage.
The International Federation of Musicians website goes on to give the following bit of advice:
Irrespective of the airline's applicable policy, an instrument may only be accepted in the cabin if there is enough space available at the time of boarding (either in the overhead lockers or under the seat in front of you). Be first in line if you want to maximize your chances to keep your instrument with you.
Summary and strategies
Our experiences with traveling with our bass clarinets seem to match those of many of our bass clarinet colleagues. The following strategies seem to present the best chances of successfully having your expensive professional bass clarinet safely stowed in the passenger cabin of a commercial airliner.
Choose your airline carefully and be aware of the specific size and type of plane you will be flying and its available space for carry-on baggage. There are many travel websites with the exact dimensions of overhead storage bins for any type of airplane. For example, Southwest Airlines flies only Boeing 737 aircraft. The overhead bin in all three versions of the 737 that they fly will easily accommodate even the stock case for a Buffet Prestige low-C bass. Moreover, Southwest offers "early bird" boarding for $15 to $25 (each way). If you get on the plane early, it never seems to be a problem to find a spot for your instrument.
If your airline has a strict policy regarding the weight of carry-on baggage, it can be a good idea to economize the weight of your instrument and its case in order to increase the chances of you being able to take them on board. This can be done by removing things that can be stored in your other baggage, such as sheet music and accessories. Due to the 7 kg limit prevalent in Australia, Josh now strips all the outer pouches of his Wiseman case away and puts his B-flat clarinet in a separate case when he flies.
You will likely have better success with the personnel at the gate and on the plane itself. If you can somehow get past problems at check-in, it seems that your chances will be much better. Josh's strategy of explaining the danger of a wooden instrument being stored in an unheated cargo hold seemed to have helped him get past the check-in agent. Also, letting airline personnel know the cost of a professional bass clarinet can improve one's odds. Several bass clarinetists have also confessed to having used Tod's strategy of simply removing the checked baggage tag and taking the instrument through security and on to the boarding gate. Lastly, it is also worth mentioning that if there are automated check-in machines at your airport, making use of them will definitely minimize the scrutiny of the check-in personnel!
Try to get on the plane as early as possible, even if it means paying extra for this privilege. Even the U.S. "if it fits, it goes" law won't help you if all the storage is already taken.
Many musicians have reported that it has helped to have an actual printed copy of the official U.S. Department of Transportation policy with them. Others have reported that it is useful to have photographs of their instrument actually sitting in an overhead bin of the type they will be using on their flight. As Josh mentioned, the sight of a bass clarinet case taking up only about half of the space in the bin can only help your case (pun intended)!
Be prepared for the real possibility of not being able to carry on your instrument. If your airline has a strict weight policy, then you should definitely take care to pack your instrument securely in a well-made and highly protective case. This may be a good time to mention that it is important to have your instrument insured!
Finally, at the risk of stating the obvious, it pays to be calm and polite at all times when dealing with airline personnel. It also seems the "play it cool" attitude works best – don't ask unnecessary questions, and simply act like you've done this all the time. However, upon being questioned, a poised and polite demeanor can sometimes result in creative solutions, such as the flight attendant allowing you to stow your case in a coat closet. The concern of a heavy instrument rolling out of an overhead bin and onto an unsuspecting passenger below is certainly a legitimate one, and flight attendants are rightly concerned about this happening. However, portraying a sense of being willing to work with the flight attendant will usually pay off for you.
Conclusion
The 2015 U.S. law has made a significant difference for musicians traveling on American carriers. It is our hope that similar policies will be enacted for carriers around the world. Until then, it seems that all we can do as bass clarinetists is to know the policies and have a specific strategy in place.
One final resource available on the internet is a document titled "A Guide to Flying with Musical Instruments," a very thorough and well-researched document assembled by Chamber Music America. It is available here: www.chamber-music.org/pdf/Flying-with-Musical-Instruments.pdf
We wish you happy and successful travels with your bass clarinet!
---
About the Writers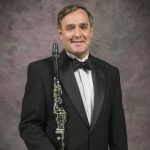 Tod Kerstetter serves as professor of clarinet and member of the resident Konza Wind Quintet at Kansas State University in Manhattan, Kansas. A graduate of Furman University, Indiana University and the University of Georgia, Tod has performed with orchestras in Charleston, Evansville, Kansas City, Nashville, Savannah and Topeka as well as the American Wind Symphony. He enjoys traveling, and has performed internationally in Australia, Austria, Belgium, Finland, Germany, Hungary, Italy, Mexico, New Zealand, the Netherlands, Norway, Russia, Slovenia, Spain and Sweden.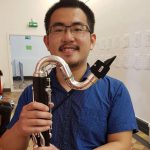 Josh Ng was born in Hong Kong and is currently based in Adelaide, Australia. He has been playing the clarinet since age 12 and bass clarinet since 14. Josh is currently a social sciences student at the University of Adelaide, South Australia, but maintains a frequent schedule of musical endeavors as a performer, arranger and composer off-campus. Past and current major teachers include Michael Campbell, Lorenzo Antonio Iosco and Eric Mandat.
---
Additional Comments from Social Media
Katherine Carleton: …play nice, I pay to check my luggage, and try to keep personal items to a bare minimum. The bass (plus whatever other instruments I'm carrying in my Wiseman case) is my carry-on, and I simply smile at the gate crew and keep moving.
David Cook: BAM Hi-Tech case (mine came with my Buffet Crampon Tosca), wear it on your back and don't attract attention to yourself. I pay for an airline credit card that guarantees earlier boarding.
Shiana Montanari: I usually pay a little extra to be among the first to board. I always feel more comfortable knowing that there will be plenty of empty overhead bins and I will already be buckled in and ready to fly when others are boarding.
Brendan Toohey: I don't think any airline in Australia will let you take a Wiseman on as carry on luggage, it's just too big for the baggage allowance. I put mine in a pelican case and check it in as cargo under the plane.
Lori Wakley Shepherd: Southwest Airlines uses all of the same kind of planes for their entire fleet. The long Wiseman cases fit in the overheads in these planes. You can also pay for early bird boarding to ensure there is plenty of room left when you board. On other airlines, you can look up the type of plane assigned for your flight on SeatGuru. It describes the overhead bin dimensions. That doesn't guarantee that the type of plane won't change after you book the flight, though. It happened to me once at the gate on Alaska Air, and they were having everyone gate check even their roller bags. I simply told them that my case contained $20,000 in clarinets, that it wasn't safe under the plane, and that I wanted a different flight on a larger plane. They accommodated that request.
Jason Alder: I fly a couple times a month with a bass clarinet and/or contrabass clarinet for many years now. I've never not gotten it on board.
This is how:
Get a Wiseman Case, or a Bam Hi-Tech. Wiseman is more compact though, especially if you're also taking soprano clarinets. 

Know the individual airline baggage policies. 

Never ask staff if it will fit. Always know that it will and never give the flight crew reason to doubt that. Don't bring extra attention to the situation.

If you're questioned about it when checking other bags, always insist on carrying the bass clarinet to the gate, regardless of whether they say you'll need to check it or not.

Don't be hostile, be polite, but always be firm.

Always get to the gate early and be one of the first to board. If you're worried about that, pay for priority boarding. 

On larger planes, boarding usually starts from the rear after 1st and business class. Choose a seat in the back of the plane to be in the first boarding zones for the standard class.
Rebecca Lynn: Pay for priority boarding, and get to the gate early so you're one of the first to board. Use the most compact case possible. If it's winter, another trick that works is wearing a long dark coat that blends in with a black backpack case.
Eric Schultz: It's never been a problem even with my giant BAM case. I like to know the policy of the airline. Have a paper copy on hand if you are nervous. Airlines seem to be slowly updating their instrument carry-on policies for the better due to bad press. I have paid for priority boarding in the past when it is affordable. When all else fails, you can always ask to use the wheelchair closet/cubby in the front of the plane. There is usually ample free space there and if you're nice, flight attendants are usually accommodating. If you are pressed to check it, be very open about the case holding a fragile musical instrument. Remember, the airlines don't want any problems either.
Sarah Watts: Know which airlines you must buy a seat with! Ryanair is great if you follow their rules … and nonflexible if you don't.
Misha MacDowell: My high school bass clarinetist just traveled with it for the first time. We bought a BAM case (the one from Buffet had already broken) and I brought a printout of the applicable airline regulations with me. Because I was super anxious, we also bought upgraded seats with advanced boarding. We were one of the first people on the plane each way. We used the overhead bins both times as the planes didn't have closets (some still do). That said, I went overboard. The gate agent told me she would have just preboarded us anyway as we qualified as "people who need extra time." I'm not sure I would trust every airline or every gate agent to be that understanding.