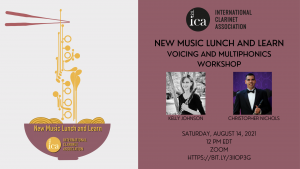 The ICA New Music Committee is hosting a series of workshops as part of the Lunch and Learn Series. To find out more information about this series and upcoming workshops, click here.
The Voicing and Multiphonics Workshop was originally held on August 14, 2021 at 12pm noon EST with Kelly Johnson and Christopher Nichols. The second half of the session featured hands-on breakout sessions for each topic.
You can watch this recorded session on our YouTube channel here.
Here is a resource about voicing, and here is a resource about multiphonics.