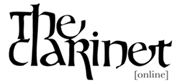 Originally published in The Clarinet 49/1 (December 2021). Printed copies of The Clarinet are available for ICA members.
---
ICA 2021 Honorary Members: Charles West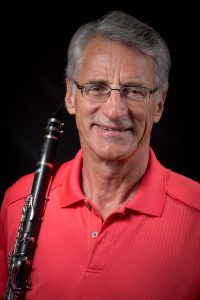 Charles West has served the ICA and previously the ICS and ClariNetwork International over a long period of time as president, treasurer, Simeon Bellison Fund chair, conference coordinator and host, and on many other specialized assignments. As signer of the merger document between ICS and CI and the first president of the combined organization, his fingerprints are on all of the original business structure and procedures of today's International Clarinet Association. West holds
the D.M.A. degree from the University of Iowa, where he was a student of Himie Voxman. He has performed recitals and concertos throughout the United States, Europe, Latin America, Australia and Asia. He has recorded repertoire ranging from standard sonatas to avant-garde on labels
including Klavier, Wilson Audiophile, Centaur, CRI, Crystal, and he is heard on a Grammy Award-winning Telarc CD. A former Fulbright Scholar, his career includes nearly 30 years as principal clarinetist in six professional orchestras and opera companies. He has held teaching positions in three North American universities with guest professorships in South America, Asia, and Australia. Before retiring from a 30-year tenure at Virginia Commonwealth University, West received the VCUArts' highest faculty award, the Award of Excellence, and after retirement was awarded the status of professor emeritus. He is a Buffet Crampon performing artist and his books on woodwinds are published by GIA Publications.
---
Tributes to Charles West:
I grew up in a working-class family in rural Virginia, and access to affordable quality clarinet instruction was a challenge. I did not benefit from a private instructor until my junior year of high school. Although my abilities on the clarinet entering my freshman year of college were somewhat lacking, Dr. West saw my innate talent. Along with quality instruction, he provided tremendous support and encouragement, which helped me become a strong player in his studio. For the past 25 years, Dr. West has been an inspiring role model for me. His brilliant and versatile career as a clarinetist, conductor and woodwind specialist has provided a template for my musical aspirations. I am forever grateful to him for helping me reach my goals and for believing in my talent. He is a deserving recipient of this honor bestowed by the International Clarinet Association.
  – Antoine T. Clark, Instructor of Performing Arts – Woodwinds, Ohio Wesleyan University
Dr. Charles West is one of the most influential people in my life. As a college educator he guided all of his students to reach their full potential whether it was a path to performance or music education. Throughout my career as a band director, private teacher and performer, I have used daily the pedagogy and best practices that were given to me from the vault of Dr. Charles West's knowledge! The knowledge that I was given is priceless but so is the friendship that Dr. West has with his students long after they leave the nurturing nest of his studio. I look forward to my birthday serenade every year! I am grateful that Dr. West was that special teacher and mentor for me.
  – Linda Crummel, Brazosport Independent School District Band Director (retired) & Principal Clarinet, Brazosport Symphony Orchestra
I want to commend Dr. Charles West for a career of achievement, exploration and artistic contributions to not only the clarinet world, but to our music industry. Having shared the stage with Dr. West decades ago, it was evident that he would be an impactful leader. Over the years we have made numerous and memorable recordings together. As a former Commander/Conductor of The USAF Band in Washington, D.C., I can attest that during my time-of-service, Dr. West placed more professionals in Air Force bands than any other single mentor, no matter the instrument. What higher tribute can be paid to a master teacher and influential leader! I consider Dr. West to be one of the titans whose influence will be felt for generations. I also am honored to be considered his friend.   Congrats to Dr. Charles West.
  – Lowell E. Graham, Colonel (retired) USAF & Music Director, Greeley Philharmonic Orchestra
Chuck, I could go on about all you have done, and do, for the clarinet world. Kudos to you for your tireless work. But I'd rather thank you for being my friend and a great encourager. You were the first person to invite me, a woman, to play a recital in a coveted evening spot for the ClarinetFest® back in the 1980s. I would not be asked again until this past year – I'd rather not count how many decades have passed! You will never know how much that meant to me. I treasure our friendship and your support (and even your jokes, believe it or not). Keep up the good work! Hugs.
 – Diana Haskell, Associate Principal Clarinet, St. Louis Symphony
Charles West has always been a model of what it means to throw all of your talent, energy and knowledge into this profession. Studying with him taught me not only how to play the clarinet well, but how to truly show up for one's musical colleagues. He has a wide variety of skills and is always ready to use them to support another musician. I remember being in awe of his wealth of knowledge – to my undergraduate self, it really seemed like he could do anything! I have also always been inspired by his ability to teach with his whole self, and then deliver captivating performances on stage later that same day. This man never seems to run out of music! On a personal level, Chuck is always quick with a kind word, a piece of advice, and a corny joke – and he seems to innately know how to reach out at just the right time.
  – Julia Lougheed, freelance Phoenix area clarinetist and educator
Charles West is the consummate artist. Charles West is also a wonderful friend and advocate for all his students past and present. I am so thankful for the time that I had to study with him. His analytical approach to playing the clarinet was so logical and helped me develop as a musician. While I was a student and many times afterwards, he helped create performance opportunities for me. He showed us all a great model for building a clarinet studio. I've had the good fortune to hear him perform on many, many occasions. His tone quality, technique, and his musicianship are always completely impressive to me. Early in my career, I also had a good fortune to sit second to him in the Arizona Opera. He taught me so much about ensemble playing in that setting. Playing with him in this context was like a second private lesson during the week. Chuck always cared about his students and put their well-being and development as people as an obviously high priority. I think this is why, after all these years, he has remained a mentor and close friend. I believe a great part of my successes are due to Chuck and all the great things he did for me over the past many years.
 – Douglas Moore-Monroe, Associate Professor of Clarinet, East Carolina University & Instructor of Clarinet, Interlochen Arts Camp
My wonderful relationship with Chuck began around 1977 during high school, when he would travel from New Mexico State University (Las Cruces, New Mexico) to my hometown of Alamogordo, to get to know students. I remember taking a few lessons from him during high school, and he was the main reason I chose to attend NMSU. He was not only a caring teacher who was very motivational, but in many ways was a father figure to many of us. It was also amazing to experience his beautiful sound and musicality, whether it was clarinet, bass clarinet, saxophone or oboe. All these years later, we have become close friends, and I know that to be the case for so many of his former
students! Chuck, thank you for your many years of developing and caring for your students, and your continued friendship! You are so very appreciated and loved!
  – Jeanie Murrow, B.M.E. NMSU 1982
I am honored beyond belief, to be inducted as an honorary member with my friend, Chuck West.   Chuck has had such an impact on the clarinet world. His recordings are amazing, his teaching inspired, and his live performance stunning. The first time I performed at a Clarinet Convention was the one he hosted in 1988 in Richmond, Virginia. Chuck launched my career. He is a true friend and artist.
  – Robert Spring, Professor of Clarinet, Arizona State University
My association with Chuck West goes back almost to the beginnings of ICA. At the 1983 Denver Conference I'll never forget his masterful performance of Victor Babin's Hillandale Waltzes and several newly performed compositions by South American composers (his favorite Claudio Santoro's unaccompanied piece) following his successful Fulbright Scholarship to Peru. He taught at the National Conservatory and was principal clarinet in the National Symphony Orchestra. Since the orchestra was on strike during a bunch of the time, he concentrated his efforts on recitals and master classes in other Peruvian cities like Arequipa and Cuzco, and on working with the composition class at the Conservatory on new works. Recent posts to Facebook are photos of him at Machu Picchu near Cuzco. He has had a long association within the clarinet world as a conference host in 1988 at Virginia Commonwealth University in Richmond where he also facilitated the merger along with another Honorary Members (John Mohler and Gerry Errante) of ClariNetwork International and the International Clarinet Society (with the name change to ICA in 1991-2). As principal clarinet in the Flagstaff Festival Orchestra, he engineered (or convinced) Chuck Aurand to make the invitation and have the conference at Northern Arizona University in 1991. On several occasions he conducted conference clarinet choirs. His recent textbook for university Woodwind Methods courses, An Essential Resource for Educators, Conductors, and Students, has enjoyed wide acceptance. More recently, we have been invited to coordinate a 50th Anniversary History Project for the 2023 ClarinetFest® in Denver, Colorado.
  – Alan Stanek, Emeritus Professor of Music and Director of the School of Performing Arts, Idaho State University
Chuck is all knowing when it comes to clarinet repertoire. Ask him for any instrumentation and he can name multiple pieces that could work. Several times in my career I've contacted him in need of ideas. Without fail, he always makes the perfect suggestion when I'm at a loss. I will forever be grateful for his guidance and knowledge.
  – Wallis Vore, Clarinet Faculty, Miami University