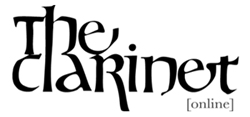 Originally published in The Clarinet 44/4 (September 2017). Printed copies of The Clarinet are available for ICA members.
---
by William Powell
One of the most brilliant, original and fascinating artists that I have had the good fortune to meet was the composer Ed Bland (1926-2013). Edward Osmund Bland was born on July 25, 1926 in Chicago's South Side neighborhood. He started his musical career as a jazz clarinetist in Chicago in the 1930s, and he has said that he was "quite satisfied with the adventure of being a jazz man" until his career as a jazz musician was brought to an abrupt halt upon hearing Stravinsky's The Rite of Spring during a lull in a jam session with Art Tatum. He stated that "listening to the Rite made me realize that the expressive power available from the symphonic orchestra was much greater than the power available from the jazz band."[i]
Bland began to study composition privately with John Becker, and he attended the University of Chicago where he also studied philosophy and musicology. He later continued his composition studies at the American Conservatory of Music in Chicago where he was exposed to the twelve-tone music of Arnold Schoenberg and the music of other more contemporary art music composers. As a result of his deep immersion in jazz and his academic studies in the European tradition of composition, Bland's compositional work for instruments synthesized European music, West African drumming and African-American popular forms (funk, hip-hop, soul, R&B, blues, ragtime and jazz).[ii] In the late 1930s, some of his earliest compositions, having been composed in the twelve-tone system of Schoenberg, were atonal.[iii]
Before Bland decided to pursue a career as a composer, he made his first and only film: a 34-minute documentary called The Cry of Jazz, released in 1959. Produced with friends on a paltry budget, this film became a benchmark, "not as a work of art, but as a manifesto of black militancy."[iv] Paul Vitello described the film's reception in his New York Times obituary for Bland:
The movie caused an uproar. Notable intellectuals took sides. The novelist Ralph Ellison called it offensive. The poet LeRoi Jones, later known as Amiri Baraka, called it profoundly insightful. An audience discussion after a screening in 1960 in Greenwich Village became so heated that the police were called.
In 1996, The Cry of Jazz was restored and reissued on DVD. As "a historic and fascinating film that comments on racism and the appropriation of jazz by those who fail to understand its artistic and cultural origins," it was added to the National Film Registry of the Library of Congress in 2010.[v]
Bland did go on to establish a career in music. By the early 1960s, he had moved to New York to pursue a career as a professional freelance composer, producer, musical director and musical arranger for television (CBS, ABC and NBC) and record companies (Columbia, RCA, Epic, GM, Vanguard, Audio Fidelity, Milestones, Delos and United Artists Records), working with artists such as Dizzy Gillespie, Maya Angelou, Lionel Hampton, Country Joe and the Fish, George Benson, Al Hirt, the Chambers Brothers, Clark Terry, James Moody, King Harvest, Richie Havens, Elvin Jones, Big Mama Thornton and many others.
From 1974 to 1978, Bland was the executive producer for Vanguard Records. While he lived in New York, he also produced 100 concerts for the Museum of Modern Art and 40 concerts for the Brooklyn Academy of Music. From 1979 to 1981, he was a presidential commissioner for the White House Record Library, where he was one of six commissioners from the record industry to update the Presidential Record Library. In 1988 and 1989, Bland was on the National Endowment of the Arts Recording Panel.[vi]
In 1979, Bland wrote one of his most successful large chamber ensemble compositions, Piece for Chamber Orchestra. Of this piece, he has said, "This is the piece I really wanted to write after hearing Stravinsky's The Rite of Spring."[vii] Jeannie Poole described it as follows:
The work requires, as do most of Bland's compositions, total independence and concentration of the individual virtuosic players. It contains the kind of focused energy one imagines exists at the synapse, the point at which the nervous impulse passes from one neuron to the next in the human nervous system.[viii]
The Piece for Chamber Orchestra is a 15-minute, one-movement work for oboe, clarinet, trumpet, trombone, timpani, two violins, viola, cello and double bass. It is a virtuosic essay in the handling of musical tension and form, and structural use of silences – very challenging. The work was recorded by members of Speculum Musicae and The Group for Contemporary Music, conducted by Alvin Brehm, on the album Urban Classical: The Music of Ed Bland.[ix] The American composer, conductor and author Gunther Schuller called Piece for Chamber Orchestra "An amazing tour de force in terms of relentless energy and build-up of tension… a fascinating, strong piece," and Bruce Creditor of the Boston Symphony Orchestra described it as "original and fresh."[x]
In 1984, Ed Bland moved to Los Angeles where he quickly became a very busy composer, arranger, and orchestrator in both the television and film industries. Ed Bland's film and television credits from his years in both New York and Los Angeles include: [xi]
Composer/Musical Director – The Cool World (1964), Fred Wiseman and Shirley Clark, Cannes Film Festival Winner
Composer/Musical Director – Really the Country Blues (1968), CBS-TV, CAMERA III, Merrill Brockway, producer
Composer/Musical Director – Life in a Tropical Forest (1972), Time-Life Films, Lothar Wolff, producer
Composer/Musical Director/Orchestrator – Ganja and Hess (1973), feature film, Kelly-Jordan Productions, Chiz Schultz, producer; Critics Choice, Cannes Film Festival
Musical Director – Too Far to Go (1979), Chiz Schultz, producer
Orchestrator – A Soldier's Story (1984), Columbia Pictures, Norman Jewison/Ron Schwary, producers; Norman Jewison, director
Composer/Orchestrator – The House of Dies Drear (1985), Disney Channel television special
Composer/Orchestrator – A Raisin in the Sun (1989), American Playhouse Presentation, PBS
Composer of music for documentaries, industrial and educational films for IBM, the Smithsonian Institution, Prentiss Hall and others
Bland released five albums containing his concert music during this same period.[xii]
Urban Classical: The Music Of Ed Bland. This LP, re-released on CD by Cambria Records in 1995 contains 70 minutes of Bland's chamber music.
Danilo Lozano, Flauta & Althea Waites, Piano; SERIE INBA-SACM, a recording produced and released by the Mexican government. Works on the CD are by Heras, Mabarak, Marquez, Bland and Furman.
Black Diamonds: Piano Music By African-American Composers (Cambria Records). Works on the CD are by Price, Bonds, Still and Bland.
Dancing Through The Walls (Delos International Records). A 50-minute work by Bland for flute and virtual percussion ensemble. The flutist is Danilo Lozano.
Legacy (Troy Records). Lecolion Washington, bassoon. Works for bassoon by African-American composers.
During all of these years, Ed Bland continued writing a profusion of musical compositions in various genres. After 20 years in Los Angeles, composing and orchestrating for film and TV, Bland moved to Smithfield, Virginia, where he was finishing a percussion dance suite when he passed away from cancer at the age of 86 on March 14, 2013.[xiii] This suite and other later works are available through CD Baby on the digital album Urban Funk.
To learn more, please visit Ed Bland's Facebook page (www.facebook.com/EdBlandMusic) as well as his website, www.edblandmusic.com. His website includes a "Composer's Statement," in which Bland had some quite original things to say about what he saw as a cultural warfare, in addition to some profound thoughts about his music and his journey as a composer. His website also features a complete discography and a collection of his essays.
Despite Ed Bland's forays into an abundance of musical styles, his earliest musical interests and his love for the clarinet remained with him throughout his long and prolific years as a composer, during which time he created a virtual treasure trove of music for the clarinet. Since the works featuring the clarinet are likely to be of special interest to the readership of The Clarinet, a listing of these works is included below.
Clarinet Works by Ed Bland
 For the pieces listed below, titles, dates of composition (and dates of any revisions) and key descriptive words supplied by Ed Bland are given when available. Durations of pieces, as well as additional details that are familiar to the author, may be added to comprise the notes included for each composition.
For Clarinet (1964, rev. 1978)
The earliest of these works, originally written in 1964 and revised in 1978, is titled For Clarinet, and is composed for clarinet solo. This three-minute, whimsical, joyful, atonal piece is very idiomatic. For Clarinet is written in a virtuoso style. The four-page piece, though difficult, especially in its rapidly changing rhythms, should be playable by a more advanced high school student or university undergraduate student. This author was very lucky to record For Clarinet under the composer's supervision. The recording by William Powell is on Urban Classical: The Music Of Ed Bland (Cambria Records, 1995).
Sketches Set 1 (1972, rev. 1980)
A mini-concerto for timpani. Scored for clarinet, trumpet, trombone, timpani and 2 cellos. Recorded by the Light Fantastic Players With Daniel Shulman conducting on Urban Classical: The Music of Ed Bland (Cambria Records, 1986); 9 minutes.
Sketches Set 2 (1973, rev. 1980)
Scored for clarinet, trumpet, trombone and cello. 6 minutes. Atonal. Grows out of the Second Viennese school. 7 sections.
Humorously challenging and jazzy, this 3-minute, unaccompanied piece is very idiomatic.
Woodwind Quintet No. 1: The Jazz Quintet (1981, rev. 2004)
Commissioned by the Quintet of the Americas, this three-movement, 10-minute composition swings, and it is very colorful in its use of timbres. Highly polyphonic and rhythmically complex, it is driven by a cyclical treatment of material.
B-flat clarinet (doubling on E-flat and bass), B-flat trumpet (doubling on B-flat piccolo trumpet), percussion 1 and 2 (tam-tam, xylophone, vibraphone, boom bams, tympani), electric piano/clavinet, cello, Fender bass.
 Magnetic Variations (1982), originally titled Sketches – Set 5
Written for and dedicated to William (Bill) Powell, this perky 12-minute work in five movements is melodious, colorful and very accessible. Magnetic Variations is one of a series of divertissements for various combinations of acoustic, amplified and electronic instruments. It is a nonet for solo clarinet plus eight instruments: flute (dbl. alto flute and piccolo), oboe (dbl. Eng. horn), percussion 1 & 2, electric piano (clavinet, celeste), electronic violin, cello, Fender bass.
After the premiere featuring Powell as clarinet soloist in 1982 with conductor Tom Nee at the University of California–San Diego, Powell gave a second performance, with conductor Peter Ioannou and the California Institute of the Arts New 20th Century Players, at the Transamerica Center Auditorium in Los Angeles on January 16, 1989 – Dr. Martin Luther King, Jr.'s birthday. The performance was broadcast by National Public Radio to networks throughout 22 countries and the United States.
Sketches Set 6: Woodwind Quintet No. 2 (Arion's Song)
This five-movement composition is very lyrical, lively and colorful. It employs a cyclical treatment of themes. 10 minutes.
 Clarinet Trio for clarinet, cello and piano (1992, rev. 2003-4)
Commissioned by Michele Zukovsky. This four-movement, 12-minute work is quite accessible, melodic, colorful and jazzy.
 One on One for two clarinets (1996)
Also available in versions for clarinet/bass clarinet, clarinet/electric guitar, clarinet/baritone saxophone, clarinet/bassoon, clarinet/marimba and clarinet/cello. Highly contrapuntal. Jazzy. Rhythmically challenging. Humorous. 4 minutes.
Round Robin for double woodwind quartet (1996)
Written for 2 flutes, 2 oboes, 2 clarinets and 2 bassoons. This jazzy ensemble piece is vital, lively and very idiomatic. 5 minutes.
Round Robin for clarinet choir (1996)
E-flat, four B-flat parts, E-flat alto, bass clarinet and B-flat contra. 5 minutes.
For Clarinet and Harps (1996)
Unique timbral combinations in this work. Full of polyphonic and rhythmic complexity. 4 minutes.
Music For A Global Village: Suite No. 3 for clarinet and virtual percussion ensemble (on cassette tape)
 The Four Corners for clarinet and piano (2002)
This duet emphasizes the coupling of concert music virtuosity with the funk associated with soul music. Stylistically, the composer sees this work as an example of neoimpressionism. Other of Bland's works in this category include Primal Counterpoint, Passacaglia in Blue, Atalanta's Challenge and Romantic Synergy. The Four Corners looks to be a fairly wild ride. The title refers to the name of a Chicago Gang that controlled four street corners when Bland was growing up. Circa 5 minutes.
Osmund Music is the exclusive publisher of the works of Ed Bland. Their catalogue is available at www.edblandmusic.com. For more information, contact Mary Batten Bland at P.O. Box 634, Smithfield, VA 23431, or [email protected].
Special thanks to Mary Batten Bland for helping me with great advice, anecdotes and vital materials that would otherwise have been unavailable to me, and to The Clarinet's editor Rachel Yoder for her thoughtful editing and invaluable pointers on preparing the manuscript for publication.
---
About the Writer
William Powell, co-artistic director of ClarinetFest® 2011 in Los Angeles, has lived for a year in India on a Fulbright Fellowship, where he presented concerts of American music, collaborated on cross-cultural performances, and recorded for All India Radio. He has been a member of the contemporary music ensemble SONOR, the Sierra Wind Quintet and the Aulos Wind Quintet, and principal clarinet in the San Diego Chamber Orchestra, the Las Vegas Symphony and the Reno Philharmonic. Currently teaching clarinet at the Master's University in Santa Clarita, California, Powell is a professor emeritus at California Institute of the Arts, retiring in 2015 after serving on the faculty since 1985. His teachers were Stanley Drucker, Michele Zukovsky, Leon Russianoff and AKC Natarajan. He is recorded on the Cambria, CRI, Electra/Asylum, Nonesuch and Innova labels. He is a clarinet artist and clinician for Buffet Group USA. For more info visit http://www.WilliamEPowell.com.
[i] Jeannie Poole, liner notes from Urban Classical: The Music of Ed Bland (Cambria Records 1986), LP.
[ii] Ibid.
[iii] Ibid.
[iv] Paul Vitello, "Edward Bland, 'Cry of Jazz' Filmmaker and Composer, Dies at 86," New York Times Music, published March 26, 2013, www.nytimes.com/2013/03/27/arts/music/edward-bland-filmmaker-and-composer-dies-at-86.html.
[v] Ibid.
[vi] Ed Bland, "Resume," published 2008-2009, www.edblandmusic.com.
[vii] Jeannie Poole, Urban Classical.
[viii] Ibid.
[ix] Ed Bland, Urban Classical: The Music of Ed Bland (Cambria Records 1986), LP.
[x] Ed Bland, "Biography," published 2008-2009, www.edblandmusic.com.
[xi] Ed Bland, "Resume," published 2008-2009, www.edblandmusic.com.
[xii] Ibid.
[xiii] Paul Vitello, "Edward Bland."
[xiv] Ed Bland, "In Celebration of Dr. Martin Luther King, Jr.'s Birthday" (California Institute of the Arts 1989), concert program note.