07/29/2017
ClarinetFest® 2017, Day 4: The Music of Eric Mandat
The Music of Eric Mandat recital was performed at 2:00 pm on Saturday, July 29, 2017. Most of the performers were Mandat's current or former students. The recital began with Kristine Dizon's performance of "I. Portent" and Wesley Ferreira's performance of "II. Sway"
and "III. Bop" from TriColor Capers. The performers excellently performed the unique colors and unconventional techniques characteristic of Mandat's compositions.
Next, Gregory Oakes performed Folk Songs. The first movement, "Spirited; as if from a distant Appalachian hill,"
really sounded as if it were being played in another room offstage. The clarity of this movement was contrasted by the following, "Heavily, with a fuzzy, unfocused, breathy tone." In the third movement, "Expansive, as if hurtling through space," Oakes filled the room with sound, even at very soft dynamics. "With devotion, like a prayer," featured a technique in which the clarinet imitated the sound of a flute. "Like a Flamenco dancer with St. Vitus Dance" concluded the work.
The Jungle, performed by Jeremy Wohletz, began with a militaristic "Call to Arms," followed by two more lyrical movements, "Lament" and "Apotheosis." Ritual was performed next by Season Cowley and Kaitlin Fahy. The duet shifted frequently from consonance to
dissonance. The Moon in My Window, a perfect example of Mandat's ability to write music for the clarinet that, utilizing the incredible potential of the instrument, can accurately imitate a vast array of unique characters, was performed next by Derek Emch. The fluttering and flowing melodic line of the first movement, "Butterfly morning," was interspersed with dissonance and multiphonics. "You're it" consisted of wild bursts and "P'nut But'r" imitated a mouth full of peanut butter with thick and sticky-sounding descending glissandos in the lower register. The undulating ostinato rhythm of "All Aboard" was contrasted by the final movement, "The Moon in My Window," a slow, dissonant nocturne.
The final work of the program was the first movement, "Concertino," of Music for Clarinets, performed by Robert Spring, Jeremy Wohletz, Suzi Crookshank, Derek Emch, Michael Norsworthy, Boja Kragulj and Kevin Vorabout, and conducted by Kristine Dizon. Spring introduced the piece as one that blew him away the first time he heard it. He informed the audience that "in the first twenty seconds, you're going to forget what tonality is."
All pieces on the recital were performed exceptionally well, showcasing not only Mandat's compositional skill, but his success as an instructor. The recital received a standing ovation from the composer.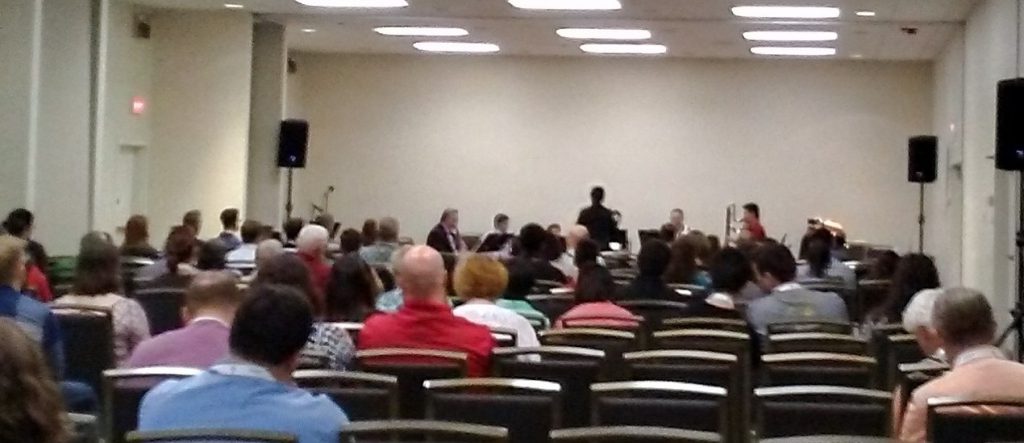 – Sarah Korneisel Jaegers (www.sarahkorneisel.com) is a Graduate Associate at The Ohio State
University, where she is pursuing a Doctor of Musical Arts degree in Clarinet Performance under
the guidance of Caroline Hartig.