ClarinetFest® 2023 in Review
---
ClarinetFest® 2023 Day 2
Evening Band Concert
Nadia Sofokleous, Ecesu Sertesen, Alcides Rodriguez,
USAF Academy Band
by
Chastine Hofmeister
---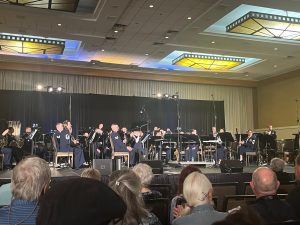 The Thursday evening band concert was held in the Westminster Ballroom at the Westin Westminster and featured performances by Nadia Sofokleous, Ecesu Sertesen, Alcides Rodriguez, TSgt. David Halperin, MSgt Robert Vitale, and members of the USAF Academy Band. I enjoyed this excellent collaboration since the program selections alternated between works that featured both the USAF Academy Band on its own as well as pieces that showcased the featured soloists. This added a lot of interest to the program, and it was great to see a variety of standard repertoire mixed in with newer works.
After the band played a rousing performance of Festive Overture by Dimitri Shostakovich, Ecesu Sertesen from Turkey took the stage with a beautiful mopane Legende clarinet and performed a gorgeous rendition of Franz Danzi's Potpourri No. 2 on "La ci darem la mano" from Mozart's Opera Don Giovanni arranged by Matt Johnson. Her warm, resonant sound and the playful nature of this performance made it a joy to listen to. Her circular breathing was particularly impressive and seemed effortless as she navigated through the very technical sections of this piece. She finished with a salute to a roaring round of applause.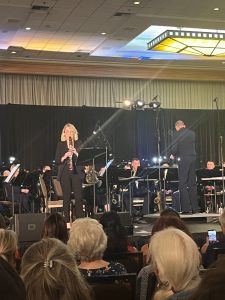 Nadia Sofokleous from Romania was our next featured soloist, entering the stage in a flourish and a beautiful red and black gown. She performed Saltatio Diabolia by Eddy Debons and arranged by Scott Richards. The piece began with a thunderous opening by the band leading into the clarinet solo where Nadia's tone sang fabulously into the high register before embarking on a wild technical journey that she commanded masterfully. The middle section of this selection showed off a much more tender side as she sang soulfully through. This was an epic solo that I was unfamiliar with prior to this concert and was glad to be introduced to it!
This concert also features two bass clarinet selections. The first was Antonio Pasculli's Ricordo di Napoli arranged and expertly performed by TSgt. David Halperin. I adored the smooth and singing opening of this work and the use of extended range. Major finger acrobatics made for a nice finale of this piece! The second bass clarinet work to be featured was entitled Up to No Good: Concerto for Bass Clarinet and Wind Ensemble by Brad Baumgardner and played by Alcides Rodriguez of the Atlanta Symphony Orchestra. Written in three movements, the first movement entitled Fingers Crossed: Prelude and Double Dare features the bass clarinet "daring" the band and the recurring them is passed around the ensemble in response. Alcides' flutter tonguing appeared effortless in this movement and his full and intense sound is perfect to play the double dare character of this piece. The Second movement, Little White Lies (what we don't know can't hurt us…) was so incredibly smooth and soulful that it tugged at my heartstrings.
Our final soloist of the evening was MSgt Robert Vitale performing the show stopping Artie Shaw's Concerto. He performed the concerto from memory and his style and spirit were spot on for this work. He finished his electrifying performance to a standing ovation and cheers from the audience. Not only were all the soloists on this concert fantastic, but the USAF Academy Band also really shined on their featured works with many favorites such as Arthur Sullivan's Pineapple Poll, the Armed Forces Medley, Camille Saint-Saens March Millitaire Francais, Stars and Stripes Fanfare by James M. Stephenson, and Firefly by Ryan George. This was a delightful concert, bravo!
---