ClarinetFest® 2022 Day 4
Felix Peikli Masterclass
by Sam Kopec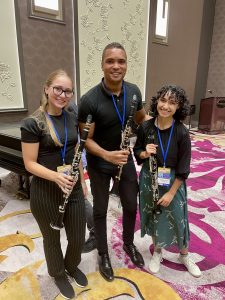 Kicking off his masterclass with a jazz tune, Felix Peikli shared his energetic and fresh perspective with the performers and audience. After seeing his awe-inspiring performance at the Jazz Concert the previous night, the seats were filled. Two undergraduate participants, Sam and Alejandra performed selections from the Copeland Clarinet Concerto and Monolog by Erland Von Koch respectively.
Starting with the Copland Cadenza, Felix's expertise in jazz offered great feedback, especially with pacing. His advice was to take time in the beginning, meditatively, but when playing the articulated and more rhythmic material, stay in time so the accents lock in and groove. The development section should grow, build, and crescendo to the high A at the climax of the phrase and dissipate with the last ascending run. The key is not giving the forte away too early and staying in the pocket.
Following up with an unaccompanied piece, Monolog, Felix approached phrasing tricky technical sections by finding harmonic groupings and anchor notes to bring out. Some ornaments and runs in the introduction were seen as more gestural like leaves falling, but in the jig sections, there is a heavy emphasis on the meter and rhythmic accuracy. The motives and melodies woven throughout the piece were highlighted which helped the work sound cohesive and build to the final statement. Both performers appreciated Felix's insight immensely and loved getting a picture with him at the end of the class.
Living up to his nickname the King of Clarinet, the masterclass concluded with a question-and-answer session. Peikli shared how he was introduced to jazz clarinet, first through a marching band in his home Oslo, Norway, and then through a Benny Goodman record gifted by his grandfather.
Tips for authentic jazz playing were not to scoop between two notes or overdo the swing while playing with an since the feel comes from the lower instruments (drums and bass). His daily one-hour warm-up routine of arpeggios and patterns in every key imaginable allows him to maintain his technique, vocabulary, and dexterity for intense solos. Other topics discussed include circular breathing, memorization, and of course, debating the famed Rhapsody in Blue solo. Everyone left inspired to revisit some jazz during practice or at least add some to their Spotify playlist. Thank you for sharing your time and talent with us, Felix!
Follow Felix on Social Media!
https://www.instagram.com/kingclarinet/
https://www.facebook.com/kingclarinet/