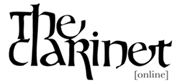 Originally published in The Clarinet 49/3 (June 2022).
Printed copies of The Clarinet are available for ICA members.
---
CLARINETFEST® 2022:
"CONNECTING PEOPLE, IDEAS & CULTURES"
ClarinetFest® 2022 is nearly here! After almost three years since our last in-person gathering in Knoxville, we are back!
The ClarinetFest® 2022 Artistic Leadership Team, along with the ICA board and operations team, is delighted to invite you to Reno, Nevada, for five days of "Connecting People, Ideas & Cultures."
While the festival will formally begin on Wednesday, June 29 at 1 p.m. with an opening concert featuring clarinetist Danny Goldman, the excitement will already be well underway. Volunteers – without whom the conference simply can't happen – will amass on Tuesday to get everything ready. Early registration will begin on Tuesday afternoon as well.
Wednesday afternoon celebrates Theodore Johnson, one of the ICA's newest honorary members, whose career and influence has spanned decades. Terrific chamber and solo recitals throughout the afternoon will feature artists including clarinet superstar Ricardo Morales, the Amicitia Duo (ICA President Denise Gainey and President-Elect Diane Barger) and Mary Druhan, whose herculean efforts as Artistic Director of the Virtual ClarinetFest® 2021 cannot be overstated.
Our ClarinetFest® 2022 Master Class Series begins Wednesday with a clinic by the incomparable soloist, composer and Bang on a Can All-Stars founder Evan Ziporyn. Wednesday is also the ICA Research Competition.
The United States Air Force Band of the Golden West will take the stage on opening night to present an evening of concertos featuring international clarinet artists with band, several of which are premieres! Rocco Parisi will perform a new work, Contrasti, by Vincenzo Correnti, Sabrina Moulai will premiere the clarinet version of Flash! by Daniel Dorff, Sauro Berti will present Hacksaw by Arthur Gottschalk, and Henri Bok will play To Vincent's Stars by Paul Seitz. The evening will also showcase two double concertos; Theresa Martin's Double Take will be performed by Robert Spring and Stefanie Gardner, and Eric Mandat's Parallel Histories will feature Airman First Class Clarissa Osborn and SSgt Alaina Shaw.
Opening night ends with the President's Reception in the Peppermill Resort's Edge Nightclub, a perfect venue for (re)connecting with other members of our global clarinet community.
The massive, centrally-located exhibit hall opens Thursday morning as we start the first full day of ClarinetFest® 2022. Potpourri concerts begin, highlighting our theme of "Connecting People, Ideas & Cultures." The New Horizons Enthusiasts Choir, Festival Clarinet Choir, College Clarinet Choir, High School Choir and Junior High School Choir begin rehearsing, and we continue with our Master Class Series with Michael Lowenstern. Informative and interesting presentations are programmed throughout the day. Fantastic solo and chamber recitals are scheduled, such as concerts given by Caroline Hartig and the Palisades Virtuosi, both including music by the
late James Cohn. Afternoon headliner Evan Ziporyn will perform selections from his new album and premiere a piece by Phillip Glass.
The Artistic Leadership Team is excited to facilitate "Connecting" by introducing the new ClarinetFest® College/Opportunity Fair on Thursday afternoon. While geared toward collegiate and high school clarinetists, the fair is an excellent opportunity for all attendees to learn about opportunities such as military careers, internships, ICA committee service, academic programs and festivals.
Music for clarinet and string quartet comprises Thursday night's evening concert. We are pleased to welcome the Dali String Quartet who will be collaborating with our headlining artists. Jon Russell will premiere his composition, On Sorrow for bass clarinet; Andrew Simon will present new operatic solo arrangements by Warren Lee; and Philippe Cuper is scheduled to perform Enescu's Romanian Rhapsody No. 1 Op. 11. Guy Yehuda will play Joel Engel's Hadibuk Suite, Op. 35, and Sarah Watts will perform the powerful On Shapes and Figures by Jessica Mays.
The fun continues Friday with another full day of presentations, "Connecting" potpourri concerts, recitals, clarinet choir rehearsals and exhibits. Friday's offerings include our "Pedagogy Pathways" programming, during which we highlight sessions that are of pedagogical interest to attendees in person as well as music educators joining us remotely for the day. Master classes given by Caroline Hartig and Deborah Chodacki will be geared specifically toward younger, developing clarinetists. The morning will include a tribute concert for the late James Pyne, and the afternoon will feature bass clarinetist, composer and entrepreneur Michael Lowenstern in concert and a master class by Philippe Cuper.
Friday evening will begin with a moving tribute to Tod Kerstetter that will include the Professors Clarinet Choir followed by Jazz Night. Greg Tardy and Felix Peikli will perform with members of the Air Force Band of the Golden West, while François Houle is slated to play with his ensemble. The night will end with a performance by clarinet superstar Doreen Ketchens and her combo.
Connecting abounds Saturday, as it will be the last chance to peruse exhibits and connect with vendors. After a day filled with exciting recitals, potpourri concerts, and presentations as well as inspirational master classes by headlining artists Steve Williamson, YaoGuang Zhai and Felix Peikli, we celebrate accomplishments with the ICA Awards Ceremony.
The final evening concert of ClarinetFest® 2022 features exhilarating performances of concertos with the Reno Philharmonic. Steve Williamson will present the beloved Copland Clarinet Concerto and Seunghee Lee will be joined by Argentinian composer JP Jofre on his Double Concerto for Clarinet and Bandoneon. In the spirit of celebrating up-and-coming talent, our reigning Young Artist Competition Winner António Lopes will perform the first movement of Bernhard Crusell's Concerto, Op. 5. Peter Cigleris will introduce many concertgoers to Susan Spain-Dunk's luscious Poem Cantilena for Clarinet and Orchestra, Op. 51. Finally, the ClarinetFest® 2022 audience will be treated to the world premiere of Amanda Harberg's beautifully haunting Clarinet Concerto performed by YaoGuang Zhai.
ClarinetFest® 2022 wraps up on Sunday with a flurry of activity. The morning is packed with recitals, invited clarinet choir performances and Rising Artist Pre-Professional Showcase Concerts. Also, the winning compositions from the last three years of ICA Composition Competitions will be performed Sunday morning. Fittingly, we end the conference in the afternoon with a grand finale concert featuring the New Horizons Enthusiasts Choir, Festival Clarinet Choir, College Clarinet Choir and High School and Junior High School Choirs.
ClarinetFest® 2022 would not be possible without the support of our generous sponsors:
Altissimo
Buffet Crampon
D'Addario Woodwinds
Arthur Uebel
Henri Selmer Paris
Rovner Products Inc.
Yamaha Corporation of America
Clarion
ALRY Publications
Backun Musical Services
Chedeville
Lisa's Clarinet Shop
Royal Global
RZ Clarinets
Silverstein Works
Chalumeau
Corbin Clarinet Products
Midwest Musical Imports
Supporting
University of Nevada Reno
Steinway Piano Gallery Reno
We are so excited to welcome you to Reno and the Peppermill Resort – a venue that is perfect for reconnecting with clarinet friends and making new connections! There will be many special amenities for ICA members at the Peppermill, including a waived daily resort fee (a $25 per day savings), free shuttle service to and from the Reno Tahoe International Airport, free valet or onsite self-parking, complimentary wireless internet and much more. When conference-goers are not attending one of the many performances, presentations and sessions, they can enjoy several restaurants and bars onsite, and the gelato/dessert bar is conveniently located right at the entrance to the ClarinetFest® venue. Relax in the pools and hot tubs, exercise in the immense fitness center, try your luck in the vast casino, blow off steam in the arcade, and take over-the-top selfies in front of the selfie screen! Consider bundling your trip to Reno with a visit to nearby Lake Tahoe or check out Reno, the "Biggest Little City in the World"! We can't wait to CONNECT with you soon!
– Christy Banks, Artistic Director, ClarinetFest® 2022