Thursday, July 27, 2017
The second day of ClarinetFest® 2017 has come to a close. Today was packed full of performances, master classes and competitions. It was also the first day in which participants were able to get in to the exhibit hall to visit the vendor booths.
Thursday's festivities began with a World Premiere performance of the Scott McAllister's Amicitia Suite, which was performed by the commissioning ensemble the Amicitia Duo (Diane Barger and Denise Gainey) along with pianist Dale Williams. The work was thoroughly enjoyed by the audience and McAllister was in attendance for the premiere as well.
The day saw many wonderful clarinet choirs perform including the Eastman Rochester New Horizons Clarinet Choir and the Orquestra Potiguar de Clarinetas, a group from Brazil that was a favorite of the day for many attendees, including Richard Stoltzman, who stopped to take a photo with the group following their performance.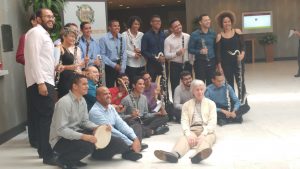 The exhibit hall was busy from the moment it opened at 9am, with attendees anxious to try new equipment, browse music and accessories and visit with other clarinetists. With all of the unique offerings from the various vendors, it was no surprise the hall stayed busy until closing time at 5pm.
Master classes by Jonathan Cohler on the works of Weber and by Milan Rericha on Virtuoso Technique were highly attended by participants, as well as 4:30 recital featuring Syrian clarinetist Kinan Azmeh. Azmeh performed works written by himself and his pianist Dinuk Wijeratne.
The semi-finals of the Young Artist Competition were held today from 9am-12pm and the six finalists were selected and will compete on Saturday, July 29th in the final round.
The evening concert featured the Ritz Chamber Players assisted Catherine Wood, Nicola Bulfone, Kimberly Cole Luevano and Gene Kavadlo in performing an eclectic recital of lesser-known works. The works were all superbly executed by soloists and ensemble members alike.
Stay tuned for more reports all weekend long!