ClarinetFest® 2017, Day 3: Feature Recital – UCF Percussion Ensemble
The Feature Recital performed at 4:30 pm on Friday, July 28, 2017 featured the University of Central Florida Percussion Ensemble (Theodore Jackson, Matthew Malhiot, Paul Yorke, Deborah Parsons, Madison Schafer, Joshua Albert, Joey Noble, Jonathan Collazo, Christopher Baird, Nicholas Chase and harpist Elizabeth Gerberding), directed by Thad Anderson. The percussionists accompanied both ensembles and soloists, performing each piece with great sensitivity and outstanding technical ability.
Composer Howard J. Buss introduced the first piece on the program, Spectrum for Bass Clarinet and Percussion Quartet, his newest work for this type of ensemble. Buss lauded the versatility of the bass clarinet, from the "haunting beauty of its lower register" to the potential for incredible agility in its upper register. Bass clarinet soloist Allison Storochuk's spectacular performance of the work indeed showcased these qualities in bringing the piece to life.
Next, the bass clarinet quartet Four New Brothers (Sauro Berti, Rocco Parisi, Sarah Watts and Stephan Vermeersch) performed the world premiere of Transitory Liaisons, by Daniel Adams. The constant shifts in color and texture throughout the piece were translated well to the audience via the exceptional balance between and across both ensembles. Kliment Krylovskiy's world premiere of Andrew List's Night Wanderings depicted the many sights and obstacles encountered by a space traveler. The work utilized a variety of instruments and techniques, including many spectacularly-executed extended techniques for the clarinet, gradually unfolding as the piece constantly accelerated.
Philip Parker's Five Pieces for Clarinet and Percussion Orchestra ("With Spirit," "Slowly," "Briskly," Solemnly," "As Fast as Possible") was then beautifully performed by clarinetist Kennen White, followed by clarinet soloist Paolo Beltramini's world premiere of ClariPercussions by Antonio Fraioli, accompanied by the Stark Quartet (Antonio Fraioli, Sergio Brusca, and Vinibaldo Baccari, clarinets; Sauro Berti, bass clarinet). Performing his own composition, Evolution 2.0 – the eternal seven days, Matthias Müller demonstrated three of his computer-augmented SABRe (B-flat, E-flat, and bass) clarinets. Gregory Oakes concluded the recital with an exciting and energetic performance of Damn, by John Mackey.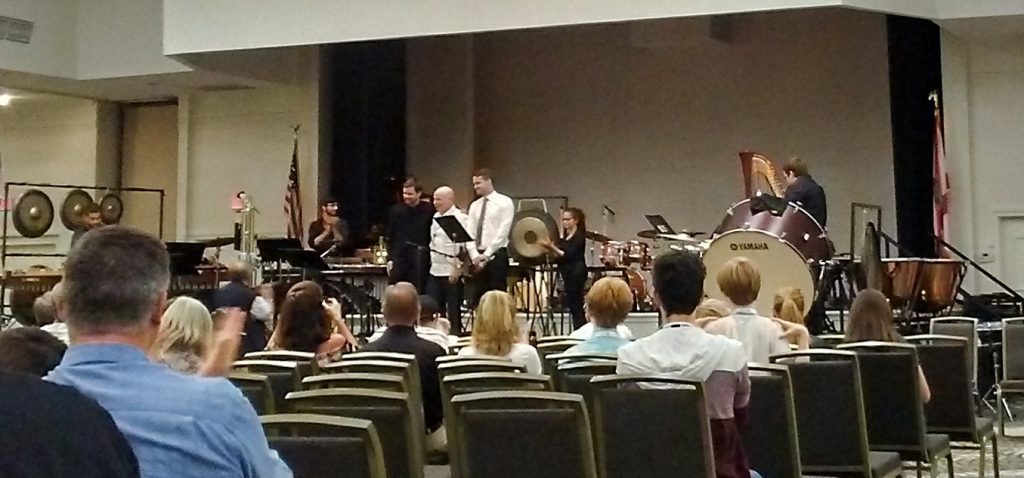 From left to right, percussion director Thad Anderson, composer Andrew List, and clarinetist Kliment Krylovskiy
Sarah Korneisel Jaegers (www.sarahkorneisel.com) is a Graduate Associate at The Ohio State University, where she is pursuing a Doctor of Musical Arts degree in Clarinet Performance under the guidance of Caroline Hartig.