Wednesday, July 26, 2017
It has been an exciting day here in Orlando, Florida! ClarinetFest® 2017 kicked with a bang during the opening gala recital at 1PM. We heard incredible performances by 2016 Young Artist Competition Winner João Paiva, Stanley Drucker, Michele Zukovsky and Eddie Daniels.
Other events from today's program included a wonderful masterclass with Michelle Anderson that was aimed at adult amateur clarinetists, an exciting Mostly Quartets recital, and the Florida Collegiate Clarinet Choir concert. Our research competition also took place. The winner will be formally announced on Saturday evening during the awards ceremony.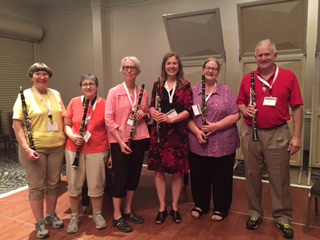 One of the most highly attended events of the day was the Stanley Drucker lecture-recital, which was filled to the brim. You can read more about that recital in the report here.
The evening concluded with an incredible concert featuring Christopher Confessore conducting the Orlando Philharmonic with soloists Stephen Ahearn, Milan Rericha, Julian Bliss, Richard Stoltzman and Eddie Daniels. Prior to the start of the concert, the three newest inductees to the ICA Honorary Members were recognized: Eddie Daniels, Luis Rossi and Richard Stoltzman.
Following the presentation, audience members were able to hear works by Debussy, Nielsen and Calendrelli as well as arrangements of Carnival of Venice and Carmen Fantasy by John Glenesk Mortimer.
After the concert concluded, attendees were treated to a reception hosted by the ICA and Buffet Crampon.
Stay tuned all throughout the conference for more reports. Be sure to follow us on twitter at @icaclarinet and @icapres for updates as well as on our Facebook page, Instagram and Snapchat!