07/26/2017
ClarinetFest® 2017, Day 1: Mostly Quartets Recital
At 2:30 pm on Wednesday, July 26, 2017, the Mostly Quartets Recital featured three outstanding ensembles. The United States Army Field Band Clarinet Quartet (MSG Reis McCullough, clarinet; SFC Jennifer Everhart, bass clarinet; SFC Brian Eldridge, E-flat clarinet; SSG Erik Franklin, basset horn) kicked off the first chamber recital of ClarinetFest® 2017 with four movements (I. "Prélude," II. "Allemande," V. "Passepied I," and VI. "Passepied II") of Johann Sebastian Bach's English Suite No. 5 in E Minor, BWV 810, arranged by newest ensemble member Erik Franklin. The quartet concluded their performance with three movements of 24 Preludes and Fugues, Op. 87, by Dmitri Shostakovich, arranged by quartet member Reis McCullough. The ensemble's full sound and exceptional balance, along with the excellent writing on the part of the arrangers, made this an impressive and beautiful performance.
Next, a Venezuelan quartet consisting of Demian Martinez, clarinet, Rodner Padilla, electric bass, Henry Linarez, cuatro, and Ernesto Laya, maracas, performed six pieces, including two by quartet member Rodner Padilla. La Estancia, by Aquiles Hernandez, Padilla's Vals Cayaperico, Buscando Caiman en Boca e' Caño, by Aquiles Baez, Gaita Nro. 7, by Aquiles Hernandez, and another of Padilla's works, El negrito de Caja de Agua all demonstrated the virtuosic capabilities of the instrumentalists. On the final piece, El Alacran, by Ulises Acosta, arranged by Pedro Marin, the quartet was joined by clarinetist Jonathan Cohler, who recounted his first visit to Venezuela and described the quartet's clarinetist Demian Martinez as "a great contribution to the world." I was amazed by the seamless tone matching exhibited by Martinez and Cohler.
Finally, the last ensemble to perform was the Bogotá Clarinet Quartet (Edwin Rodríguez, e-flat clarinet; Fredy Pinzón, b-flat clarinet; José Gómez, b-flat clarinet; Mauricio Murcia, bass clarinet; Fabio Ortíz, percussion). This ensemble performed all three movements ("Fandando," "Serenata", and "Choro y Tango") of Cuarteto Latinoamericano, by Aldemaro Romero, then concluded the recital with the world premiere of Sabor artificial, a piece composed by the group's bass clarinetist, Mauricio Murcia, which showcased each member of the ensemble with light, lively solos and colorful flourishes.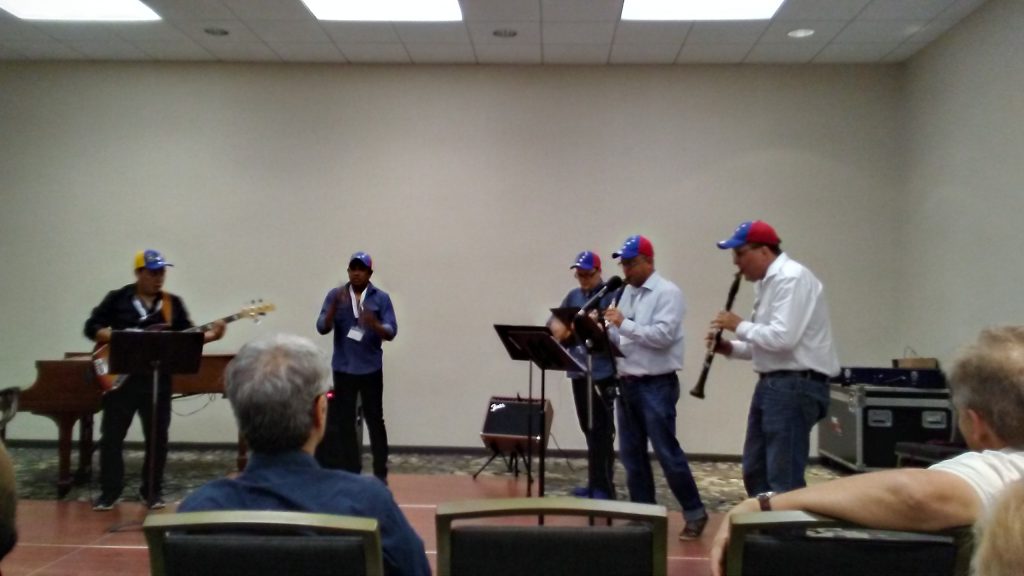 – Sarah Korneisel Jaegers (www.sarahkorneisel.com) is a graduate associate at The Ohio State University, where she is pursuing a Doctor of Musical Arts degree in Clarinet Performance under the guidance of Caroline Hartig.