Report by Jennifer Zimmerer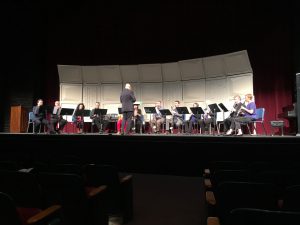 On Saturday at 4 p.m. in the Crafton-Preyer Theatre, Silverstein Works sponsored a recital titled "Homage to Astor Piazzolla" showcasing their artists. The first piece Invierno Porteño featured the full ensemble: Sauro Berti, Mary Alice Druhan, Joshua Gardner, Maryanne Lacaille, Meghan Merciers, Milan Rericha, Raphael Sanders and Steven Silverstein on B-flat soprano clarinet, and Blake Arrington, Stefanie Gardner, Rocco Parisi and Stephan Vermeersch on bass clarinet. Thomas Piercy conducted the first piece and then gave the baton over to Sauro Berti for Michele Mangani's piece Fantango. This was the world premiere of the clarinet version of Mangani's composition.
The middle portion of the program included smaller ensemble works paying homage to Piazzolla. Piercy spoke briefly during the set change about his arrangements of Piazzolla's original works. He explained that over the years he arranged for clarinet ensembles, clarinet and piano, and was assisted by Tod Kerstetter as he arranged works for Saturday's ensembles. The first of the small ensembles was a quartet arrangement of Piazzolla's Adios Nonino, performed by Lacaille, Silverstein, Joshua Gardner and Stefanie Gardner on bass clarinet. Next was the fourth movement of Piazzolla's Histoire du Tango "Concert d'Aujourd'hui" played by Merciers, Druhan, Sanders and Arrington on bass clarinet.
Pianist Jiung Yoon joined Piercy, Rericha and Vermeersch on bass clarinet for "Contrabajissimo." The trio with piano highlighted solo bass clarinet lines and affects including slap tongue, altissimo, and other extended techniques. Each player took over the melody while the ensemble maintained the driving rhythmic lines. A slow middle section contrasted the opening, leading into a lively finale. The next trio with piano, Soledad, was performed by Berti, Silverstein and Parisi. Soledad was a slow, lyrical contrast to the previous pieces on the program.
Berti and Parisi were accompanied by piano for Michelangelo '70. This short arrangement is titled after a Buenos Aires cafe where Piazzolla's quintet performed in the 1970s. Another duet with piano followed, titled Milonga del Angel, performed by Piercy and Arrington.
The concert concluded with the full clarinet choir, conducted by Sanders. The ensemble gave the world premier of Gene Pritsker's Soul Fragment Tango II. The program appropriately closed with two arrangements: Deus Xango and Escualo. Audience members also received Silverstein's "Omnicap" mouthpiece cap for being one of the first 100 in attendance.
Jennifer Zimmerer holds a master's degree from The Florida State University and a bachelor's degree from Towson University. She is an active teacher, performer, and clinician in the greater Nashville area.