This article is part of a new series called Clarinet in the Time of COVID that aims to help clarinetists find the most recent and important information regarding the evolution of our field as a result of the COVID-19 global pandemic. If you have information that you would like to share as a part of this series please contact Jenny Maclay at [email protected].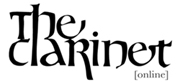 Online piano accompaniment to clarinet repertoire
---
During this time, many clarinetists have been unable to rehearse or perform with pianists. If you are looking for recordings to practice or use for virtual performances, here are a few resources:
Please let us know if you know of any other performers, channels, or pages and we will add them to the list! You can email [email protected] with your submissions, and we will update this list regularly.