ICA Plays On! 2021 Video Premiere: Johannes Brahms, Trio in A Minor, Op. 114 – The Goodwin Avenue Trio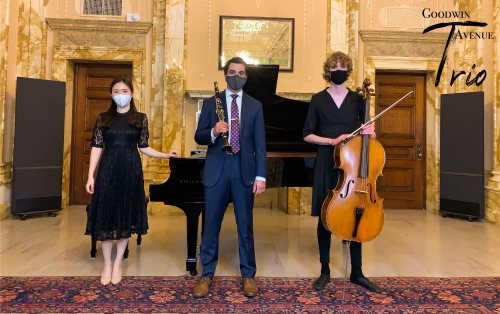 Premieres January 29, 2021 at 10 am EST
Join The Goodwin Avenue Trio for a performance of Johannes Brahm's Trio in A minor, Op. 114 for clarinet, cello and piano.
---
About the performers:
Recently formed in the fall of 2020, The Goodwin Avenue Trio has been applauded for their "spectacular phrasing, ensemble work, and artistry." The trio is committed to featuring contemporary works alongside classical repertoire, with music ranging from Brahms & Mozart to Muczynski & Hallman. In the fall of 2020, the trio was featured on The University of Illinois String Chamber Music Recital and completed an entirely self-produced, recorded, and edited video of the Brahms Clarinet Trio, Op. 114. The Goodwin Avenue Trio is comprised of pianist Chanmi Lee (She/Her/Hers), cellist Ethan Schlenker (They/Them/Theirs), and clarinetist Andrew J. Buckley (He/Him/His). Amidst the COVID-19 pandemic, in March of 2021 the trio will be presenting a series of live and online recitals as their official public debut. For more information about The Goodwin Avenue Trio and upcoming performances please follow @GoodwinAveTrio on Facebook and @goodwin_ave_trio on Instagram.
When: 01/29/2021 | 10:00 am
Featuring: The Goodwin Avenue Trio
Join concert Here
Back