ICA Plays On! 2021 – Contemporary Clarinet Techniques with Turkish Clarinetist Selin Gürol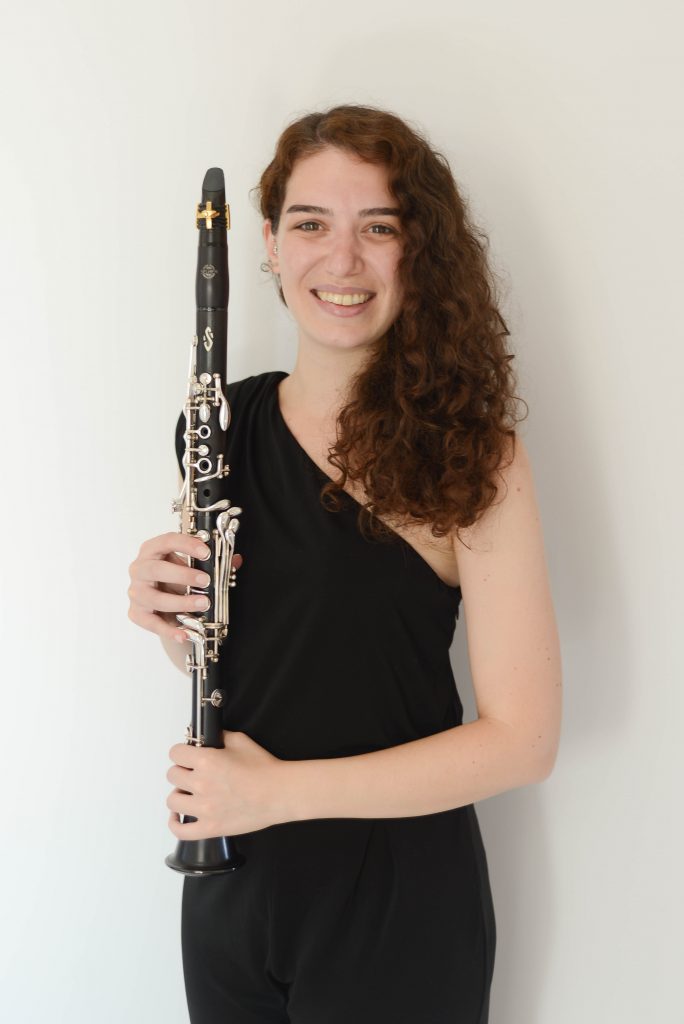 ICA Plays On! 2021 – Contemporary Clarinet Techniques with Turkish Clarinetist Selin Gürol
Join clarinetist Selin Gürol as she presents a lecture on in English/Turkish on double tonguing and double staccato.
---
About the presenter
Originally from Istanbul, Selin Gürol started playing the clarinet at the age of 11 and was graduated from Music High School of Bilkent University in Selen Özyıldırım's class in Ankara, Turkey. Later on, she attended the undergraduate class of Michel Lethiec at the "Conservatoire National de Nice" where she was awarded the "Prix de Perfectionnement" and obtained her Soloist Bachelor Diploma at Nice University. After perfecting her skills in France, she decided to move to Switzerland in order to continue her musical career in Frédéric Lapin's class at "Haute Ecole de Musique de Lausanne" where she obtained her Master of Arts in Music Performance Diploma.
Successfully passing the audition of Zurich Opera where only one person is welcomed annually, Ms. Gürol started her internship in Philharmonia Zürich – Opernhaus whilst being qualified for the Master Specialized in Orchestra Performance in "Zürcher Hochschule der Künste". Given this opportunity, she had the chance to work with many clarinetists such as Fabio di Càsola, Robert Pickup, Heinrich Mätzener and Felix-Andreas Genner. During the masterclass in Chigiana Academy with Alessandro Carbonare, she received the artist's appreciation and was honored with an Academy Scholarship where she performed as a soloist in the concert. She completed her education at Alessandro Carbonare's class at the "Accademia Nazionale di Santa Cecilia" in Rome.
She was granted several scholarships and awards such as "Musica Mundi Festival", Belgium; "Académie d'Eté de Nice", France; "Eczacıbaşı Foundation", Turkey; "Bruno Schüler-Stiftung", Switzerland.
In addition to Philharmonia Zurich – Opernhaus, she took part in many orchestras such as Yehudi Menuhin Academy, Animato Philharmonic, Netherlands Youth, Mediterranean Youth under the baton of Vladimir Ashkenazy, Marko Letonja, Carlo Rizzi, Ralf Weikert, Peter Eötvös, Christian Zacharias, Domingo Hindoyan and Kevin Griffiths.
Ms. Gürol performed as a soloist with the many orchestras such as Istanbul State Symphony Orchestra, Bilkent Symphony Orchestra and Çukurova State Symphony Orchestra. Furthermore, she has performed live on the "Radio Espace 2" in Switzerland with her own project which is called "Turkish Contemporary and Traditional Music".
She was invited to world-renowned music festivals in Turkey, France, Italy, Belgium, Sweden, Switzerland, Tunisia, Hungary, Croatia, Slovenia, Greece, Spain, Monaco, Germany, Netherlands, Austria, Czechia and Slovakia. Selin Gürol is a clarinetist at Presidential Symphony Orchestra and Henri Selmer Paris Clarinets Artist and Ambassador. She continues her academic career with her PhD in Istanbul University State Conservatory.
Clarinetist Selin Gürol is a member of LocksBridge Artists which is Turkey's first and leading international classical artist management company and represents the best classical artists in Turkey.
When: 01/31/2021 | 10:00 am
Featuring: Selin Gürol
Register for this lecture
Back