Originally published in The Clarinet 47/3 (June 2020). Printed copies of The Clarinet are available for ICA members.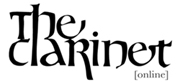 ---
BOOKS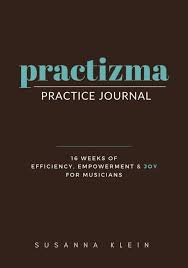 Susanna Klein. Practizma: 16 Weeks of Efficiency, Empowerment & Joy for Musicians. Practice Blitz LLC, 2019. $19.95
Violinist, teacher and practice researcher Susanna Klein endeavors to change the way musicians practice in her 16-week practice journal, Practizma. The introduction to the journal describes Klein's philosophy on good practice. She focuses on efficiency, the empowerment to feel like we are capable of reaching our goals, and maintaining the joy of music through our work.
The journal is clearly organized, with each week divided into four sections. The first page of each week is a Goal Page. Here the student collaborates with their teacher on what they should be doing that week. They also have an opportunity to write down what they are proud of having done and what they would like to improve. Next, Klein asks students to reflect on something in writing. Each week has a different Reflection Prompt, encouraging students to think about themselves as musicians and analyze their progress. The third section is an Action Challenge, which is different for each week. These will push students to do specific activities in their practice time to help break up the monotony and to alter their approach to practice. Finally, there is a page in each week where the student will log their practice time.
Susanna Klein's philosophy on practice, musicianship and life is sprinkled throughout the pages of the journal. Possibly the most important element of Practizma is the emphasis that it puts on maintaining physical and emotional health. Self-care is at the fore of much of Klein's advice. She also provides a website, http://practizma.com, where students can find more practice tips and advice, as well as many practice videos on YouTube called "Practice Blitz."
Practizma is an excellent resource for anyone hoping to improve the quality of their practice.
– Madelyn Moore
---
MUSIC
SOLO CLARINET AND ETUDES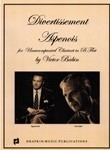 Victor Babin. Divertissement Aspenois for unaccompanied clarinet in B-flat. Drapkin Music Publications, 2019. $14.00
Looking for a fun solo piece with the rhythmic wit of Stravinsky and the melodic charm of Poulenc? Here it is. First published in 1953 by Augener (London), Victor Babin's Divertissement Aspenois has been released in a new edition by Michael Drapkin, with additional dynamic and stylistic markings that are a mini-master class in how to give a musical performance. They come from Drapkin's Eastman School of Music teacher Stanley Hasty. Babin's work was composed for Reginald Kell, and three of the four movements are dedicated to members of the Kell family: I. "Humoresque" for Reginald, II. "Siciliana à L'Anglaise" for Diana (Kell's wife) and III. "Rondino" for Jeffrey (Kell's son). The fourth movement, "Dithyramb," is dedicated to the clarinet, and honors our instrument with a moderately-paced, long-arched melody. It concludes with an embracing musical sunrise. By the way, correct the fifth note in measure 80 of "Humoresque;" it should be C-natural, not C-sharp.
Babin (1908-1972) was born in Moscow and received piano and composition training in Riga and Berlin before immigrating to the U.S. in 1937. Widely known in the Vronsky-Babin piano duo with his spouse Victoria Vronsky, he was also a teacher and administrator at several leading institutions including the Cleveland Institute of Music and the Aspen Music School, where in the years 1951-1954 Reginald Kell was also on the faculty.
Highly recommended.
– Gregory Barrett
---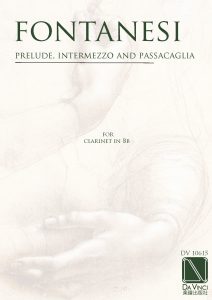 David Fontanesi. Prelude, Intermezzo and Passacaglia for clarinet in B-flat. Da Vinci Edition, 2017. $14.00
Italian composer David Fontanesi was born in 1969. His catalog comprises mostly works for small chamber groups that include winds, brass, strings, piano and/or voice.
Written in 2016, his 12-page Prelude, Intermezzo and Passacaglia is dedicated to Italian clarinetist Luca Saracca. The three movements borrow traditional elements of the Baroque and Classical periods but with a contemporary sound. One could almost compare this work with Bach's Cello Suites, in that the work is unaccompanied, contains a "Prelude," resembles a series of etudes, and has similar technical patterns, rhythmic characteristics and articulations. The analogy, however, stops here.
The work has a modern sound, almost neo-Baroque, but not as soul-moving or captivating. The melodic content seems random at times, even though it looks very tight on the score, particularly in the "Prelude." The "Intermezzo" is a technical, florid and improvisation-like slow movement, and the "Passacaglia" contains the expected serenity of melody but surprises us with two lines of flutter-tongued eighth notes before ending in a full page of flying 32nd notes.
– Michele Gingras
---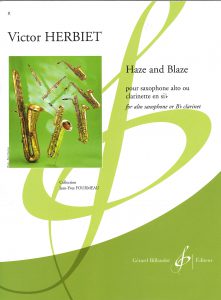 Victor Herbiet. Haze and Blaze (1967), for alto saxophone or B-flat clarinet. Gérard Billaudot Éditeur, 2018. €9.50
Victor Herbiet's succinct Haze and Blaze provides an entertaining and accessible introduction to extended techniques, incorporating color fingerings, aleatory and even a multiphonic. Written for either saxophone or clarinet, the score includes distinct parts for both instruments, complete with clear fingering indications. The publisher grades the piece facile (3).
Within this piece's two minutes, Herbiet creates two contrasting sections corresponding to "haze" and "blaze" respectively. The composer writes that the first of these, marked mystérieux, should relate to smoke. His opening 3/4 time signature would seem to indicate a metric scheme, yet he conspicuously omits bar lines in this first half of the piece. He outlines a flexible pulse that vacillates between acceleration and relaxation, ultimately culminating in an extended ad lib passage in which the performer dictates rhythm, articulation and dynamics. "Blaze," the second section, realizes its virevoltant (swirling) indication in its insistent rhythmic drive, setting off asymmetrical meters with accented articulation patterns. The piece culminates in a reprise of the initial figure from "Haze" that quickly accelerates into a dissonant (and easy-to-produce) multiphonic and then ends abruptly with a motive that recalls "Blaze."
Nicolas Prost commissioned Haze and Blaze as a compulsory work for the 2019 Saxiana Competition in France, where Herbiet served as an adjudicator. An accomplished saxophonist and composer with many publications to his name, Herbeit performs as principal saxophone with the Ottawa Symphony and teaches on the faculty at the University of Ottawa. He previously served in the music branch of the Canadian Forces, and studied composition with Steven Gellman at the University of Ottawa.
– Matthew Nelson
---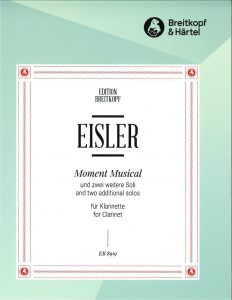 Hanns Eisler. Moment Musical and two additional solos from the stage music for the play Night Music by Clifford Odets. Edited by Heinrich Mätzener. Breitkopf & Härtel, 2017. $18.95
This volume includes works for unaccompanied clarinet from Hanns Eisler's score for Clifford Odets's 1940 play Night Music. Eisler (1898-1962) wrote Moment Musical "for Mr. Donatelli, a very excellent musician and artist" and principal clarinetist of a Hollywood studio orchestra. All three pieces exhibit a lyrical style with accessible melody and harmony. Eisler wrote to his wife that the orchestra for the play was composed of "very poor musicians" with "appalling intonation," so it is likely that "Solo 1" and "Solo 2" were replacements for the more difficult material from Moment Musical. While Eisler often used the clarinet in his chamber and vocal works, these unaccompanied clarinet compositions are unique in his oeuvre.
Eisler, a Schoenberg student, exhibits the technique of "developing variation" in the articulation, dynamics and rhythm of each one-page piece. Moment Musical works well for solo recitals for advanced players. Pedagogues will find both solos useful for teaching variation technique to their younger students, and the solos are worthy of inclusion on private studio recital programs.
Moment Musical opens with a virtuosic flourish featuring dominant and diminished arpeggios and articulated chromatic lines. The tessitura rises only to an altissimo D trill at the end of the introduction before returning into the staff for the main section, marked "Blues tempo." Eisler uses variation technique to create the melody, keeping the same pitch sets while altering rhythm and articulation.
"Solo 1," marked "Slow," spans a comfortable one and one-half octaves. Varied rhythms, articulation and dynamics make this a great pedagogical and recital piece for an intermediate student.
"Solo 2," Andante, has a larger range, extending to altissimo E, but is simpler rhythmically. The only specified dynamic is pianissimo, so this solo emphasizes control and air support. This solo is also best for an intermediate student.
– Jesse J. Gilday
---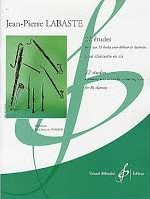 Jean-Pierre Labaste. 22 études, a follow-up to 55 studies for clarinet beginners. Gérard Billaudot Éditeur, 2019. €16.32
Jean-Pierre Labaste is a consummate clarinetist, composer and teacher at the Conservatory of Music and Dance in the southwestern French city of Dax. The 22 engaging studies in his latest book are for the intermediate player; they are slightly more difficult than those in the stalwart Melodious and Progressive Studies book 1 edited by David Hite. Fittingly for a student clarinetist of this level, the etudes are one to two pages in length, written in key signatures of up to three sharps or flats and contain a variety of meters and emphases, such as: "evenness of finger technique," "embouchure flexibility," "musicality and expressivity" and "articulation and rhythm patterns on the first scales." 12 of the studies are in minor keys and express the myriad chromatic alterations possible. In fact, Labaste makes adroit use of interesting harmonic touches in all the pieces. The title, 22 études, belies the sincerity and appeal of the music found in these 32 pages – I couldn't put my clarinet down until I played every one. Highly recommended.
– Gregory Barrett
---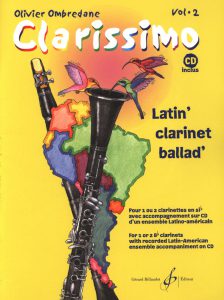 Olivier Ombredane. Clarissimo, Latin Clarinet Ballads Vol. 2. Gérard Billaudot Éditeur, 2017. €23.37
This book of 13 duets is the second in a series of three. Each two-page piece is based on a different Latin American rhythm, ranging from cha-cha and samba to guarania and morenada. The accompanying CD includes two soundtracks for each piece, one with ensemble and the other with ensemble plus clarinet. This allows each piece to be played by either one player or two players with or without accompaniment. Hopefully Billaudot
will offer digital downloads of the recorded accompaniment to increase media accessibility for this volume and future volumes.
Billaudot indicates that Volume 2 is for clarinetists in their third or fourth year of study. The bottom part for each piece is more complex than the top part, allowing students to play the melody and teachers to accompany. The melodies are catchy, rhythmically challenging and fun to play. The author suggests memorizing the music "in accordance with traditional oral transmission practice." Key signatures range from one flat to three sharps, with occasional chromaticism, and the parts seldom venture into the altissimo.
The instrumentation of the recorded ensemble includes Latin American flutes, percussion, guitar, cuatro, charango and tiplé. The score includes chords for live accompaniment. The duets can be used as lesson material for rhythm, for ensemble skills, an introduction to ethnomusicological performance or as fresh material to inspire a listless student. Since the pieces are engaging for both listener and performer, they are well-suited to concert performances. Choose one for a high school recital piece, as a crowd-pleasing encore for a college or professional recital, or pick several to include on a wedding gig. Bottom line: the duets are both rewarding to play and practical in a variety of settings!
– Jesse J. Gilday
---
CLARINET AND PIANO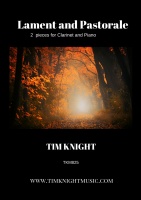 Tim Knight. Lament and Pastorale: two pieces for clarinet and piano. Spartan Press, 2018. £8.25
British composer Tim Knight (b. 1959) is primarily known for his choral works and his books on choir management. However, he also has a healthy output of compositions for woodwinds. His Lament and Pastorale is a fine example of lyrical woodwind writing. The work was written in 2010 and revised in 2018.
As the title suggests, it would be appropriate to perform these pieces individually, or together as a two-movement work. The pieces are not long, each one lasting approximately 2 minutes.
The "Lament" is written in 6/8, marked "sadly and slowly," and has a gentle flowing feel. In a break from the traditional lament, the melodic line ascends throughout the work with the clarinet and piano weaving in and out of one another. The "Pastorale" is also in a slow 6/8, and is marked "wistfully and expressively." It is not as lyrical as the "Lament," with more tongued 16th notes and wider melodic jumps.
Knight's Lament and Pastorale should appeal to clarinetists of varied abilities. The range is fairly comfortable in both movements. The "Lament" only extends into the altissimo a few times and just reaches an F when it does, while the "Pastorale" stays in the chalumeau and clarion registers. The rhythms may be complicated for young students, but
the slow tempo makes them accessible. Both pieces have an earthy, peaceful style and mood that would be welcome in a recital setting.
– Madelyn Moore
---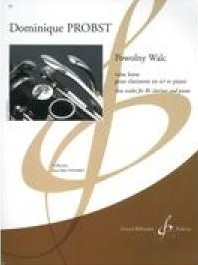 Dominique Probst. Powolny Walc (Slow Waltz) for clarinet and piano. Collection Jean-Marc Fessard, Gérard Billaudot Éditeur, 2016. $8.50
Born in Paris, France, in 1954, composer Dominique Probst is the son of noted actress Gisèle Casadesus and Lucien Probst, an actor and director with the Comédie-Française. Dominique Probst graduated from the Paris Conservatory with a Premier Prix in percussion in 1978.
Powolny Walc has to be one of the shortest pieces I have seen in a while (1'30"). Totaling a whopping 42 measures, it features two sections, one melancholic and one joyful, followed by a da capo and a coda (counted within the 42 bars!). It is modern-sounding, extremely easy to play, with quarter notes, dotted half notes and a grand total of seven eighth notes. A modern piece intended for very young clarinetists.
– Michele Gingras
---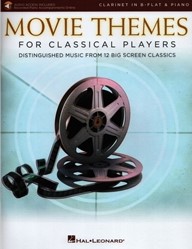 Movie Themes for classical players. Clarinet in B-flat and piano. Hal Leonard, 2019. $19.99
Favorite melodies from 12 hit movies are found in the 20-page clarinet part. The writing for both clarinet and piano is at an easy-intermediate level. No pianist able to join you in your screening room tonight? No problem, use the unique code printed in the score to access Hal Leonard Online Audio where you can independently adjust key and pitch to your preference. Relive memorable tunes from E.T., The Godfather, Nino Rota's score to Romeo and Juliet and Ennio Morricone's ubiquitous Gabriel's Oboe from The Mission, among others.
– Gregory Barrett
---
TRIOS AND QUARTETS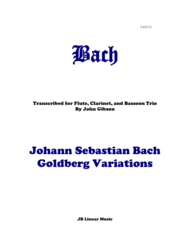 Johann Sebastian Bach. Goldberg Variations, for two B-flat soprano clarinets and bass clarinet. Transcribed by John Gibson. JB Linear Music, 2015. $18.95
Bach's formidable Goldberg Variations need no introduction, and here John Gibson offers a transcription of the great work for clarinet trio: two B-flat clarinets and one bass clarinet. Gibson bases this setting partly on Ferruccio Busoni's 1915 edition of the variations, whose alterations "make the music more playable on a single manual keyboard, thereby clarifying the three-part structure." Nevertheless, where Busoni's edition becomes excessively romantic or heavy-handed, Gibson returns to the original. This transcription provides an excellent means for clarinetists to immerse themselves in Bach's counterpoint, though its length and technical demands will require careful programming.
The transcription preserves the variations' key signatures without transposition, and the variations therefore sound at F major/D minor on the specified B-flat instruments, as opposed to the original G major/E minor. Gibson seems to have chosen his key deliberately, as it tempers the range and technical difficulties encountered throughout the roughly 45 minutes of the piece. The range never exceeds altissimo G in the clarinet parts or clarion G in the bass clarinet part, and though it extends down to low C-sharp in the bass clarinet part, he provides ossias an octave higher for instruments without a low C extension. Gibson includes sparse dynamic indications and ornaments, encouraging performers to add those elements at their discretion.
– Matthew Nelson
---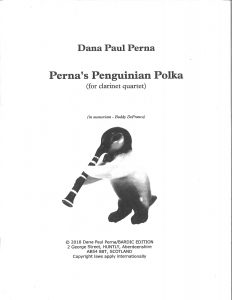 Dana Paul Perna. Penguinian Polka for clarinet quartet. Bardic Edition, 2018. Score and parts $22.00
American composer Dana Paul Perna (b. 1958) has over 150 works and arrangements to his credit, several reflecting his lifelong promotion of the music of Percy Grainger. Penguinian Polka for clarinet quartet with bass clarinet (to low E) has a different inspiration: clarinet jazz great Buddy DeFranco. This medium-difficulty three-minute romp has an appropriate penguin-inspired tempo designation: Allegro con "waddle." The bass clarinet embodies the penguin with its two-measure, quarter note, back-and-forth tritone shuffle introduction. The clarinets play off this waddle with quintessential jazz-inflected syncopated motifs. The middle section has contrasting elements of fugal entrances and compound triplets. And did you know a group of penguins on land is called a waddle? This fun piece, Bardic Edition number BDE 1167, is available via Schott Music or Hal Leonard.
– Gregory Barrett
---