Originally published in The Clarinet 48/3 (June 2021). Printed copies of The Clarinet are available for ICA members.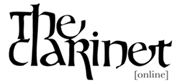 ---
Book and Music Reviews: June 2021
BOOKS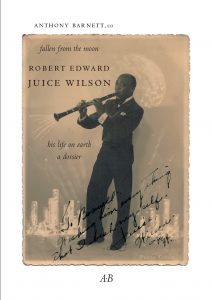 Anthony Barnett. Fallen from the Moon: Robert Edward Juice Wilson: His Life on Earth: A Dossier. Allardyce, Barnett Publishers, East Sussex, U.K., 2021 $30.00
Anthony Barnett's riveting Fallen from the Moon: Robert Edward Juice Wilson: His Life on Earth: A Dossier is an intriguing odyssey of an esoteric and brilliant jazz artist of the 20th century. Barnett's title refers to an article by Antoni Tendes, who wrote, "He gave me the impression of a man who had fallen from the moon." The mystery of what Tendes's words mean, and the perplexity of Juice Wilson's poignant journey are at the heart of the intriguing nature of Barnett's dossier. Barnett creates a portrait of Wilson's life through anecdotes, violin improvisations, letters, timelines, photographs, collective accounts and more.
Robert Edward Juice Wilson ("Juice" referring to alcohol) was a musician of remarkable ability. Early in Wilson's career, he was known primarily as a violinist, with a brilliant ability akin to Eddie South. In addition, he played clarinet, alto saxophone and occasionally piano. He grew up in Chicago, played and recorded with Noble Sissle in London in 1929, and then lived and worked for decades throughout Europe, North Africa and in Malta. In the 1960s he returned to Chicago. Wilson played with renowned jazz artists throughout his life.
Accounts of his life have contradictory and perplexing contrasts. It's difficult to ascertain truth versus opinion. Wilson was haunted by melancholy, perhaps this being at the core of his musical emotional language. It's apparent Wilson's life contained high artistic realizations,
while simultaneously he suffered from multiple negative circumstances unbeknownst to others.
Anthony Barnett has provided a path of intrigue, a reminder that all lives at times find themselves fallen from the moon.
 – Harry Skoler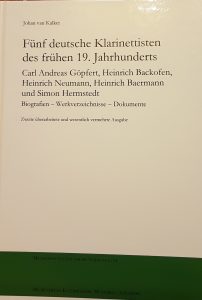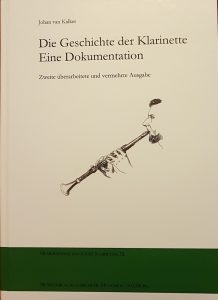 Johan van Kalker. Fünf deutsche Klarinettisten des Frühen 19. Jahrhunderts (Five German Clarinetists of the Early 19th Century): Carl Andreas Göpfert, Heinrich Backhofen, Heinrich Neumann, Heinrich Baermann und Simon Hermstedt. Musikverlag Bernd Katzbichler, Salzburg and Munich, 2020. €38.00
Johan van Kalker. Die Geschichte der Klarinette: Eine Dokumentation (The History of the Clarinet: A Documentary). Musikverlag Bernd Katzbichler, Salzburg and Munich, 2019. €39.80
Johan van Kalker is an amateur German clarinetist and former pilot for KLM, with a great passion for researching clarinet literature and clarinet history. In the last 28 years he visited and consulted many American and European libraries for his research. The outcome of his work is four books: Die Geschichte der Klarinetten (Verlag Textilwerkstatt Oberems, 1997), Carl Andreas Göpfert, Heinrich Backhofen und Heinrich Neumann (Heinholz Verlag, Göttingen, 2012) and lastly the two books presented here, published in 2019 and 2020. These two books are monumental (the first has 275 pages and the second one almost 400!) with an incredible amount of information.
Fünf deutsche Klarinettisten des Frühen 19. Jahrhunderts presents five German clarinet players from the early 19th century: Göpfert, Backhofen, Neumann, H. Baermann and Hermstedt. The first three are not so well known but the last two were important virtuosi who shaped clarinet history, inspiring Weber and Spohr in their numerous clarinet compositions.
For each player, Kalker completed a biography and compiled a list of compositions, sources, illustrations of interesting documents, letters and frontpages of early editions. Every detail in this book is accurate, precise and well documented. Kalker's thoroughness presents a great opportunity to discover interesting compositions not so well known. From Carl Andreas Göpfert you will learn of clarinet quartets, five clarinet concertos and clarinet duos. From Neumann, there is a unique series of Six Serenades for clarinet/basset horn and guitar or two guitars. Backhofen, a clarinetist, flutist, harpist and composer, wrote among other pieces Concertante for harp, basset horn and cello, Concertante for two clarinets in A and orchestra, duos, concertos for basset horn or clarinet and Harmoniemusik. H. Baermann and Hermstedt need little introduction. Baermann was one of the most celebrated solo players of the 19th century but also wrote 38 clarinet compositions. Hermstedt was above all an incredible virtuoso player and Spohr wrote for him a good number of demanding pieces. Kalker rounds out our understanding of Baermann and Hermstedt's importance by citing the compositions dedicated to these two famous players by additional contemporary composers. At the end of the book Kalker makes a comparison between the two players, in respect to their lives, careers and concert activity.
The second book reviewed here, Die Geschichte der Klarinette: Eine Dokumentation, is a revision, with much added material, of his 1997 book of nearly the same title. There are six chapters encompassing all possible subjects of clarinet history, from the primitive instruments that spawned the chalumeau to the evolution of the instrument through the Baroque, Classical, pre-Romantic, late Romantic and modern periods. All types and clarinet systems have been taken into consideration in minute detail. Also included is an interesting list of clarinet treatises and methods written up to the beginning of the 20th century. At the end of the book, there are listings and a long bibliography about clarinet literature, mouthpieces, reeds, clarinet maintenance, libraries, dissertations about clarinet topics and much more. All of this is a mine of endless information in a unique and monumental book!
These two beautiful books are highly recommended to all professional or amateur players. Chapeau to van Kalker for his demanding and huge accomplishment! The only problem is that at the moment they are available only in German. We hope that an English translation will be scheduled in the near future. Even if you do not know much German, these two books have interesting and accurate lists of compositions, dissertations, bibliographies, illustrations and images of letters and documents; good and interesting to consult anyway!
– Luigi Magistrelli
MUSIC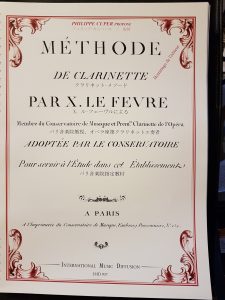 Xavier Lefèvre. Méthod de clarinette. Preface by Philippe Cuper. International Music Diffusion, Paris, 2020. €33.50
Xavier Lefèvre is well known to the clarinet world for being a French clarinet virtuoso, one of the first teachers of the newly founded Paris Conservatoire (1795), pupil of the famous virtuoso Michel Yost and also for writing his Clarinet Method (1802/1803). It has been published in modern times by Ricordi and other publishing houses but unfortunately these editions did not respect the original version which had a series of interesting and useful theoretical chapters and 12 Sonatas for C clarinet and bass.
In the early 19th century Benedetto Carulli (teacher of E. Cavallini at the Milan Conservatory and principal clarinet at La Scala) revised it and translated the theoretical chapters into Italian, but this early edition is not easy to find (it is preserved at the library of the Milan Conservatory). In 1974 Minkoff Editions printed a facsimile of this Méthod, and now we have this new publication by International Music Diffusion, Paris, which is most welcome both for students and professional clarinetists.
To have available the 14 theoretical chapters of this important Méthod means to discover important features of the performance practice of the late classical period. For the clarinetist who would like to approach the five- (or six-) keyed clarinet, this is (and was, of course) the appropriate treatise about the historical guidelines for embouchure, articulation, phrasing and fingerings. Lefèvre advises about how to make the correct interpretation of Adagio, Allegro, embellishments, how to produce the right sound and many other useful things! There are, obviously, etudes to train the pupil from scratch to a medium level, but the main feature of this method are the Twelve Sonatas for C clarinet (or Bb, with the bass transposed) and bass (cello, bassoon, keyboard). These beautiful and inspiring Sonatas (Colin Lawson has recorded all of them on an early C clarinet for the label Clarinet Classics) have an important didactical value and could be good material for live performances on an early or modern clarinet. The Ricordi edition presented them in the form of duets for two clarinets; that is why most clarinetists do not know that the original version of these Sonatas is for clarinet and bass. We must say merci to Philippe Cuper, well known solo clarinet player and principal at Paris Opera, for taking care of this new publication by International Music Diffusion of the original version (facsimile) of the Lefèvre Méthod, and writing a preface with plentiful information about Lefèvre.
 – Luigi Magistrelli

Jeff Jarvis. JAMZ: 15 Solos in Modern Styles. Kendor Music, 2020. $15.99
JAMZ is a collection of solos written by Jeff Jarvis that includes free downloadable MP3 accompani­ment backing tracks. The collection explores a variety of styles, including funk, hip-hop, rock, funk ballad, shuffle and gospel grooves. The quality of the backing tracks is superb, recorded by professional studio musicians who play the styles very idiomatically. Each solo can be studied individually or with a private teacher and is useful both with or without the backing tracks. I suggest learning these solos with the backing tracks to model the technique, interpretation and expression of the styles. The sheet music is clearly readable, marked with a contemporary music font, tempo markings, bar numbers and specific articulations for virtually every note, which is very helpful for learning these rhythmic styles. A time duration for each solo is given, which can be useful in pacing of a private lesson. The range of the solos is approximately an octave and a half, with some of the solos staying within the span of slightly more than an octave. Because of the variety and complexity of the rhythms, this collection is most appropriate for a college-level student or professional wishing to learn these styles. I read through each solo with the corresponding backing tracks and I can assure the reader that these pieces are quite fun to play and a great way to learn these styles. JAMZ is a particularly welcome addition to the canon of clarinet study materials as there are limited resources available to learn these types of contemporary stylistic grooves. JAMZ
can be purchased as a physical book or can be downloaded and accessed on the free Sheet Music Direct app (iPad-only) by Hal Leonard Corporation. This collection is highly recommended for clarinetists who would like to expand their stylistic knowledge beyond traditional clarinet repertoire.
– John Cipolla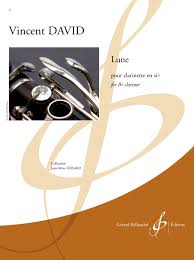 Vincent David. Lune for Bb clarinet solo. Collection Jean-Marc Fessard. Gérard Billaudot Éditeur, 2020. €10.21
The Frenchman Vincent David, one of the foremost classical saxophonists of our time, is also an accomplished composer. His Lune (Moon) for solo clarinet is a short, effective virtuoso piece idiomatically written for the instrument. It uses contemporary techniques – multiphonics, air sounds, false fingerings, etc. – sparsely but effectively. The composer's foreword in the score reveals that Lune has an extramusical narrative. The soft multiphonics and bisbigliandi at the beginning describe the first rays of the moon whereas the air sounds with frullato in the following section give us the impression of the rising moon in the foggy night. Virtuoso passages in the middle of the piece reveal the dancing moon in the starry night. In the last section the fragile atmosphere returns – only to end with a short virtuoso passage (last glimpse of green ray just before the moonset). Lune is surely very difficult; it requires a full command of embouchure, air pressure and finger technique. But an ambitious and skillful player can make this piece a real appetizer for the audience.
 – Mikko Raasakka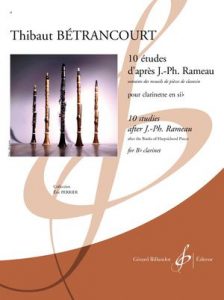 Thibaut Bétrancourt. 10 études d'après J.-Ph. Rameau for Bb clarinet. Collection Éric Perrier. Gérard Billaudot Éditeur, 2020. €16.32
Jean-Phillipe Rameau (1683-1764) was France's leading 18th century composer. The son of an organist, he was tall, possibly argumentative by nature, and after moving to Paris in 1722 was well connected to upper society – a helpful fact to secure positions and commissions. His wide circle included Voltaire, who provided librettos to four dramatic works by Rameau. Rameau was himself an influential and prolific writer, in his case in music theory, especially chord building and inversions.
Rameau's dramatic works, all from after his 50th year, were performed at the Paris Opéra. Noteworthy for clarinetists is the 1749 production of Zoroastre, in which clarinets were used in Paris for the first time. No less in importance than his operas are collections of works for harpsichord. The second and third Pièces de clavecin (1724 and 1729-30 respectively) each contain two contrasting suites of pieces. Rameau the conservative wrote in historical dance forms such as Allemande and Gigue, and Rameau the progressive wrote titled pieces including Le Rappel des Oiseaux and L'Égyptienne. He had a keen ability for musical characterization.
Thibaut Bétrancourt, in consultation with his former clarinet professor Philippe Berrod, has arranged eight of Rameau's pieces for solo clarinet, along with two other Rameau-attributed works by Duphly and an anonymous writer. Part of the success of these arrangements is Bétrancourt's inclusion of Rameau's ornaments and a page-long graphic explanation of their performance. Interestingly Rameau wrote in his Code de musique pratique that there was a need for variety in how ornaments are performed so that they don't become "insipid." An additional thought on the subject is provided by flutist Jacques-Martin Hotteterre (1674-1763), who wrote in his Principes de la flûte traversière that "one can scarcely give more certain rules for [the] distribution [of ornaments] … it is taste and practical experience, rather than theory, which can teach their appropriate use."
Most of the pieces in this collection are two pages in length and hold true to the sounding tonality of Rameau's originals with printed minor keys for the clarinet of A, B, F# and G minor. Major keys used are A, B, Bb and E. Rameau's stylistic fondness for trills and mordents is what makes these works both charming and (especially coupled with sharp key signatures) difficult. Bétrancourt rates them 7-8 out of 9. I agree, but still find them idiomatic to play on the clarinet. It may be for the French Baroque novice the greatest growth will be in the head, only then followed by the fingers. For me, after a lifetime of playing violin and cello works by Bach on clarinet, this new collection is a happy expansion of Baroque possibilities and a vehicle for time travel.
 – Gregory Barrett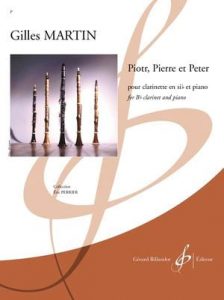 Gilles Martin. Piotr, Pierre et Peter for Bb clarinet and piano. Collection Éric Perrier. Gérard Billaudot Éditeur, 2020. €8.56
Piotr, Pierre et Peter is an educational piece for clarinet and piano written for students who are in their fourth or higher year of study of the clarinet. The work is a collection of three dances written in different styles (Russian, French and American). These pieces are written in a similar style to some of the composer's previous works, with focused pedagogical and artistic objectives, expressing joy and good humor along with a touch of nostalgia. Piotr (55 seconds in duration) is an Andantino in D minor, specified to be played with a leggiero style. This piece provides the player with an opportunity to utilize the left-hand upper chalumeau register with short, rhythmic phrases. Pierre (1 minute and 5 seconds in duration) is an Allegretto in Bb major with a two-bar phrase containing a dotted quarter note, eighth note theme that is repeated and slightly varied throughout this short piece. The piano accompaniment in this piece reinforces this fundamental rhythmic motive. The third piece, Peter (1 minute and 15 seconds in duration) is an Allegro moderato in a 12/8 meter. This piece has a bouncing and happy character to it. The player will have an opportunity to develop their counting skills in this particular meter as well as learn to play in a relaxed quasi-swing rhythmic style. This work is similar to other works the composer has written in recent years, in particular the collections Clarinette passion Vol. 1 and 2 published by Billaudot. An excellent addition to the teaching repertoire, written by a composer who truly understands the need for authentic repertoire for this level of student. Highly recommended.
– John Cipolla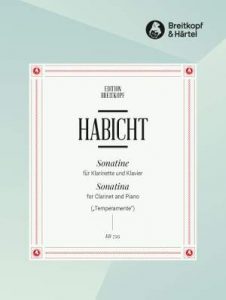 Günter Habicht. Sonatine "Temperamente" for clarinet and piano. Breitkopf & Härtel, 1975; new edition 2020. €21.90
Everything old is new again; at least that is the case with this new edition from Breitkopf & Härtel. Novel again also in the sense that Günter Habicht (1916-2010), who spent most of his career in the Dresden-Leipzig area of Germany, wrote this appealing three-movement Sonatine in a style echoing the not too distant spirit of Erik Satie. This is Satie presiding over the dance hall – gaiety and wit abound in the outer fast movements. Satie-like also for the hypnotic soft harmonic clashes resulting from the shoulder-bumping of colliding musical lines in motion – a serendipity of new sonic acquaintances.
The Temperamente title alludes to the standard historical reference with movements subtitled "Sanguine," "Melancholic" and "Choleric." Perhaps because Habicht taught music theory in addition to clarinet, he kept his Sonatine to the usual three movements and did without an extra fourth, which would have to be "Phlegmatic."
The worthwhile whole of this piece marvelously exceeds the individual clarinet and piano parts. Designed for perhaps fourth- or fifth-year students, the clarinet part touches altissimo E only a few times and the most rapid notes are in short groups. Similarly the piano part, like the Gebrauchsmusik of Hindemith, is a joy to play – I mentioned the dance hall, but perhaps also in the stylistic realm of a jazz lounge or a pop hit?
The harmonic sophistication supplied by the piano may be lost on a young clarinetist, but it is exactly that facet that makes me want to schedule a performance as soon as possible.
– Gregory Barrett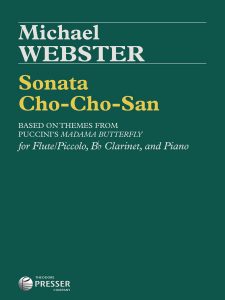 Michael Webster. Sonata Cho-Cho-San (Based on themes from Puccini's Madama Butterfly) for flute/piccolo, Bb clarinet and piano. Theodore Presser Company, 2017. $38.99
Michael Webster's commitment to arranging works for the Webster Trio (flute, clarinet and piano) has progressed to the point that his contributions can justifiably serve as the core repertoire for this chamber genre. His arrangements, spanning from the classical era to the 20th century masterpieces, are thoughtfully conceived and satisfying to perform. One of his most recent projects, Sonata Cho-Cho-San, based on Puccini's opera, is a rewarding and challenging amalgamation of the opera's greatest hits, incorporating some processes that deviate from the opera fantasies of the 19th century.
Instead of using the melodies in an order contrary to the opera's plot, Webster incorporates them chronologically, ensuring those familiar with the opera an experience that leads them through the music with the sequence of the opera intact. The performance notes at the front of the piano score include a plot synopsis, a glossary of uncommon musical terms, and a detailed listing of the more than 16 arias, introductory material and quotes from The Star-Spangled Banner. Webster shows great affection for the flute, but he is no fool, he keeps the gorgeous Act II aria "Un bel di" in the clarinet.
With an overall timing at 25 minutes, it is a major work that should serve as the centerpiece of a recital. All three parts are technically challenging – most notably the piano part, which carries a great deal of the orchestral backbone. This arrangement is written for mature chamber ensembles that are intimately familiar with the themes and the considerable rhythmic freedom required of the music of that period. This is a standard Theodore Presser printing: clear, laser etched printing with wisely engineered page turns.
It is apparent that Webster put a lot of care and effort into this arrangement. His reimagining of one of our most beloved operas is a deep love letter to the operatic world and a significant contribution to advanced woodwind chamber music. It is a major challenge and well worth the effort.
– Osiris Molina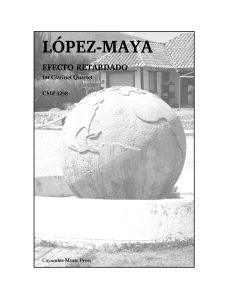 Juan de Dios López-Maya. Efecto Retardado (Delayed Effect) for Eb clarinet, 2 Bb clarinets and bass clarinet. Cayambis Music Press, 2017. $21.90
Cayambis Music Press was founded in 2013 and specializes in the promotion and publication of chamber music by Latin American and South American composers. Their catalog has grown steadily and their website is a terrific resource for ensembles looking for
new music.
One of these new voices is Juan de Dios López-Maya, a Venezuelan composer and musicologist with a large number of chamber works to his credit. His clarinet quartet, Efecto Retardado, is a two-and-a-half minute work that incorporates contemporary performance techniques with a joyous syncopated spirit suggestive of Eastern European folk music.
The slow introduction features Eb clarinet leading the melodic material with the lower clarinets providing dramatic harmonic support. The main Allegro is a 3/8, 3/8, 2/8 structure that is comfortable to those who are used to fast folk-inspired dances, a familiar groove that rarely deviates from its established structure. Second clarinet and bass clarinet supply the main rhythmic propulsion, with a moderate amount of call-and-response and canonic gestures to maintain interest through all the parts. The end arrives unexpectedly; generally a good sign for any piece.
The piece is rhythmically challenging, though not overly so for confident, experienced performers. In two climactic moments anticipating the faster, syncopated section, both Bb clarinets color trill and are asked to overblow. These are two of the great aurally stimulating moments of the piece. According to the composer, the recommended fingerings are extracted from Bruno Bartolozzi's New Sounds for Woodwind. While this was – and historically speaking still is – an important reference for ambitious wind players, there are present-day sources that are centered on current scholarship. Experiment with the original fingerings, and embrace adaptability if necessary.
Efecto Retardado is an effective quartet for ensembles looking for a fun, short ride. It will improve rhythmic stability in a group and allow those to dip their toe into the extended techniques ocean. For those interested in hearing this piece, there is a excellent recording on the Cayambis website with the fine Caracas Clarinet Quartet.
 – Osiris Molina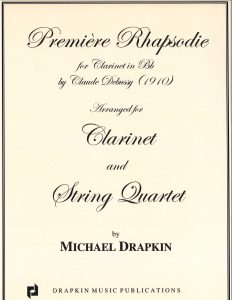 Claude Debussy. Première Rhapsodie arranged by Michael Drapkin for clarinet and string quartet. Drapkin Music Publications, 2019. $45.00
Michael Drapkin's published contributions for the clarinet seem to grow by the day. His first-rate early materials centered on the bass clarinet and its literature. His new trove of publications focuses on making the cornerstone concerti of the literature (Mozart, the three Weber concerti) available for clarinet and string quartet. His arrangement of the Debussy Première Rhapsodie is an opportunity to experience one of our best works framed in a novel way.
The merging of clarinet with string quartet, when exercised with care, is one of the wonderful sonorities in chamber music. Many fine pieces have been written for this instrumentation, and this arrangement takes full advantage of this well-tested tonal palette. With the orchestral version of the Rhapsodie seldom performed, this arrangement is welcome; it distills the many-voiced string sonorities down to the forces of the string quartet.
Of all the arrangements for clarinet quintet Drapkin has attempted, the Debussy is most familiar in its original incarnation with piano accompaniment. For those of us that are used to performing the original version, the idea of hearing string timbres is atypical and novel. This is to be expected and embraced. What we have here is a reimagining, an arrangement that draws its string color from the orchestral version, but in the clarinet quintet grouping.
The string writing is idiomatic and transparent, with no double stops that thicken the texture. Drapkin's splitting of the piano right-hand passagework in the ascent to the final fast section is effective, with a creative use of violin dovetailing. The printed score and parts are clear and page turns keep the performer's needs in mind, especially the clarinet part, which has a page turn towards the end that is more logical than the original Durand edition. The subtle tempo changes become a bit more challenging with a chamber ensemble, so the overall level of ensemble attempting this piece needs to be high, with solid communication throughout.
I would like to thank the University of Alabama faculty string quartet for giving their time and insight to our reading and rehearsing of this work. This adaptation is quite successful, a satisfying chamber experience for a skilled ensemble. It is a valuable addition to the established canon and provides a sense of originality and freshness to a time-honored mainstay of the repertoire.
 – Osiris Molina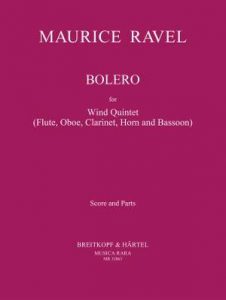 Maurice Ravel. Bolero arranged by Christian Beyer for wind quintet (flute, oboe, clarinet, horn and bassoon). Breitkopf & Härtel, Musica Rara, 2020. Score and parts: €24.90
Christian Beyer, the inventive arranger for wind quintet of Maurice Ravel's classical music hit, includes in his preface a remark made by Ravel to fellow composer Arthur Honegger: "I have just made a masterpiece, that's the Bolero; alas, it contains no music at all." Such self-effacing talk could be interpreted in many ways, but I think we are all the richer for this singular work, a model of economy and relentless forward drive. Beyer's arrangement is also vital, even with reduced forces compared to the augmented orchestra that Ravel used.
Ravel painted one color combination after another, stacked end to end creating a colossus. Beyer has shortened Ravel's original 430 bars to 268 and provides directions for an optional further cut of 53. He suggests performing with a percussionist; after all, the snare drum player is really the star of the show. If no snare drum is used the oboist is instructed to put the bolero ostinato into motion with key clicks through the first 20 bars. Beyer is ingenious in his own orchestration. Variety is on hand with every new phrase by changing the role of each instrument among melody, melodic harmony, ostinato and harmonic structural duties.
This virtuosic work brings intonation and rhythmic accuracy into the spotlight and would challenge any ensemble. It would be effective at school shows highlighting each instrument.
– Gregory Barrett