Originally published in The Clarinet 48/1 (December 2020). Printed copies of The Clarinet are available for ICA members.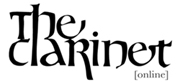 ---
Reviews 
BOOKS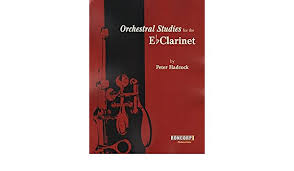 Peter Hadcock. Orchestral Studies for the Eb Clarinet. Roncorp Music, 1981, renewed 2019. $24.00
When published in 1981, Peter Hadcock's compilation of Eb clarinet excerpts, with dozens of fingering suggestions and helpful performing comments placed in footnotes, was like an open invitation to a special club – that of big-league Eb clarinetists who had actually played all the repertoire in major orchestras. Now, 39 years later, the club still beckons new members and the latest edition is here in timely fashion. The content is exactly the same – with a few trill fingerings updated – but the music has been computer engraved and is several magnitudes easier to read. Compared to the first edition, accidentals do not abut adjacent notes, there is greater distinction between staff lines and beams connecting notes, there is a more spacious impression even though staves are minutely shorter, and – if your first edition copy is as old as mine – the pages are not yellowed.
– Gregory Barrett
---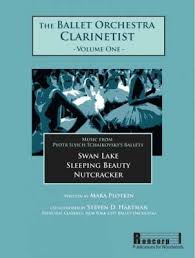 Mara Plotkin with Steven D. Hartman. The Ballet Orchestra Clarinetist, Volume One. Roncorp Music, 2020. $40.00
If you are a young clarinetist and have not yet played Tchaikovsky's Nutcracker I think there is a good chance you will; for many, this is the work we will perform the most over our career. The Nutcracker and Tchaikovsky's two other ballets Swan Lake and Sleeping Beauty are the subject of this well-conceived guide by Mara Plotkin, a clarinetist with a fondness for the ballet pit as well as dance itself. Plotkin's 2015 doctoral thesis at the University of Toronto addresses clarinet performance practice in the Tchaikovsky ballets and Prokofiev's Romeo and Juliet and Cinderella – which will be the focus of Volume Two in this series. She interviewed five ballet orchestra principal clarinetists about the clarinet solos in this repertoire and documented their musical and technical approaches. For this 70-page book, with extensive commentary and performance suggestions addressing phrasing, technique, what to expect from different conductors and fellow musicians, and solo passages on B-flat versus A clarinet, Plotkin was supported by experienced New York City Ballet principal clarinetist Steven Hartman.
Plotkin is an excellent virtual coach. Her writing has an encouraging tone and recounts her own experiences as a ballet orchestra clarinetist. Helpfully, about three-fourths of the book is devoted to the less familiar Swan Lake and Sleeping Beauty. Musical excerpts are shown, with the first and second clarinet parts if appropriate, and then in prose Plotkin gives performance guidance, sometimes framed with the dramatic story being portrayed on stage. Many of the musical excerpts run a full page in length and make a good document of Tchaikovsky's style elements including melodic charm, passages requiring agility and a fondness for chromatic inflection and sequence. Tchaikovsky's music and Plotkin's insights are a double bill that will entertain, elucidate and inspire you for many
grand nights.
 – Gregory Barrett
---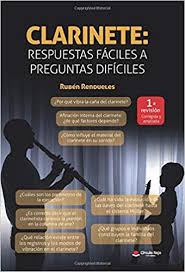 Rubén Rendueles. Clarinete: Respuestas fáciles a preguntas difíciles (Clarinet: Easy Answers to Difficult Questions). Círculo Rojo Editorial, 2019. $20.00
When a clarinetist wants to know what is going on inside their instrument and their body while playing, they encounter obvious limitations because everything is hidden. Getting to understand what happens is not an easy task. It is often resolved through a perceptual and intuitive approach that is not easy to put into words. And words – especially in this case where we don't have immediate images – are like cement, they coalesce everything.
Questions that we have asked ourselves on occasion such as why the reed vibrates, why it is so difficult to play in tune, what is the best material to use to build a clarinet, how sensitive is the human ear to perceive differences of bore materials or why the registers of the clarinet exist, are treated objectively. Other questions that affect our ability to play the clarinet, such as whether the clarinetist can control the pressure of the air column, or if we can influence the production of a more or less bright sound are explained so that the clarinetist finally understands what is in their control.
Rubén Rendueles scientifically argues numerous acoustic and physiological phenomena of the clarinet and the musician, obtaining interesting conclusions about what may be under the control (or not) of both performers and instrument makers. Although science – as the author says in his prologue – reaches objective explanations, the definitive measurement will always be subjective and different from one individual to another, according to the sensory perception of each. However, science brings us closer to the truth, and although sometimes we do not reach it, it does allow us to at least discard what is false.
In addition to all this, the book includes chapters on the origin and evolution of the keys and different joints of the clarinet, and on the broad clarinet family, as well as a glossary of concepts, a Spanish-English technical dictionary and an extensive bibliography.
Rendueles (born Gijón, Asturias [Spain], 1979) has had a career as a performer and researcher. Since finishing his degree at the Conservatorio Superior de Música de La Coruña (2006), he has been researching the peculiarities of the clarinet in order to provide answers to both professionals and amateurs.
This Spanish language book Clarinete: Respuestas fáciles a preguntas difíciles gives us an opportunity to continue training as performers and teachers.
– Carlos J. Casadó
---
MUSIC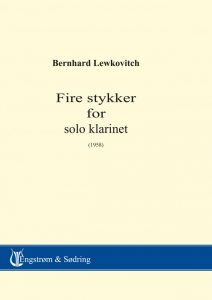 Bernhard Lewkovitch. Fire stykker for solo klarinet (1958). Edited by Engstrøm & Sødrings Musikforlag, 2019. DKK 244.00 Selling agent: Nils Winter: [email protected]
I was notified by the publishing supervisor of Engstrøm & Sødring in Copenhagen that they had edited a piece for solo clarinet that was never premiered. The piece was composed in 1958 and was somehow forgotten until now.
Bernhard Lewkovitch is a Danish composer (b. 1927) with roots in Ukraine. He grew up in a Catholic family with Gregorian church music and
folklore from Ukraine. They inspired his music along with the works of Stravinsky and Bartók.
The clarinet piece of Lewkovitch is in four small movements. The first movement is slow and expressive, and has a free and poetic form. The second movement is like a small scherzo in 5/8 and 3/8, switching beautifully between jumpy music in the low register and cantabile lines. The third movement is again slow and melancholic. The fourth and last movement is a nice finale with changing meters.
The composition is very well written for the instrument – it sounds beautiful and the technical passages are ideal on the instrument. You can clearly hear that the music has an older story; the music makes me think of a mixture of French modernism and folk music. The form of the whole composition works really well, it is not a complicated piece, so it might be nice for younger players as an introduction to solo playing. I also think it is a beautiful composition to have in your repertoire; it is one of those pieces that can work well as part of a bigger solo program.
 – Anna Klett
---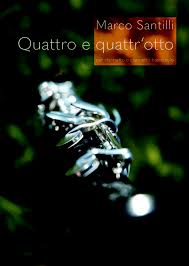 Marco Santilli. Quattro e quattr'otto for clarinet or bass clarinet. Marco Santilli, 2020. CHF 36.00
Marco Santilli is a Swiss clarinetist, composer and conductor of the 85-member Swiss Clarinet Orchestra. He had classical training and now performs mostly in diverse improvising ensembles. The eight (or nine, depending on how you count) pieces in this collection had their origins in spontaneous recordings Santilli made with his cell phone and later transcribed into notation. They have since been recorded on several of his CDs with a variety of musicians enhancing the solo clarinet or bass clarinet composition. In this spirit I am sure you can do the same. The pieces: Ajvar, Serenada in minur, D'altronde, Al nocciolo delle cose, Godiva soleva, Musik des Einsamen, Sciorinando lusinghe, All'immusonita and Sciorinando lusinghe all'immusonita, have a variety of extramusical inspirations and invite your imagination and free interpretation mirroring the manner in which they were conceived. All of the pieces can be played on clarinet or bass clarinet and Santilli includes transposed versions of three to make use of the lowest notes of a low-C bass clarinet. Many of the pieces invoke a jazz or waltz-like world. Break free from the ordinary and enjoy these tasty tunes, grooving rhythms and interesting harmonic ideas.
 – Gregory Barrett
---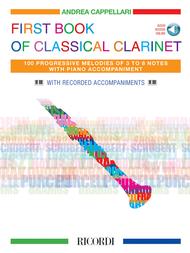 Andrea Cappellari. First Book of Classical Clarinet: 100 Progressive Melodies of 3 to 8 Notes with Piano Accompaniment. Ricordi, 2019. $14.99
Cappellari's First Book of Classical Clarinet includes 100 themes from classical repertoire including well-known composers like Mozart and Brahms whose themes are featured in the Neil A. Kjos Standard of Excellence method book series, but also composers with whom beginners are less likely to be familiar, including Dietrich Buxtehude, César Franck, Arthur Foote and others. The book is arranged according to the number of notes included in the melody (from three up to six) and includes the specific keys these melodies have been transposed to in order to facilitate easy usage on the part of the instructor. Within each section, the melodies progress in difficulty. Though clearly not intended as a method book for clarinetists to use on their own, it is a wonderful resource beginner teachers can draw from not only for the melodic contents, but for inspiration to arrange works to keep beginner students challenged and excited while exposing them to a variety of styles. Another great feature of the book is a very clear fingering chart and glossary of terms included in the back, making it accessible without students having to flip back and forth from book to book looking for fingerings and definitions. Unlike other similar resources, this is a book of significant length that can augment sometimes stale beginning clarinet classes and excite students who are all learning the same one-line melodies from the school music program's method book. Cappellari gives beginning clarinet teachers the opportunity to teach music of different eras of music history, including the Baroque, as well as later periods. This allows students to not only cement technique they are learning through new and exciting melodies they haven't heard before, but also to begin to realize there are many different styles of music that fall under the umbrella of "classical." Cappellari includes a piano accompaniment for each line as well as access to recorded accompaniment that students can play along with at home, making this an especially useful resource in remote learning situations. This is a great resource for any beginning clarinet teacher to have on hand to enrich their beginner students' technique as well as musical understanding of style.
– Vanessa Davis
---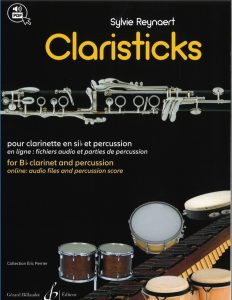 Sylvie Reynaert. Claristicks for clarinet and percussion. Gérard Billaudot Éditeur, 2020. $24.25
In collaboration with Eric Perrier, percussionist Sylvie Reynaert has produced a very interesting book of duos for clarinet and marimba. An active performer, teacher and improviser, Reynaert writes about Claristicks:
While the aim is educational, it is also and above all artistic. We are eager to promote a musical dialogue between the clarinet and the many percussion instruments and enhance the performer's listening experience as their respective roles are well balanced with a view to create a real duo.
Unlike much beginner-intermediate repertoire for chamber music, the goal of Claristicks is to not only produce a performance that sounds pleasant, but to actively facilitate the teaching of musicianship within a chamber ensemble of young students. The book contains eight duos for clarinet and percussion in different time signatures, tonalities and styles. Reynaert plays with texture as well to create interesting pieces of real chamber music, rather than the typical monophonic or homophonic textures designed so that beginners can play together easily rather than learning how to play together. The range of the work barely approaches the altissimo with a written high C, but does frequently go both up and down over the break. Claristicks also employs varied and complicated rhythmic subdivisions, especially in duple meter, which could pose challenges for some students, but introduces them in a repetitive way, making them easier to grasp. Most interesting is the use of percussion as a duo partner rather than another clarinet or wind instrument as is so often the case in beginning chamber music. The use of a fixed-pitch instrument allows the clarinet student to use these duos to also develop their individual intonation skills without the variable of working with another beginning student who may be just as insecure tonally as they are. This is a really exceptional resource for teachers of middle and high school clarinet students who are looking for something different to help develop all facets of clarinet playing in a safe, chamber-music centered learning environment.
– Vanessa Davis
---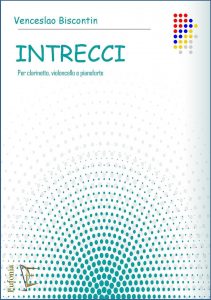 Venceslao Biscontin. Intrecci for clarinet, cello and piano. Edizioni Eufonia, 2020. €18.50
Venceslao Biscontin, living in Italy, is active as clarinetist, composer, conductor and founder of the ClariNoir Clarinet Choir for which he has composed. In this magazine I have also reviewed his Rapsodia for clarinet and piano. The new piece called Intrecci (weaves, connections) has been conceived for a trio of clarinet, cello and piano. According to the composer, this medium turned out to be the most ideal from the point of view of timbre. The instruments can blend their sounds in infinite new ways without any preconception. This brief but intense composition is in two movements: "I. Misterioso-Allegro-Pesante" and "II. Quasi statico-Marciando" and has been dedicated to Massimo Mazzone, clarinet teacher of Biscontin. The writing is traditional but quite effective and well-conceived. This is a good contribution for the repertoire of trio with clarinet, cello and piano.
– Luigi Magistrelli
---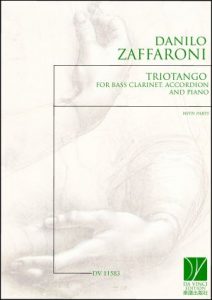 Danilo Zaffaroni. TrioTango for bass clarinet, accordion and piano. Edizioni Da Vinci, 2020 €16.90
Danilo Zaffaroni is an Italian bassoonist and composer. He is active as a freelancer with chamber groups and orchestras as well as being a busy composer. Mostly he composes for wind groups: flute ensemble, clarinet choir, wind duo or trio, and clarinet quartet for example. He has a special place in his oeuvre for works with bass clarinet (accompanied by a string quartet, piano or accordion) such as: Cadenza, Preludio e Pezzo Appassionato, On Greensleeves, Brasiliando and TrioTango. All these pieces were written for Fausto Saredi, the excellent bass clarinet player of Verdi Orchestra-Milan. Saredi also recorded them on a CD released by Da Vinci. Zaffaroni's composition style is traditional but effective, and the finished products are enjoyable! This is the case in TrioTango, with its typical South American dance rhythm and deep expression of melancholy and passion. These two elements belong both to the main and secondary themes, which are closely related to each other. The themes are accompanied by the background tango rhythm. There is a central section that is more articulated and contrapuntal. Then, recalling the classical forms, a reprise of the two themes follows in a richer and more emphatic way. The work ends with two cadenzas for the two solo instruments, only occasionally accompanied by the piano. The composer wanted to join together two instruments with different characteristics, the bass clarinet with a classical background and the accordion with popular features. The piano blends the best qualities of the two instruments. TrioTango is a beautiful, well-conceived composition and is very suitable to the versatility of the bass clarinet.
– Luigi Magistrelli
---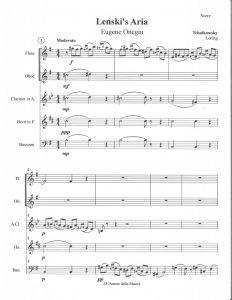 Simeon Loring. Arrangement of Pyotr Ilyich Tchaikovsky's "Lensky's Aria" from Eugene Onegin for woodwind quintet. SMP Press (Digital only), 2018. $19.99
Simeon Loring, former professor of music at Kingsborough College (CUNY) and director of the Stockbridge Sinfonia, has skillfully arranged "Lensky's Aria" from Tchaikovsky's opera Eugene Onegin for woodwind quintet with careful attention to details that are often overlooked. In the aria Lensky reflects on his life, his future and his love for his fiancée Olga. He laments decisions he has made and ends by asking if Olga will come to him and cry at his grave. Rather than arranging the entire aria line-for-line, Loring strategically omits portions not suited for the instrumentation while choosing several prominent themes for this arrangement. The voicing of the chords is very similar to the original score, lending the arrangement a sense of familiarity. The original aria features a primarily homophonic texture and Loring retains that, shifting the melody from voice to voice in the quintet to reflect the change in color and mood the same way a singer would in order to connect the audience to the character's feelings. Loring changes the key to be accessible for all woodwinds involved. He includes parts for Bb clarinet, the instrument used in the opera, as well as A clarinet, which is more comfortable in the transposed key and lends a darkness to the timbral quality of the arrangement. Because of the inclusion of an A clarinet part, along with the general range of the other parts, this arrangement would be suitable for college and professional woodwind quintets and would make a lovely addition to any recital program.
– Vanessa Davis
---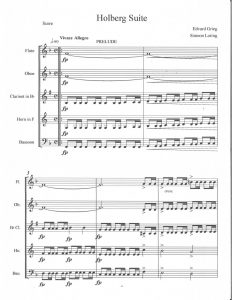 Simeon Loring. Arrangement of Edvard Greig's Holberg Suite for woodwind quintet. SMP Press (Digital only), 2018. $25.00
Loring again presents us with a well-done arrangement of a well-known work, in this case Edvard Grieg's Holberg Suite, Op. 40 (1884). The suite was originally composed for piano to commemorate the 200th anniversary of the birth of Ludwig Holberg (1684–1754), the father of Danish-Norwegian literature. Grieg first called the work From Holberg's Time because he used musical forms that would have been familiar to Holberg during his own lifetime. The composer adapted the piano work for string orchestra. Loring maintains the structure of the string adaptation keeping the suite in five movements: "Prelude," "Sarabande," "Gavotte," "Air" (Musette) and "Rigaudon." Instead of maintaining the original key of G major, Loring transposes to F major, thoughtfully creating a more friendly transposition for the clarinet while not inventing more difficulty for the other instruments. His arrangement maintains a very close relationship with the original, making it a great opportunity for wind players to experience this piece, but also creating a potential articulation problem for the clarinetist. The first movement poses a particular problem because of the very fast repeated articulation for a number of measures. Though this could be done effortlessly by the strings in the adaptation, this could be extremely challenging at the written tempo of half note at 60 for the clarinet. Though double-tonguing is a possibility for more advanced players, the range and accessibility make this a great pick for undergraduate and intermediate level woodwind quintets in which this kind of articulation could pose a major problem for the clarinet player. Thankfully, however, there is no point at which the clarinet is ever articulating the driving, repeated eighth-note and two 16th-note theme alone – a clever solution to this problem by Loring. Overall this is a very well done arrangement, but would be a very long performance, at nearly 20 minutes, for woodwind quintet.
– Vanessa Davis
---