Originally published in The Clarinet 47/3 (June 2020). Printed copies of The Clarinet are available for ICA members.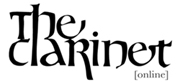 ---
RECORDINGS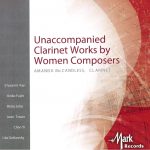 Unaccompanied Clarinet Works by Women Composers. Amanda McCandless, clarinet. S. Ran: Three Scenes for Solo Clarinet; K. Fujiie: Three Pieces; B. Jolas: Episode Neuvième "Fortem magnum coloratum"; J. Tower: Wings. C. Yi: Monologue (Impressions on the True Story of Ah Q); I. Gotkovsky: Sonate pour Clarinette Solo. Mark Masters, MCD 9773. Total time 50:48.
American clarinetist Amanda McCandless brilliantly performs time-tested and new compositions in Unaccompanied Clarinet Works by Women Composers. Educated at Eastern Kentucky University and Michigan State University, McCandless holds an international reputation as a clarinetist and pedagogue. She regularly presents master classes at major music schools across the U.S., and her international tours include performances and guest lectures in Italy, Brazil, Bolivia and Puerto Rico. McCandless is on the faculty at the University of Northern Iowa, where she is associate professor of clarinet.
Inspired by research completed while a graduate student, McCandless has skillfully curated a collection of timeless and inventive works by women composers. Drawing upon the mentorship of her clarinet teachers, Elsa Ludewig-Verdehr and Connie Rhoades, this disc showcases masterworks of the past 40 years.
McCandless adeptly performs each composition with grace and technical prowess that belies the inherent difficulties. In the first selection, the time-honored Three Scenes for Solo Clarinet by Shulamit Ran, McCandless interweaves dynamics and nuances of register to gleefully interpret the three distinct movements. Careful attention is paid to every note, inviting the listener to revel in the flawless execution.
Keiko Fujiie is known primarily as a composer of works for guitar, but her Three Pieces served as the competition piece for the first International Clarinet Competition in Tokyo. The composition freely utilizes extended techniques, including flutter tongue, quarter tones, multiphonics, timbre variation and whistle tones which McCandless expertly navigates, focusing attention on lyric connections. Skillfully executed, the timbres become an inherent musical voice, rather than an extraneous add-on. Impeccable execution is evident throughout, resulting in an effective ebb and flow between shifting melodies.
The musical lyricism for which McCandless is known shines even more brightly in Episode Neuvième by Betsy Jolas. Sonorous phrases echo the human voice, and the placement leads seamlessly into Joan Tower's Wings. A staple of the repertoire, the work portrays an effortless and agitated bird soaring and swooping in flight. McCandless deftly builds intensity from first note to final phrase, never permitting a turn of phrase to interrupt the overall journey. Motions of flight are omnipresent, with constant focus on lyricism and timbral intensity.
For contrast, Chen Yi's Monologue depicts a struggle between fantasy and reality. Rapid register shifts are flawlessly executed in this virtuosic composition, and lyricism flows through skillfully connected and interwoven passages replete with extended techniques. Finally, Ida Gotkovsky's Sonate further showcases the lyrical and technical prowess of the performer through graceful leaps to extreme registers and smooth technical passagework that challenges the limits of executability.
McCandless's adept engagement with the solo clarinet repertoire by women is a delight for the listener. Her precise intonation, warm tone, clean articulation and impeccable musicality bring these works to life. While a narrow focus on solo clarinet repertoire could be repetitive, this compilation expertly varies compositional styles to present a diverse array of entertaining and accessible works. Immaculately researched and impeccably performed, McCandless's skill advances the technical and musical frontiers of solo clarinet performance. This disc would be a captivating addition to the collection of new music aficionados, clarinetists and university libraries alike.
– Michelle Kiec
---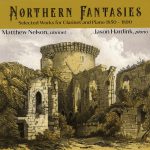 Northern Fantasies. Matthew Nelson, clarinet; Jason Hardink, piano. F. Draeseke: Sonata in B-flat Major; A. Winding: Drei Phantasiestücke; N. Gade: Fantasiestücke; C. Loewe: Schottische Bilder. Soundset Records, SR 1111. Total time 63:44.
Matthew Nelson writes in the liner notes that the four works on this disc provide the context for the development of the late Romantic clarinet sonata. He relates this began with Robert Schumann's Fantasy Pieces, Op. 73, and culminated with the two masterful sonatas, Op. 120, of Johannes Brahms. He further adds that the works that comprise this recording "have received significantly less attention than those of Schumann and Brahms yet remain compellingly beautiful expressions of the Romantic ethos."
Nelson has written excellent program notes and presents insightful information to establish his views. The first of these four works is Sonata in B-flat Major, Op. 38 (1888), by Felix Draeseke (1835-1913). This is a four-movement work consisting of a lively sonata form, an Adagio, a Scherzo/Trio and a virtuosic Allegro.
The next work is Drei Phantasiestüucke, Op. 19 (1871), by August Winding (1835-1899). Like Draeseke, Winding is not well known. He studied with Niels Gade and Carl Reinecke and was likely influenced by the numerous fantasy pieces for clarinet and piano by composers of the 19th century. There are three movements, an Allegro moderato, an Allegretto and a Vivace non troppo.
The third composer of this disc is Danish composer, Niels Gade (1817-1890). He composed his Fantasiestücke, Op 43, in 1864. It consists of four movements: Andantino con moto, Allegro vivace, Ballade and Allegro molto vivace. Gade's style is closely akin to that of Robert Schumann.
The last work on this disc is Schottische Bilder, Op. 112, by the German composer Carl Loewe (1796-1869). The piece was written in 1850 for his son-in-law who was an amateur clarinetist. The work demonstrates intricate piano writing but a rather simple clarinet part. Each movement has a programmatic title: "The Lady of the Lake" which has a fantasia-like opening; "The Wanderer at Bothwell Castle" which is lyrical and flowing; and "The Scottish Clan" which is basically a final march, even somewhat like a dance. The work is written for a clarinet in C.
Both Nelson and pianist Jason Hardink have very notable accomplishments which are summed up in the program notes. What is most impressive about this disc is the unusually strong sense of ensemble. The performers are rhythmically solid and are able to bring out musical lines that complement each other. It would be difficult to find a pianist who can match the playing of Jason Hardink. Nelson plays exceedingly well in tune, in all registers. His articulations are crisp and clear. He has ample technique to make any of the difficult passages seem effortless. Both musicians phrase beautifully together and make music at every cadence or change of tempo. The dynamics are balanced exceedingly well and every important musical nuance is heard. This disc is highly recommended!
 – Robert Chesebro
---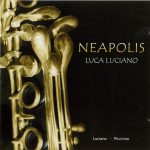 Neapolis. Luca Luciano, clarinet; Frano Piccinno, piano. L. Luciano and F. Piccinno: Suite for Clarinet and Pianoforte; L. Luciano: Suite for Clarinets. Red Kite Records RKR 007. Total time 48:21.
Neapolis presents a portrait of clarinetist Luca Luciano's compositions in the form of two suites, one for clarinet and piano and one for clarinet ensemble. Luca Luciano (b. 1975) has a definitive voice that speaks throughout the album. Featuring through-composed suites, the disc offers a sense of his humor, background and musical tastes. Growing up as a saxophonist and improvisor, he went on to complete classical clarinet studies at the Conservatory of Salerno in 1999 and for a time served as a professor of clarinet at Leeds College of Music (U.K.). His collaborator, pianist Franco Piccinno, pairs his flexibility in jazz, pop and classical styles perfectly with Luciano. Neapolis reflects a repository of references to great classics of our repertoire, jazz, klezmer and an enormous range of influences.
The first work Suite for Clarinet and Pianoforte consists of short character pieces, single movements titled as sonatas, fragments and sketches of material. Piccinno's performance sews together so many different stylistic elements into a clear package. There is a smokiness to the recording that permeates movements like "Sonata No. 2 'Stellare'" and "Lunare." The quick, skittering lines of the clarinet interweave with long lyrical phrases that move with liquid pliability. The sound world is similar to Paquito D'Rivera's The Cape Code Files mixed with the Gershwin Preludes for good measure. The humorously titled last movement "The Mock Trumpet" blasts forward with a "boppy" rhythmic groove from Piccinno and Luciano whipping between low klezmer-like melodies, fast technical passages and rapid trill passages that sound like the music of Scott McAllister.
Luciano's Suite for Clarinets includes three short divertimenti. The first two seem to progressively wake up to the third titled "Londrina." Named after the city in southern Brazil, the movement seems to in some ways characterize Londrina's mix of modern architecture through the piecing of references from different eras, genres and characters at will. The brightness of the opening passage peeks through only to be interrupted by a quote from Stravinsky's Three Pieces, continually kaleidoscoping through Luca's stylistic range. Luca can be heard in all ranges having recorded from high to bass voices himself. The only minor distraction comes from the issues of blending and mixing so many layers. Sometimes a line randomly sticks out of the texture or causes tension between the many voices.
Overall, Neapolis is a unique composer-performer portrait that presents the many different sounds Luca Luciano has to offer. It will be worth exploring for any clarinetist who shares the same curiosity for our classical repertoire, jazz and everything in between.
– Ford Fourqurean
---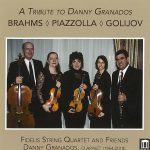 A Tribute to Danny Granados. Danny Granados, clarinet; Rodica Oancea-Gonzalez, violin; Mihaela Oancea-Frusina, violin; Joan DerHovsepian, viola; Jeffrey Butler, cello; Judy Dines, flute; Erik Gronfor, bass; Pablo Zinger, piano. J. Brahms: Clarinet Quintet in B Minor; Osvaldo Golijov: "Lullaby and Doina" from The Man Who Cried; A. Piazzolla: La Muerte del Ángel; Allegro tangabile; Milonga para tres; Libertango. Delos Productions, DE 3562. Total Time 63:41.
The career of Danny Granados is one that most musicians would envy. A graduate of Northwestern and the Hochschule für Musik und Theater in Hannover, he studied with the eminent clarinetists Robert Marcellus and Hanz Deinzer. He served as principal clarinetist of the Alabama Symphony Orchestra and was an active New York freelancer, including performances with the Metropolitan Opera Orchestra. In addition to his stellar performance career, he also earned an MBA from Rice, and eventually rose to become the chief financial officer of the Houston Symphony Orchestra, where he secured the financing for their highly successful 2018 European tour before his untimely passing that year. A Tribute to Danny Granados – a new release by Delos, made possible in part from Houston Public Media and family and friends of Granados – highlights the versatility and capability of this fine musician.
The Brahms Quintet shines brightly in our repertoire, highlighting a master at the peak of his powers and the clarinetist's ability to project as a soloist and chamber player. The Fidelis Quartet is a tight ensemble that prioritizes a sound focusing less on the soprano-voiced violins and more a cohesive collection of lower-voiced timbres. Granados's playing and tone melds beautifully within the tapestry of the ensemble. He technical execution is smooth and refined, incorporating a lovely color palette. The intense moments are outstanding, with the ensemble maintaining a lush sound throughout. This is one of the finer recordings of the Brahms Quintet available today.
Osvaldo Golijov, known to clarinetists for his The Dreams and Prayers of Isaac the Blind, composed original music for the soundtrack to the 2000 film The Man Who Cried. Lullaby and Doina are two excerpts from the soundtrack. Granados and flutist Judy Dines play a lovely opening line in octaves that could scarcely be better. The "Doina" has the necessary intensity to make the passion come through beautifully. It is another example of first-class chamber playing.
The works of Piazzolla have been transcribed and arranged into so many guises that one forgets the original incarnation of these works was most likely for bandoneon. These arrangements, the Allegro tangabile by Carlos Franzetti, and the others by Pablo Zinger, fully convince you that these works were written for this combination (clarinet, string quartet, flute and piano). La Muerte del Angel, the second of this set, is a terrific opportunity to showcase Granados's legato. The performance of Milonga Para Tres produces the necessary duende. While the clarinet is featured less prominently here, the brooding intensity of the performance warrants multiple listening. The famed Libertango is fantastic, putting all parties to work in an exciting climax. What strikes me the most about this recording (other than the lights-out performances) is the superb balance and engineering. Great ensemble creates those moments, but you need an engineer who is a subtle, unobtrusive presence. This album sounds great on loud speakers as well as ear buds. It is a terrific sonic experience. As a resident of the state of Alabama, I am pleased to be given the opportunity to review this album from one of the finest musicians to pass through our state in many years. This album is a fitting tribute to a sensitive, refined musician.
– Osiris Molina
---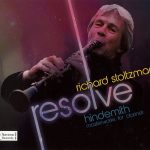 Resolve: Hindemith Masterworks for Clarinet. Richard Stolzman, clarinet; Yehudi Wyner, piano; Ida Kavafian, violin; Theodore Arm, violin; Steven Tenenbom, viola; Fred Sherry, cello; Slovak Radio Symphony Orchestra, Kirk Trevor, conductor. P. Hindemith: Concerto for Clarinet and Orchestra; Quintet for Clarinet and String Quartet; Sonata for Clarinet and Piano. Navona Records, NV 5934. Total Time 64:28.
The recording of the Hindemith Concerto with the Slovak Radio Symphony in Bratislava dates to 2003 and showcases a Stoltzman with an impressive lyricism and an enviable A clarinet tone. He has a way of spinning melodies across the frequent Hindemithian rests that do much to make this complex piece attractive, helping to showcase the solo part over a frequently boomy, and slightly covering, timpani and lower strings. The inner weavings of the complex musical lines in the orchestra probably contribute to the slightly dour mood of the piece, with the recording balance making it difficult at times to sort out the important voices. The clarinet solo line by itself, however, is spectacularly played.
The almost-never-played Quintet for Clarinet and String Quartet was recorded in 1988 with Stoltzman's close associates from the long-running group, Tashi. This five-movement work starts and ends with 2-minute movements (the fifth being a retrograde of the first), full of high-energy playing of drone pedals and folk-like figuration above. While it's not possible to know how much rehearsal and performance went into the preparation of the Quintet, suffice it to say that it feels like it was lived in for a significant amount of time. The dialogue among the group members speaks in natural and attractive ways. There is a oneness of interpretation that illustrates far more than just ensemble unanimity. Stoltzman confidently captures the Mahler-like rudeness of the E-flat clarinet in the Schneller Ländler third movement, yet plays it with an engaging sweetness when necessary. His laudable high register work has a deceptive ease to it.
The third and final work on this disc, the well-known Sonata from 1939, is not, in Stoltzman's hands, your father's Oldsmobile. Typically, the Sonata's four moderately-challenging movements are trudged through by young college students with an attitude of endurance rather than enjoyment. A certain amount of arm-twisting is usually required to get students 'round the seeming squareness of Hindemith's writing and to get comfortable with the complex rhythmic interactions with the piano. Stoltzman accomplishes all of this, however, with great aplomb. Whether one embraces all of the personal choices he makes or not, Stoltzman continually surprises us with fresh looks at old material for which we often have a more traditional viewpoint. What seems like a fairly languid pace to the Sonata is deceptive, as the elapsed performance time is near average. The overall flexibility of tempos can make the piece seem somewhat self-serving at times, but the musical goals Hindemith has in mind require convincing opinions.
Resolve is a recording of one of the world's most noted clarinetists with three different Stoltzmans sampled across a 25-year time span. I'm sure you'll find different performance characteristics of his playing over this period, some of which may be due to the different balances and locations of these recordings. Nonetheless, Richard Stoltzman sheds new light on the worth of these complex works that deserve more performances. The disc is clearly worth owning.
– Howard Klug
---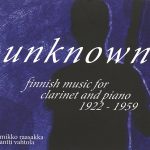 Unknown: Finnish Music for Clarinet and Piano 1922-1959. Mikko Raasakka, clarinet; Antti Vahtola, piano. L. Madetoja: Vanhoja Kansantansseja; Suite Lyrique; S. Ranta: La Sera; T. Pylkkänen: Pastoraali; E. Roiha: Meditaatio–Etydi; L. Saikkola: Pieni Sarja; V. Hannikainen: Päivän Pilkahduksia; E. Bergman: Kolme Fantasiaa. Pilfink Records, JJVCD 208. Total Time 56:10.
This recording opens with Vanhoja Kansantansseja and the Lyric Suite composed by one of Finland's most important composers of the 1900s, Leevi Madetoja (1887-1947). Vanhoja Kansantansseja has two polkas in C minor and D major, charming little works that fit this duo well. Their use of embellishments creates a nice folk-like feeling and adds to the celebratory mood. Following these is the Lyric Suite, in four movements. The work creates a picturesque landscape and Madetoja seems at home writing soaring melodies with beautiful harmonic underscoring. Raasakka and Vahtola's performance of the work is thoughtful and precise. At times I found myself wishing for more clarity of sound and longer sustained phrases. Raasakka's vibrato distracted at times, as intonation waivered slightly. The balance of piano and clarinet is generally good but I would have preferred a closer miking of the piano. The work ends with a Capriccio that is both playful and fun. Raasakka shows off incredible control of the altissimo range with aplomb.
Sulho Ranta's La Sera is another short but interesting work in two movements. Ranta, probably the least known composer on this recording, was known mainly as a music critic. This impressionistic work originally for small orchestra and clarinet was arranged by the composer a year after it was written in 1931. The duo creates a quiet and intimate feeling in this work with excellent blend and color.
Pastorale by Tuano Pylkkänen is a beautiful work performed passionately by the duo on this recording and was one of the highlights for me. The piano writing is extremely lush and the performance on this recording is as well. An airiness in the clarinet tone appears at the end of the movement but overall the sound is clear. If you like beautiful, lush and folk-like melodies this work would make a great encore on any recital.
Eino Roiha's Meditation and Etude are my least favorite on the recording. There is distortion in these tracks in the altissimo sections at the one-minute mark that may have been overlooked in the editing room. Though the writing is extremely awkward, the pitch wavers in the intervallic movement as well and was not characteristic of the rest of the recording. The group, however, has done an incredible job of reconstructing Etude, a work that was all but lost, recreating the score from a historic radio broadcast.
Lauri Saikkola's (1906-1995) Pieni Sarja No. 1 is written in 1950 in a four-movement neoclassical style. This work is reminiscent of klezmer dance though the movements – Preludio, Staccato, Legato, Burla – are sometimes so short they sound incomplete. Overall tempos and styles of these works are well done but articulated sections seem to bog down and need lightness.
Väinö Hannikainen's Päivän Pilkahduksia (Glimmer of Daylight) is light and carefree as you would expect from a work with this title. Taken from a larger work for winds by Hannikainen titled Spring, this movement features the clarinet, and the duo does a nice job expressing its character and charm in just over 2 minutes.
Erik Bergman's, Kolme Fantasiaa, Op. 42, is written in three movements: Moderato grottescamete, Adagio elegiac, and Comodo e poco rubato. The work is extremely accessible to the listeners that may be turned off by the idea of a twelve-tone work. This piece is written entirely in this style and Bergman's mastery is apparent from the onset. Considered one of the father figures of Finnish modernism, Bergman was one of the most important Finnish composers of the 20th century. Raasakka and Vahtola do a wonderful job bringing this work to life, and you may forget that this was the first twelve-tone work written in Finland for clarinet.
This CD contains eight works that will surely interest every listener. The booklet and CD packaging are nicely presented as well as translated into English from the original Finnish. The wide variety of styles on this recording is a smorgasbord of musical delights. If you are looking for shorter works for recitals and want to try something that is extremely accessible to listeners, but unknown, I would recommend you pick up a copy.
– Robert DiLutis
---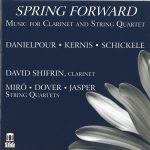 Spring Forward: Music for Clarinet and String Quartet. David Shifrin, clarinet; Miró Quartet; Dover Quartet; P. Schickele: Spring Forward; R. Danielpour: The Last Jew in Hamadan; A.J. Kernis: Perpetual Chaconne. Delos Productions, DE 3528. Total Time 59:36
Spring Forward is a collection of new works for clarinet and string quartet by composers Peter Schickele, Richard Danielpour and Aaron Jay Kernis performed by renowned clarinetist David Shifrin, professor of music at the Yale School of Music and director of the Yale in New York Concert Series at Carnegie Hall. He has been the artistic director for Chamber Music Northwest since 1980 and is active as an orchestral soloist, recitalist and chamber music artist.
Spring Forward is the first work on the album, composed by Peter Schickele in 2014. This work was commissioned by Chamber Music Northwest and Schickele states,
"I'm glad that after a lifetime of entering sketches for such a piece into my notebooks, I finally had the impetus to write a whole work. My pieces are often associated in my mind with seasons, and the lively, lyrical nature of the opening ideas of this work suggest the title Spring Forward, although a later section of the first movement is calmer and perhaps more summery. The second movement is slow and smooth, with a hint of country fiddling in the accompaniment to the middle section. The third movement is a traditional scherzo-trio-scherzo."
David Shifrin is joined by the Miró Quartet featuring violinists Daniel Ching and William Fedkenheuer, violist John Largess and cellist Joshua Gindle.
Richard Danielpour's clarinet quintet titled The Last Jew in Hamadan is the second work on the album. This work was commissioned by Chamber Music Northwest and the La Jolla Music Society for Summerfest in 2015. The liner notes contain a fascinating backstory for Danielpour's work:
My father was born in the city of Hamadan, a city northwest of Teheran in Iran which for years had a rather large Jewish population, in what was then and is now considered an essentially Islamic country. A few years ago I read that there were at the time 13 Jews left in the city of Hamadan; I realized that one day there would be no more Jewish people living in the biblical city of Esther. The first movement of my Clarinet Quintet was composed with the memory of Iran that I had as a child. The second movement is a reflection of my sense of what it has become now.
Shifrin is joined by the Dover Quartet featuring violinists Joel Link and Brian Lee; violist Milena Pajarovan de Stadt and cellist Camden Shaw.
Perpetual Chaconne by Aaron Jay Kernis was completed in 2012 and was a commission for David Shifrin and the Orion Quartet by Chamber Music Northwest, Sante Fe Chamber Music Festival and for John Bruce Yeh and the Calder Quartet by the La Jolla Music Society for Summerfest. In the words of the composer:
Perpetual Chaconne grows out of four main ideas: The falling lines in the violins that open it, the lyrical, expressive music that is introduced by the clarinet, a group of minor chords that is the harmonic grounding (the chaconne) of the whole work and the rocking, alternating triplets that pass from instrument to instrument.
Shifrin is joined by the Jasper String Quartet featuring J Freivogel and Sae Chonabayashi, violins; Sam Quintal, viola; and Rachel Henderson Freivogel, cello.
This recording is a refreshingly delightful collection of 21st century compositions for clarinet and string quartet featuring exquisite performances by David Shifrin and the Miró, Dover and Jasper String Quartets. Its always a wonderful experience to hear thoughtfully composed music of our time embraced so enthusiastically by the performers.
– Julianne Kirk Doyle
---