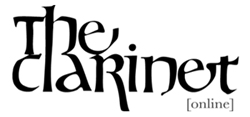 Originally published in The Clarinet 45/3 (June 2018). Printed copies of The Clarinet are available for ICA members.
---
 Ebanthology. Antonio Tinelli, clarinet; Mediterranean Clarinet Ensemble. L. van Beethoven: Symphony No. 5, Op. 67 (arr. U. Krause-Lehnitz); W.A. Mozart: Eine Kleine Nachtmusik, K. 525 (trans. F. Sacci); M. Mangani: Verdiana; G. Rossini: "Sinfonia" from L'Italiana in Algieri (arr. H. Palmer); S. Riussi: Buster; S. Joplin: Ragtime Dance (arr. T. Kenny); G. Gershwin: Summertime (arr. M. Mangani); N. Rota: 8 ½ (arr. G. Swièrc). Farelive FL 023. Total time: 52:32. Amazon, iTunes and CD Universe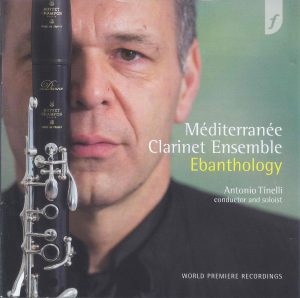 Ebanthology contains transcriptions of standard symphonic literature for clarinet choir as well as an original composition for clarinet ensemble, Buster by Simona Riussi. There is impressive breadth of styles and time periods represented, from Beethoven to Gershwin.
The first track is a performance of Uwe Krause-Lehnitz's arrangement of the first movement of Beethoven's Symphony No. 5, Op. 67. It is of high quality with fine balance. While the playing is excellent, the work itself loses some of the brilliance of the original in this setting for an ensemble with markedly fewer color choices. This version could serve as an introduction to the piece, but is not a substitute.
Frank Sacci's arrangement of Mozart's Eine Kleine Nachtmusic, K. 525 is truly successful. The balance is perfect and the contrasting characters are convincingly conveyed. The simplicity of this work for strings transfers well to the context of clarinet ensemble.
Michele Mangani's Verdiana, a full transcription for clarinet choir of the original version for solo clarinet and orchestra, is the centerpiece this album. It captures all the "hits" in Verdi's many clarinet-heavy scores. In typical Mangani style, it is delightful. The ensemble handles the difficult string parts well, but there is a noticeable degradation in the quality of the blend and intonation at times. Soloist Antonio Tinelli does a fine job of navigating the expressive solos and deftly handles the challenging technical passages. There are fleeting moments where his intonation is noticeably sharper than the ensemble, but the overall impression is still excellent.
Harold Palmer's transcription of Rossini's L'Italiana in Algieri really shows off the excellent low clarinets of the Mediterranean Clarinet Ensemble. The blend and color they achieve is admirably resonant and string-like. Any previous intonation problems are nowhere to be found in this performance – the blend from all voices, from top to bottom, is truly terrific. All technical passages and articulations sound effortless.
Simona Riussi's Buster is a delightful departure from the others on the disc – it has lots of colorful orchestrations, which is difficult to achieve in a clarinet choir setting, as well as interesting rhythmic figures. The ensemble plays the work exceedingly well and is able to change styles on a dime. Of particular note is Matteo Mastromarino on E-flat clarinet who plays with much gusto while easily controlling the highest tessitura of the instrument.
Joplin's Ragtime Dance, arranged by Terry Kenny, is performed with an excellent blend throughout the ensemble. The nature of this type of music, performed by clarinet ensemble, reminds one of the sounds of a calliope. This version would be at home on the back of any riverboat.
The stylistic variety on this disc is showcased by this transcription of George Gershwin's "Summertime" from Porgy and Bess. Antonio Tinelli again shines as the featured soloist. His performance is soulful and expressive. The rhythm section adds a welcome variety of color. The skillful transcription by Mangani makes this version stand easily on its own and would fit into any clarinet ensemble program.
Gilles Swièrc's arrangement of music from the film 8 ½ captures the atmosphere of Nino Rota's original score surprisingly well. The many layers and textures clearly come to the fore. There are many fiendishly difficult figures and fast articulations that are performed with apparent ease by the Mediterranean Clarinet Ensemble.
Ebanthology clearly shows off the skills of the Mediterranean Clarinet Ensemble as well as Antonio Tinelli's vision as director. The level of the musicianship and clarinet performance from all involved is exceptional. The arrangements of "Summertime" and Verdiana by Michele Mangani are delightful and deserve consideration by clarinet ensembles seeking challenging and varied repertoire.
– Spencer Prewitt
 Off Monk. Oğuz Büyükberber Quintet: Oğuz Büyükberber, bass clarinet; Tobias Klein, bass clarinet; Tolga Tuzun, piano; Çağlayan Yildiz, bass; Can Kozlu, drums. T. Monk: Well You Needn't, Straight No Chaser, In Walked Bud, Off Minor (take one), Bemsha Swing and Off Minor (take two). Kabak & Lin LR-J017. Total time: 57:16. Amazon and iTunes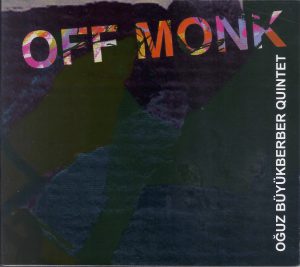 Oğuz Büyükberber is a Turkish musician now living in the Netherlands who combines improvised music and contemporary jazz with Turkish and contemporary music. He has been deeply influenced by pianist/composer Thelonious Monk and multi-instrumentalist Eric Dolphy. Dolphy's bass clarinet, in particular, has exerted a major impact on him. Besides music, he is also a graphic artist and makes electronic visual presentations on various projects. Büyükberber first completed a design degree in 1994 at the Mimar Sinan Fine Arts University in Istanbul, Turkey. He moved to Amsterdam in 1990, receiving his bachelor's and master's degrees from the Conservatory of Amsterdam.
All members of the quintet are composers and have performed together for decades. Each of them have strong
ties to Turkey and Amsterdam. The timing of this recording coincides perfectly with the many 2017 celebrations commemorating Thelonious Monk's
100th birthday. Monk is one of the greatest jazz musicians of all time and one of first creators of modern jazz. His genius has
to be experienced directly to be appreciated. His compositions and improvisations are filled with unusual dissonances, tone clusters, rhythms, harmony, intervals and use of space. They are also unique in their simplicity.
This recording features some of Monk's most well-known compositions. The love and respect the musicians have for this giant is palpable from the very beginning. The fact that the musicians are all composers results in a variety of interesting approaches that are quite effective in their appeal. Büyükberber deconstructs the compositions in many ways, often using melodic and rhythmic fragments taken from the original composition and layered over one another. Monk often uses this same concept in his piano improvisations. Especially interesting is his use of different textures to provide necessary variety and development. All combinations of instruments are used at some point. I especially found the rare instances of solo statements by individual members to provide welcome relief from the frequent multiple lines often present.
The use of two bass clarinets in the front line can be directly connected to the importance of Eric Dolphy to both Büyükberber and Tobias Klein. Dolphy was one of the first and most important bass clarinet soloists in jazz. He often used unusual intervals and extended techniques in his improvisations, as do the bass clarinetists on this recording. I find the use of two bass clarinetists to be a wonderful alternative to the usual combinations one finds in most jazz.
The contemporary nature of this music will not appeal to all listeners. It requires serious listening and focus. It is complex, utilizing chromaticism, polyrhythms, extended techniques and free improvisation. For my ears, some of the improvisations seem a bit lengthy (Off Minor take 2 is over 12 minutes long) and I would have enjoyed hearing a tune that follows the original form, as Monk and Eric Dolphy often did when improvising. One of Monk's endearing traits is his simplicity and economy of notes. That being said, the frequent use of melodic fragments in these improvisations allow most listeners to be able to follow and appreciate the development of these compositions. Much of the success of this recording is achieved by the many musical experiences these musicians have shared over a lifetime. All members contribute to the outcome and there is simply no substitute for a group of musicians who understand each other because of the amount of time and experiences they've shared together.
– Randy Salman
 Meditations and Tributes. Matthew Nelson, clarinet. K. Saariaho: Duft; J. Durand: La mesure des choses I: La mesure de l'air and Tiodhlac; F. Donatoni: Clair; B. Quaglia: After Milton: Three Vignettes for Solo Clarinet; B. Srensen: Songs of the Decaying Garden; M. Satterwhite: For Dallas; K. Husa: Three Studies for Solo Clarinet; K. Penderecki: Prelude. Soundset Recordings SR 1087. Total time: 63:28. Amazon and iTunes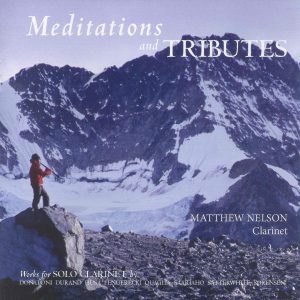 Meditations and Tributes is a recent release from clarinetist Matthew Nelson, assistant professor of clarinet at the University of Louisville. The album contains eight contemporary works for solo clarinet, four of which are premiere recordings. Nelson showcases virtuosic skill in many extended techniques on the clarinet and thoroughly explores an expansive sound palette. The choice of programming gives a balance of perspective, looking forward with new works and acknowledging significant past influences of previous clarinetists and composers.
The first work, Duft by Finnish composer Kaija Saariaho, is a seemingly insidious start to the listening with low, pulsating tremolos. "Duft" translates to "Fragrance" and the three movements translate to "Pollen," "Blooming," and "Fleeting." On first blind listen, Saariaho's work reminded me of Husa's Three Studies, which I was pleased to hear later on the recording. It is balanced in moments of melodic intimacy and angular moments of extended technique. Of particular interest are the glissandi, of which many clarinetists will surely be envious when they hear the ranges this clarinetist is capable of playing. Nelson shows a sensitivity in his playing at both ends of the spectrum, making moments of technical challenge sound delicate amidst stark and simple melodic lines. The first movement of Franco Donatoni's Clair contains a deranged flurry of sounds alternating between mordents and wide range intervals at a diminished dynamic, altogether giving the movement a sparkling character.
The work For Dallas by Marc Satterwhite is dedicated to Nelson's predecessor at the University of Louisville, Dallas Tidwell, who passed away in 2015 after a battle with cancer. Satterwhite is on the composition faculty at University of Louisville and taught alongside both the dedicatee and the performer. The simplicity of the opening and the juxtaposition of more brilliantly strident moments highlights the clarinetist's ability to portray, in the composer's words, "many of the emotions we experience in times of loss." I found the work particularly poignant and I am sure it will be appreciated by the many students and musicians who knew Professor Tidwell.
Penderecki's Prelude, the final track, takes the listener back to a similar mood with which we started. Nelson's interpretation evokes a pensive and reflective nature and serves as a familiar aperitif after sampling several welcome new works. Meditations and Tributes contains several new works, which should receive more attention given this exposure. Nelson performs these works with great sensitivity and an impressively wide range of sound colors. I found his tone and style engaging to the ear.
– Cody Grabbe
 Sift. Transient Canvas: Amy Advocat, bass clarinet; Matt Sharrock, marimba. D. Lewis: Sift; T. Tallon: dirty water; C. Hughes: Vestibule III; J. Murphree: Purge; A. Roberts: Nostalgia Variations. New Focus Recordings FCR190. Total time: 50:45. Amazon and iTunes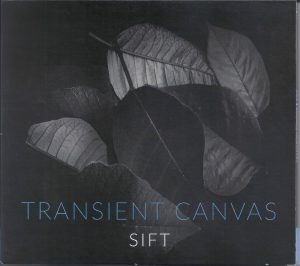 Daniel T. Lewis's Sift takes its title from a line in a Kay Ryan poem in which she describes an effort as: "…the sift left of resolve strained too long." The piece intends to represent an exhaustion, a drawing-up of energy, a struggle to accomplish something, and a final and inevitable conclusion. Using a note collection that is minimal, Sift takes the listener on a kaleidoscopic journey of whispers, dialogues both serene and argumentative, energetic dance rhythms and an eventual collapse of energy evoked by increasingly separated sigh gestures that conclude the piece. Advocat employs a wide array of colors, microtones and portamenti in the realization of this mesmerizing, mysterious work. Lewis draws upon the blending capabilities and articulation palette of the bass clarinet and marimba extremely well in this 10-minute work.
On dirty water, composer Tina Tallon writes:
Although I wasn't born there, in many ways, I consider Boston to be my home. Boston was where I decided to become a composer, and I owe my development to my many colleagues in this city. While dirty water does not use any material from the Standells hit, it is inspired by the city I love.
The bass clarinet writing alternates between rhythmically synchronized material with marimba and "down and dirty" moaning effectively realized by Advocat through pitch bends, slap tongues, grunts and wails. Most admirable about Advocat's playing here is her template of slap tongue styles and articulation in general. The ensemble between Advocat and Sharrock is very impressive, as is Advocat's handling of the extremely wide leaps, technical demands and constant character changes in this work.
Curtis Hughes's Vestibule III is one of a series of short, related duos that seem to exist in a state of perpetual transition between contrasting textural and stylistic worlds. The driving energy and "downtown" sound à la David Lang mesh perfectly with an almost sentimental lyricism that is beautifully rendered by Advocat. Rhythmic precision is excellent by both Advocat and Sharrock, but what is most impressive in this recording is Advocat's extreme control and beauty in the instrument's high register. Energy and excitement builds until the work ends as it began, with a "Bang on a Can"-style, hard-driving ostinato between a brake drum-sounding marimba and repetitive low Cs beautifully belted by Advocat.
John Murphree's Purge is a very short, rhythmically energetic work that best displays both Advocat's and Sharrock's virtuosity and razor-sharp precision on this disc. However, the work is not without flowing phrases. These are performed excellently by Advocat, as are the more raucous interjections that further display her stylistic versatility and range of color.
Composer Adam Roberts employs the traditional theme and variation form in his work Nostalgia Variations. The theme, performed in impeccable unison by Advocat and Sharrock, breaks into a collection of iterations containing mercurial flashes, ostinati, wild frenzies, bluesy stylings and absolute virtuosity stunningly realized by both Advocat and Sharrock.
Advocat and Sharrock are lauded for their captivating musicianship, versatility of style, and overall technical command of their instruments on this recording.
– Kenneth A. Long
 New Music for Clarinet and Piano. Eric Mandat, clarinet and bass clarinet; Greg Mills, piano. E. Mandat/G. Mills: Chance Dance, Journey to Charon; Tag Team; Orbital Resonances; For M. Feldman; Bass Is the Place; For K. Penderecki and Three Steps on the Horizon. Freedonia Music FM 41. Total time: 61:30. Amazon and iTunes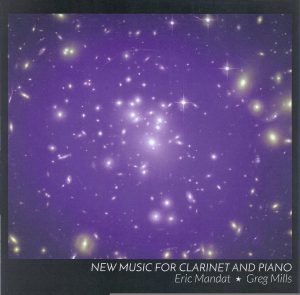 In New Music for Clarinet and Piano, clarinetist Eric Mandat and pianist Greg Mills give us an intriguing and exploratory journey identified as "directive improvisations for clarinet and piano." Upon exploring www.freedoniamusic.org
(the recording's distribution website, dedicated to releasing recordings of free jazz and improvised music), there is a more expansive description of the recording: "Improvised duets with a strong avant-classical flavor revealed in a broad variety of forms, moods and themes. These well-defined spontaneous compositions are played with elegance and flair revealing a near-telepathic rapport. A mature vision delightfully rendered."
This might explain the lack of extensive notes paired with the recording, as that might impose an expectation from the listener, subverting the key effect these engaging improvisations demand upon an open mind and ear. The works are alluring, as the improvisation between the two artists creates a personal dialogue and often forges unexpected journeys for the listener. After repeated listening, the entire recording is truly an experience, with a few standout tracks that could be extracted and used as meditative and transformative works in their own right. However, "listening to" or "evaluating" individual tracks independently, may be missing the point. This recording is one in which the sound, silence and synergy of the artists bores into your mind, finding meaningful moments for each listener, each time. The recording implores the listener to surrender oneself to its playfulness, haunting moments, and thought-provoking approach to new music.
As mentioned above, to consider each work individually is not what this reviewer believes is the most accurate or appropriate approach to a review. Standout moments in almost all of the works involve excellent ensemble, balance and athleticism among the two artists. Frenzied passages in the works are created with piano and clarinet overlapping, scrambling, and eluding one another; not just duplicating, but weaving in and out of each other's sounds. Impressive ethereal moments are created with the clarinet timbre, especially with lighter sounds in the upper register.
The highlight of the disc rests with the transformative and hypnotic For M. Feldman. One can assume this is a nod to (and evokes the aesthetic of) Morton Feldman, composer of indeterminate music and close friend of John Cage. While a great deal of Feldman's early works involved non-standard systems of musical notation as well as chance techniques, much of Feldman's later works are characterized by a slow development and quiet evolution, and this work definitely evokes this type of mood. Feldman's interest in quiet sounds is captured in this lovely, sparse and intensely personal journey of timbre and color. As Feldman's later works are also known to be extremely long (most famously his String Quartet II that has been reported to last 6 hours), it is not lost on the reviewer that this work is the longest on the CD by more than three times the length of almost all other tracks. For M. Feldman is mesmerizing, and this reviewer continues to dip his toe in the pool, enjoying its narcotic effect.
Two other standouts of the recording are For K. Penderecki and Three Steps on the Horizon II. In For K. Penderecki, one can certainly hear the aesthetic of Penderecki's "Andante cantabile" from his Three Miniatures for Clarinet and Piano. Moody, sustained tone clusters of sounds meander and give shape to the time in this lovely work. Three Steps on the Horizon II features brilliant passage work and blazing technique by Mandat and Mills. The transition into the beautiful middle section shows the tremendous sensitivity and rapport between the two artists.
New Music for Clarinet and Piano is thoughtful, mood-evoking and emotionally-charged music. The listener is taken on a journey, as repeat listening reveals deeper and deeper levels of artistry from the performers. In the case of For M. Feldman, this work can cause a listener to sink whole-body into the timbre and texture of the sound, paralyzing them into a trance where only the conclusion of the work releases an antidote, delivering the listener back to reality.
– John Masserini
 New Discoveries. The Cavell Trio: Shelly Myers, oboe; Osiris Molina, clarinet; Jenny Mann, bassoon. G. Simon: Devil Winds; A. Zaheri: I come for where the Lotus Flower blooms; P. Standford: Cartoons; J. Rueff: Trois Pièces; H. Vachey: Quartre Instantanés; R. Wray: Trail Mix; M. Gross: Splash!; S. Yokoyama: Encore: Valse de Mariage. Blue Griffin Recording BGR447. Total time: 66:34. Amazon and iTunes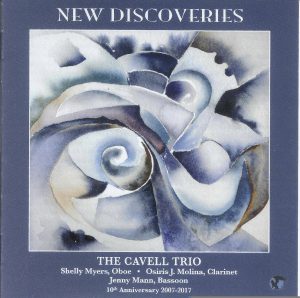 The Cavell Trio's New Discoveries presents nine works for reed trio. The trio is celebrating their 10th anniversary and the members also perform as principal winds in the Tuscaloosa Symphony Orchestra. Oboist Shelly Myers, clarinetist Osiris Molina, and bassoonist Jenny Mann draw on their shared history to present a polished, deftly performed collection of music. The superb liner notes, prepared by Scott S. Hanna, guide the listener through each piece and offer insight into each composer's thought process.
The Cavell Trio captured beautiful, thoughtful interpretations on this recording. They obviously share a musical vernacular built from their years of performance experience. Their lines are uniformly shaped and give a sense of cohesion. The engineer does a good job of balancing the players most of the time, though sometimes the main line is slightly covered by less important ostinati. At other times, the bassoonist sounds farther away than the other performers when it feels the voices should be balanced. Overall, though, these recordings retain the energy and excitement of a live performance.
Three works stand out as particularly fine both for the group's performances and for the quality of the composition. French composer Jeanine Rueff's Trois Pièces (1960) presents challenges akin to Françaix's music with rippling technical passages and delightfully meandering melodies. The Cavell Trio's convincing delivery pulses with life. Splash! by Murray Gross (b. 1955) offers three impressions of water, each with a different mood. In this work, Osiris Molina proves to be not only an excellent clarinetist, but also a fine bass clarinetist with a resonant sound. Finally, Patric Standford (1939-2014), noted English scholar and composer, wrote the cheerful Cartoons. The short movements are diverse and the trio's wide range of available colors are put to good use.
Though the works range from 20th to 21st century, there is an overriding sense of sameness when played top to bottom. Perhaps this is because the instruments share similar tone colors, or it might stem from the similarity of the pieces. Many of the compositions contain short movements that focus on a single idea or character. It feels like a few of the pieces take time to develop their ideas. With a playing time over an hour, they can become a bit monotonous. This is not to say the disc is not enjoyable; it just lacks a sense of variety.
The Cavell Trio's New Discoveries is certainly worth exploring. The clarinet parts stand out with a warm sound, crisp articulation, and round altissimo notes. The bassoonist and oboist easily match the clarinetist's expressive and technical prowess. Members of reed trios will most likely find new music they love and everyone will find high quality chamber music performed with verve.
– Jeffrey O'Flynn
 Clarinet Fantasies. Rebecca Rischin, clarinet; Youmee Kim, piano. D. Mirco: Fantasia sopra motivi dell'opera "La Sonnambula"; B. Kovács: Fantasie de concert sur des motifs de ballet "Sylvia" de L. Delibes, Fantasia di concerto su motivi dell'opera "Norma" di V. Bellini and Aria Theme and Variations after Paganini's "Moses" Fantasia; C. Baermann: Fantasie brillante, Op. 7; R. Carnicer y Batlle: Fantasía. Centaur Records CRC 3538. Total time: 67:20. Amazon and iTunes
Rebecca Rischin is an international performer who has performed throughout Europe, Canada and the United States. She is the author of For the End of Time: The Story of the Messiaen Quartet and is currently professor of music at Ohio University. Pianist Youmee Kim is an international performer and is also an author of the book, An Analysis and Performance Guide to Benjamin Lees' "Odyssey I and II." She is currently assistant professor of piano at Ohio University.
Clarinet Fantasies holds a plethora of technical mastery and agility skillfully demonstrated by Rischin and Kim. Each of these works shows a variety of style and individually utilizes the adeptness and proficiency of these fine performers. With the exception of two of the works, these fantasies are based on operatic musical content.
Fantasia sopra motivi dell'opera "la Sonnambula" by Domenico Mirco is based on Bellini's opera La Sonnambula. Mirco, who was principal clarinetist at the Teatro La Fenice opera house in Venice, uses themes from the finales of both acts from Bellini's opera. Rischin does a convincing job emulating the vocal qualities in the first section of this work. The following variations culminate by showcasing Rischin's expert prowess through the technically difficult clarinet passages. Carl Baermann's Fantaisie Brillante, Op. 7, edited by Bernhard Päuler, is another showcase of lyric and technical writing. Rischin's improvised cadenzas and additional ornamentation demonstrate impressive technical command of the clarinet in this performance.
Ramón Carnicer y Batlle composed an impressive amount works for voice, clarinet, flute, double bass, organ and others, as well as operas. In his Fantasia, Rischin again adds her own improvised cadenzas at the beginning of this two-section work. Her command and control of the instrument is admirable in the intricate and intense passages.
Béla Kovács is no stranger to the clarinet world. He has been hailed by critics and the public alike as the finest Hungarian clarinetist of his time and one of the foremost interpreters of Hungarian clarinet repertory. His Hommages are taught and performed all over the world. He continues to be an active teacher and soloist to this day. There are three works credited to Kovács on this recording, two based on a ballet and another based on Paganini's "Moses" Fantasia.
In Kovács' Fantaisie de concert sur des motifs de ballet "Sylvia" de L. Delibes, Rischin and Kim convincingly convey the essence of this work, although in sections the clarinet does not always capture the subtle moments, which could use a bit more refinement.
Fantasia die concerto su motivi dell'opera "Norma" di V. Bellini, similar in style to the previously mentioned work, is played convincingly. The technical passages and command of the instrument are without question. In slower sections, the tone quality of the clarinet is a bit on the heavy side in regards to color and dynamics. However, the final section of this work is brilliantly played, again showcasing the technical facility of Rischin.
Aria, Thema and Variations after Paganini's "Moses" Fantasia has a dramatic opening introduced by Kim and matched in style by Rischin. This transcription dutifully captures the essence of the original and works well on the clarinet. In order to tackle this work, one must be a complete virtuoso to convincingly perform it. Rischin rises to the challenge and does not disappoint in her spectacular technical exhibition.
Clarinet Fantasies is a good resource for an area of clarinet repertoire that has been lacking in recorded performances. Rischin and Kim do a commendable job with this vibrant compilation of showpieces.
– Lori Ardovino
 V objemu dvojine (Dual Embrace) Duo Claripiano: Dušan Sodja, clarinet; Tatjana Kaučič, piano. A. Makor: Histria et amor; T. Habe: Zeleno, kit e ljubim zeleno; K. Rakar: Venec treh dolin; J. Golob: Tri prekmurske ljudske pesmi; P. Šavli: Oj, deklica, povej mi to; T. Vulc: Oblaki so rudeči & Petelinček je zapieu; A. Misson: Marija in Brodnik (Marija z Ogrskega gre); H. Vidic: Kresna. Slovenia, ZKP Publishing and Record Label RTV 114755. Total time: 68:00. zkpprodaja.si21.com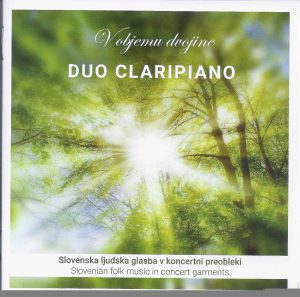 This wonderfully conceived and executed album by Duo Claripiano, titled V objemu dvojine (Dual Embrace), includes eight original works based on Slovenian folk traditions that were written for the ensemble. It was "motivated into action by the gaping rift separating folk and art music in the chamber music repertoire." This album is the latest collaboration by the Slovenia-based Duo Claripiano, consisting of Dušan Sodja, clarinet and Tatjana Kaučič, piano. Over their more-than-20-year collaboration, the pair have released notable albums and appeared at prestigious venues throughout the world.
This close collaboration can be seen in Duo Claripiano's moving and effective performances on this album. Sodja's wonderful command of the clarinet is matched by Kaučič's masterful skills on the piano. The listener will be immediately struck by the seemingly effortless quality of the pair's playing and responsiveness as a group. Whether traveling through tonal landscapes or extended techniques, the duo is in perfect sync not only with each other, but also with the composers that contributed their pieces to this album.
The first work, Andrej Makor's Histria et amor, is drawn from Istrian folk songs. Sodja's clear and controlled tone, combined with Kaučič's emotive yet sensitive playing, matches the lilting and beautiful quality of Makor's composition.
The next work, Tomaž Habe's Zeleno, ki te ljubim zeleno (Green, how I want you green), is dedicated to the beauty of natural landscape and is based on Federico Garcia Lorca's Verde que te quiero verde. Habe's descriptive and multifaceted compositional style is well-matched by the nuanced and sensitive playing of the clarinet and piano.
The duo continues to take us on a journey through the Slovenian musical landscape with the third piece on the album, Katarina Pustinek Rakar's Venec treh dolin (A Garland of Three Valleys). This work is a delightful and evocative fusion of contemporary takes on folk music from three geographical areas.
The next piece, Jani Golob's Tri prekmurske ljudske pesmi (Three Folk Songs from Prekmurje), is a three-movement work based on the Prekmurian region. This work is a well-composed guide for those unfamiliar with Slovenia and suits Sodja's flexibility and prowess on the instrument. Next up is Peter Šavli's Oj, deklica, povej mi to (Hey, maiden, do tell me) that includes delightful compositional treatments of folk material.
This is followed by Tadeja Vulc's modern and innovative Oblaki so rudeči & Petelinček je zapieu (The Clouds are Red & The Little Rooster Crowed). Vulc combines traditional compositional elements with extended techniques in a breathtakingly innovative manner while still staying true to the spirit of the folk material. Sodja and Kaučič really show their full range on this track both as individuals and as an ensemble. The special effects in this work only add to the experience of the listener and the mission of the album instead of becoming the main event.
Likewise, in the duo's interpretation of Andrej Misson's Marija in Brodnik/Marija z Ogrskega gre (Maria and the Ferryman/Maria on Her Way from Hungary), his haunting and energetic storytelling is conveyed well by the performers. The disc is concluded with Helena Vidic's Kresna (Midsummer Days), which yet again serves as a wonderful tour guide to the musical landscape of Slovenia.
The playing and material on this album are of superb quality as are the descriptive program notes. Well-conceived and delivered, this recording and the original works contained within are essential additions to every clarinetist's collection. We will all hopefully be hearing even more of these compositions and performers on concert stages around the world.
[See also Gregory Barrett's review of the works by Peter Šavli, Andrej Makor and Jani Golob in the December 2017 issue. Ed.]
– Stephanie Zelnick
 Stanley Drucker: Heritage Collection Live in Concert. Stanley Drucker, clarinet; Naomi Drucker, clarinet; Leonard Hindell, bassoon; Michael Gilbert, violin; Kenneth Gordon, violin; Arnold Steinhardt, violin and viola; David Kates, viola; Karen Phillips, viola; Lorin Bernsohn, violoncello; Juliette Arnold, piano; Walter Delahunt, piano; Kazuko Hayami, piano; Jens Nygaard, piano; The Drucker Trio; The Festival String Quartet; The Juilliard String Quartet. L. Spohr: Potpourri, Op. 80; M. Bruch: Eight Pieces, Op. 83; M. Lifchitz: Yellow Ribbons #5; J. Brahms: Quintet in B Minor, Op. 115; D. Mason: Sonata, Op. 14; F. Poulenc: Sonata for Two Clarinets, FP7 and Sonata for Clarinet and Piano, FP 184; B. Crusell: Quartet in E-flat Major, Op. 2, No. 1; I. Stravinsky: Three Pieces for Clarinet Solo; B. Bartók: Contrasts; C.M. von Weber: Grand Duo Concertant, Op. 48 and Quintet in B-flat Major, Op. 34; L. Bernstein: Sonata; G. Jacob: Miniature Suite for Clarinet and Viola; J. Weinberg: Dance and Song for Two Clarinets; W.A. Mozart: Quintet in A Major, K. 581, Divertimento No. 2, K. 439B and Trio in E-flat Major, K. 498; B. Martinů: Sonatina, H. 356; A. Szalowski: Sonatina; L. Weiner: Csárdás; A. Bax: Sonata; P. Boulez: Domaines; C. Debussy: Petite Piece and Première Rhapsodie; P. Hindemith: Variations; A. Prinz: Discussion. Clover Field Recordings CFR 4231-4235. Total time: 6:11:32. Amazon.com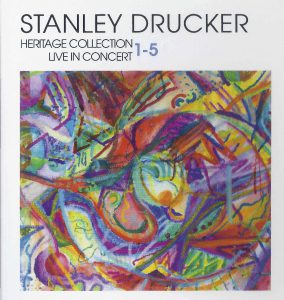 Prominent American clarinetist Stanley Drucker has enjoyed a performance career of over seven decades. As one of the longest-serving members of the New York Philharmonic, Drucker performed with the orchestra for over 60 years, serving in the capacity of principal clarinetist for 49 years under world-renowned conductors for an estimated 10,200 concerts. Drucker was also a celebrated soloist, appearing with the Philharmonic on nearly 200 occasions and with other major orchestras across the United States and Europe. In addition to his accomplishments as an orchestral musician and soloist, Drucker was also a very active chamber musician, performing in illustrious recital halls and around the region in which he lived in locales such as schools, libraries, places of worship, and similar venues. Heritage Collection Live in Concert celebrates the legacy of Drucker in this capacity featuring recordings of works collected from live performances from a span of over 30 years.
Producer Jerome Bunke worked closely with Drucker to select recordings for release from hundreds of hours of audio captured during live performances. Each of the five compact discs in the set includes a variety of solo and chamber works for clarinet. Drucker is joined by a multitude of outstanding collaborative musicians, including his wife Naomi Drucker, a fine clarinetist in her own right. Each disc included in the collection could stand on its own; the repertoire is varied and each work compliments the next. Selections included on each disc represent a wide range of historical periods and styles including masterworks of the repertoire, contemporary music, and forgotten gems.
An abundance of bonus material is included with the set. A separate booklet contains a foreword and information about the project from Mitchell Estrin and Jerome Bunke, as well as program notes for works included on each disc written by Jennifer Fraley, Joshua R. Mietz and Katrina Phillips. The booklet also contains many photographs of Drucker with friends and colleagues throughout the years. Inserts for each disc in the set provide anecdotes and reflections from composers and musicians who worked with Drucker along with additional photographs. The disc liners indicate recording dates for works included on the disc and credits. The aforementioned materials provide valuable insight into the music, life, and career of Stanley Drucker.
Each performance included in Heritage Collection Live in Concert is exceptional. The musicianship exhibited by Drucker and all collaborators is truly remarkable with great energy and spontaneity captured in each live performance. Drucker's playing boasts immense technical command and precision, but also sensitivity and subtleties that blend seamlessly with the other musicians. When one considers the fact that some of these performances took place in less-than-ideal acoustic environments and before the advent of digital technology, the recordings are all the more impressive. Only the occasional room noise such as a cough or shuffling serves as a subtle reminder that these recordings were created on location rather than in the studio.
Stanley Drucker's artistry is presented here in its purest form; these live recordings transport the listener to share in the legacy of this prominent clarinetist. This would be a welcome addition to the collection of any clarinetist and serve as a valuable reference to a variety of compositions performed by a legendary musician. Highly recommended.
– Karl Kolbeck