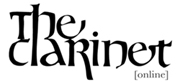 ---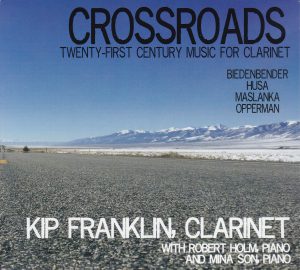 Crossroads: Twenty-First Century Music for Clarinet. Kip Franklin, clarinet; Robert Holm, piano; Mina Son, piano. D. Biedenbender: Synchronicity; K. Husa: Three Studies for Solo Clarinet; D. Maslanka: Eternal Garden: Four Songs for Clarinet and Piano; K. Opperman: Un Seul. Artist Produced. Total time 64:00. CDBaby, iTunes and Amazon
Crossroads opens with energy, verve and great attention to detail in a well-balanced and engaging disc of contemporary clarinet repertoire. David Biedenbender is the only composer on Kip Franklin's disc who will spend the majority of his life in the 21st century, but nearly all of the compositions, with the exception of Kalmen Opperman's Un Seul, were written in the first 16 years of this century. That said, there is a diversity of approach providing charm, poignancy, and a promising trajectory for clarinet music.
Synchronicity opens with a sinuous and energetic clarinet line accompanied by rhythmic interjections from the piano. The roles switch, build, react to each other, and eventually wind down into a reflective cadenza for the clarinet. Franklin shows great mastery and control of the altissimo register of the clarinet, but one occasionally wishes greater color and urgency in the homogeneous sound he achieves in the other registers. In the second movement, "Quiet", Franklin paints long, beautiful lines in a setting reminiscent of Copland's empty spaces and plaintive melodies, which alternates with a solo section built on sympathetic resonances. This builds on the introductory material up into the stratosphere where Franklin's sound gains great power and expression. The program notes reference Biedenbender's quotation of Bach as found in Berg's Violin Concerto, but the resonances might remind clarinetists of Vier Stücke for clarinet and piano by the same composer. The third movement, "Muster Point," shines with its rippling rhythms, tight collaborative texture and brilliant figures. Biedenbender shows great understanding of the clarinet and its range and exploits its qualities well. Decidedly modern touches flirt with bop, rock and new age in a way that is striking and engaging, a definite boon to the canon of clarinet repertoire.
Karel Husa's Three Studies for Solo Clarinet is an energetic composition of bird-like movements, plaintive song, exciting perpetual movement, and sudden changes in color utilizing both natural and extended technique for a thrilling feel. This interpretation feels a little exact at times where the ends of phrases and gradual accelerations of similar statements could be freer. However, the extended techniques and color-modifying trills are exquisitely employed in their exactitude. The poignancy of the second movement lies in the subtlety of its morosely simple opening line. Franklin's interpretation builds a little suddenly in volume but does not lack in passion and conviction, aptly displayed in the pitch bends and specific vibrato that Husa requires. A truly beautiful piano dynamic at the end is representative of the resolute sadness and resignation that color the entire movement. This successfully prepares the enigmatic and fragmentary opening of the third movement, which is a true test of flexibility, accuracy, and efficiency in articulation. Franklin is in his element as the movement builds to its finale in the altissimo.
Maslanka's Eternal Garden: Four Songs for Clarinet and Piano demonstrates all of the power of his compositions for wind ensemble in their harmonies, repetitive gestures, and delayed resolutions. Franklin models attentive collaboration with pianist Son and both musicians demonstrate the beautiful clarity of sound necessary to pull off the striking transparency of this score. Maslanka's music challenges performers' endurance in its gradual builds. Franklin and Son succeed in the final movement and its corresponding climaxes and releases spanning over 16 minutes.
Kalman Opperman's Un Seul is a classic, both austere in nature and exquisitely expressive when the architecture of the dynamics is clearly painted as Franklin does in this recording, especially in the counterpoint sections. Franklin does great justice to the piece in his carefully constructed and expressive approach. Highly recommended!
– Andrea Vos-Rochefort