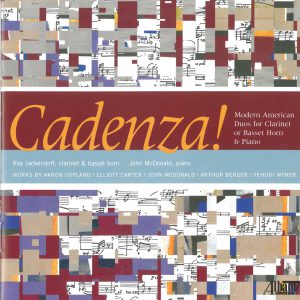 Cadenza! Modern American Duos for Clarinet or Basset Horn & Piano
Ray Jackendoff, clarinet and basset horn; John McDonald, piano. A. Copland: Sonata for clarinet and piano; E. Carter: Pastorale; J. McDonald: Echo Fantasy Upon Mi, La, Op. 404, Peace Process, Op. 427; A. Berger: Duo; Y. Wyner: Cadenza!. Albany Records TROY 1598. Total time 74:14. Albany Records
Ray Jackendoff has been clarinet soloist with the Boston Pops, the Boston Civic Symphony, and other Boston-area orchestras. He has also served as principal clarinetist with the Boston Civic Symphony for twenty years. Pianist John McDonald is Professor of Music at Tufts University and enjoys a multifaceted career in the areas of composition, theory and piano performance.
Aaron Copland's Sonata for Clarinet and Piano, originally written as a violin sonata in 1942-43, was arranged for clarinet in the 1980s. The work features a pensive, expansive first movement followed by a soulful interlude leading to a playful, often technically demanding third movement that unwinds with a sublime, hymn-like theme in the clarinet. Both performers truly capture the characters of each movement throughout this often over-looked piece in the repertoire. Jackendoff demonstrates a thorough technical command of the clarinet in this recording. Intonation is impeccable with only slight exceptions in the extreme upper registers. While articulation was somewhat fuzzy at times in the staccato passages in the third movement, the energy, rhythmic precision, and cohesion of ensemble make this Copland recording excellent.
Elliott Carter's Pastorale, written in 1940, was originally intended for viola and piano, but was published in 1945 with the indication by the composer that "English horn and clarinet versions were also possible." Jackendoff performs the work on basset horn which, as is the case with his clarinet playing, technically clean with excellent intonation. Moreover, he really exploits the beautiful colors capable by the basset horn, making this a truly musically rewarding and impressive recording.
Arthur Berger taught at Brandeis University and was active as a composer, music critic and commentator. The Duo was first composed in 1952 for oboe and clarinet, then "freely transcribed" by the composer in 1957. This work, performed on clarinet with piano, contains multiple layers of textures, from spiky and pointillisitic to extremely lyrical and contemplative. Jackendoff deftly moves from one character to the next, maintaining elegance, excitement, and full-bodied tone with excellent technical and legato control throughout this recording.
John McDonald's two offerings – one for clarinet and one for basset horn – were composed several years part. The clarinet work Echo Fantasy Upon Mi, La was inspired indirectly by the echo fantasies of Jan Pieterszoon Sweelink (1562-1621). The basset horn work Peace Process was composed for Jackendoff in 2007. Echo is a true tour de force for the clarinet, which Jackendoff handles very well: extreme registral leaps and dynamic contrasts, mercurial passagework, and very tender, lyrical moments that are played with sensitivity and beauty. Peace Process for basset horn was also written for Jackendoff who, again, exhibits his tonal and technical command of the basset horn. His subtle use of vibrato adds to the threnody-like quality of this work that was written in response to the violence of a 2006 bus explosion in Anuradhapura, Sri Lanka where Mr. McDonald had visited.
Yehudi Wyner also taught at Brandeis and previously at Yale and at the State University of New York at Purchase. His piece Cadenza! was written for clarinetist and Yale professor Keith Wilson in 1969. The four-movement work has titles in the following order: "Cadenze," "Canzona," "Dodecadanza," and "Decadenza." Each vignette is unique, ranging from dance-like rhythms, asynchrony between clarinet's melodic material and the pianist's stylistically unrelated accompaniment, and extreme virtuosity in the final movement. McDonald and Jackendoff are commended for their brilliant execution of this piece and the quality of the disc as a whole.
Kenneth A. Long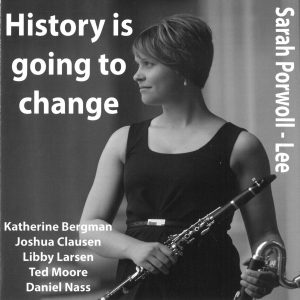 History is going to change
Sarah Porwoll-Lee, clarinet and bass clarinet; Jeremy Johnston, marimba; Jerrod Wendland, piano; Ted Moore, laptop; Ben Osterhouse, cello; James DeVoll, flute. L. Larsen: Bee Navigation for solo clarinet, Downwind of Roses in Maine for flute, clarinet and percussion; D. Nass: Song of Unktehi for bass clarinet and marimba, Nine Wee Dreams for clarinet and cello; K. Bergman: Invincible Summer for clarinet and piano; T. Moore: Leviathan for bass clarinet, two vases and live processing; J. Clausen: History is going to change for bass clarinet and electronics. Avid Sound Records ASR 20153. Total time 64:33. Avid Sound Records
Sarah Porwoll-Lee is a clarinetist and music educator based in Minneapolis, MN. She has performed throughout the United States and Australia as a soloist and chamber musician and with numerous professional orchestras and wind ensembles. She is on the faculty at the University of Wisconsin-Lacrosse.
Libby Larsen's Bee Navigation for solo clarinet is a piece inspired by foraging bees telling their hives that they have found nectar and physically telegraph precise navigational directions through round dances and tail-wagging as they get closer to their nectar. This very short, colorful work is dance-like in character and calls for a vast array of techniques such as pitch and timbral variance, flutter tonguing and fast, wide-leap articulation that are all handled extraordinarily well by Porwoll-Lee.
Song of Unktehi was commissioned by and written for Porwoll-Lee by Daniel Nass. The word Unktehi is derived from the legend of the Dakota and Lakota Sioux Native tribes. According to the mythology, Unktehi – god of waters and evil – was a great horned serpent that lived below the waters of the St. Anthony Falls in Minneapolis. The composer wanted to capture the spirit of the falls and assigned the serpent character to the bass clarinet. The work, composed for bass clarinet and marimba, displays Porwoll-Lee's superb tone and technical command of the bass clarinet.  Furthermore, Porwoll Lee's colors, multiphonics and vocal sounds intertwine perfectly with the marimba, effectively creating the imagery of the serpent in this mythical tale.
Invincible Summer by Katherine Bergman takes inspiration from an excerpt of Albert Camus's 1952 essay Return to Tipasa: "In the midst of the winter, I found there was, within me, an invincible summer. And that makes me happy. For it says no matter how hard the world pushes against me, within me, there's something stronger – something better, pushing right back." Invincible Summer is written for clarinet and piano. The characters of longing and hopefulness are fully realized by Porwoll-Lee with her beautiful, singing tone, gorgeous phrase shapings, and nimble articulation and technical passagework. Porwoll-Lee's intonation and rhythmic precision with the piano are also excellent. The constant mood changes are clearly delineated and convincing in this powerful performance.
Ted Moore's leviathan embodies the sonic world that one might hear in a littoral cave. The work was inspired by An Uaimh Bhinn, a cave on the Scottish coast famous for its harmonic resonances. This piece, for bass clarinet and electronics, is mesmerizing in its use of melodic multiphonics, low, softly-sustained notes, and unique, truly "cavernous" sounds of the electronics. Again, Porwoll-Lee's bass clarinet tone is gorgeous and her ability to create colorful, expressive multiphonics is outstanding. The work calls for extremely high, soft playing that is done beautifully and with apparent ease.
Nine Wee Drams by Daniel Nass is a divertimento-type work for clarinet and cello consisting of nine short movements. Each movement is named for a favorite brand of Scotch whisky – Caol Ila, Kilchoman, Ledaig, Ardbeg, Cragganmore, Balvenie, Lagavuilin, Laphroaig and Macallan. This work is a delightful assemblage of one to two minute tidbits suggesting a taste sampling of the movements' namesakes. Movement styles include perpetual motion, dances, lyrical interludes, klezmer and other eastern European influences. The ensemble playing, rhythmic precision and intonation with cellist Ben Osterhouse are all excellent.
Downwind of Roses in Maine by Libby Larsen depicts the scent of roses at high noon on a hot summer day. Larsen creates the hedge of roses with mallet percussion and the delicate scent of roses with flute and clarinet. Here, the percussionist is Jeremy Johnston and the flutist is James DeVoll. Larsen utilizes harmonic filigree flute sounds and fast, breezy passagework for both the flute and clarinet that create a beautiful dialogue over a scaffolding of mallet percussion. The fluttery wind writing blends beautifully to evoke the aroma of roses on a breezy day. With only slight intonation issues at times between the flute and clarinet, the performance was beautiful and colorful overall.
History is going to change by Joshua Clausen is written for bass clarinet and electronics. The work seems to pay homage to early Steve Reich with a layer of vocal minimalism over club-like electronic sounds. There are several bass clarinet tracks in this recording that, at times, interact in a way not unlike Reich's New York Counterpoint. Porwoll-Lee, in her lyrical solo moments, sings in a mournful way though most of her playing in this piece is effectively strong and hard-edged. Rhythm, strength of tone, and synchronicity with the electronics are precisely and powerfully delivered. Porwoll-Lee and her colleagues are commended for their excellent playing on this eclectic and musically rewarding disc.
Kenneth A. Long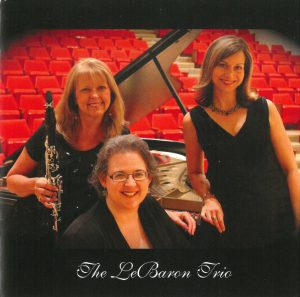 The LeBaron Trio
Lori Ardovino, clarinet; Melanie Williams, soprano; Laurie Middaugh, piano. F. Schubert: Der Hirt auf dem Felsen; J. Sclater: Four Songs on Texts of Emily Dickinson; J. Massenet: Pleurez! Pleurex, mes yeux; G. Walker: The Laughter of Women. Artist produced. Total time 44:34. Meridian Winds
Lori Ardovino is Professor of Music at the University of Montevallo and an active recitalist and clinician who has performed at numerous national and international conferences. Ardovino is also a composer/performer with the Birmingham Art Music Alliance.
Soprano Melanie Williams has sung several operatic roles with companies including Opera Birmingham and Alabama OperaWorks. She is also Professor of Music at the University of Montevallo.
Laurie Middaugh, pianist, is an active accompanist in the Birmingham area and is currently organist and choirmaster at the Church of the Holy Comforter. Middaugh is also a staff accompanist at University of Montevallo where she teaches class piano and theory.
Of the hundreds of songs that Franz Schubert wrote, only two, both composed during his last year, feature obbligato instruments. The first, One the River, involves the horn and the second, Shepherd on the Rock the clarinet. The work is more like an operatic aria than Schubert's other lieder.
While this performance of Shepherd on the Rock is very clean on a technical level with excellent intonation, the light, Schubertian style is somewhat lacking at times. The dramatic sections are certainly handled in a convincing manner, however the delicate moments could use a bit more finesse regarding both color and dynamic contrast. Many opportunities of nuanced text painting in the clarinet writing are not taken full advantage of by Ardovino. Williams' big, beautiful voice seems less suited for this almost coloratura writing. Ardovino's tone, while focused, is a bit fuzzy and on the heavy side for the light, "floaty" sound necessary for certain sections of this piece. The coda, however, is played brilliantly by Ardovino and Middaugh in this notoriously difficult ending.
Four Songs on Texts of Emily Dickinson by James Sclater are brief vignettes that reflect Sclater's trademark lyricism and reverence for the text. The voice and clarinet almost always move in separate spheres and irregular meters ungird seemingly improvisatory vocalization to mirror that of the texts. Each of the four movements is very different in style and mood, ranging from contemplative to nimble and sprightly according to the respective text sung beautifully by Williams. The trio dutifully and convincingly captures the essence of each movement's text. The ensemble playing is excellent and Ardovino demonstrates impressive technical command of the clarinet in this performance.
Pleurez! Pleurez, mes yeux" ("Cry, cry my eyes") is from Massenet's opera Le Cid which had its premiere in Paris in 1885. The principal clarinetist for the Paris Opera owned an alto clarinet in F and the composer decided to feature the instrument in an extended and florid introduction to the aria. The opening clarinet solo is played mournfully and beautifully with only occasional intonation issues. Williams' singing is especially captivating in this performance – very dramatic and also sensitive when in dialogue with the clarinetist. Both Ardovino and Williams handle their sounds in a perfectly blended and stylistically cohesive manner. This gorgeous performance is the highlight of the disc.
The texts for Gwyneth Walker's The Laughter of Women are found in Alive Together, the 1997 Pulitzer Prize-winning collection of poems by Lisel Mueller. These musical interpretations aim to explore the imagery evoked by the poetry. Ardovino really shines here in this technically demanding work that she delivers with control and character. Williams' diction is impeccable and beautifully sung. This energetic, exciting work is performed very well by the ensemble and is a great ending to an overall musically rewarding disc.
Kenneth A. Long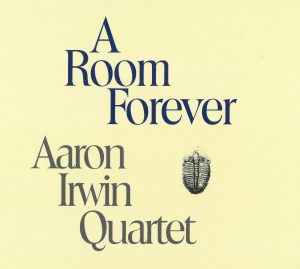 A Room Forever 
Aaron Irwin Quartet: Aaron Irwin, clarinet; Matthew McDonald, trombone; Pete McCann, guitar; Thomson Kneeland, bass. Twelve original contemporary jazz compositions by Aaron Irwin. Artist produced. Total time 60:03. CDBaby
Jazz saxophonist and composer, Aaron Irwin features his clarinet playing on his new album, A Room Forever. With a beautiful tone and original voice, he is certainly no mere 'doubler.' Originally from Decatur, Illinois, the now New York City-based Aaron Irwin earned his Master of Music degree from the University of Miami and his Bachelor of Music degree from De Paul University. Irwin has released many albums as a saxophonist and composer and has even featured himself alongside cutting-edge saxophonists Rich Perry and Chris Cheek. Throughout his discography, his entire conception as a bandleader and improviser is very thoughtful and musical. His improvised solos rarely if ever rely on the familiar saxophonist habits of machine-gunned, patterned lines, staying faithful to the overall composition and mood of the material he is interpreting.
A Room Forever features twelve original Irwin compositions, inspired by short stories written by Breece Dexter John Pancake. The music stands on its own quite well, even for those not familiar with the stories. The drummerless quartet features Irwin with trombonist Matthew McDonald, bassist Thomson Kneeland, and guitarist Pete McCann. The instrumentation is a perfect match for Irwin's usually low-keyed clarinet style, similarly to how many of Jimmy Giuffre's groups did for him. Along with Irwin, the other musicians do an excellent job of maintaining a high sense of musical taste, well-serving the varying styles and moods of the compositions.
The opening title track first features McCann with effect-heavy guitar playing as applied to a folk-like melody. Behind him, the other musicians incessantly play interjections and backgrounds featuring tones implying tonalities a half-step away from the melody's key. Later, Irwin's clarinet takes the melody, first without vibrato and later with a fast vibrato, before ending the track. The resulting creepiness and irony from the dissonances and noises behind a folk melody, along with the guitar sounds used on this track in combination with clarinet, remind one of Don Byron's collaborations with Bill Frisell, including Byron's album Romance with the Unseen. This can be seen as a deceptive connotation for the album as a whole, however, as the rest of the disc better demonstrates just how original and beautiful this group is.
With the second track, In the Dry, the listener can begin to gather a better impression of this group's overall feel and aims. Irwin's clarinet sound is rich and beautiful and the other instruments and their players compliment this richness, never obstructing the joys of listening to this beautiful clarinet timbre. The absent drums are never missed because the musicians bring out the rhythmic groove and feel of each composition. The compositions themselves show a wide awareness of musical styles and harmonies, with chord progressions as rich as the sonorities they are played with. The roles of the four instruments are successfully experimented with: sometimes, as with the arpeggios in The Way It Has To Be, the clarinet serves as an accompanist to the others.
A great showcase of Irwin's clarinet playing is the track Trilobites. His clarinet sound is beautiful and though one would not doubt his awareness of the legacies of such recent jazz clarinet personalities as Eddie Daniels and Don Byron, his approach is all his own. Perhaps being primarily a saxophonist and composer of more recent New York jazz trends has aided his having a different approach, with an outsider's perspective. In any case, he has put in the time to develop a great 'classical' tone and facility on the clarinet and is no slouch on the instrument itself.
Other standout tracks are The Scrapper, which is the only composition using a swing feel, the clarinet and trombone duet on Hollow (which features some rapid lines with excellent articulation and feel from the clarinetist), and the noisy and dissonant Time and Again. These tracks provided much needed contrasts to an album that, though a rare gem in its beautiful sonorities and thoughtful improvisations within compositions comes dangerously close to becoming an overall sleepy experience.
Being a jazz clarinet enthusiast I only wish Irwin had at least once taken a longer improvised solo somewhere on the album, or that he would risk not being so thoughtful for a moment and really go for the jugular with some jazz drive. I would love to hear more clarinet albums from him, and to hear his approach to music connected to the various jazz clarinetists before him, such as Daniels, Byron, DeFranco, Scott, Noone, Goodman, Russell, Dodds, Carter or Smith.
Clarinet and jazz circles alike, today, often say they want to hear something new, something different. If that is truly the case, I strongly recommend listening to Aaron Irwin's A Room Forever. It is not only different; it is beautiful.
Joseph Howell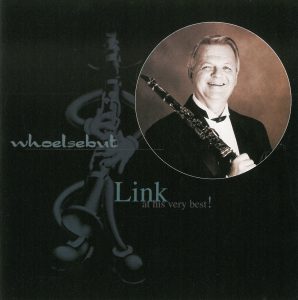 Link at His Very Best 
Larry Linkin, clarinet; Terry Harrington, saxophones; Murray Middleman, saxophones; Bobby Shew, trumpet; Roy Wiegand III, trumpet; Dan Fornero, trumpet; Tony Terran, trumpet; Roy Wiegand, Jr., trombone; Don Vincent, piano; Ross Tompkins, piano; Richard Simon, bass; Ernest McDaniel, bass; Doug MacDonald, guitar; Ron Anthony, guitar; Jack LeCompte, drums; Elvio Ditta, drums; Billy Hulting, percussion & vibraphone. Thirteen tracks consisting of Dixieland, jazz, and blues standards in big band arrangements by Don Vincent. Whoelsebut Records. Total time 47:05. Whoelsebut
With Link at His Very Best, clarinetist Larry Linkin's beautiful clarinet tone dances over tight big band arrangements of good-timey favorites from the Swing and Dixieland songbooks.
A native of Burlington, Iowa, Linkin earned his bachelor's degree at the University of Iowa in Iowa City before receiving two honorary doctorate degrees from Duquesne University and Berklee College of Music for his achievements as the President Emeritus of NAMM: International Music Products Association. He has performed as a clarinet soloist in concert halls throughout the world, including Carnegie Hall.
Link at His Very Best features Linkin as the front soloist with a big band. The arrangements are by pianist Don Vincent, and the big band consists of many top Los Angeles area studio players, including trumpeter Bobby Shew and woodwinds-whiz Terry Harrington. Shew and Linkin played together in the NORAD military band and Linkin has since wanted to record with Shew.
The tune selection and approach throughout are very typical of swing and dixieland clarinetists, with the strong influences of household name clarinetists Benny Goodman and Pete Fountain dominating the flavors. Goodman's influence comes out right away with the opener, Avalon, and continues on such selections as You'd Be So Nice To Come Home To, and an only somewhat different arrangement of Sing, Sing, Sing. The third track, A Closer Walk with Thee, introduces the Pete Fountain influence. Linkin also interprets a few jam session jazz standards such as Stella by Starlight, Desafinado and The Shadow of Your Smile. A sillier side is revealed with the interpretations here of Baby Elephant Walk and 12th Street Rag.
Larry Linkin has a beautiful tone and great, even technique, as he displays on this record. He is perhaps best featured on slower tunes such as You'd Be Nice to Come Home To, where the slow tempo allows the listener to really appreciate the beauty. Like many similar clarinetists, his jazz approach mostly echoes Goodman, Fountain, and other big-name Swing and Dixieland clarinetists. His improvising vocabulary consists of borrowed pet phrases from these gentlemen and of simple, triadic arpeggios. He is certainly not a master of jazz clarinet, nor does he have an original voice as an improviser, but he gets the job done quite well. Similarly, the accompanying ensemble plays the charts so tight that it almost sounds sterile, or like a play-along record. The most authentic jazz moments are supplied with solos from Bobby Shew and Terry Harrington.
Overall, this disc is a crowd-pleaser for listeners who want something nice to dance and smile to. It is by no means a jazz album for hardcore swing and dixieland jazz improvisation fans—for that I would recommend the usual menu of Christopher, Peplowski, Vache, Davern, and of course the originals from the 1920s, 30s, and 40s. I would guess that this was not the aim of the album in the first place, and there is nothing wrong with music made for simple enjoyment!
Joseph Howell